Commentary
First look at the NFC divisional round
Here's Jeffri Chadiha's early look at the two NFC divisional round games, Seattle at Green Bay and the Giants at Dallas.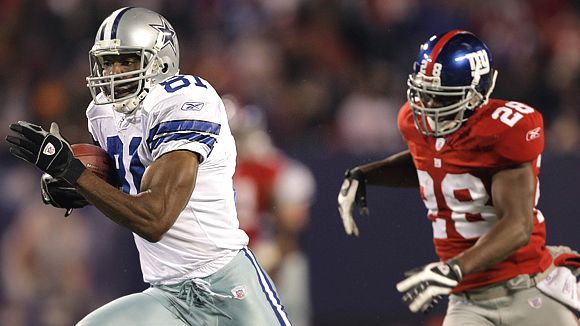 Rich Kane/US PresswireIn two games against the Giants this season, Cowboys wide receiver Terrell Owens had nine catches for 212 yards and four TDs. But an ankle injury threatens to keep him out of Sunday's game.
On Wild Card Weekend, the Seahawks won at home and the Giants continued their road success, as both teams advanced to the NFC divisional round. Here are three big questions going into each game next weekend. (
For an early look at the AFC divisional games, click here.
)
Seahawks at Packers, Saturday, 4:30 p.m. ET
1. How big a factor is Green Bay's lack of playoff experience?
It's huge. Green Bay has just 17 players on its 53-man roster who have played in a postseason game (including quarterback
Brett Favre
, wide receiver
Donald Driver
and cornerbacks
Charles Woodson
and
Al Harris
). Seattle, on the other hand, has 39 players with such experience, including many who were around for the Seahawks' Super Bowl loss to Pittsburgh during the 2005 season. That much exposure to high-pressure situations served Seattle well in Saturday's wild-card win over Washington and it certainly will benefit the Seahawks in this round.
More Seahawks-Packers
Want to see more on the Seahawks-Packers playoff game? Check out our special index page.
Sea. at GB
• SportsNation: Who'll win?
The key issue for the Packers is making sure their less-experienced players understand the magnitude of this moment. Green Bay fielded the youngest team in the NFL this season and it could be easy for those players to think they'll have many more opportunities to pursue a championship. If they are thinking that way, they need only talk to Favre about how quickly prosperity can vanish in this league. After all, since reaching consecutive Super Bowls in 1996-97, the Packers are just 2-5 in postseason play and are making their first playoff appearance in three years.
2. Can Seattle prosper without much production from its running game?
No. It's true that Seahawks quarterback
Matt Hasselbeck
has enjoyed a terrific season, but Seattle will need more balance in its pass-happy offense against the Packers.
Green Bay has one cornerback who is going to the Pro Bowl (Harris) and another who played well enough to join him (Woodson). Those two are good enough to cover two of the options in Seattle's four-receiver sets. Meanwhile, the Packers' front seven should be able to create plenty of problems for Hasselbeck.
The real downer for Seattle is that running back Shaun Alexander has given no indication that he'll elevate his game. He led the Seahawks with just 46 yards in the win over Washington and injuries limited him to a mere 716 yards this season. If that's not bad enough, the Seahawks' offensive line also has struggled with its run blocking all year. That's not likely to change this week.
3. How much does Seattle's playoff record on the road matter?
Plenty. The Seahawks have just one postseason win outside of Seattle -- against Miami in 1983 when the Seahawks were a member of the AFC.
To make things even more difficult, consider that Green Bay has suffered just two playoff defeats in the history of Lambeau Field. Plus, Seattle coach Mike Holmgren, who coached in Green Bay from 1992-98, is 1-2 versus his old team at Lambeau.
The reality here is that Seattle is far more comfortable inside the noisy confines of Qwest Field. Once the Seahawks hit the road -- and they're 3-5 this season away from home -- they become far more vulnerable.
Giants at Cowboys, Sunday, 4:30 p.m. ET
1. How much will the Cowboys miss Terrell Owens if he can't play?
It will be huge. As explosive as Dallas has been all season, the Cowboys owe a great deal of their success to the fact that Owens remains one of the elite receivers in the NFL. The bottom line is that when he's on the field, he makes life easier for everybody else on offense. Without him, quarterback
Tony Romo
isn't likely to play with the same swagger and the Cowboys' offense isn't going to be chewing up yardage by the chunks.
More Giants-Cowboys
Want to see more on the Giants-Cowboys playoff game? Check out our special index page.
NYG at Dal.
• SportsNation: Who'll win?
Cowboys coach Wade Phillips said Monday that T.O. is a "game-time decision." He apparently has been rehabilitating his high ankle sprain so relentlessly that he was meeting with trainers on Christmas Day and New Year's. If we had to wager, we'd assume Owens will be dressed Sunday. His ankle probably won't be 100 percent -- such injuries tend to linger -- but his presence alone makes all the difference for the Cowboys' offense.
2. Has Eli Manning really turned a corner with his play?
There's still good reason to be skeptical of Manning -- mainly because he was playing lousy during the final month of the regular season -- but the Giants have to love what they've seen from him lately.
Aside from one critical interception, Manning played brilliantly in a season-ending loss to New England and he was equally impressive in Sunday's wild-card win over Tampa Bay (20-for-27 for 185 yards and two touchdowns). If he can perform that well against Dallas, the Giants could very well pull the upset.
Remember, Manning enjoyed a huge day against Dallas in a season-opening loss (312 yards, four touchdowns, one interception). He was mediocre in the rematch, but the Dallas defense can give up big plays.
The key here is how well the Giants protect Manning and how well he makes decisions. One thing that is definitely certain is that he won't lack for confidence heading into this contest.
3. Why will the Giants beat Dallas now after losing both games during the regular season?
For one thing, the Giants finally have regained the form they displayed during a six-game winning streak earlier this season. They're flying around on defense and harassing quarterbacks with a pass rush that produced a league-leading 53 sacks.
On offense, they're running the ball with Brandon Jacobs and benefiting from the improved health of wide receiver Plaxico Burress, who has been nagged all season with an ankle injury. By the way, they're also 8-1 on the road this season, so hostile environments don't bother them.
That being said, the Cowboys are a safe bet to win this contest. They've outplayed the Giants in both previous meetings and it's hard to overcome the confidence that comes with such results.
Jeffri Chadiha is a senior writer for ESPN.com.
ESPN.com senior NFL columnist
Reporter for ESPN TV's "E:60"
Sports Illustrated senior writer (2000-07)
Covered Raiders, 49ers for San Francisco Examiner (1996-1999)
SPONSORED HEADLINES
MORE NFL HEADLINES
MOST SENT STORIES ON ESPN.COM
2007 PLAYOFFS

In a rematch of their Week 17 game, the unbeaten Patriots will play the red-hot Giants in Super Bowl XLII in Glendale, Ariz.
Super Bowl Central
Clayton: Eli's managing fine
Chadiha: Focused Giants
AccuScore simulation: Pats to prevail
Chadiha: First Look | Playoff schedule



Conference Championships (Jan. 20)
Patriots 21, Chargers 12
•
Merrill: Questions linger about Moss' postseason
•
Wojciechowski: Whatever it takes, Pats win
•
Pasquarelli: Patriots' offense grinds it out
•
Pasquarelli: Chargers squander opportunites
•
Pats make fourth SB in seven years
•
The Last Call: Mike Sando's observations, more
•
Zoom Gallery:
AFC title game
|
Pats' season
•
Playoff page
Giants 23, Packers 20
•
Clayton: Burress burns Harris, Packers
•
Chadiha: Bitter pill for Packers to swallow
•
Zoom Gallery: Giants edge Packers
•
The Last Call: Mike Sando's observations, more
•
Garber: Coughlin's personality makeover intact
•
Playoff page
Video
•
What is Tom Brady's legacy?
•
Eli and Burress lead Giants
•
Patriots avoid distractions on way to Super Bowl
•
Resilient Giants advance to SB
•
Red-zone efficiency fuels Patriots
Divisional Round (Jan. 12-13)
Packers 42, Seahawks 20
•
Recap
|
Playoff game page
•
Clayton: Ryan Grant sticks to the plan
•
Sando: Disastrous play at TE for Seattle
Patriots 31, Jaguars 20
•
Recap
|
Playoff game page
•
Pasquarelli: Patriots have too many weapons
Chargers 28, Colts 24
•
Recap
|
Playoff game page
•
Wojciechowski: Did Chargers get Pats' attention?
•
Clayton: Colts can't overcome mistakes
Giants 21, Cowboys 17
•
Recap
|
Playoff game page
•
Chadiha: Manning maturing at right time
More divisional playoffs
•
Saturday's Last Call: Pack, Pats advance
•
Sunday's Last Call: Giants, Chargers surprise
Commentary/Features
•
Pasquarelli: Tip Sheet
|
Notes

•
Smith: Special teams loom large
•
Scouts: Kryptonite for top four teams

•
Playoff upsets: By the numbers
•
Page 2: Handicapping the wild-card winners
Wild-Card Round (Jan. 5-6)
Seahawks 35, Redskins 14
•
Recap
|
Playoff game page
•
Clayton: Cool head Holmgren
•
Sando: Redskins inspired by Taylor
Jaguars 31, Steelers 29
•
Recap
|
Playoff game page
•
Chadiha: Jaguars pass character test
Giants 24, Bucs 14
•
Recap
|
Playoff game page
•
Pasquarelli: Manning delivers for Giants
•
Pasquarelli: Giants' D rises to occasion
Chargers 17, Titans 6
•
Recap
|
Playoff game page
•
Clayton: Turner, Rivers silence their critics
More Wild Card Weekend
•
Saturday's Last Call: Hawks, Jags escape
•
Sunday's Last Call: Giants, Chargers rule
•
ZOOM photos:
Saturday
|
Sunday
Commentary/Features
•
Sando: Controversial history of replay
•
Clayton: First and Goal, Wild Card
•
Sando: Playoff mantras
•
Numbers crunching: Wild-card weekend
•
Sunday Countdown
•
TMQ: Do the Pats need to run more?
•
Joyner: Steelers, Giants adjusting on the fly

•
Clayton: Handicapping possible Patriots foes
•
Clayton: Key playoff questions for the AFC
•
Pasquarelli: Key playoff questions for the NFC
Video
•
Chargers bolt past Titans, 17-6
•
Eli Manning silences his critics
•
Seattle's Hasselbeck is underrated
•
Phillips not concerned about late-season slide
Scouts Inc.
•
Ranking the playoff teams
•
Ranking the playoff coaches
•
Off. rankings:
Overall
|
QB
|
WR
|
RB
|
OL
•
Def. rankings:
Overall
|
DL
|
LB
|
DB
|
ST
•
Green: Smith's absence hurting Steelers
•
Williamson: Unknowns powering Bucs