Commentary
First Look: Giants-Patriots Super Bowl
Here's Jeffri Chadiha's early look at Super Bowl XLII between the New York Giants and New England Patriots.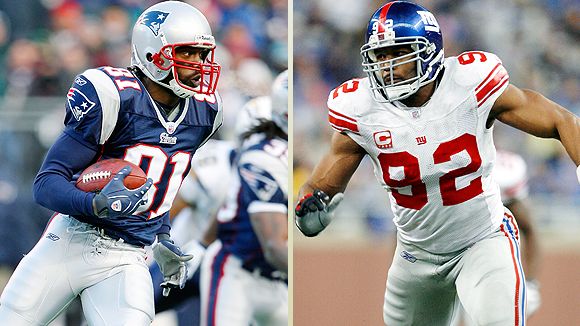 Getty Images/US PresswireThe Patriots' Randy Moss and the Giants' Michael Strahan hope to make bigger impacts in Arizona than they did in their respective conference championship games.
The
New York Giants
seem to be unbeatable on the road. The
New England Patriots
are unbeatable … period. Despite your likely disappointment at not having a Favre-Brady duel, the Super Bowl XLII matchup definitely will be intriguing on many levels. Here are five early questions sure to be discussed in the next two weeks:
1. Will the Patriots find a way to unleash Randy Moss in the Super Bowl?
No. If this postseason has taught us anything about devising a game plan for New England, it's that limiting Moss' touches gives opponents a better chance of winning. He caught only one pass in the Patriots' 21-12 AFC Championship Game win over San Diego, and he had only one reception in an AFC divisional playoff win over Jacksonville.
Super Bowl Central
Want to see more on the Giants-Patriots Super Bowl? Check out our special index page.
Super Bowl Central
• SportsNation: Who'll win?
Going back to the regular season, both Baltimore and Philadelphia controlled Moss as well -- he had nine receptions for 77 yards combined against those teams -- and each team lost by just three points. In other words, New England is a different team when Moss is stifled.
Now does that mean the Patriots won't find other ways to move the football? No. They've proved they have plenty of other weapons, including Wes Welker, Ben Watson and Laurence Maroney.
But the point here is that Moss demoralized the Giants with his big plays in a 38-35 loss Dec. 29 (he caught six passes for 100 yards and two touchdowns, including a 65-yarder). If he does that again, New York won't win.
2. Should the New England defense still be considered a weakness?
There are still questions about the athleticism of their linebackers, but you have to give the Pats credit: They were a pain in the butt in the red zone Sunday, as the Chargers learned. San Diego made three trips inside New England's 20-yard line and wound up kicking three field goals. Simply put, you don't beat the Patriots by getting three points when you could have had seven.
In fact, the biggest play of the game came in the third quarter when Patriots inside linebacker Junior Seau stopped running back Michael Turner on a third-and-1 at New Englands' 4-yard line.
If San Diego converts that play and scores a touchdown, the Chargers take a 16-14 lead. Instead, they settled for a 24-yard field goal by Nate Kaeding that left them trailing 14-12. San Diego never came close to taking the lead again.
By the way, the Giants weren't exactly phenomenal in the red zone in their 23-20 overtime win over Green Bay in the NFC Championship Game, but they did score two touchdowns on five trips inside the Packers' 20-yard line.
3. Which players will be X factors in Arizona?
There's no question that New England backup running back
Kevin Faulk
will have to keep making the plays he has produced this postseason.
When the Chargers took away Tom Brady's favorite receiving options, diminutive Faulk always made a clutch catch to keep the chains moving. He finished with eight receptions for 82 yards, and his critical, third-down catch late in the fourth quarter helped New England put the game away.
In short, Faulk can kill an opponent with his open-field running ability and sure hands.
For New York, it's become quite apparent that rookie running back Ahmad Bradshaw is a valuable weapon. At 5-9, 198 pounds, he doesn't have the size of starter Brandon Jacobs, but he definitely runs just as hard. In fact, he's one reason the Giants controlled the football for a little more than 40 minutes against the Packers.
If Bradshaw continues to produce solid numbers (he had 63 yards and a touchdown on 16 carries against Green Bay), New York will have a strong one-two backfield punch to throw at the Patriots.
4. Should the Giants be concerned about their pass rush?
No. Even though New York failed to sack Brett Favre, the defense made key contributions in other areas. It forced two turnovers, the last of which was an interception by cornerback Corey Webster that led to the winning 47-yard field goal by Lawrence Tynes in overtime.
The defense also limited Packers running back Ryan Grant to 29 yards while allowing Green Bay to convert just one of its 10 third-down opportunities. Although sacks would've been nice, those numbers meant just as much to the Giants' success.
However, the Giants certainly will need more pressure on Brady. They led the NFL with 53 sacks and have the athletes to create problems for any quarterback.
One thing that definitely would help the New York cause is getting defensive end Michael Strahan going. He struggled with Packers right tackle Mark Tauscher, and the Giants will need a big game from him against a Patriots offensive line that is as good as any in the NFL.
5. So why should anyone believe the Giants can beat the Patriots when they couldn't do it in the season finale last month?
Simply put, the Giants are more confident and focused than they were at the end of the regular season. They used that loss to the Patriots to grow, and they've become more dangerous with each passing week.
New York certainly proved it had the talent to compete with New England in the regular season. Now, the Giants think they're good enough to win a championship.
The problem, however, is that the Patriots have grown, as well. New England has maintained the intensity that fueled an undefeated regular season and the Pats realize how close they are to making history.
You can bet the Patriots will be just as eager to pounce on the Giants as they were in that season finale. And that's what will make them so tough to handle a second time around.
Jeffri Chadiha is a senior writer for ESPN.com.
ESPN.com senior NFL columnist
Reporter for ESPN TV's "E:60"
Sports Illustrated senior writer (2000-07)
Covered Raiders, 49ers for San Francisco Examiner (1996-1999)
SPONSORED HEADLINES
MORE NFL HEADLINES
MOST SENT STORIES ON ESPN.COM
2007 PLAYOFFS

In a rematch of their Week 17 game, the unbeaten Patriots will play the red-hot Giants in Super Bowl XLII in Glendale, Ariz.
Super Bowl Central
Clayton: Eli's managing fine
Chadiha: Focused Giants
AccuScore simulation: Pats to prevail
Chadiha: First Look | Playoff schedule



Conference Championships (Jan. 20)
Patriots 21, Chargers 12
•
Merrill: Questions linger about Moss' postseason
•
Wojciechowski: Whatever it takes, Pats win
•
Pasquarelli: Patriots' offense grinds it out
•
Pasquarelli: Chargers squander opportunites
•
Pats make fourth SB in seven years
•
The Last Call: Mike Sando's observations, more
•
Zoom Gallery:
AFC title game
|
Pats' season
•
Playoff page
Giants 23, Packers 20
•
Clayton: Burress burns Harris, Packers
•
Chadiha: Bitter pill for Packers to swallow
•
Zoom Gallery: Giants edge Packers
•
The Last Call: Mike Sando's observations, more
•
Garber: Coughlin's personality makeover intact
•
Playoff page
Video
•
What is Tom Brady's legacy?
•
Eli and Burress lead Giants
•
Patriots avoid distractions on way to Super Bowl
•
Resilient Giants advance to SB
•
Red-zone efficiency fuels Patriots
Divisional Round (Jan. 12-13)
Packers 42, Seahawks 20
•
Recap
|
Playoff game page
•
Clayton: Ryan Grant sticks to the plan
•
Sando: Disastrous play at TE for Seattle
Patriots 31, Jaguars 20
•
Recap
|
Playoff game page
•
Pasquarelli: Patriots have too many weapons
Chargers 28, Colts 24
•
Recap
|
Playoff game page
•
Wojciechowski: Did Chargers get Pats' attention?
•
Clayton: Colts can't overcome mistakes
Giants 21, Cowboys 17
•
Recap
|
Playoff game page
•
Chadiha: Manning maturing at right time
More divisional playoffs
•
Saturday's Last Call: Pack, Pats advance
•
Sunday's Last Call: Giants, Chargers surprise
Commentary/Features
•
Pasquarelli: Tip Sheet
|
Notes

•
Smith: Special teams loom large
•
Scouts: Kryptonite for top four teams

•
Playoff upsets: By the numbers
•
Page 2: Handicapping the wild-card winners
Wild-Card Round (Jan. 5-6)
Seahawks 35, Redskins 14
•
Recap
|
Playoff game page
•
Clayton: Cool head Holmgren
•
Sando: Redskins inspired by Taylor
Jaguars 31, Steelers 29
•
Recap
|
Playoff game page
•
Chadiha: Jaguars pass character test
Giants 24, Bucs 14
•
Recap
|
Playoff game page
•
Pasquarelli: Manning delivers for Giants
•
Pasquarelli: Giants' D rises to occasion
Chargers 17, Titans 6
•
Recap
|
Playoff game page
•
Clayton: Turner, Rivers silence their critics
More Wild Card Weekend
•
Saturday's Last Call: Hawks, Jags escape
•
Sunday's Last Call: Giants, Chargers rule
•
ZOOM photos:
Saturday
|
Sunday
Commentary/Features
•
Sando: Controversial history of replay
•
Clayton: First and Goal, Wild Card
•
Sando: Playoff mantras
•
Numbers crunching: Wild-card weekend
•
Sunday Countdown
•
TMQ: Do the Pats need to run more?
•
Joyner: Steelers, Giants adjusting on the fly

•
Clayton: Handicapping possible Patriots foes
•
Clayton: Key playoff questions for the AFC
•
Pasquarelli: Key playoff questions for the NFC
Video
•
Chargers bolt past Titans, 17-6
•
Eli Manning silences his critics
•
Seattle's Hasselbeck is underrated
•
Phillips not concerned about late-season slide
Scouts Inc.
•
Ranking the playoff teams
•
Ranking the playoff coaches
•
Off. rankings:
Overall
|
QB
|
WR
|
RB
|
OL
•
Def. rankings:
Overall
|
DL
|
LB
|
DB
|
ST
•
Green: Smith's absence hurting Steelers
•
Williamson: Unknowns powering Bucs