Commentary
Bitter pill for Favre, Packers to swallow
With one ill-advised pass by Brett Favre, the Packers' dream season came to a sudden and crushing halt, writes Jeffri Chadiha.
GREEN BAY, Wis. -- Green Bay Packers quarterback Brett Favre will have a hard time getting over this one.
His team had the frigid weather it wanted, the homefield advantage it coveted and the belief that this was going to be its year. Then, with one ill-advised pass that floated into the hands of New York Giants cornerback Corey Webster in overtime of the Packers' 23-20 loss in the NFC Championship Game, the dream was over. All the good vibes that had blossomed this season seeped out of Lambeau Field at that moment.
It would be an understatement to say Favre was devastated by the interception that set up Lawrence Tynes' winning, 47-yard field goal. As Favre stood at a lectern and answered questions about the play afterward, he looked numb. His face was still bright red from the subzero temperatures that hit Green Bay this weekend, but his pain surely had more to do with the Packers' heartbreaking defeat.
[+] Enlarge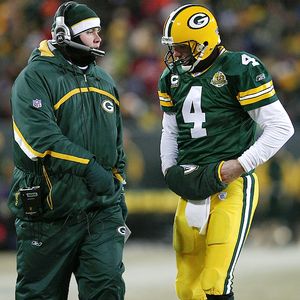 Jonathan Daniel/Getty ImagesNow that the Packers' season is over, Brett Favre has a tough decision to make regarding his future.
"I didn't think it would come down to that situation," Favre said. "I thought we'd put them away earlier. But the situation presented itself, and I just didn't rise up to the occasion."
In fairness to Favre, there were a lot of reasons the Packers lost Sunday. They couldn't run the ball as they had in the second half of the season -- running back Ryan Grant finished with just 29 yards on 13 carries after gaining 201 in an NFC divisional playoff win over the Seahawks -- and their defense allowed the Giants to control the ball for more than 40 minutes.
But Favre certainly didn't help the situation in the second half. Ultimately, the same man who had won so many big games with his arm wound up costing Green Bay a win with a poor decision.
To understand Favre's impact on the game, all you have to know are his stats before and after halftime. He opened the game by completing 10 of 18 passes for 163 yards and a touchdown in the first half. He would up completing just nine of 17 passes for 73 yards with two interceptions in the second half and overtime.
That last turnover was the most critical because the Packers had won the coin toss in overtime and figured to end the game quickly. Instead, Favre threw one of his worst passes of the day.
In fact, he actually thought the pass was in trouble from the moment it left his right hand. Wide receiver Donald Driver was supposed to run a "shake" route on second-and-8 from the Packers' 28-yard line, but Favre's pass sailed behind the receiver after Driver made his out cut. All Webster had to do was step in front of the ball and catch it at the Green Bay 34.
"I just didn't throw the ball far enough outside," Favre said later.
Of course, the cruel twist here is that Favre finally had reached a point at which he believed in the Packers' run at destiny. He had been a hard sell all season -- he was especially concerned about whether the youngest team in the NFL could continue to win games as it did all season -- but he had been impressed by how his teammates had developed throughout the year. As Favre said, everything seemed to have fallen into place for a Green Bay team that finished 13-3 and won the NFC North. It just seemed logical that the Packers would pull out a victory against the Giants and advance to the Super Bowl.
Now that the dream has died, Favre understands what he has to do next. First, he has to find a way to let go of this loss. Then, he has to think about his future. He said he'll talk with Green Bay coach Mike McCarthy sometime later this week, then will head home to Mississippi to ponder whether he'll return for an 18th season. He vowed that he wouldn't let this loss affect his decision and added that he wouldn't wait until deep in the offseason to announce his intentions, as was the case last year.
"I won't rush to make a decision," he said. "But it will probably be a quicker one than I've made in the past, which some people will appreciate."
Favre added that he's going to have fond memories of this team even though the season ended with disappointment. He'll think about how his young receivers matured, how Grant blossomed and how the defense bonded into a unit that should be dangerous for years to come.
"It was a surprise to a lot of people that we made it [to the NFC Championship Game], and the last thing you usually remember is a loss," Favre said. "But what also stood out for me was the way this team achieved. Not too many people gave us a chance to do anything this year, and we still overcame a lot of adversity to get as far as we did."
Jeffri Chadiha is a senior writer for ESPN.com.
Jeffri Chadiha, formerly of Sports Illustrated, is a senior writer for ESPN.com. Chadiha first attended Wyoming on a full football scholarship before injuries led him to transfer to Michigan after two years. He received a Bachelor of Arts degree in communication from Michigan in 1993 before pursuing a career in journalism. Chadiha is also a frequent contributor to ESPN TV.
SPONSORED HEADLINES
MORE NFL HEADLINES
MOST SENT STORIES ON ESPN.COM
2007 PLAYOFFS

In a rematch of their Week 17 game, the unbeaten Patriots will play the red-hot Giants in Super Bowl XLII in Glendale, Ariz.
Super Bowl Central
Clayton: Eli's managing fine
Chadiha: Focused Giants
AccuScore simulation: Pats to prevail
Chadiha: First Look | Playoff schedule



Conference Championships (Jan. 20)
Patriots 21, Chargers 12
•
Merrill: Questions linger about Moss' postseason
•
Wojciechowski: Whatever it takes, Pats win
•
Pasquarelli: Patriots' offense grinds it out
•
Pasquarelli: Chargers squander opportunites
•
Pats make fourth SB in seven years
•
The Last Call: Mike Sando's observations, more
•
Zoom Gallery:
AFC title game
|
Pats' season
•
Playoff page
Giants 23, Packers 20
•
Clayton: Burress burns Harris, Packers
•
Chadiha: Bitter pill for Packers to swallow
•
Zoom Gallery: Giants edge Packers
•
The Last Call: Mike Sando's observations, more
•
Garber: Coughlin's personality makeover intact
•
Playoff page
Video
•
What is Tom Brady's legacy?
•
Eli and Burress lead Giants
•
Patriots avoid distractions on way to Super Bowl
•
Resilient Giants advance to SB
•
Red-zone efficiency fuels Patriots
Divisional Round (Jan. 12-13)
Packers 42, Seahawks 20
•
Recap
|
Playoff game page
•
Clayton: Ryan Grant sticks to the plan
•
Sando: Disastrous play at TE for Seattle
Patriots 31, Jaguars 20
•
Recap
|
Playoff game page
•
Pasquarelli: Patriots have too many weapons
Chargers 28, Colts 24
•
Recap
|
Playoff game page
•
Wojciechowski: Did Chargers get Pats' attention?
•
Clayton: Colts can't overcome mistakes
Giants 21, Cowboys 17
•
Recap
|
Playoff game page
•
Chadiha: Manning maturing at right time
More divisional playoffs
•
Saturday's Last Call: Pack, Pats advance
•
Sunday's Last Call: Giants, Chargers surprise
Commentary/Features
•
Pasquarelli: Tip Sheet
|
Notes

•
Smith: Special teams loom large
•
Scouts: Kryptonite for top four teams

•
Playoff upsets: By the numbers
•
Page 2: Handicapping the wild-card winners
Wild-Card Round (Jan. 5-6)
Seahawks 35, Redskins 14
•
Recap
|
Playoff game page
•
Clayton: Cool head Holmgren
•
Sando: Redskins inspired by Taylor
Jaguars 31, Steelers 29
•
Recap
|
Playoff game page
•
Chadiha: Jaguars pass character test
Giants 24, Bucs 14
•
Recap
|
Playoff game page
•
Pasquarelli: Manning delivers for Giants
•
Pasquarelli: Giants' D rises to occasion
Chargers 17, Titans 6
•
Recap
|
Playoff game page
•
Clayton: Turner, Rivers silence their critics
More Wild Card Weekend
•
Saturday's Last Call: Hawks, Jags escape
•
Sunday's Last Call: Giants, Chargers rule
•
ZOOM photos:
Saturday
|
Sunday
Commentary/Features
•
Sando: Controversial history of replay
•
Clayton: First and Goal, Wild Card
•
Sando: Playoff mantras
•
Numbers crunching: Wild-card weekend
•
Sunday Countdown
•
TMQ: Do the Pats need to run more?
•
Joyner: Steelers, Giants adjusting on the fly

•
Clayton: Handicapping possible Patriots foes
•
Clayton: Key playoff questions for the AFC
•
Pasquarelli: Key playoff questions for the NFC
Video
•
Chargers bolt past Titans, 17-6
•
Eli Manning silences his critics
•
Seattle's Hasselbeck is underrated
•
Phillips not concerned about late-season slide
Scouts Inc.
•
Ranking the playoff teams
•
Ranking the playoff coaches
•
Off. rankings:
Overall
|
QB
|
WR
|
RB
|
OL
•
Def. rankings:
Overall
|
DL
|
LB
|
DB
|
ST
•
Green: Smith's absence hurting Steelers
•
Williamson: Unknowns powering Bucs
Rico New York Giants Car Flag Shop »