Commentary
To counter lack of Super Bowl experience, the Giants boast focus
The Patriots have more than 10 times the Super Bowl-playing experience of the Giants. But New York seems to have the focus to make this rematch a rival to their Dec. 29 near-upset of the Pats.
There certainly are many reasons to question the New York Giants' chances of upsetting the New England Patriots in Super Bowl XLII.
Focus, however, should not be anywhere on that list.
Even though the Giants have just two players remaining from their last trip to the Super Bowl -- wide receiver Amani Toomer and defensive end Michael Strahan were on that team that lost to the Baltimore Ravens during the 2000 season -- they already are thinking about how to best manage the week.
"I got caught up in all the distractions back in 2000," said Toomer, referring to the parties, press and people begging for tickets and time. "And that's why I'm going to be telling our younger guys to be careful about it. The only thing that matters is what you do in that game on Sunday. And we can't lose sight of that."
It's actually hard to see the Giants' losing sight of anything these days. No team has been more dialed in than the Giants over the last three weeks -- and yes, that includes the same undefeated Patriots team that is chasing a perfect record. After all, New England won two playoff games at home, including Sunday's win over San Diego in the AFC Championship Game.
[+] Enlarge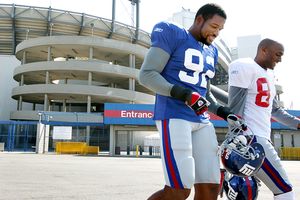 AP Photo/Craig RuttleAmani Toomer (left) and Michael Strahan have helped their team focus for the three playoff games spent away from Giants Stadium.
The Giants, on the other hand, have won three straight playoff games on the road. You don't do that unless your head is in the right place.
The Giants have beaten the odds every weekend, whether it was slaying a Dallas team that had beaten them twice during the regular season or going into Green Bay, Wis., Sunday to trounce the Packers in an NFC Championship Game played in sub-zero weather. Now that they're facing the same Patriots team that beat them in the regular-season finale, the odds favor New York's bringing that same single-minded mentality to Arizona for a week when the Giants will be hearing all about the greatness of their opponent.
"All I can say is that we weren't scared of them the first time we played them," Toomer said. "And they knew that when that game was over."
That first Patriots-Giants game obviously has become the genesis of everything that has gone right for New York over the last three weeks. And it wasn't just the way the Giants played in that loss that fueled this postseason run. It was the way they prepared for that game that proved to be just as critical.
From the moment Giants head coach Tom Coughlin opened that week of practice with a matter-of-fact proclamation -- "We're going after them," he said during a team meeting that week -- the Giants adopted a sense of purpose that they haven't lost yet.
So far, that's been the major difference in New York. The Giants now approach every game with the same hunger and determination that New England has displayed all season.
"That entire week was huge for us," said Giants safety Gibril Wilson. "We were really focused and we knew we had a chance to win that game. And once it was over, we realized that we had to keep that same mind-set in the playoffs. If we approached every practice, meeting and game with the same intensity we had that week, we knew we could get to this point."
Of course, now the Giants have to deal with a challenge that will be infinitely greater than the one New England offered back on Dec. 29. The Patriots haven't lost a Super Bowl in the three times they've reached that game under coach Bill Belichick. They also have strength in numbers. While Toomer and Strahan represent all of the Giants' Super Bowl experience, the Patriots boast 21 players who have played on a team that has advanced to that game. That's a hell of an advantage in a contest of this magnitude.
But let's also be candid here: The Patriots haven't been winning in the same impressive fashion that had been their trademark earlier this season.
They literally labored to beat the banged-up Chargers and they definitely look more like a team that is feeling the weight of the history they're chasing. Meanwhile, the Giants have grown more comfortable with their underdog status each week. Every time they've played this postseason, they've had a confidence and a certainty in their body language that used to be quite apparent in the Patriots.
This is why the Giants have become so intriguing, even with a spread that opened with New England listed as a 13-point favorite. The best thing that happened to New York this year is that it had a great opportunity to see what it takes to beat the best team in the league. It doesn't come down to good breaks or spectacular plays. It really amounts to attitude and execution, which are the two qualities that New England has displayed every week of this season.
So now that the Giants understand that as well, this Super Bowl officially has a chance to be an exciting contest. That's because the first time these two teams met, the Patriots were the ones who had everything to play for while the Giants had nothing to lose. But one week of practice and one closely fought game in late December has changed the Giants for good.
In other words, the Patriots should be bracing for a vastly different opponent when these two teams meet again.
Jeffri Chadiha is a senior writer for ESPN.com.
ESPN.com senior NFL columnist
Reporter for ESPN TV's "E:60"
Sports Illustrated senior writer (2000-07)
Covered Raiders, 49ers for San Francisco Examiner (1996-1999)
SPONSORED HEADLINES
MORE NFL HEADLINES
MOST SENT STORIES ON ESPN.COM
2007 PLAYOFFS

In a rematch of their Week 17 game, the unbeaten Patriots will play the red-hot Giants in Super Bowl XLII in Glendale, Ariz.
Super Bowl Central
Clayton: Eli's managing fine
Chadiha: Focused Giants
AccuScore simulation: Pats to prevail
Chadiha: First Look | Playoff schedule



Conference Championships (Jan. 20)
Patriots 21, Chargers 12
•
Merrill: Questions linger about Moss' postseason
•
Wojciechowski: Whatever it takes, Pats win
•
Pasquarelli: Patriots' offense grinds it out
•
Pasquarelli: Chargers squander opportunites
•
Pats make fourth SB in seven years
•
The Last Call: Mike Sando's observations, more
•
Zoom Gallery:
AFC title game
|
Pats' season
•
Playoff page
Giants 23, Packers 20
•
Clayton: Burress burns Harris, Packers
•
Chadiha: Bitter pill for Packers to swallow
•
Zoom Gallery: Giants edge Packers
•
The Last Call: Mike Sando's observations, more
•
Garber: Coughlin's personality makeover intact
•
Playoff page
Video
•
What is Tom Brady's legacy?
•
Eli and Burress lead Giants
•
Patriots avoid distractions on way to Super Bowl
•
Resilient Giants advance to SB
•
Red-zone efficiency fuels Patriots
Divisional Round (Jan. 12-13)
Packers 42, Seahawks 20
•
Recap
|
Playoff game page
•
Clayton: Ryan Grant sticks to the plan
•
Sando: Disastrous play at TE for Seattle
Patriots 31, Jaguars 20
•
Recap
|
Playoff game page
•
Pasquarelli: Patriots have too many weapons
Chargers 28, Colts 24
•
Recap
|
Playoff game page
•
Wojciechowski: Did Chargers get Pats' attention?
•
Clayton: Colts can't overcome mistakes
Giants 21, Cowboys 17
•
Recap
|
Playoff game page
•
Chadiha: Manning maturing at right time
More divisional playoffs
•
Saturday's Last Call: Pack, Pats advance
•
Sunday's Last Call: Giants, Chargers surprise
Commentary/Features
•
Pasquarelli: Tip Sheet
|
Notes

•
Smith: Special teams loom large
•
Scouts: Kryptonite for top four teams

•
Playoff upsets: By the numbers
•
Page 2: Handicapping the wild-card winners
Wild-Card Round (Jan. 5-6)
Seahawks 35, Redskins 14
•
Recap
|
Playoff game page
•
Clayton: Cool head Holmgren
•
Sando: Redskins inspired by Taylor
Jaguars 31, Steelers 29
•
Recap
|
Playoff game page
•
Chadiha: Jaguars pass character test
Giants 24, Bucs 14
•
Recap
|
Playoff game page
•
Pasquarelli: Manning delivers for Giants
•
Pasquarelli: Giants' D rises to occasion
Chargers 17, Titans 6
•
Recap
|
Playoff game page
•
Clayton: Turner, Rivers silence their critics
More Wild Card Weekend
•
Saturday's Last Call: Hawks, Jags escape
•
Sunday's Last Call: Giants, Chargers rule
•
ZOOM photos:
Saturday
|
Sunday
Commentary/Features
•
Sando: Controversial history of replay
•
Clayton: First and Goal, Wild Card
•
Sando: Playoff mantras
•
Numbers crunching: Wild-card weekend
•
Sunday Countdown
•
TMQ: Do the Pats need to run more?
•
Joyner: Steelers, Giants adjusting on the fly

•
Clayton: Handicapping possible Patriots foes
•
Clayton: Key playoff questions for the AFC
•
Pasquarelli: Key playoff questions for the NFC
Video
•
Chargers bolt past Titans, 17-6
•
Eli Manning silences his critics
•
Seattle's Hasselbeck is underrated
•
Phillips not concerned about late-season slide
Scouts Inc.
•
Ranking the playoff teams
•
Ranking the playoff coaches
•
Off. rankings:
Overall
|
QB
|
WR
|
RB
|
OL
•
Def. rankings:
Overall
|
DL
|
LB
|
DB
|
ST
•
Green: Smith's absence hurting Steelers
•
Williamson: Unknowns powering Bucs
ESPN FAN SHOP