Commentary
10 reasons the Giants welcome road signs
Here are 10 reasons the Giants, who won just three games at home, have been thriving when they stray away from familiar surroundings.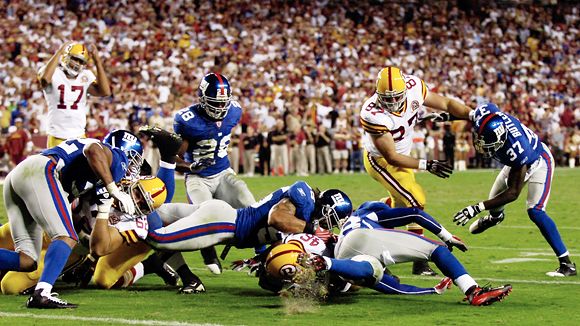 Greg Fiume/Getty ImagesOn Sept. 23 at FedEx Field, the Giants defense stopped Ladell Betts (No. 46) late in the final quarter of a 24-17 victory over host Washington. It helped set the tone for the Giants' road success.
The most amazing thing about the
New York Giants
' 10 consecutive road wins is that few people noticed that growing streak until the postseason. Maybe we were too busy fawning over the
New England Patriots
. It's also possible that any impressive accomplishment produced by an NFC team is automatically treated with skepticism. But we can't dismiss this feat any longer. The Giants have played so well on the road that we have to make some sense of their success. So here are 10 reasons the Giants, who won just three games at home, have been thriving when they stray away from familiar surroundings:
Manning's maturation throughout the postseason has been stunning. He finished the regular season with mediocre numbers (56.2 completion percentage, 23 touchdowns, 20 interceptions and a passer rating of 74.0) and then blossomed over the past three weeks (62.4 completion percentage, four touchdowns, no interceptions and a passer rating of 99.1).
But here's the funny thing: Manning had given us hints that he was capable of turning his game around. We just had to pay closer attention to how he performed on the road. Looking back at the regular season, Manning had been a much better quarterback away from Giants Stadium. Of the six games in which he produced a passer rating of 80.0 or better -- which is a solid effort -- four came on the road. He even found more ways to play through adversity in away games, as proven by his game-winning drive in a key, late-season win at Chicago. Manning played poorly for most of that game (he was 16-for-27 for 195 yards with one touchdown and one interception) and the Giants still won. Of course, what we don't know is whether Manning becomes more focused on the road or if his supporting cast just plays better. Even if it's a combination of both, the Giants don't care. They know the results are mostly positive. And that's encouraging news as they head into Super Bowl XLII against New England.
2. Depth at Running Back
The Giants clearly had the deepest backfield in the NFL when training camp opened. In fact, they wound up having so much talent that they traded Ryan Grant to Green Bay during the preseason -- he wound up rushing for 956 yards in just seven starts -- and they still had plenty of talent.
As proof, the Giants had three different runners gain at least 100 yards on the road this season. Also, in a win over Buffalo that clinched a playoff spot for New York, the Giants had two different backs gain 100 yards (Ahmad Bradshaw and Brandon Jacobs combined for 294 yards and three touchdowns).
It's pretty hard to stumble with a ground attack as formidable as that. That advantage means more play-action opportunities for Manning, more room to maneuver downfield for a big-play receiver like
Plaxico Burress
and more time vanishing from the game clock when the Giants are on offense.
[+] Enlarge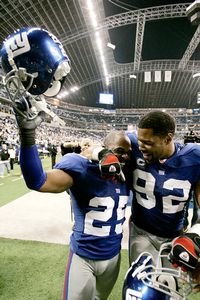 AP Photo/David J. PhillipCornerback R.W. McQuarters (25) and defensive end Michael Strahan (92) left Texas Stadium this month after a ninth victory in a 10-game road winning streak.
3. Plaxico Burress' Toughness
This eighth-year wide receiver was easily the Giants' Most Valuable Player. He played through a nagging ankle injury all season, and his presence alone was critical in three key road games. Burress had five receptions for 86 yards and the game-winning touchdown in a 24-17 win over Washington in Week 3. Three weeks later he produced six receptions for 97 yards and another score in another win over Atlanta. But Burress actually saved his best road game for the second half of the season.
That ankle injury bothered him so much in a 16-13 win over Philadelphia on Dec. 9 that Burress returned to the locker room before kickoff for extra treatment. He wound up catching seven passes for 136 yards and a touchdown while demoralizing the Eagles with an assortment of receptions that led to first downs. There once was a time, not too long ago, when critics questioned Burress' work ethic and concentration. Those days have passed.
4. Tom Coughlin's Coaching
For all the abuse Coughlin has endured in New York -- some of which he brought on himself with his no-nonsense style -- this has been the finest year of his NFL career. He found a way to mellow his tactics and he unified a locker room while fully aware he was on the hot seat. Look, you don't win 10 straight road games if players don't believe in what you're selling. And it's quite apparent that the Giants have followed Coughlin's lead since that 0-2 start.
5. Week 3 Win in Washington
That 24-17 victory was huge for one key reason: It gave the Giants their first win. Before that point, they were 0-2 and catching all kinds of heat from critics who saw this team heading toward a top-five draft pick. After it, the Giants won five more games in a row and fueled speculation that they were as good as any NFC squad. Simply put, the Giants turned their entire season around that day.
Of course, the most memorable moment of that game occurred in the final minute. That's when the Giants stuffed Washington Redskins running back Ladell Betts on the goal line on both third and fourth down. That also happened to be the first indication that the Giants' defense could be better than it had showed. Since that day, it's gone from being much-maligned to being a major-league menace for opponents.
6. A Weak Schedule
Let's be honest here: The Giants didn't exactly face the most talented teams in the NFL when they left home during the regular season. They played only two teams that wound up qualifying for the playoffs, and both of those opponents were in their division (the Dallas Cowboys and Redskins). That's not a complete knock on the Giants, because winning on the road against anybody is difficult. It's just a fact that gets lost in all the hoopla over their road warrior status.
7. Turnover Ratio
You want to know a major reason the Giants have rolled through the postseason: They aren't making mistakes. New York has committed just one turnover in three playoff games while forcing its opponents into six. And that includes the awful interception that Green Bay Packers QB Brett Favre threw to set up Lawrence Tynes' game-winning field goal in overtime of the Giants' 23-20 NFC Championship Game victory.
The weird part is that the Giants lost the turnover battle in road games during the regular season (they had 20 giveaways and 15 takeaways). So it's fair to say they've learned from their errors at just the right time.
8. The Personnel Moves of Jerry Reese
All the credit for the Giants' success on the road can't go to the players and coaches. Reese also has been brilliant in his first year as general manager, especially when you look at his draft.
Cornerback
Aaron Ross
, the team's first-round pick, has been a valuable contributor in the secondary. Wide receiver
Steve Smith
(second round) and tight end
Kevin Boss
(fifth) have made critical catches this postseason. Finally, running back Bradshaw looks like a steal; Reese drafted him in the seventh round. Now take a look at what Reese did with veteran players. He gave the left tackle job to
David Diehl
-- who had played guard and right tackle earlier in his career -- after dumping former starter
Luke Petitgout
. He refused to give
Michael Strahan
a new deal and waited out Strahan's decision to skip training camp. Reese also found starting fullback
Madison Hedgecock
on waivers, and he's watched outside linebacker
Kawika Mitchell
, a player who inspired little interest in the free-agent market last offseason, blossom into an impact defender. If it weren't for New England's Scott Pioli, Reese would be the NFL's Executive of the Year.
9. Steve Spagnuolo's Defense
New York's first-year coordinator definitely got off to a rough start -- the Giants allowed 80 points in their first two games -- but his schemes have been far more effective as the season has progressed.
In fact, the Giants have been stingiest away from home. Though they allowed 45 points to Dallas in a season-opening loss, only two of New York's opponents have scored more than 20 points in this 10-game road win streak. The Giants also have been harder to move the ball against in the postseason. Dallas is the only playoff team that has been able to gain more than 300 total yards against New York in the playoffs.
10. Chemistry
Here's the bottom line with the Giants: They can beat you in a variety of ways. They've had unheralded players step up on the road, and they've seen their stars deliver on critical occasions, as well.
Hell, Burress had been the Giants' top receiver all season, but it was Amani Toomer who produced most of the big plays in the passing game in the first two weeks of the postseason. That's just one example of how the Giants expect somebody to make the difference when they're away from home. And so far, they've found little reason to believe that kind of magic can't happen one last time for them this season.
Jeffri Chadiha is a senior writer for ESPN.com.
ESPN.com senior NFL columnist
Reporter for ESPN TV's "E:60"
Sports Illustrated senior writer (2000-07)
Covered Raiders, 49ers for San Francisco Examiner (1996-1999)
SUPER BOWL XLII

In one of the great Super Bowl upsets, the Giants defeated the Patriots 17-14 in Super Bowl XLII in Glendale, Ariz.
Super Bowl Central

• Hashmarks blog: Mosley, Sando in Arizona


Game coverage
•
Belichick ready to move on from Super Bowl loss
•
Nevada sports books lose record $2.6M
•
View to a thrill: Record 97.5 million watch XLII
•
Giants' win shatters viewership records
•
Clayton: Can the Giants repeat?
•
Simmons: Free fallin'
•
Giants spoil Pats' perfect season
•
Wojciechowski: Blame Pats for this debacle
•
Wickersham: Brady dazed and confused
•
Clayton: Eli lets instincts take over
•
Clayton: N.Y. 'misfits' harass Brady
•
Sando: Was Brady rattled?
•
Mosley: Belichick left a second early
•
Chadiha: Ten things we learned
•
Garber: Tyree's catch one for the ages
•
Zoom galleries
1
|
2
|
Great SB upsets
•
SportsNation: Best Super Bowl?
•
SportsNation: Biggest SB upset?
•
SportsNation: Your favorite commercials?
Commentary/Features
•
Clayton: Top five contenders for the next SB
•
'72 Fins breathe sigh of relief after Giants win
•
Chadiha: Giants enjoy underdog role
•
Sando: Coughlin, Giants made it work
•
Super Bowl picks: Our experts weigh in
•
Merrill: Nine previously perfect Patriots
•
Merrill: Harrison deals with his rep just fine
•
Clayton: Giants' O-line worthy of accolades
•
Pasquarelli: Tip Sheet
•
Pasquarelli: Tip Sheet notes

•
Wojciechowski: 15 reasons Patriots will win
•
E-ticket: Patriots' man of mystery
•
Sunday Countdown
•
Clayton's First and Goal
•
Chadiha: Giants miss Shockey
•
Garber: Injured war vet inspires Giants
•
Pasquarelli: The Pats' crucial cameos
•
Garber: In Brady's world, insecurity remains
•
Merrill: Hixon's traumatizing season
•
Football Outsiders: SB numbers crunching
•
Pasquarelli: Patriots' silent sentinel
•
Wojciechowski: Unflappable Eli
•
Sando: Brady rising among all-time QBs
•
Chadiha: Giants' rookies playing prominent role
•
Fleming: Cardinals/Pottsville Curse
•
Clayton: Youth serving Giants well
•
Chadiha: Ranking the best QBs by decade
•
Klancnik: Top QBs by jersey number
•
Hashmarks: Media day coverage
|
Gallery
•
Pasquarelli: Pats' old-school LBs
•
Helyar: Marketing windfall for Eli Manning
•
Garber: Seau's ring quest
•
Pasquarelli: Bruschi's full-circle journey
•
Animated plays
•
From the research room
•
Chadiha: Pierce just wants to win
•
Wojciechowski: Explaining Bill Belichick
•
Helyar: Recession? Not at Super Bowl!
•
Giants' Snee doesn't stray from roots
•
Sando: Seymour in eye of storm
•
Merrill: Welker scales new heights for Pats
•
Pasquarelli: Brady is ready to play
•
Garber: The preservation of Plaxico
•
Pasquarelli: Hill's spirit lives on
•
Clayton: Giants' juggling act at CB works
•
Wickersham: Giant ideas
•
Klosterman: All too perfect
•
Crown Jewels: A look at Super Bowl rings
•
FB Outsiders: Giants one of worst SB teams
•
Helyar: Patriots will drive TV ratings
•
Clayton: First and goal
•
Chadiha: Giants' glory road
•
Mosley: Brady's ankle saves the week
•
Woj: Preseason predictions revisited
•
Merrill: David Woodley's dark spotlight
• Former SB QBs:
Plunkett
|
Rypien
|
Ferragamo
• More:
Morton
|
Humphries
|
Hostetler
|
Eason
•
Starting matchups of Super Bowl QBs
• Ranking the QB performances:
1-40
|
41-82
•
Jaworski: Six Super Bowl surprises

•
Joyner: Brady's bad decisions

•
Clayton: Eli's managing fine
•
Chadiha: Focused Giants
•
AccuScore simulation: Pats to prevail
•
Chadiha: First Look at the Super Bowl
•
Playoff schedule
Spy Games
News
•
Vermeil doubts spying made difference for Pats
•
Fish: Ex-Ram Warner suspicious of Pats in SB XXXVI
•&nbsp
Report: Pats taped Rams' SB walk-through
•
Specter to Goodell: Let's talk
•
Fish: Possible 'Spygate' witness surfaces
Commentary
•
Easterbrook: NFL can blame itself for scandal's timing
•
Munson: Congressional interest serious
•
Pasquarelli: Specter should stick with politics
•
Clayton: Spy saga won't distract Patriots
•
Hashmarks at Goodell's news conference
Letters
•&nbsp
Specter to Goodell (.pdf)
•&nbsp
Goodell to Specter (.pdf)
Page 2
•&nbsp
Gallo: Five stages of heartbreak for Pats' fans
•
Hill: Best Super Bowl parties
•
Hill: Teflon Tom Brady
•
Popculture roundtable on the Super Bowl
•
Hill: Raiders quit on Moss
•
Flem File at the Super Bowl
•
Fleming: Defining greatness
•
Best teams never to win a title
•
TMQ: Title-game analysis
•
Why Boston teams are so good
•
Gallo: Countdown to kickoff
•
More from Page 2
News
•
Brady ankle not on injury report
•
Brady on Plax prediction: Only 17 points for Pats?
•
Carey named first black Super Bowl referee
•
Brady practices in Pats' first Super Bowl session
•
Ross gets sick as unified Giants face flu
•
NFL not worried about spying
•
Security high for Super Bowl
•
Williams to be honored during Super Bowl
•
Bootless Brady departs for Arizona
•
Tickets reselling for average of $4,300
•
Burress: Giants' receivers are better
Scouts Inc.
•
Roundtable: Seven scouts weigh in
•
Super Bowl XLII X Factors
•
Coaching comparison: Styles vary, results same
•
Defensive line breakdowns
•
Horton: Notes from the film room (Day 5)
•
Matchups to watch in Super Bowl XLII
•
Running-game breakdown
•
Horton: Notes from the film room (Day 4)
•
QB tale of the the tape
•
Horton: Notes from the film room (Day 3)
•
Ranking NFL QBs 1-64
•
Take II on Super Bowl XLII
•
Giants' DBs overmatched or underrated?
•
Horton: Notes from film room (Day 2)
•
Horton: 10 things to watch in SB XLII
•
Horton: Notes from the film room (Day 1)
•
A tale of two underrated O-lines
•
Take I on Super Bowl XLII
•
Players ranked Nos. 1-106

SportsNation
• Vote:
Which team will win?
• Vote:
Who wins the head-to-head matchups?
• Vote:
Which team are you rooting for?
• Conversation:
Talk Super Bowl XLII
• Map:
Which states are picking the Giants?
• Quiz:
42 Super Bowl history questions
• Chat:
Buzzmaster: Hello from Arizona!
• Chat:
Buzzmaster: Live from Media Day
• Chat:
Buzzmaster: Live with oddsmaker
• Chat:
Buzzmaster: Live with Matt Hasselbeck
• Chat:
Buzzmaster: Live with Gregg Easterbrook
• Rank:
Super Bowl's best individual performances
• Rank:
Super Bowl coaches
• Rank:
Super Bowl careers
• Rank:
Super Bowl teams
• Rank:
Super Bowl games
• Rank:
Greatest all-time quarterbacks
• Vote:
Potential for QB greatness?
• Quiz:
Greatest quarterbacks
• ABCNews:
Super Bowl or Super Tuesday?
• Chat Rewind:
When did undefeated talk start?
• Vote:
Can we proposition you?
• Pulse:
What is SportsNation saying about XLII?
ESPN FAN SHOP