Commentary
Wobbly Steelers trying to regroup before Jags' return
Without their best defensive end, two left tackles and a star running back, can the Steelers regroup to avenge last month's home loss to Jaguars in the playoffs Saturday?
Originally Published:
January 2, 2008
By
John Clayton
| ESPN.com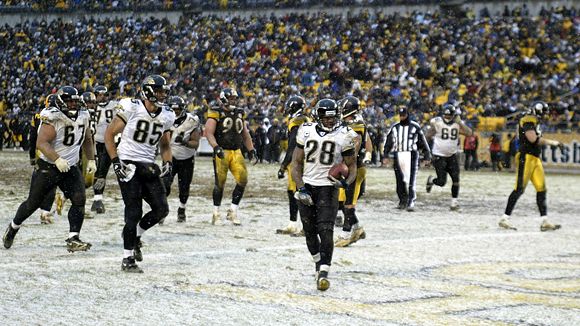 Rick Stewart/Getty ImagesFred Taylor (28) and the Jaguars relished their last visit to Heinz Field, where they ran through the injury-decimated Steelers for a 29-22 victory on Dec. 16. Taylor scored the winning touchdown.
PITTSBURGH -- His arm in a sling because of a torn biceps injury, Aaron Smith walked through the Pittsburgh Steelers' offices Monday accompanied by his two children. Steelers execs who spotted him shook their heads.
They knew the defensive end's value to the Steelers defense before his season-ending injury. Without him, the Steelers don't look like the Steelers. In the team's final three regular-season games the Steelers' defense surrendered averages of 165 rushing yards and 28 points. The Steelers were so good with Smith that they managed to finish as the league's No. 1 defense despite the collapse.
Saturday night's AFC playoff game against the Jacksonville Jaguars is the team's first return to Heinz Field since a 29-22 loss to the Jaguars in which they gave up an unprecedented 224 yards on the ground. The defense known for preventing 100-yard rushing games at Heinz Field just spent two weeks on the road trying to adjust to the loss of Smith. Now, it has until Saturday night to find answers or slip into the offseason.
"I know it's something that as long as I've been here I've never seen happen here," defensive end Brett Keisel said of the Jaguars' rushing success.
"Guys are trying to do too much. We aren't staying in our gaps. We'll be OK. Aaron is such a good player. He's so underrated in this league in my opinion. He definitely makes a difference when he's out there."
Life without Smith -- who is being replaced by the combination of
Nick Eason
and
Travis Kirschke
-- isn't the only Steelers' concern: • They lost their main running threat who sets up their play-action game when halfback
Willie Parker
broke his leg Dec. 20 in St. Louis.
Najeh Davenport
is a back built in the mold of
Jerome Bettis
, but he isn't going to produce long runs. With Parker in the lineup, the Steelers ground game was far more explosive; he produced 13 runs of 20 yards or more. • The offensive line is down to its third left tackle,
Trai Essex
. Starting left tackle
Marvel Smith
underwent back surgery last week. His earliest possible return would be an AFC Championship Game, but that might be an optimistic forecast.
Max Starks
, the former starting right tackle, suffered a season-ending knee injury Sunday in Baltimore. Essex will be making his first start against the Jaguars. • Depth will be at a premium because of other injuries. Backup cornerback
Bryant McFadden
reinjured his ankle in the Ravens game. Safety
Troy Polamalu
has inflammation in his knee, an injury that's bothered him all year. He will be limited in practice early this week. Cornerback
Deshea Townsend
will be limited because of foot discomfort. Wide receiver
Hines Ward
has a sore knee. Linebacker
Clint Kriewaldt
is headed to the injured reserve list. Cornerback-kick-returner
Allen Rossum
has a hamstring injury. A month ago, the Steelers appeared to move ahead of the Colts as the AFC possible No. 2 seed. Since then, they've been in a rapid decline because of injuries. Within the first few minutes of Mike Tomlin's postgame news conference following the loss to Baltimore, Tomlin embraced the playoffs by saying "Ready or not, here we come." Tomlin made Monday a mental day for the Steelers. They met and watched tape. Tuesday was a day off. The Steelers returned to the practice field Wednesday to try to regain their persona. Can the Steelers still be the Steelers despite the loss of their best defensive end, two tackles and a running back who led the league in rushing before breaking his leg? The first priority is defense. Defensive coordinator Dick LeBeau will spend the week making sure every defender stays in their gaps. The Steelers' 3-4 scheme is known for the gap integrity of the front seven. Smith's injury came the week before the Jaguars game. "We're upset about the last couple of weeks,"' Keisel said. "We weren't staying in our gaps. Guys were trying to do too much and teams are gashing us." Tomlin spoke Tuesday of better tackling and better execution. "I don't know if people have blocked us differently," Tomlin told reporters Tuesday when asked if teams are game planning differently with Smith out for the season. "They have blocked us effectively. We have to combat that with quality play. We have to shed blocks, beat tackles, run to the football and, when you get there, tackle."
Players expect coaches to harangue them this week.
"We need it, we need to get refocused and figure out the best way to solve all these problems,'' Keisel said. "If we're not shutting running teams down, we're going to be watching in the playoffs. We have very good coaches here. They are very good at figuring out what's going on and getting things adjusted."
On offense, the team has to rally around Ben Roethlisberger. Moving the ball through the air could be difficult, though. The Jaguars won't honor play-action fakes as much with Parker out of the lineup.
Now, down two left tackles, it's going to be harder for the Steelers to block the pass rush conventionally. Tomlin is concerned the Steelers are losing their swagger.
"That's a concern," he told reporters Tuesday. "A lot of things are of concern. I tend to take the approach of what lies ahead. What lies ahead is an enormous playoff game versus a great football team at our place. So that is our focus. We have to prepare ourselves. We have some guys that understand the gravity of the moment."
Keisel expects a very physical game. "I'm just healing up now from the last game against Jacksonville," Keisel said. "This will be very physical."
John Clayton, a member of the Pro Football Hall of Fame writers' wing, is a senior writer for ESPN.com.
NFL senior writer
Senior NFL writer and commentator
Joined ESPN in 1995
Member of the writers' wing of the Pro Football Hall of Fame in Canton, Ohio
SPONSORED HEADLINES
MORE NFL HEADLINES
MOST SENT STORIES ON ESPN.COM
2007 PLAYOFFS

In a rematch of their Week 17 game, the unbeaten Patriots will play the red-hot Giants in Super Bowl XLII in Glendale, Ariz.
Super Bowl Central
Clayton: Eli's managing fine
Chadiha: Focused Giants
AccuScore simulation: Pats to prevail
Chadiha: First Look | Playoff schedule



Conference Championships (Jan. 20)
Patriots 21, Chargers 12
•
Merrill: Questions linger about Moss' postseason
•
Wojciechowski: Whatever it takes, Pats win
•
Pasquarelli: Patriots' offense grinds it out
•
Pasquarelli: Chargers squander opportunites
•
Pats make fourth SB in seven years
•
The Last Call: Mike Sando's observations, more
•
Zoom Gallery:
AFC title game
|
Pats' season
•
Playoff page
Giants 23, Packers 20
•
Clayton: Burress burns Harris, Packers
•
Chadiha: Bitter pill for Packers to swallow
•
Zoom Gallery: Giants edge Packers
•
The Last Call: Mike Sando's observations, more
•
Garber: Coughlin's personality makeover intact
•
Playoff page
Video
•
What is Tom Brady's legacy?
•
Eli and Burress lead Giants
•
Patriots avoid distractions on way to Super Bowl
•
Resilient Giants advance to SB
•
Red-zone efficiency fuels Patriots
Divisional Round (Jan. 12-13)
Packers 42, Seahawks 20
•
Recap
|
Playoff game page
•
Clayton: Ryan Grant sticks to the plan
•
Sando: Disastrous play at TE for Seattle
Patriots 31, Jaguars 20
•
Recap
|
Playoff game page
•
Pasquarelli: Patriots have too many weapons
Chargers 28, Colts 24
•
Recap
|
Playoff game page
•
Wojciechowski: Did Chargers get Pats' attention?
•
Clayton: Colts can't overcome mistakes
Giants 21, Cowboys 17
•
Recap
|
Playoff game page
•
Chadiha: Manning maturing at right time
More divisional playoffs
•
Saturday's Last Call: Pack, Pats advance
•
Sunday's Last Call: Giants, Chargers surprise
Commentary/Features
•
Pasquarelli: Tip Sheet
|
Notes

•
Smith: Special teams loom large
•
Scouts: Kryptonite for top four teams

•
Playoff upsets: By the numbers
•
Page 2: Handicapping the wild-card winners
Wild-Card Round (Jan. 5-6)
Seahawks 35, Redskins 14
•
Recap
|
Playoff game page
•
Clayton: Cool head Holmgren
•
Sando: Redskins inspired by Taylor
Jaguars 31, Steelers 29
•
Recap
|
Playoff game page
•
Chadiha: Jaguars pass character test
Giants 24, Bucs 14
•
Recap
|
Playoff game page
•
Pasquarelli: Manning delivers for Giants
•
Pasquarelli: Giants' D rises to occasion
Chargers 17, Titans 6
•
Recap
|
Playoff game page
•
Clayton: Turner, Rivers silence their critics
More Wild Card Weekend
•
Saturday's Last Call: Hawks, Jags escape
•
Sunday's Last Call: Giants, Chargers rule
•
ZOOM photos:
Saturday
|
Sunday
Commentary/Features
•
Sando: Controversial history of replay
•
Clayton: First and Goal, Wild Card
•
Sando: Playoff mantras
•
Numbers crunching: Wild-card weekend
•
Sunday Countdown
•
TMQ: Do the Pats need to run more?
•
Joyner: Steelers, Giants adjusting on the fly

•
Clayton: Handicapping possible Patriots foes
•
Clayton: Key playoff questions for the AFC
•
Pasquarelli: Key playoff questions for the NFC
Video
•
Chargers bolt past Titans, 17-6
•
Eli Manning silences his critics
•
Seattle's Hasselbeck is underrated
•
Phillips not concerned about late-season slide
Scouts Inc.
•
Ranking the playoff teams
•
Ranking the playoff coaches
•
Off. rankings:
Overall
|
QB
|
WR
|
RB
|
OL
•
Def. rankings:
Overall
|
DL
|
LB
|
DB
|
ST
•
Green: Smith's absence hurting Steelers
•
Williamson: Unknowns powering Bucs