Commentary
Holmgren stays calm when it matters most to key Seahawks' win
In Seattle's NFC wild-card playoff win over Washington on Saturday, Mike Holmgren showed in five plays why he's probably the most dangerous coach in the playoffs, John Clayton writes.
Originally Published:
January 5, 2008
By
John Clayton
| ESPN.com
SEATTLE -- Saturday's home playoff game was slipping away, and Seattle Seahawks coach Mike Holmgren could feel it in the air.
Quarterback Matt Hasselbeck got greedy and made bad decisions, throwing two interceptions to Washington Redskins safety LaRon Landry.
Returner
Nate Burleson
misjudged a high kickoff and simply missed the ball, allowing the Redskins to get a scoring chance at the Seahawks' 14. Washington quarterback
Todd Collins
beat the Seattle defense with two play-action pass touchdowns in a 2-minute, 15-second span at the beginning of the fourth quarter. The talk all week was that this could be Holmgren's last stand, that an emotional loss in this NFC wild-card playoff game could send him to retirement. But that wasn't happening at Qwest Field.
[+] Enlarge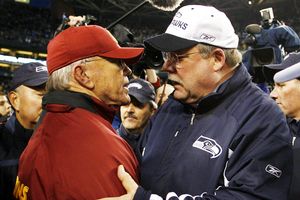 Joe Nicholson-US PRESSWIREWashington's Joe Gibbs (left) and Seattle's Mike Holmgren staged a chess match Saturday that Holmgren eventually won.
Holmgren showed in five plays why he's one of the game's greatest playcallers and why he is probably
the
most dangerous coach in the playoffs. When Washington's Joe Gibbs turned conservative with the lead, Holmgren turned aggressive in directing a brilliant five-play touchdown drive that sparked a 22-point fourth-quarter explosion in a weird 35-14 victory over the Redskins.
This game was a chess match of great coaches. Gibbs' staff is one of the most thorough in the game. Defensive coordinator Gregg Williams had his defenders so sharp in adjusting to Hasselbeck audibles that at one point Shaun Alexander suggested to Hasselbeck to try fake audibles. At times, that didn't work. What worked was the mind of Holmgren at a time it appeared the game was lost.
Washington led, 14-13, with 8:03 left in the fourth quarter. The Seahawks opened a drive at the Redskins' 42. Holmgren displayed the calm, cool and collected nature of a masterful playcaller.
"Matt would tell you this, too, that he forced two balls for interceptions," Holmgren said. "We were moving the ball on the drive previous, and he threw the interception. Then Gil Haskell [Holmgren's offensive coordinator and conscience] reminded me to stay with the stuff that Matt knows and that he is comfortable with and what we have done all year long. It was good advice."
Holmgren started with a short pass to the right to tight end Marcus Pollard. It was incomplete. For second down, Holmgren went with Maurice Morris, the back he uses in passing situations. Morris ran to his left for a 4-yard gain.
That's when Holmgren's aggressive nature emerged. Remember, Holmgren was at the Redskins' 42 to start the drive. Now, at their 38, all he needed to do was call a short pass to get a first down or set up a field goal.
Instead, he sent his two outside receivers on fly patterns down each sideline, hoping for one to get open. The pass was covered on the left, leaving Hasselbeck one option on his right. Burleson was covered tightly by cornerback Shawn Springs, but Hasselbeck threw the ball anyway.
"We've been in the playoffs five years in a row, and no matter what goes on, you're taught in the playoffs to win the play," Alexander said.
Burleson won the play. The returner -- who admitted misjudging the kickoff minutes earlier -- gave Springs what Burleson called "the Randy Moss nudge" and grabbed the contested ball for the first down at the Washington 23.
Holmgren followed with a 3-yard running play that set up his most aggressive call of the day. He called a play installed just this week for the Redskins and for Landry, Washington's aggressive safety. Normally,
D.J. Hackett
takes a play-action pass route to the outside. This time, Holmgren called for a double move -- not seen before on game tape -- to get Landry to bite and leave Hackett open in the deep secondary.
Hasselbeck's pass was on target for a 20-yard score. That call gave the Seahawks what became a 21-14 lead -- they added a two-point conversion -- and basically won the game. The Seahawks can thank Holmgren, but Holmgren thanks Haskell. "Gil brought me back to the things that we do pretty well," Holmgren said. "The touchdown was a new play that was designed this week. Their free safety was very active, and we thought we could get a little move down the seam, and it was worked nicely. We did stay aggressive. I had a talk with myself about that on the sidelines, saying that I was going to do that." Holmgren is a fiery coach. He admits that at times he gets too caught up with the emotions of the game. In an Oct. 9 game against Pittsburgh, he lost his cool. When Hasselbeck got sacked before the half, he got mad, Holmgren beet-red mad. Although the coach had three timeouts at his disposal, he lost his focus and didn't call any. The Steelers took control in the second half, not giving him a chance at redemption. "I learned a few years ago that as angry or as upset as I may be, it does absolutely no good, particularly with a quarterback, to remind him of something that he already knows," Holmgren said of staying away from Hasselbeck after a mistake or an interception. " We had a little cooling-off period like we always do, and then we're off to the next series and the next play. That's the best way to handle it." Holmgren knows to stay away from his quarterback for at least 45 seconds. No one had to remind him of Hasselbeck's blunder with 9:42 left in the fourth quarter. Hasselbeck forced a long pass to wide receiver
Ben Obomanu
. Landry followed Hasselbeck's eyes and ran right to Obomanu, intercepting the pass. It was a bad decision by Hasselbeck. He didn't need to be reminded. "It was a great job of play calling by Mike," Hasselbeck said. "We had been struggling. I had been struggling a little bit, not throwing the ball very accurately. I think we were down by one, and we needed a field goal but we wanted a touchdown. He called some aggressive throws downfield. We got the rhythm going. We got our tempo going a little bit." The 20-yard touchdown pass to Hackett was followed by a two-point conversion pass to Pollard. Down by seven, the Redskins collapsed. Collins threw interceptions to
Marcus Trufant
and
Jordan Babineaux
that each Seahawk returned for a score. As far as his future is concerned, Holmgren is taking things day by day, minute by minute. He admits the losses are harder for him to take. He admits decisions by officials affect him even more. During Saturday's game, he blew up temporarily when referee Walt Coleman called an incompletion on what appeared to be a fumble forced by
Patrick Kerney
off the hands of Collins. Holmgren tried to challenge it. Coleman explained he had it as an incompletion all the way. Later, Holmgren was furious a replay official challenged a spot on a fourth-down spot in the final minutes of the first half. "I'm trying to deal with the officials in a more clear manner and set a good example for my ballplayers," Holmgren said, setting the interview room of reporters laughing. Now, it's on to Green Bay next Saturday for a divisional playoff game. Holmgren, a former Packers coach, has a street named after him there. It's also on to Green Bay for Hasselbeck, who made highlight history in a playoff game against the hosts during an overtime coin flip there. After this victory over the Redskins, he officially opened Packers week with a repeat of his overtime statement. "I want to just say right now that we want the ball and we're going to score," Hasselbeck said. "OK, I said it. I mean it. Thank you." Although Saturday was tense, Holmgren and Hasselbeck could have a laugh together.
John Clayton, a member of the Pro Football Hall of Fame writers' wing, is a senior writer for ESPN.com.
NFL senior writer
Senior NFL writer and commentator
Joined ESPN in 1995
Member of the writers' wing of the Pro Football Hall of Fame in Canton, Ohio
2007 PLAYOFFS

In a rematch of their Week 17 game, the unbeaten Patriots will play the red-hot Giants in Super Bowl XLII in Glendale, Ariz.
Super Bowl Central
Clayton: Eli's managing fine
Chadiha: Focused Giants
AccuScore simulation: Pats to prevail
Chadiha: First Look | Playoff schedule



Conference Championships (Jan. 20)
Patriots 21, Chargers 12
•
Merrill: Questions linger about Moss' postseason
•
Wojciechowski: Whatever it takes, Pats win
•
Pasquarelli: Patriots' offense grinds it out
•
Pasquarelli: Chargers squander opportunites
•
Pats make fourth SB in seven years
•
The Last Call: Mike Sando's observations, more
•
Zoom Gallery:
AFC title game
|
Pats' season
•
Playoff page
Giants 23, Packers 20
•
Clayton: Burress burns Harris, Packers
•
Chadiha: Bitter pill for Packers to swallow
•
Zoom Gallery: Giants edge Packers
•
The Last Call: Mike Sando's observations, more
•
Garber: Coughlin's personality makeover intact
•
Playoff page
Video
•
What is Tom Brady's legacy?
•
Eli and Burress lead Giants
•
Patriots avoid distractions on way to Super Bowl
•
Resilient Giants advance to SB
•
Red-zone efficiency fuels Patriots
Divisional Round (Jan. 12-13)
Packers 42, Seahawks 20
•
Recap
|
Playoff game page
•
Clayton: Ryan Grant sticks to the plan
•
Sando: Disastrous play at TE for Seattle
Patriots 31, Jaguars 20
•
Recap
|
Playoff game page
•
Pasquarelli: Patriots have too many weapons
Chargers 28, Colts 24
•
Recap
|
Playoff game page
•
Wojciechowski: Did Chargers get Pats' attention?
•
Clayton: Colts can't overcome mistakes
Giants 21, Cowboys 17
•
Recap
|
Playoff game page
•
Chadiha: Manning maturing at right time
More divisional playoffs
•
Saturday's Last Call: Pack, Pats advance
•
Sunday's Last Call: Giants, Chargers surprise
Commentary/Features
•
Pasquarelli: Tip Sheet
|
Notes

•
Smith: Special teams loom large
•
Scouts: Kryptonite for top four teams

•
Playoff upsets: By the numbers
•
Page 2: Handicapping the wild-card winners
Wild-Card Round (Jan. 5-6)
Seahawks 35, Redskins 14
•
Recap
|
Playoff game page
•
Clayton: Cool head Holmgren
•
Sando: Redskins inspired by Taylor
Jaguars 31, Steelers 29
•
Recap
|
Playoff game page
•
Chadiha: Jaguars pass character test
Giants 24, Bucs 14
•
Recap
|
Playoff game page
•
Pasquarelli: Manning delivers for Giants
•
Pasquarelli: Giants' D rises to occasion
Chargers 17, Titans 6
•
Recap
|
Playoff game page
•
Clayton: Turner, Rivers silence their critics
More Wild Card Weekend
•
Saturday's Last Call: Hawks, Jags escape
•
Sunday's Last Call: Giants, Chargers rule
•
ZOOM photos:
Saturday
|
Sunday
Commentary/Features
•
Sando: Controversial history of replay
•
Clayton: First and Goal, Wild Card
•
Sando: Playoff mantras
•
Numbers crunching: Wild-card weekend
•
Sunday Countdown
•
TMQ: Do the Pats need to run more?
•
Joyner: Steelers, Giants adjusting on the fly

•
Clayton: Handicapping possible Patriots foes
•
Clayton: Key playoff questions for the AFC
•
Pasquarelli: Key playoff questions for the NFC
Video
•
Chargers bolt past Titans, 17-6
•
Eli Manning silences his critics
•
Seattle's Hasselbeck is underrated
•
Phillips not concerned about late-season slide
Scouts Inc.
•
Ranking the playoff teams
•
Ranking the playoff coaches
•
Off. rankings:
Overall
|
QB
|
WR
|
RB
|
OL
•
Def. rankings:
Overall
|
DL
|
LB
|
DB
|
ST
•
Green: Smith's absence hurting Steelers
•
Williamson: Unknowns powering Bucs

MOST SENT STORIES ON ESPN.COM