Commentary
Turner gives Chargers what Schottenheimer couldn't
In Seattle's NFC wild-card playoff win over Washington on Saturday, Mike Holmgren showed in five plays why he's probably the most dangerous coach in the playoffs, John Clayton writes.
Originally Published:
January 6, 2008
By
John Clayton
| ESPN.com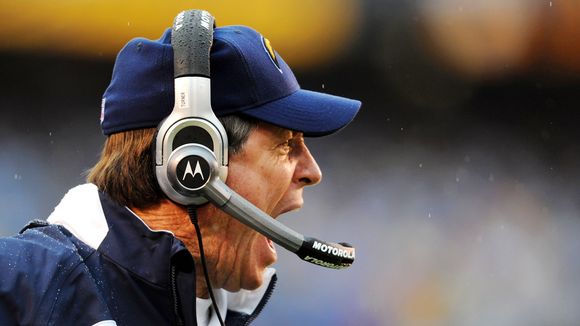 Kirby Lee/Image of Sport-US PRESSWIRENorv Turner has been booed this season, but he delivered what Chargers fans demanded -- a playoff win.
SAN DIEGO -- The watery eyes were evident in Norv Turner's face, a swelling of emotions stemming from the season-long burden he has carried as Marty Schottenheimer's successor in San Diego.
Turner wouldn't say he was crying -- "it was probably the rain," he shrugged -- but who could blame him if he did spill a few tears? He entered the playoffs facing more pressure than any other head coach. He was, essentially, hired to do what Schottenheimer couldn't -- win a playoff game.
Even as he did just that Sunday, with his Chargers beating the Titans 17-6 in the final wild-card game of the weekend, the doubters were there. San Diego fans booed him, just as they had at different points of the regular season. Some made their preference known for Schottenheimer.
The negative environment was certainly evident at halftime, as the Chargers trotted off the field trailing 6-0. The blame for the lack of offense -- San Diego had just six yards rushing in the half -- was directed at Turner, considered one of the league's most creative playcallers.
You see, while his players have home-field advantage, Turner doesn't.
"Norv was brought here in an odd situation," running back LaDainian Tomlinson said. "It was either get us back to the playoffs and win a game in the playoffs or you are a failure.
"I felt like he was given the raw end of the stick. ... When people were booing him and yelling 'Marty,' it was kind of unfair to him."
Yet, Turner wasn't alone at the bottom of the respect meter.
Philip Rivers, his quarterback, faced similar problems. While Turner tried to ignore the disgruntled fans, Rivers faced a defense that didn't respect him. Earlier in the week, Titans linebacker Keith Bulluck said point-blank that his team would do everything it could to stop Tomlinson and force Rivers to beat them with his arm.
[+] Enlarge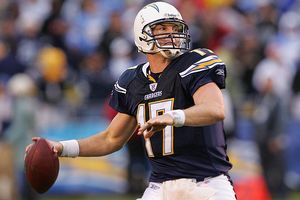 Gary A. Vasquez/US PresswirePhilip Rivers and the Chargers' offense found their groove in the second half.
Titans coach Jeff Fisher designed a defensive scheme completely different from the one he used against San Diego in the Dec. 9 game in Nashville. In that first meeting, Fisher had eight players committed in the box to stop the run.
On Sunday, Fisher got tricky. He had his front four engage Chargers blockers on run downs, with the three linebackers hiding behind those big bodies. When Tomlinson got the ball, the linebackers attacked the holes, leaving him no room to run.
Tomlinson had 17 rushing yards on 15 first-down carries, and the lack of a running game stuck Rivers with third-and-17, third-and-18, third-and-12 and third-and-11 on his first five third-down opportunities.
"We attacked the run," Bulluck explained after the game. "We wanted to put the game in Philip Rivers' hands."
And then Bullock added one more comment, the one that said it all about the game's outcome.
"He did a great job."
To the credit of Turner and Rivers, they didn't lower their heads or show frustration during the offense's first-half struggles. Early on, Tomlinson wanted to test the resolve of his beleaguered quarterback. After two three-and-outs, Tomlinson asked Rivers what he was seeing out on the field.
Calmly, Rivers said he was seeing the Titans playing a lot of Cover 1 and Cover 3 defenses. With that response, Tomlinson felt relieved. He knew his quarterback was assimilating information. It was only a matter of time before positive yards would start coming.
"There was a big story in the paper today about the X factor," Turner said. "Philip was the X factor. He played his ass off."
After producing just 88 passing yards in the first half, Rivers rallied, eventually finishing with 292 yards on 19 of 30 attempts. He had four completions of 30-plus yards and two of 20. Chris Chambers caught six passes for 121 yards and Vincent Jackson caught five passes for 114 yards and a touchdown.
Most of those completions and yards came after losing tight end Antonio Gates in the second quarter to a dislocated toe, an injury that may sideline him the rest of the playoffs.
"They took away our running game, and the more people do that, the more we are going to have to prove we can beat people throwing the football," said Tomlinson, who finished with 42 yards on 21 carries. "I think the thing that stood out in my mind about Philip was his poise today. He really showed a lot of poise. He was calm."
Rivers' teammates respect him as a leader even though his efficiency fell off this season compared to last.
A year ago under Schottenheimer, putting up big numbers seemed almost too easy during the regular season. The Chargers won 14 games. The offense averaged 30 points. Consequently, Rivers went to the Pro Bowl.
This year? The offense fell off about a touchdown a game, and Rivers' numbers were relatively pedestrian -- 60.2 completion percentage and an 82.4 quarterback rating.
"One thing I know is that I'm about as competitive as it gets," Rivers said. "I don't pay much attention, but I hear all the talk. I hear that I'm the question mark. But I know what I can do. I know my teammates believe in me. I go out there and play."
Oblivious to the criticism and boos Sunday, Rivers went out there and played. Against a two-deep zone, Rivers made a pump fake that drew Jackson into the open for a 34-yard catch on the first drive of the third quarter. A third-down pass to Jackson put the Chargers a yard away from the end zone. But instead of going for it on fourth down, Turner opted for the 20-yard field goal.
Even though it was the 12th time this season San Diego has scored on the opening drive of the second half, fans weren't happy. But their grousing eventually ended when Rivers hit Jackson for a 25-yard score with 2:35 left in the quarter, giving the Chargers their first lead.
On San Diego's next possession, Rivers then hit Chambers with a 39-yard pass that set up Tomlinson's 1-yard TD run.
"His composure, his accuracy, his feel in the pocket ... " Turner said, rattling off Rivers' assets. "The play he makes to Chris Chambers is a double move route. It's press coverage and he knows he's going to take a long time. Philip slides and buys some time in the pocket. We protected great, then the defender undercuts it."
It's the kind of play San Diego fans have been waiting for this season. Likewise for Sunday's win, especially since the Chargers had two playoff losses in three years under Schottenheimer and had not won a playoff game in 13 years.
So is Turner, who had not been in the playoffs as a head coach since 1999 when he led Washington to the divisional round, now off the hook?
Hardly.
"If you are a coach," Turner said, "it's always about next week."
But the Chargers wanted to dwell on the emotions of this week a little longer. It was a long time coming.
"I'm happy for him because it has been an up-and-down, roller-coaster season," the injured Gates said about his head coach. "This was the game to get us over the hump.
"With all the decisions made from last year and the coaching change and obviously with the acquisition of Chris Chambers coming here, this game was just huge for us.''
And the outcome was enough to make a grown man cry -- even if he may not admit it.
John Clayton, a member of the Pro Football Hall of Fame writers' wing, is a senior writer for ESPN.com.
NFL senior writer
Senior NFL writer and commentator
Joined ESPN in 1995
Member of the writers' wing of the Pro Football Hall of Fame in Canton, Ohio
2007 PLAYOFFS

In a rematch of their Week 17 game, the unbeaten Patriots will play the red-hot Giants in Super Bowl XLII in Glendale, Ariz.
Super Bowl Central
Clayton: Eli's managing fine
Chadiha: Focused Giants
AccuScore simulation: Pats to prevail
Chadiha: First Look | Playoff schedule



Conference Championships (Jan. 20)
Patriots 21, Chargers 12
•
Merrill: Questions linger about Moss' postseason
•
Wojciechowski: Whatever it takes, Pats win
•
Pasquarelli: Patriots' offense grinds it out
•
Pasquarelli: Chargers squander opportunites
•
Pats make fourth SB in seven years
•
The Last Call: Mike Sando's observations, more
•
Zoom Gallery:
AFC title game
|
Pats' season
•
Playoff page
Giants 23, Packers 20
•
Clayton: Burress burns Harris, Packers
•
Chadiha: Bitter pill for Packers to swallow
•
Zoom Gallery: Giants edge Packers
•
The Last Call: Mike Sando's observations, more
•
Garber: Coughlin's personality makeover intact
•
Playoff page
Video
•
What is Tom Brady's legacy?
•
Eli and Burress lead Giants
•
Patriots avoid distractions on way to Super Bowl
•
Resilient Giants advance to SB
•
Red-zone efficiency fuels Patriots
Divisional Round (Jan. 12-13)
Packers 42, Seahawks 20
•
Recap
|
Playoff game page
•
Clayton: Ryan Grant sticks to the plan
•
Sando: Disastrous play at TE for Seattle
Patriots 31, Jaguars 20
•
Recap
|
Playoff game page
•
Pasquarelli: Patriots have too many weapons
Chargers 28, Colts 24
•
Recap
|
Playoff game page
•
Wojciechowski: Did Chargers get Pats' attention?
•
Clayton: Colts can't overcome mistakes
Giants 21, Cowboys 17
•
Recap
|
Playoff game page
•
Chadiha: Manning maturing at right time
More divisional playoffs
•
Saturday's Last Call: Pack, Pats advance
•
Sunday's Last Call: Giants, Chargers surprise
Commentary/Features
•
Pasquarelli: Tip Sheet
|
Notes

•
Smith: Special teams loom large
•
Scouts: Kryptonite for top four teams

•
Playoff upsets: By the numbers
•
Page 2: Handicapping the wild-card winners
Wild-Card Round (Jan. 5-6)
Seahawks 35, Redskins 14
•
Recap
|
Playoff game page
•
Clayton: Cool head Holmgren
•
Sando: Redskins inspired by Taylor
Jaguars 31, Steelers 29
•
Recap
|
Playoff game page
•
Chadiha: Jaguars pass character test
Giants 24, Bucs 14
•
Recap
|
Playoff game page
•
Pasquarelli: Manning delivers for Giants
•
Pasquarelli: Giants' D rises to occasion
Chargers 17, Titans 6
•
Recap
|
Playoff game page
•
Clayton: Turner, Rivers silence their critics
More Wild Card Weekend
•
Saturday's Last Call: Hawks, Jags escape
•
Sunday's Last Call: Giants, Chargers rule
•
ZOOM photos:
Saturday
|
Sunday
Commentary/Features
•
Sando: Controversial history of replay
•
Clayton: First and Goal, Wild Card
•
Sando: Playoff mantras
•
Numbers crunching: Wild-card weekend
•
Sunday Countdown
•
TMQ: Do the Pats need to run more?
•
Joyner: Steelers, Giants adjusting on the fly

•
Clayton: Handicapping possible Patriots foes
•
Clayton: Key playoff questions for the AFC
•
Pasquarelli: Key playoff questions for the NFC
Video
•
Chargers bolt past Titans, 17-6
•
Eli Manning silences his critics
•
Seattle's Hasselbeck is underrated
•
Phillips not concerned about late-season slide
Scouts Inc.
•
Ranking the playoff teams
•
Ranking the playoff coaches
•
Off. rankings:
Overall
|
QB
|
WR
|
RB
|
OL
•
Def. rankings:
Overall
|
DL
|
LB
|
DB
|
ST
•
Green: Smith's absence hurting Steelers
•
Williamson: Unknowns powering Bucs
Nike Youth Home Game Jersey Tennessee Titans Jake Locker #10 Shop »

MOST SENT STORIES ON ESPN.COM