Commentary
Once again, Grant learns from adversity and thrives
In the span of a few minutes Saturday, Ryan Grant went from Packers goat to hero. His transformation mirrors some of his recent life experiences, writes John Clayton.
Originally Published:
January 12, 2008
By
John Clayton
| ESPN.com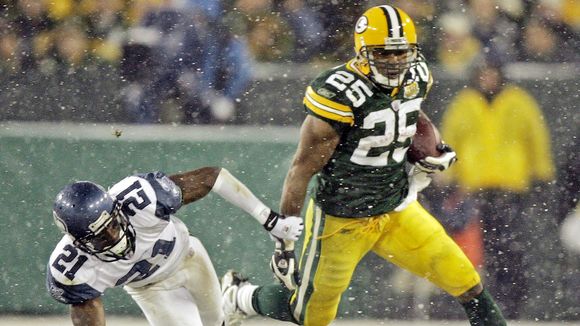 AP Photo/Charlie NeibergallKelly Jennings (21) and the Seahawks had a tough time containing Ryan Grant (25), who rushed for 201 yards and three touchdowns after a rough start. Grant, once a Giants backup, continued his breakout season.
GREEN BAY, Wis. --
Ryan Grant
has a motto that is simple and consistent.
"It might not happen the way you might want it," Grant always says. "But if you keep working, it pays off."
Grant paid off big time Saturday for the Green Bay Packers. The halfback fumbled two of the first three times he touched the ball, setting up two Seattle Seahawks' touchdowns in the first four minutes of Saturday's NFC divisional playoff game. Packers coach Mike McCarthy has benched players for less.
Because McCarthy planned to run the ball Saturday, he stayed with Grant, who returned the favor by rushing for Packers' playoff-record 201 yards on 27 carries and scoring three touchdowns in what turned out to a 42-20 destruction of Mike Holmgren's Seahawks. The Packers advanced to the NFC Championship Game on Jan. 20 to play the winner of Sunday's NFC divisional playoff game between the New York Giants and Dallas Cowboys.
"He was a big part of the game plan," McCarthy said of Grant. "I never gave it a thought [to bench him], never one thought. We stuck with the game plan."
And Grant stuck with his game plan of life. Despite coming out of Notre Dame with two degrees and a great reputation as a football player, Grant hasn't lived an easy life or had an easy career.
• As an undrafted New York Giants prospect in 2005, he had to learn responsibility from then teammate Tiki Barber. Once, he fell asleep in a meeting, and Barber, trying to teach him a lesson, didn't wake him up. Coach Tom Coughlin obviously wasn't pleased, but Grant learned how to be more responsible and attentive.
• In 2006, he almost bled to death when he cut his left forearm after slipping on a wet floor at a party. His arm went through a glass table. The artery, nerves and tendons were damaged, forcing Grant to miss that season. Initially, doctors doubted he would play again. Had he made it to the hospital a little later, he might have died. From that experience, he decided to tone down his social life. Instead, he worked on rehabbing his injury. It took him time to regain strength in hand. But being an injured, undrafted player, Grant was an afterthought. This season the Giants had
Brandon Jacobs
,
Reuben Droughns
and promising seventh-round choice
Ahmad Bradshaw
. When the Packers offered a sixth-round choice to acquire him before the start of the season, the Giants didn't blink and sent him to Green Bay. Coming from that background, Grant wasn't going to let a couple of fumbles in the most important game of his life stop him. Living to his motto, Grant kept working. "I don't think my motto has changed since I was a little kid,'' Grant said. "It's kept me pretty grounded. I try to move forward every day.'' Grant's running style is pretty simple. At 6 feet,1 inch tall and weighing 224 pounds, Grant lowers his head and runs straight ahead. The Packers' scouts liked him because he was a big back added to a group of running backs who are considered small. But, in the Packers' first six games, he had only six carries for 17 yards. They didn't know enough about him. During those six games, the Packers were just as stubborn as the Detroit Lions were about avoiding rushing the football. McCarthy stayed with a
Brett Favre
-led passing attack. In Week 8 after the team's bye, Grant got a chance to start because of an injury to
Brandon Jackson
, and the Packers never looked back. Grant had 939 yards on 182 carries and eight touchdowns in the final 10 games, giving McCarthy the chance to try to balance his offense. McCarthy's no dummy. He knows Green Bay is one of the coldest venues in sports, so to rely on the pass in freezing temperatures is dangerous. To beat the Seahawks, who have a light, fast defense, McCarthy knew the Packers had to run the ball. As snow fell throughout the entire contest, the running game became more important. Favre kept checking the weather forecast all morning.. "I've been hoping for that my entire career," Favre said. "Give us one of the big snow games. I've never had one in my 17-year career here. I wanted to play in a game where the snow would cover the field and the snow plow would be there."
Favre lived his dream with the almost constant snowfall -- but then came Grant's two fumbles.
The first misstep was on the Packers' first offensive play, a short catch by Grant on a pass that was a little behind him. Linebacker LeRoy Hill knocked the ball from his hands, and the Seahawks scored 20 seconds into the game with a 1-yard touchdown run by Shaun Alexander.
Two plays later, Grant kept his pads too high while running. Safety Brian Russell knocked the ball from his hands, and the Seahawks turned the opportunity into an 11-yard touchdown pass to Bobby Engram.
"I was thinking, 'Boy, this is exactly the kind of game I didn't want to be in,'" Favre said. "We're down, 14-0, and we were going to have to pass. And the conditions were getting worse."
But Favre, like Grant's other teammates, told the young halfback not to dwell on the mistakes. Packers coaches corrected Grant's mistakes along the sidelines and sent him back into the game. And Favre went to work. He drove the Packers 69 yards on seven plays to cut the deficit to 14-7, and Grant took over after that.
On the next possession, Grant rushed for 50 yards on five carries, scoring on a 1-yard touchdown. He was unstoppable the rest of the day.
"I really appreciate the team backing me the whole time," Grant said. "They told me to stay with it and let it go [after the two fumbles]. I was frustrated. I was disappointed. I felt like I gave them 14 points."
After falling behind 14-0, the Packers scored touchdowns on their next six possessions. Favre was masterful. He converted six consecutive third downs with passes. Backed by a great running game and superior protection, Favre had a blast.
His most amazing play came toward the end of the first half. On a third-and-8 from the Seahawks' 11, Favre motioned for tight end Donald Lee to step back and help with protection. Only four seconds remained on the play clock, so things were getting a little panicky.
After the snap, Seahawks defensive tackle Brandon Mebane appeared to have Favre in his arms for a sack, but Favre slipped out. No longer as nimble at 38, Favre almost fell, but he kept himself upright and at the last minute underhanded a completion to Lee. Grant scored a 3-yard touchdown on the next play.
"That looked bad," Favre said. "It was one of those I'm sure watching it that it looked slow. I'm not quite as nimble as I once was. When I finally got enough in balance, I gave it the old, usual underhand toss. When those plays work, there is no one more excited than me."
Yes, there was. Grant was excited. The Packers led 28-17, and Grant went from goat to hero with the greatest playoff rushing day in franchise history.
"I learned humility and perseverance and learned a lot about character," Grant said of his two seasons with the Giants. "I learned to get a chance to step back, listen and see. It showed me how to keep fighting."
Grant recovered from his two fumbles. He listened to his coaches' instruction. And he kept running. Grant kept working. It paid off.
John Clayton, a member of the Pro Football Hall of Fame writers' wing, is a senior writer for ESPN.com.
NFL senior writer
Senior NFL writer and commentator
Joined ESPN in 1995
Member of the writers' wing of the Pro Football Hall of Fame in Canton, Ohio
2007 PLAYOFFS

In a rematch of their Week 17 game, the unbeaten Patriots will play the red-hot Giants in Super Bowl XLII in Glendale, Ariz.
Super Bowl Central
Clayton: Eli's managing fine
Chadiha: Focused Giants
AccuScore simulation: Pats to prevail
Chadiha: First Look | Playoff schedule



Conference Championships (Jan. 20)
Patriots 21, Chargers 12
•
Merrill: Questions linger about Moss' postseason
•
Wojciechowski: Whatever it takes, Pats win
•
Pasquarelli: Patriots' offense grinds it out
•
Pasquarelli: Chargers squander opportunites
•
Pats make fourth SB in seven years
•
The Last Call: Mike Sando's observations, more
•
Zoom Gallery:
AFC title game
|
Pats' season
•
Playoff page
Giants 23, Packers 20
•
Clayton: Burress burns Harris, Packers
•
Chadiha: Bitter pill for Packers to swallow
•
Zoom Gallery: Giants edge Packers
•
The Last Call: Mike Sando's observations, more
•
Garber: Coughlin's personality makeover intact
•
Playoff page
Video
•
What is Tom Brady's legacy?
•
Eli and Burress lead Giants
•
Patriots avoid distractions on way to Super Bowl
•
Resilient Giants advance to SB
•
Red-zone efficiency fuels Patriots
Divisional Round (Jan. 12-13)
Packers 42, Seahawks 20
•
Recap
|
Playoff game page
•
Clayton: Ryan Grant sticks to the plan
•
Sando: Disastrous play at TE for Seattle
Patriots 31, Jaguars 20
•
Recap
|
Playoff game page
•
Pasquarelli: Patriots have too many weapons
Chargers 28, Colts 24
•
Recap
|
Playoff game page
•
Wojciechowski: Did Chargers get Pats' attention?
•
Clayton: Colts can't overcome mistakes
Giants 21, Cowboys 17
•
Recap
|
Playoff game page
•
Chadiha: Manning maturing at right time
More divisional playoffs
•
Saturday's Last Call: Pack, Pats advance
•
Sunday's Last Call: Giants, Chargers surprise
Commentary/Features
•
Pasquarelli: Tip Sheet
|
Notes

•
Smith: Special teams loom large
•
Scouts: Kryptonite for top four teams

•
Playoff upsets: By the numbers
•
Page 2: Handicapping the wild-card winners
Wild-Card Round (Jan. 5-6)
Seahawks 35, Redskins 14
•
Recap
|
Playoff game page
•
Clayton: Cool head Holmgren
•
Sando: Redskins inspired by Taylor
Jaguars 31, Steelers 29
•
Recap
|
Playoff game page
•
Chadiha: Jaguars pass character test
Giants 24, Bucs 14
•
Recap
|
Playoff game page
•
Pasquarelli: Manning delivers for Giants
•
Pasquarelli: Giants' D rises to occasion
Chargers 17, Titans 6
•
Recap
|
Playoff game page
•
Clayton: Turner, Rivers silence their critics
More Wild Card Weekend
•
Saturday's Last Call: Hawks, Jags escape
•
Sunday's Last Call: Giants, Chargers rule
•
ZOOM photos:
Saturday
|
Sunday
Commentary/Features
•
Sando: Controversial history of replay
•
Clayton: First and Goal, Wild Card
•
Sando: Playoff mantras
•
Numbers crunching: Wild-card weekend
•
Sunday Countdown
•
TMQ: Do the Pats need to run more?
•
Joyner: Steelers, Giants adjusting on the fly

•
Clayton: Handicapping possible Patriots foes
•
Clayton: Key playoff questions for the AFC
•
Pasquarelli: Key playoff questions for the NFC
Video
•
Chargers bolt past Titans, 17-6
•
Eli Manning silences his critics
•
Seattle's Hasselbeck is underrated
•
Phillips not concerned about late-season slide
Scouts Inc.
•
Ranking the playoff teams
•
Ranking the playoff coaches
•
Off. rankings:
Overall
|
QB
|
WR
|
RB
|
OL
•
Def. rankings:
Overall
|
DL
|
LB
|
DB
|
ST
•
Green: Smith's absence hurting Steelers
•
Williamson: Unknowns powering Bucs
Nfl Team Apparel Youth Seattle Seahawks Erosion Logo Navy T-shirt Shop »

MOST SENT STORIES ON ESPN.COM