Commentary
Pottsville, Pa. and Cardinals each claim rights to 1925 NFL title
The Cardinals have one NFL playoff win since 1947. Some think their run of bad luck stems from a controversial league title "stolen" years ago, David Fleming writes.
Originally Published:
January 30, 2008
By
David Fleming
| ESPN The Magazine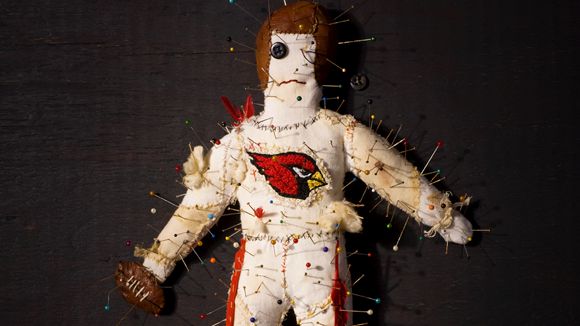 Photography and Voodoo doll by Holly LindemArizona is host to another Super Bowl, but its NFL franchise hasn't sniffed a league title in years. Are the Cardinals cursed after netting a "bogus" title years ago?
Neil Rackers' kick was doomed before it even left his foot.
It was Nov. 25, Week 12 of the 2007 season, eight minutes into overtime. Seconds earlier, the
Arizona Cardinals
seemingly had beaten the
San Francisco 49ers
when Rackers blasted the ball through the uprights from 27 yards. For the briefest of moments, Arizona was 6­5 and one game out of first in the NFC West. Then came a delay-of-game penalty, which negated the field goal and backed the Cardinals up five yards. Naturally, on Rackersš second try, the ball elevated wildly off his foot, hooking wide left. One possession later,
Kurt Warner
fumbled in the end zone to hand the 49ers their first win since summer. Later, Arizona would finish one game out of the playoffs. For long-suffering Cardinals fans, the OT collapse was the latest blow in a six-decade string of inexplicable bad luck. The league practically legislates parity, yet the Cardinals have one playoff win since 1947. There have been freak injuries, first-round flops and so much inner turmoil that it reduced Denny Green to mumbling gibberish. (They are who we thought they were!) Perhaps cruelest of all, in a few short days Arizona is host to the Super Bowl for the first time in 12 years, highlighting the fact that the Cardinals haven't come anywhere close to, you know, playing in the biggest game of all. And to think all this destruction has been the work of some resolute folks from a small mountain town in Pennsylvania, 2,300 miles away. "They stole our championship same as if they came and robbed us of the trophy," says 92-year-old Nick Barbetta. A widower with a fondness for plaid slacks, Barbetta talks about his favorite team, the 1925 Pottsville Maroons, as if they were still playing. And like all Maroons supporters -- a group that once boasted Bears founder George Halas and now includes Steelers owner Dan Rooney and Eagles owner Jeffrey Lurie -- Barbetta believes his team was robbed of the 1925 NFL championship. He's also convinced that Arizona owner Bill Bidwill and his family have been working since the 1960s to squash Pottsville's hopes of reclaiming its title. That's why, every Sunday, he gleefully tracks the Cardinals' latest buffoonery from the musty parlor of his home in the coal region of eastern Pennsylvania.
Until that title is returned, Barbetta says, the Cardinals will be doomed by a curse folks in Pottsville hand down from generation to generation. "We cursed 'em with the oldest, strongest curse in sports."
Loaded with hardscrabble miners and high-priced college All-Americas, the 1925 Maroons did the unthinkable during their first season in the fledgling National Football League: They dominated. And on Dec. 6, 1925, the 9-2 Maroons traveled to Comiskey Park and beat the 9-1-1 Chicago Cardinals 21-7 in what was widely regarded as the NFL championship game. An exhibition was then set up in Philadelphia between the Maroons and an all-star team featuring Notre Damešs legendary Four Horsemen and other former collegians. At a time when amateur ball was still king, Pottsville won 9-7 on a last-second field goal. The shocking upset helped legitimize the NFL. It also destroyed the team that made it all possible. Before agreeing to the game, the Maroons received permission from the NFL to take on the Notre Dame all-star team at 33,000-seat Shibe Park, which was three times as big as their own digs. But Philly's Frankford Yellow Jackets, which Pottsville had beaten 49-0 in a regular-season matchup, claimed the Notre Dame game infringed upon their turf. Even though the NFL's rules on territorial rights were unclear at the time, the league backtracked and suspended the Maroons, effectively stripping them of their championship. The league also tried to name the Cardinals champs, but Chicago owner Chris O'Brien refused to accept what he called a "bogus" title. Alas, when the Bidwill family bought the Cardinals in 1932, it claimed the title as its own. Then in 1963, after Maroons fans petitioned the NFL to get their championship back, Cardinals president Charles "Stormy" Bidwill Jr. (current owner Bill's dad) wrote a letter to sports writer Red Smith saying, essentially, that his family had no intention of honoring the wishes of some hick town. Four decades passed before the issue was formally brought up again, at the 2003 owners meeting in Philly. There, Rooney, Lurie, Pottsville mayor John D. W. Reiley and Pennsylvania governor Ed Rendell offered a solution that had then-commissioner Paul Tagliabue's blessing: Let the Cards and the Maroons share the title. But, according to Rooney and Reiley, a Bidwill interfered again. Bill Bidwill, who served on a three-man committee that studied the disputed title, convinced his fellow owners to squash Pottsville's petition. They did in a 30-2 vote. (Bidwill turned down The Mag's interview requests.) Afterward, Rendell called the owners "cowardly barons." Added Rooney: "What's been done to this town and this team. . . it needs to be fixed." They're trying. Since the October release of my book "Breaker Boys: The NFLšs Greatest Team and the Stolen 1925 Championship," the Maroons have been outselling Harry Potter in Schuylkill County. At book signings in Pottsville, readers have presented me with paintings of the team, old photos, baked goods, lottery tickets, prayer cards and pictures of their kids serving in Iraq. Many of them simply break down while trying to explain the magnitude of the Maroons and their stolen title. On Dec. 10, the Pennsylvania House of Representatives unanimously approved House Resolution 533, honoring the team and demanding that the NFL re-examine the issue. Two days later, President Bush sent ESPN a handwritten note saying he had found the history of the Maroons "illuminating." Besides the leader of the free world, Maroons supporters include more than 10,000 fans who have signed an online petition. Volunteers in Pottsville created breakerboys1925.com to enlist support for their cause. And in the buildup to Super Bowl XLII, the Maroons established an alliance with an unlikely group. Some Cardinals fans realized that both groups lack the same thing (a world title) for the same reason (Bidwill). These enlightened Zona backers have discussed raising money for a replica trophy to be presented to Pottsville. All of which is nice, says Barbetta, but he still insists Pottsville won't lift the curse until the town's superfans get the real 1925 title back. Maybe that sounds a little harsh. But the town is granting Bidwill a karmic opportunity. Not only can the owner give Maroons fans the championship they want, he can give his own team's fans something even better. The hope of winning their own.
David Fleming is a senior writer for ESPN The Magazine. His latest book, "Breaker Boys: The NFL's Greatest Team and the Stolen 1925 Championship,", published by ESPN Books, has been optioned as a movie. In addition, he is the author of the memoir "Noah's Rainbow."
ESPN The Magazine
Senior writer for ESPN The Magazine FlemFile columnist for ESPN.com.
Has written more than 30 cover stories for SI and ESPN.
Author of "Noah's Rainbow" (a father's memoir) and "Breaker Boys" (stolen 1925 NFL title).
SPONSORED HEADLINES
MORE NFL HEADLINES
MOST SENT STORIES ON ESPN.COM
SUPER BOWL XLII

In one of the great Super Bowl upsets, the Giants defeated the Patriots 17-14 in Super Bowl XLII in Glendale, Ariz.
Super Bowl Central

• Hashmarks blog: Mosley, Sando in Arizona


Game coverage
•
Belichick ready to move on from Super Bowl loss
•
Nevada sports books lose record $2.6M
•
View to a thrill: Record 97.5 million watch XLII
•
Giants' win shatters viewership records
•
Clayton: Can the Giants repeat?
•
Simmons: Free fallin'
•
Giants spoil Pats' perfect season
•
Wojciechowski: Blame Pats for this debacle
•
Wickersham: Brady dazed and confused
•
Clayton: Eli lets instincts take over
•
Clayton: N.Y. 'misfits' harass Brady
•
Sando: Was Brady rattled?
•
Mosley: Belichick left a second early
•
Chadiha: Ten things we learned
•
Garber: Tyree's catch one for the ages
•
Zoom galleries
1
|
2
|
Great SB upsets
•
SportsNation: Best Super Bowl?
•
SportsNation: Biggest SB upset?
•
SportsNation: Your favorite commercials?
Commentary/Features
•
Clayton: Top five contenders for the next SB
•
'72 Fins breathe sigh of relief after Giants win
•
Chadiha: Giants enjoy underdog role
•
Sando: Coughlin, Giants made it work
•
Super Bowl picks: Our experts weigh in
•
Merrill: Nine previously perfect Patriots
•
Merrill: Harrison deals with his rep just fine
•
Clayton: Giants' O-line worthy of accolades
•
Pasquarelli: Tip Sheet
•
Pasquarelli: Tip Sheet notes

•
Wojciechowski: 15 reasons Patriots will win
•
E-ticket: Patriots' man of mystery
•
Sunday Countdown
•
Clayton's First and Goal
•
Chadiha: Giants miss Shockey
•
Garber: Injured war vet inspires Giants
•
Pasquarelli: The Pats' crucial cameos
•
Garber: In Brady's world, insecurity remains
•
Merrill: Hixon's traumatizing season
•
Football Outsiders: SB numbers crunching
•
Pasquarelli: Patriots' silent sentinel
•
Wojciechowski: Unflappable Eli
•
Sando: Brady rising among all-time QBs
•
Chadiha: Giants' rookies playing prominent role
•
Fleming: Cardinals/Pottsville Curse
•
Clayton: Youth serving Giants well
•
Chadiha: Ranking the best QBs by decade
•
Klancnik: Top QBs by jersey number
•
Hashmarks: Media day coverage
|
Gallery
•
Pasquarelli: Pats' old-school LBs
•
Helyar: Marketing windfall for Eli Manning
•
Garber: Seau's ring quest
•
Pasquarelli: Bruschi's full-circle journey
•
Animated plays
•
From the research room
•
Chadiha: Pierce just wants to win
•
Wojciechowski: Explaining Bill Belichick
•
Helyar: Recession? Not at Super Bowl!
•
Giants' Snee doesn't stray from roots
•
Sando: Seymour in eye of storm
•
Merrill: Welker scales new heights for Pats
•
Pasquarelli: Brady is ready to play
•
Garber: The preservation of Plaxico
•
Pasquarelli: Hill's spirit lives on
•
Clayton: Giants' juggling act at CB works
•
Wickersham: Giant ideas
•
Klosterman: All too perfect
•
Crown Jewels: A look at Super Bowl rings
•
FB Outsiders: Giants one of worst SB teams
•
Helyar: Patriots will drive TV ratings
•
Clayton: First and goal
•
Chadiha: Giants' glory road
•
Mosley: Brady's ankle saves the week
•
Woj: Preseason predictions revisited
•
Merrill: David Woodley's dark spotlight
• Former SB QBs:
Plunkett
|
Rypien
|
Ferragamo
• More:
Morton
|
Humphries
|
Hostetler
|
Eason
•
Starting matchups of Super Bowl QBs
• Ranking the QB performances:
1-40
|
41-82
•
Jaworski: Six Super Bowl surprises

•
Joyner: Brady's bad decisions

•
Clayton: Eli's managing fine
•
Chadiha: Focused Giants
•
AccuScore simulation: Pats to prevail
•
Chadiha: First Look at the Super Bowl
•
Playoff schedule
Spy Games
News
•
Vermeil doubts spying made difference for Pats
•
Fish: Ex-Ram Warner suspicious of Pats in SB XXXVI
•&nbsp
Report: Pats taped Rams' SB walk-through
•
Specter to Goodell: Let's talk
•
Fish: Possible 'Spygate' witness surfaces
Commentary
•
Easterbrook: NFL can blame itself for scandal's timing
•
Munson: Congressional interest serious
•
Pasquarelli: Specter should stick with politics
•
Clayton: Spy saga won't distract Patriots
•
Hashmarks at Goodell's news conference
Letters
•&nbsp
Specter to Goodell (.pdf)
•&nbsp
Goodell to Specter (.pdf)
Page 2
•&nbsp
Gallo: Five stages of heartbreak for Pats' fans
•
Hill: Best Super Bowl parties
•
Hill: Teflon Tom Brady
•
Popculture roundtable on the Super Bowl
•
Hill: Raiders quit on Moss
•
Flem File at the Super Bowl
•
Fleming: Defining greatness
•
Best teams never to win a title
•
TMQ: Title-game analysis
•
Why Boston teams are so good
•
Gallo: Countdown to kickoff
•
More from Page 2
News
•
Brady ankle not on injury report
•
Brady on Plax prediction: Only 17 points for Pats?
•
Carey named first black Super Bowl referee
•
Brady practices in Pats' first Super Bowl session
•
Ross gets sick as unified Giants face flu
•
NFL not worried about spying
•
Security high for Super Bowl
•
Williams to be honored during Super Bowl
•
Bootless Brady departs for Arizona
•
Tickets reselling for average of $4,300
•
Burress: Giants' receivers are better
Scouts Inc.
•
Roundtable: Seven scouts weigh in
•
Super Bowl XLII X Factors
•
Coaching comparison: Styles vary, results same
•
Defensive line breakdowns
•
Horton: Notes from the film room (Day 5)
•
Matchups to watch in Super Bowl XLII
•
Running-game breakdown
•
Horton: Notes from the film room (Day 4)
•
QB tale of the the tape
•
Horton: Notes from the film room (Day 3)
•
Ranking NFL QBs 1-64
•
Take II on Super Bowl XLII
•
Giants' DBs overmatched or underrated?
•
Horton: Notes from film room (Day 2)
•
Horton: 10 things to watch in SB XLII
•
Horton: Notes from the film room (Day 1)
•
A tale of two underrated O-lines
•
Take I on Super Bowl XLII
•
Players ranked Nos. 1-106

SportsNation
• Vote:
Which team will win?
• Vote:
Who wins the head-to-head matchups?
• Vote:
Which team are you rooting for?
• Conversation:
Talk Super Bowl XLII
• Map:
Which states are picking the Giants?
• Quiz:
42 Super Bowl history questions
• Chat:
Buzzmaster: Hello from Arizona!
• Chat:
Buzzmaster: Live from Media Day
• Chat:
Buzzmaster: Live with oddsmaker
• Chat:
Buzzmaster: Live with Matt Hasselbeck
• Chat:
Buzzmaster: Live with Gregg Easterbrook
• Rank:
Super Bowl's best individual performances
• Rank:
Super Bowl coaches
• Rank:
Super Bowl careers
• Rank:
Super Bowl teams
• Rank:
Super Bowl games
• Rank:
Greatest all-time quarterbacks
• Vote:
Potential for QB greatness?
• Quiz:
Greatest quarterbacks
• ABCNews:
Super Bowl or Super Tuesday?
• Chat Rewind:
When did undefeated talk start?
• Vote:
Can we proposition you?
• Pulse:
What is SportsNation saying about XLII?
Nike Women's Home Game Jersey Arizona Cardinals Patrick Peterson #21 Shop »