Commentary
Bucs' Garcia in his comfort zone
Bucs QB Jeff Garcia, even more than Giants quarterback Eli Manning, may well have a greater impact on Sunday's playoff game than any other player, writes Greg Garber.
Originally Published:
January 4, 2008
By
Greg Garber
| ESPN.com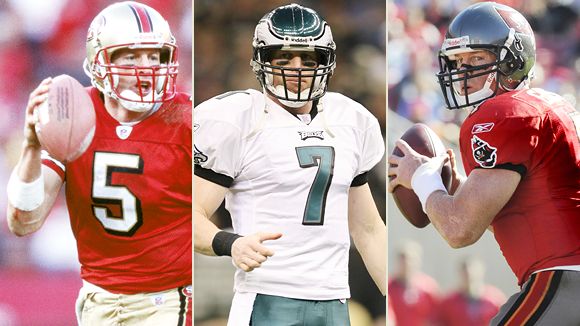 Getty ImagesJeff Garcia has taken the 49ers, Eagles and Bucs to the playoffs. His 94.6 QB rating this season was seventh best in the league.
TAMPA, Fla. -- It may not be breaking national news, but the Buccaneers are back in the playoffs for the seventh time since 1997. For those of you scoring at home, only two teams have done better; as you might have imagined, the Patriots and Colts have earned a postseason berth eight times in the past 11 seasons.
The biggest reason for this season's playoff berth probably is Jeff Garcia. On Thursday morning, the quarterback sauntered into the interview room at One Buccaneer Place. As he sat down, Garcia discussed his tenuous ticket situation with a team official.
There will be pressure Sunday (1 p.m. ET, Fox) when the Bucs play host to the Giants in a wild-card game at Raymond James Stadium -- New York leads all teams in sacks -- but nothing like the stress induced by Garcia's friends and family seeking tickets to the game. The alternative -- being one of the NFL's 20 nonplayoff teams -- is worse, far worse, someone pointed out.
Best TD/INT Ratio
(Min. 100 TD passes)
| | | | |
| --- | --- | --- | --- |
| Name | TDs | INTs | Ratio |
| 1. Tom Brady | 197 | 86 | 2.29 |
| 2. Steve Young | 232 | 107 | 2.17 |
| 3. D. McNabb | 171 | 79 | 2.16 |
| 4. Pey. Manning | 306 | 153 | 2.00 |
| 5. Joe Montana | 273 | 139 | 1.96 |
| 6. Jeff Garcia | 149 | 77 | 1.94 |
Garcia, his face a riot of freckles, smiled.
"Don't I know it," he said.
Indeed, he does. Garcia may well have a greater impact on this game than any other player because he, more often than not, determines whether the Bucs pass -- or fail. More eyes, of course, will be focused on Giants quarterback Eli Manning, but Garcia, one month from his 38th birthday, wasn't a No. 1 overall pick or a passer with an extraordinary pedigree. Garcia wasn't even drafted when he left San Jose State in 1994. And yet:
He will become the first quarterback in the Super Bowl era (1966) to start a playoff game for a division winner for three different franchises. And it's all happened in six years. The 6-foot, 205-pound player has posted numbers of historic significance but is inexplicably taking snaps for his fifth team in five years. Why, then, does he strike such fear into the hearts of the Giants?
Because his two career playoff victories have come against these same Giants. The oddsmakers, who favor Tampa Bay by a field goal, are predicting he'll go 3-for-3.
"This is a challenge for us to make sure it doesn't happen three times in a row," Giants defensive end Michael Strahan told New York reporters earlier this week.
Last Jan. 7, playing for injured Donovan McNabb, Garcia completed 17 of 31 passes for 153 yards and a touchdown as the Philadelphia Eagles ended the Giants' season with a 23-20 defeat. It was a cruel slice of symmetry for Strahan and the Giants, who suffered a catastrophic loss to Garcia and the San Francisco 49ers on Jan. 5, 2003.
The Giants held a comfortable lead, 38-14, with four minutes left in the third quarter, but led by Garcia, the 49ers scored 25 consecutive points. There were two touchdown passes from Garcia, to Terrell Owens and Tai Streets, a pair of two-point conversion catches by Owens and a 14-yard touchdown run by Garcia. San Francisco won 39-38 in the second-biggest comeback in NFL playoff history.
The Bucs allowed the fewest points in the NFC and have the NFL's No. 2 defense in terms of yards allowed (278.4), but it is Garcia who has put them over the top. Last season, with Bruce Gradkowski, Chris Simms and Tim Rattay taking the snaps, the Bucs went 4-12. Garcia signed a two-year contract for a reported $7 million in March and when head coach Jon Gruden couldn't talk Jake Plummer out of retiring, Garcia produced a terrific season. He threw 13 touchdown passes and only four interceptions and his passer rating (94.6) was the league's seventh-best figure.
This should come as no surprise. All of Garcia's playoff appearances have come in the comfort and safety of the scheme in which he operates best, the West Coast offense. It is not a coincidence that the father of that offense, the 49ers' late head coach, Bill Walsh, was a father figure to Garcia.
"We've watched Joe Montana do it, we've watched Steve Young do it, we've even watched Doug Flutie do it," Walsh said in a 2002 interview with ESPN. "We've seen any number of smaller men play the position as well as anybody.
"Jeff is a very intelligent player, he's instinctive and very mobile. He's got great nerve. As far as his performance from week to week and statistics, his ability to take the team from behind and win, his ability to make spontaneous plays, all of those are very comparable."
Sunday NFL Countdown
ESPN.com's Greg Garber examines the special bond between Hall of Fame coach Bill Walsh and Tampa Bay Buccaneers quarterback Jeff Garcia on "Sunday NFL Countdown. (ESPN, 11 a.m. ET)
To Hall of Fame quarterbacks Montana and Young, that is.
It was Walsh who encouraged Garcia when he went undrafted in 1994 and counseled him to seek his fortune in Canada. Garcia spent five seasons in Calgary, where he led the Stampeders to a CFL Grey Cup championship and was named game MVP. When Walsh returned to the 49ers in 1999, he promptly signed Garcia, who wound up starting 10 games that season when Young suffered what turned out to be a career-ending concussion.
Walsh died in late July of leukemia and before every game Garcia pays him tribute.
"I still pray and thank him before I go out on Sundays because of the opportunity that he gave me, the belief that he had in me," Garcia said. "There's not enough in this world, even when he was living, to give back to him as far as thanks is concerned."
Perhaps there is.
"I really was in a lot of ways playing for him, especially when the illness got pretty deep," Garcia said. "I knew he looked forward to every Sunday, to be able to turn on the TV and be able to watch me play."
Consider the favor returned.
Greg Garber is a senior writer for ESPN.com.
Jeff Garcia's journey
Quarterback Jeff Garcia has played for five teams in the past five seasons. Improbably, he carries his third different team into the playoffs in the past six years. -- Greg Garber
2003
San Francisco 49ers
After leading the San Francisco 49ers to back-to-back playoff appearances and being voted to three consecutive Pro Bowls, Garcia takes the 49ers to a 7-9 record under first-year coach Dennis Erickson. He throws 18 TDs and 13 INTs but is eventually supplanted by backup Tim Rattay.
2004
Cleveland Browns
After signing as a free agent in Cleveland, Garcia plays in the first 10 games but throws only one pass in the remaining six games. The Browns, coached by Butch Davis and Terry Robiskie, go 4-12. The following year Cleveland has a new coach (Romeo Crennel) and a new quarterback (Trent Dilfer).
2005
Detroit Lions
Playing behind Joey Harrington, Garcia manages only five starts for the Detroit Lions, in large part because of a fractured fibula suffered in the preseason. For the second straight year, Garcia's team has two coaches (Steve Mariucci and Dick Jauron) and a losing team (5-11).
2006
Philadelphia Eagles
Signed as a free agent by the Philadelphia Eagles, Garcia doesn't play in eight of the first nine games, but when starter Donovan McNabb suffers a knee injury, Garcia goes on to win six straight games, including a wildcard game over the Giants.
2007
Tampa Bay Buccaneers
Garcia's success in Philadelphia allows him to sign a free-agent contract with Tampa Bay. He goes 8-5 as a starter and leads the Bucs to the playoffs with the second-best passer rating (94.6) in franchise history.
Writer, Reporter
Greg Garber joined ESPN in 1991 and provides reports for NFL Countdown and SportsCenter. He is also a regular contributor to Outside the Lines and a senior writer for ESPN.com.
2007 PLAYOFFS

In a rematch of their Week 17 game, the unbeaten Patriots will play the red-hot Giants in Super Bowl XLII in Glendale, Ariz.
Super Bowl Central
Clayton: Eli's managing fine
Chadiha: Focused Giants
AccuScore simulation: Pats to prevail
Chadiha: First Look | Playoff schedule



Conference Championships (Jan. 20)
Patriots 21, Chargers 12
•
Merrill: Questions linger about Moss' postseason
•
Wojciechowski: Whatever it takes, Pats win
•
Pasquarelli: Patriots' offense grinds it out
•
Pasquarelli: Chargers squander opportunites
•
Pats make fourth SB in seven years
•
The Last Call: Mike Sando's observations, more
•
Zoom Gallery:
AFC title game
|
Pats' season
•
Playoff page
Giants 23, Packers 20
•
Clayton: Burress burns Harris, Packers
•
Chadiha: Bitter pill for Packers to swallow
•
Zoom Gallery: Giants edge Packers
•
The Last Call: Mike Sando's observations, more
•
Garber: Coughlin's personality makeover intact
•
Playoff page
Video
•
What is Tom Brady's legacy?
•
Eli and Burress lead Giants
•
Patriots avoid distractions on way to Super Bowl
•
Resilient Giants advance to SB
•
Red-zone efficiency fuels Patriots
Divisional Round (Jan. 12-13)
Packers 42, Seahawks 20
•
Recap
|
Playoff game page
•
Clayton: Ryan Grant sticks to the plan
•
Sando: Disastrous play at TE for Seattle
Patriots 31, Jaguars 20
•
Recap
|
Playoff game page
•
Pasquarelli: Patriots have too many weapons
Chargers 28, Colts 24
•
Recap
|
Playoff game page
•
Wojciechowski: Did Chargers get Pats' attention?
•
Clayton: Colts can't overcome mistakes
Giants 21, Cowboys 17
•
Recap
|
Playoff game page
•
Chadiha: Manning maturing at right time
More divisional playoffs
•
Saturday's Last Call: Pack, Pats advance
•
Sunday's Last Call: Giants, Chargers surprise
Commentary/Features
•
Pasquarelli: Tip Sheet
|
Notes

•
Smith: Special teams loom large
•
Scouts: Kryptonite for top four teams

•
Playoff upsets: By the numbers
•
Page 2: Handicapping the wild-card winners
Wild-Card Round (Jan. 5-6)
Seahawks 35, Redskins 14
•
Recap
|
Playoff game page
•
Clayton: Cool head Holmgren
•
Sando: Redskins inspired by Taylor
Jaguars 31, Steelers 29
•
Recap
|
Playoff game page
•
Chadiha: Jaguars pass character test
Giants 24, Bucs 14
•
Recap
|
Playoff game page
•
Pasquarelli: Manning delivers for Giants
•
Pasquarelli: Giants' D rises to occasion
Chargers 17, Titans 6
•
Recap
|
Playoff game page
•
Clayton: Turner, Rivers silence their critics
More Wild Card Weekend
•
Saturday's Last Call: Hawks, Jags escape
•
Sunday's Last Call: Giants, Chargers rule
•
ZOOM photos:
Saturday
|
Sunday
Commentary/Features
•
Sando: Controversial history of replay
•
Clayton: First and Goal, Wild Card
•
Sando: Playoff mantras
•
Numbers crunching: Wild-card weekend
•
Sunday Countdown
•
TMQ: Do the Pats need to run more?
•
Joyner: Steelers, Giants adjusting on the fly

•
Clayton: Handicapping possible Patriots foes
•
Clayton: Key playoff questions for the AFC
•
Pasquarelli: Key playoff questions for the NFC
Video
•
Chargers bolt past Titans, 17-6
•
Eli Manning silences his critics
•
Seattle's Hasselbeck is underrated
•
Phillips not concerned about late-season slide
Scouts Inc.
•
Ranking the playoff teams
•
Ranking the playoff coaches
•
Off. rankings:
Overall
|
QB
|
WR
|
RB
|
OL
•
Def. rankings:
Overall
|
DL
|
LB
|
DB
|
ST
•
Green: Smith's absence hurting Steelers
•
Williamson: Unknowns powering Bucs

MOST SENT STORIES ON ESPN.COM