Commentary
Favre relaxes, finds comfort in his YAC attack
This season Brett Favre learned to relax and trust his teammates, particularly a receiving corps that excels with gaining yards after the catch. That's one of the reasons behind the team's resurgence.
Originally Published:
January 7, 2008
By
Greg Garber
| ESPN.com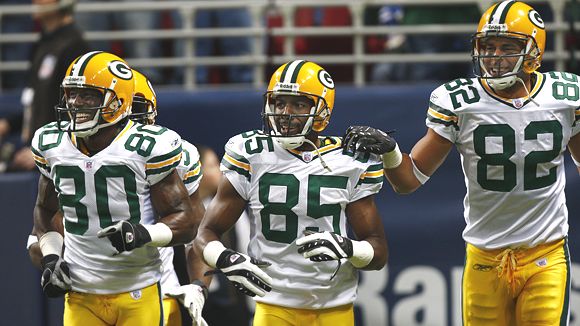 G. Newman Lowrance/Getty ImagesReceivers Donald Driver (80), Greg Jennings (85) and Ruvell Martin (82) are three of the reasons the Packers' passing game has thrived this season. The Packers' receivers are among the league leaders in yards gained after the catch.
GREEN BAY, Wis. -- No one likes to see a legend linger beyond his time. To many eyes, it appeared the NFL's 2007 season might mark that uncomfortable intersection for Brett Favre.
The Packers' quarterback would turn 38 in October and, despite his protracted decision to return for a 17th campaign, the recent returns suggested he was on the downside. In the previous two seasons, Favre had thrown nine more interceptions than touchdowns (a disturbing first), completed less than 59 percent of his passes and the Green Bay Packers lost 20 of 32 games.
Coach Mike McCarthy, who has been operating in a West Coast offense for nearly two decades, had a startling equation for success: Less Favre Equals More Offense.
And so, McCarthy asked the quarterback who has won more NFL games (160) and produced more touchdown passes (442) and yards (61,655) than anyone in history to trust the system. To repress the seat-of-the-pants sense of urgency that will land him in the Pro Football Hall of Fame and -- now, this is something completely different -- relax.
"Our offense is based on get it out quick," Favre explained last month. "Let our guys do what they do."
Scouts: Updated QB Rankings

Where does Brett Favre rank among the starting quarterbacks remaining in the playoffs? Story

Let the Packers' five gifted receivers -- Donald Driver, Greg Jennings, Koren Robinson, James Jones and Ruvell Martin -- catch a ton of short rhythm passes in stride and run the way silver-haired Bill Walsh, the creator of the West Cast offense, envisioned.
Let the young and improving defense make some stops. In other words, manage the game, in the manner of lesser lights like Sage Rosenfels, Brian Griese and Kyle Boller.
Incredibly, the ultimate gridiron gunslinger drank the Kool-Aid. The kill-them-softly regular-season results were spectacular.
Favre:
• Completed a career-best 66.5 percent of his passes for 4,155 yards.

• Threw for 28 touchdown passes, offset by only 15 interceptions, which led to his best passer rating (95.7) since the Packers won Super Bowl XXXI.
• Averaged 7.8 yards per pass attempt, the best of his career.
And the Packers, left for dead by many, won 13 games and made the playoffs. They will face Seattle in a divisional round game Saturday in Green Bay (4:30 p.m. ET, Fox).
How did it happen?
"Throw it to 'em," Favre said of his receivers, who call themselves the Fab Five. "That says a lot about our receivers. I don't know if it says a lot about me."
Oh, yes it does.
"We've done more spread offense," McCarthy explained. "With that, people do pressure you in situations. So the ball is coming out quicker. The design is throwing more three-step drops than we did last year, maybe more than other parts of his career.
"It helps your completion percentage because you're dealing with a lot higher percentage passing game. You're operating in more of a five-step and three-step drop mentality. You're getting the ball out of your hands, protecting your quarterback because he's not getting hit. So many other positives come off that, and you're putting the ball in your play-makers' hands."
There are dozens of statistics that define the action in the NFL. One that isn't thrown around very often is yards after the catch. For much of 2007, the Packers led the league. That's Yards After Catch, known to aficionados as YAC.
"Ain't that an animal, like a moose?" Robinson asked.
Uh, no. Not the shaggy beast of burden found exclusively in the Himalayans. "Y-A-C," said Driver, "not Y-A-K. We're all dangerous. No one can stop us." Essentially, the Packers won this season less because of Favre's arm than the feet of his receivers. Almost half of Favre's 4,155 passing yards -- 2,061 -- came after the catch, according to the Elias Sports Bureau. Wide receivers -- we won't mention any names -- are often perceived as, well, less than team players. "More flamboyant, want the ball, selfish, big mouth, flashy," Robinson said, pausing. How about soft? "Soft," he conceded, nodding his head. "But not here! "We're just hungry. We feel like we don't get the recognition that we deserve, so that just motivates us to do more. We're doing the slants, the looks, the quick passes to get it in our hands so we can make somebody miss, go 80 [yards] or 60 or whatever."
"We see guys catch the ball [on film] and we always scream, 'Why are you going down? Why is he going down?' " Driver said.
It is not a coincidence that each of the Packers' five wideouts played running back or quarterback in high school.
"Every time we touch the ball we pride ourselves on not letting the first guy bring us down," Jones said. "Once you make that first guy miss, there's a lot of yards out there."
Even though Jennings finished with 7.2 yards after the catch, among the league's best averages in that category, each of the Packers' five wide receivers points to Driver as the one with the best moves with the ball in his hands. Driver, who led all Green Bay receivers with 430 total yards after the catch, faces the highest degree of difficulty with the majority of his catches coming across the middle.
"I don't want to toot my own horn, but I'm pretty nice," Robinson said. "But I would say Drive."
Said Driver, "Those are my boys. They're watching out for the old man."
In the absence of a running game, Favre averaged 41 pass attempts in the first six games. First year-running back Ryan Grant carried the ball six times for 27 yards in those first six games, but in the last 10 he rushed 182 times for 929 yards and eight touchdowns. Consequently, Favre averaged 28 pass attempts over that period.
With the defense slicing 75 points off its 2006 total, Favre has had even more support.
"I can only imagine how difficult it is to be a receiver with your back to the defense," Favre said. "Three yards into the defensive backfield and catch it and turn around and start making guys miss and dodge and weave. You've got to have some bravery about you, but you've also got to have skill."
Said Jones, "We get more of the recognition for yards after the catch, but a lot of it has to do with Brett, too."
Favre, at the age of 38, has proven that you can change your stripes after all.
Greg Garber is a senior writer for ESPN.com.
Writer, Reporter
Greg Garber joined ESPN in 1991 and provides reports for NFL Countdown and SportsCenter. He is also a regular contributor to Outside the Lines and a senior writer for ESPN.com.
2007 PLAYOFFS

In a rematch of their Week 17 game, the unbeaten Patriots will play the red-hot Giants in Super Bowl XLII in Glendale, Ariz.
Super Bowl Central
Clayton: Eli's managing fine
Chadiha: Focused Giants
AccuScore simulation: Pats to prevail
Chadiha: First Look | Playoff schedule



Conference Championships (Jan. 20)
Patriots 21, Chargers 12
•
Merrill: Questions linger about Moss' postseason
•
Wojciechowski: Whatever it takes, Pats win
•
Pasquarelli: Patriots' offense grinds it out
•
Pasquarelli: Chargers squander opportunites
•
Pats make fourth SB in seven years
•
The Last Call: Mike Sando's observations, more
•
Zoom Gallery:
AFC title game
|
Pats' season
•
Playoff page
Giants 23, Packers 20
•
Clayton: Burress burns Harris, Packers
•
Chadiha: Bitter pill for Packers to swallow
•
Zoom Gallery: Giants edge Packers
•
The Last Call: Mike Sando's observations, more
•
Garber: Coughlin's personality makeover intact
•
Playoff page
Video
•
What is Tom Brady's legacy?
•
Eli and Burress lead Giants
•
Patriots avoid distractions on way to Super Bowl
•
Resilient Giants advance to SB
•
Red-zone efficiency fuels Patriots
Divisional Round (Jan. 12-13)
Packers 42, Seahawks 20
•
Recap
|
Playoff game page
•
Clayton: Ryan Grant sticks to the plan
•
Sando: Disastrous play at TE for Seattle
Patriots 31, Jaguars 20
•
Recap
|
Playoff game page
•
Pasquarelli: Patriots have too many weapons
Chargers 28, Colts 24
•
Recap
|
Playoff game page
•
Wojciechowski: Did Chargers get Pats' attention?
•
Clayton: Colts can't overcome mistakes
Giants 21, Cowboys 17
•
Recap
|
Playoff game page
•
Chadiha: Manning maturing at right time
More divisional playoffs
•
Saturday's Last Call: Pack, Pats advance
•
Sunday's Last Call: Giants, Chargers surprise
Commentary/Features
•
Pasquarelli: Tip Sheet
|
Notes

•
Smith: Special teams loom large
•
Scouts: Kryptonite for top four teams

•
Playoff upsets: By the numbers
•
Page 2: Handicapping the wild-card winners
Wild-Card Round (Jan. 5-6)
Seahawks 35, Redskins 14
•
Recap
|
Playoff game page
•
Clayton: Cool head Holmgren
•
Sando: Redskins inspired by Taylor
Jaguars 31, Steelers 29
•
Recap
|
Playoff game page
•
Chadiha: Jaguars pass character test
Giants 24, Bucs 14
•
Recap
|
Playoff game page
•
Pasquarelli: Manning delivers for Giants
•
Pasquarelli: Giants' D rises to occasion
Chargers 17, Titans 6
•
Recap
|
Playoff game page
•
Clayton: Turner, Rivers silence their critics
More Wild Card Weekend
•
Saturday's Last Call: Hawks, Jags escape
•
Sunday's Last Call: Giants, Chargers rule
•
ZOOM photos:
Saturday
|
Sunday
Commentary/Features
•
Sando: Controversial history of replay
•
Clayton: First and Goal, Wild Card
•
Sando: Playoff mantras
•
Numbers crunching: Wild-card weekend
•
Sunday Countdown
•
TMQ: Do the Pats need to run more?
•
Joyner: Steelers, Giants adjusting on the fly

•
Clayton: Handicapping possible Patriots foes
•
Clayton: Key playoff questions for the AFC
•
Pasquarelli: Key playoff questions for the NFC
Video
•
Chargers bolt past Titans, 17-6
•
Eli Manning silences his critics
•
Seattle's Hasselbeck is underrated
•
Phillips not concerned about late-season slide
Scouts Inc.
•
Ranking the playoff teams
•
Ranking the playoff coaches
•
Off. rankings:
Overall
|
QB
|
WR
|
RB
|
OL
•
Def. rankings:
Overall
|
DL
|
LB
|
DB
|
ST
•
Green: Smith's absence hurting Steelers
•
Williamson: Unknowns powering Bucs

MOST SENT STORIES ON ESPN.COM