Commentary
Preserving Plaxico from practice has proved practical
Plaxico Burress' chronically painful ankle has kept him on the sidelines for the majority of Giants practices this season. But even skeptics have to admit he's proved to be a great "gamer," Greg Garber writes.
Originally Published:
January 27, 2008
By
Greg Garber
| ESPN.com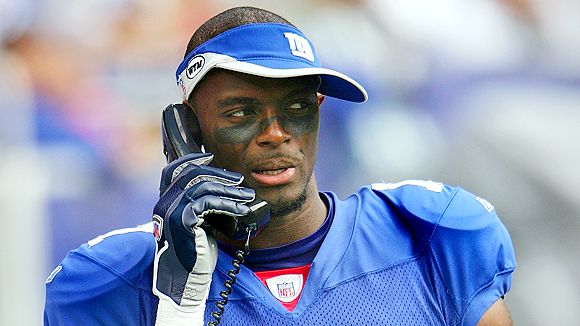 Chris McGrath/Getty ImagesPlaxico Burress aggravated a preseason injury by spraining his ankle against the Green Bay Packers on Sept. 16, 2007. Despite an unorthodox practice schedule, he's answered the call when the Giants have needed him.
With the players off for a second straight day, Wednesday was quiet at Giants Stadium. No howling media mobs, no traffic jams in the players' cafeteria. But there, somewhere past the west end zone, behind the closed doors of the trainer's room, sat
Plaxico Burress
in a tub of warm, bubbling water. Accompanied by his young son, Elijah, Burress went through three hours of treatment for a chronically sprained right ankle. He has been doing this for so long that he knows the sequence of exercises and procedures better than the therapists themselves. Football is the most intricate of games. It has the most moving parts and, particularly on offense, those pieces must be synchronized to the level of a fine Swiss watch. This is why teams practice so long, so hard and so often. Coaches
love
to practice, even if their players do not.
Burress: We're Better
Are the Giants' set of wide receivers better than the Patriots' celebrated group? Plaxico Burress certainly thinks so. Story
But what happens when one of the critical components can't participate?
In the frigid NFC Championship Game, matched against one of the most physical cornerbacks in the league, the
New York Giants
' lithe and sometimes laconic wide receiver was the best player in Lambeau Field. Burress caught a career-high 11 passes for 154 yards as the Giants stunned the host
Green Bay Packers
23-20 in overtime. "There was a lot of single high man-to-man coverage, and we had some big plays," said Giants quarterback
Eli Manning
. "We call it fade stops, where he goes outside and you just make a read. A couple of times we threw it down the field on them and they didn't know what to do." Hard to believe that Burress practiced only a handful of times since aggravating a preseason injury by spraining his ankle against these same Packers on Sept. 16. Somehow, Burress led the Giants in the 2007 regular season with 70 catches for 1,025 yards and a career-high 12 touchdowns. "It was a battle," Burress said. "We was out there competing to go to the Super Bowl. You couldn't expect anything less going into this game." Only on a Sunday. Everyone still playing this time of year is a little nicked up (Google
Tom Brady
and boot), but for someone who makes his living stopping and starting, leaping and diving, a sprained ankle is a severe handicap. Burress, 30, has admitted that he starts each game gingerly, wondering how long his ankle will allow him to be effective. Since the first Packers game, Burress has been going through the same routine. According to Ronnie Barnes, the Giants' vice president of medical services, most days Burress receives heat and water treatment, ultrasound and electrical stimulation on multiple parts of his body, and rehabilitation and strengthening exercises for his ankle. Burress also does cardiovascular conditioning and receives regular massages, at Giants Stadium and at home. He receives acupuncture treatments twice a week, watches a lot of film -- and stands on the sidelines while
Amani Toomer
,
Steve Smith
and
David Tyree
do the heavy lifting. Pity Tyree, who plays the role of Burress in practice. He has only four catches to show for his trouble. Burress -- to the accompaniment of his teammates' smirks and guffaws -- claims he wants to practice. It's just that, he says, his ankle has only so many full-speed cuts in it per week. Through the first half of the season, the unorthodox approach was a huge success. "I've always said we need Plax at practice," said Manning after Burress burned the Falcons for six catches for 97 yards and a touchdown in Week 6. "But now I'm starting to think we don't. He's always in tune and he gets open." In eight games, Burress caught 37 passes, eight of them for touchdowns, shaking the very foundations of long-held views on the importance of practice.
Maybe this was why, during the bye week in early November, Giants coaches sounded frustrated. Offensive coordinator Kevin Gilbride said Burress' absence was hurting the continuity of the offense.
"There are going to be small issues with regard to timing," said wide receivers coach Mike Sullivan. "There's no substitute for that. I think there are some fine details with regard to the timing of the quarterback, and maybe finishing some routes. There are some things where he's not quite where he wants to be and where we want him to be." Burress, with an extra week to rest, came back for his first practice in nearly two months. On that Sunday against the Cowboys he was held to four catches and 24 yards. So much for practice. Reverting to his once-a-week running regimen, Burress made it through the season nicely. Not that he enjoyed the constant stream of questions. "I have been pretty much going out and dominating anyway, whether I was hurt or not," Burress said. "It hasn't stopped me from going out and being successful." He even found the strength to work out one day before the regular-season finale against the Patriots. In about 20 minutes of limited action, he ran only the routes tailored specifically for him and responded in the game with four catches for 84 yards and two touchdowns.
In the two playoffs games at Tampa and Dallas, however, Burress was no more than a decoy. While Toomer carried the Giants' receivers, Burress had all of five catches for 43 yards.
Against the bump-and-run Packers, though, Burress figured heavily into the game plan. Manning, Toomer and Burress walked out onto Lambeau Field two hours before last week's game and managed to get through only one-quarter of their typical warm-up session. "My left hand was numb, my receivers didn't have any hand warmers, they were done," Manning said. "I said, 'Hey, I can throw. Let's take it in. We're good.'" Indeed, they were. Burress used his long 6-foot-5 frame to frustrate Packers cornerback
Al Harris
. On two occasions, Harris was called for penalties trying to cover him. For Burress, who was a member of the
Pittsburgh Steelers
team that lost to New England in the 2005 AFC Championship Game, the career game meant his first trip to the Super Bowl -- and another crack at the Patriots.
Burress certainly isn't daunted by the challenges New England presents. He raised some eyebrows recently by saying that the Giants' receivers are just as good, if not better, than the Patriots' talented group.
"I've been battling all year, and should have been better in the regular season," said Burress after the NFC title game, "but I had to take the hand I was dealt. I didn't play as well as I wanted to, but I'm going to the Super Bowl. It's one of the best feelings in my life."
Greg Garber is a senior writer for ESPN.com.
Writer, Reporter
Greg Garber joined ESPN in 1991 and provides reports for NFL Countdown and SportsCenter. He is also a regular contributor to Outside the Lines and a senior writer for ESPN.com.
SPONSORED HEADLINES
MORE NFL HEADLINES
MOST SENT STORIES ON ESPN.COM
SUPER BOWL XLII

In one of the great Super Bowl upsets, the Giants defeated the Patriots 17-14 in Super Bowl XLII in Glendale, Ariz.
Super Bowl Central

• Hashmarks blog: Mosley, Sando in Arizona


Game coverage
•
Belichick ready to move on from Super Bowl loss
•
Nevada sports books lose record $2.6M
•
View to a thrill: Record 97.5 million watch XLII
•
Giants' win shatters viewership records
•
Clayton: Can the Giants repeat?
•
Simmons: Free fallin'
•
Giants spoil Pats' perfect season
•
Wojciechowski: Blame Pats for this debacle
•
Wickersham: Brady dazed and confused
•
Clayton: Eli lets instincts take over
•
Clayton: N.Y. 'misfits' harass Brady
•
Sando: Was Brady rattled?
•
Mosley: Belichick left a second early
•
Chadiha: Ten things we learned
•
Garber: Tyree's catch one for the ages
•
Zoom galleries
1
|
2
|
Great SB upsets
•
SportsNation: Best Super Bowl?
•
SportsNation: Biggest SB upset?
•
SportsNation: Your favorite commercials?
Commentary/Features
•
Clayton: Top five contenders for the next SB
•
'72 Fins breathe sigh of relief after Giants win
•
Chadiha: Giants enjoy underdog role
•
Sando: Coughlin, Giants made it work
•
Super Bowl picks: Our experts weigh in
•
Merrill: Nine previously perfect Patriots
•
Merrill: Harrison deals with his rep just fine
•
Clayton: Giants' O-line worthy of accolades
•
Pasquarelli: Tip Sheet
•
Pasquarelli: Tip Sheet notes

•
Wojciechowski: 15 reasons Patriots will win
•
E-ticket: Patriots' man of mystery
•
Sunday Countdown
•
Clayton's First and Goal
•
Chadiha: Giants miss Shockey
•
Garber: Injured war vet inspires Giants
•
Pasquarelli: The Pats' crucial cameos
•
Garber: In Brady's world, insecurity remains
•
Merrill: Hixon's traumatizing season
•
Football Outsiders: SB numbers crunching
•
Pasquarelli: Patriots' silent sentinel
•
Wojciechowski: Unflappable Eli
•
Sando: Brady rising among all-time QBs
•
Chadiha: Giants' rookies playing prominent role
•
Fleming: Cardinals/Pottsville Curse
•
Clayton: Youth serving Giants well
•
Chadiha: Ranking the best QBs by decade
•
Klancnik: Top QBs by jersey number
•
Hashmarks: Media day coverage
|
Gallery
•
Pasquarelli: Pats' old-school LBs
•
Helyar: Marketing windfall for Eli Manning
•
Garber: Seau's ring quest
•
Pasquarelli: Bruschi's full-circle journey
•
Animated plays
•
From the research room
•
Chadiha: Pierce just wants to win
•
Wojciechowski: Explaining Bill Belichick
•
Helyar: Recession? Not at Super Bowl!
•
Giants' Snee doesn't stray from roots
•
Sando: Seymour in eye of storm
•
Merrill: Welker scales new heights for Pats
•
Pasquarelli: Brady is ready to play
•
Garber: The preservation of Plaxico
•
Pasquarelli: Hill's spirit lives on
•
Clayton: Giants' juggling act at CB works
•
Wickersham: Giant ideas
•
Klosterman: All too perfect
•
Crown Jewels: A look at Super Bowl rings
•
FB Outsiders: Giants one of worst SB teams
•
Helyar: Patriots will drive TV ratings
•
Clayton: First and goal
•
Chadiha: Giants' glory road
•
Mosley: Brady's ankle saves the week
•
Woj: Preseason predictions revisited
•
Merrill: David Woodley's dark spotlight
• Former SB QBs:
Plunkett
|
Rypien
|
Ferragamo
• More:
Morton
|
Humphries
|
Hostetler
|
Eason
•
Starting matchups of Super Bowl QBs
• Ranking the QB performances:
1-40
|
41-82
•
Jaworski: Six Super Bowl surprises

•
Joyner: Brady's bad decisions

•
Clayton: Eli's managing fine
•
Chadiha: Focused Giants
•
AccuScore simulation: Pats to prevail
•
Chadiha: First Look at the Super Bowl
•
Playoff schedule
Spy Games
News
•
Vermeil doubts spying made difference for Pats
•
Fish: Ex-Ram Warner suspicious of Pats in SB XXXVI
•&nbsp
Report: Pats taped Rams' SB walk-through
•
Specter to Goodell: Let's talk
•
Fish: Possible 'Spygate' witness surfaces
Commentary
•
Easterbrook: NFL can blame itself for scandal's timing
•
Munson: Congressional interest serious
•
Pasquarelli: Specter should stick with politics
•
Clayton: Spy saga won't distract Patriots
•
Hashmarks at Goodell's news conference
Letters
•&nbsp
Specter to Goodell (.pdf)
•&nbsp
Goodell to Specter (.pdf)
Page 2
•&nbsp
Gallo: Five stages of heartbreak for Pats' fans
•
Hill: Best Super Bowl parties
•
Hill: Teflon Tom Brady
•
Popculture roundtable on the Super Bowl
•
Hill: Raiders quit on Moss
•
Flem File at the Super Bowl
•
Fleming: Defining greatness
•
Best teams never to win a title
•
TMQ: Title-game analysis
•
Why Boston teams are so good
•
Gallo: Countdown to kickoff
•
More from Page 2
News
•
Brady ankle not on injury report
•
Brady on Plax prediction: Only 17 points for Pats?
•
Carey named first black Super Bowl referee
•
Brady practices in Pats' first Super Bowl session
•
Ross gets sick as unified Giants face flu
•
NFL not worried about spying
•
Security high for Super Bowl
•
Williams to be honored during Super Bowl
•
Bootless Brady departs for Arizona
•
Tickets reselling for average of $4,300
•
Burress: Giants' receivers are better
Scouts Inc.
•
Roundtable: Seven scouts weigh in
•
Super Bowl XLII X Factors
•
Coaching comparison: Styles vary, results same
•
Defensive line breakdowns
•
Horton: Notes from the film room (Day 5)
•
Matchups to watch in Super Bowl XLII
•
Running-game breakdown
•
Horton: Notes from the film room (Day 4)
•
QB tale of the the tape
•
Horton: Notes from the film room (Day 3)
•
Ranking NFL QBs 1-64
•
Take II on Super Bowl XLII
•
Giants' DBs overmatched or underrated?
•
Horton: Notes from film room (Day 2)
•
Horton: 10 things to watch in SB XLII
•
Horton: Notes from the film room (Day 1)
•
A tale of two underrated O-lines
•
Take I on Super Bowl XLII
•
Players ranked Nos. 1-106

SportsNation
• Vote:
Which team will win?
• Vote:
Who wins the head-to-head matchups?
• Vote:
Which team are you rooting for?
• Conversation:
Talk Super Bowl XLII
• Map:
Which states are picking the Giants?
• Quiz:
42 Super Bowl history questions
• Chat:
Buzzmaster: Hello from Arizona!
• Chat:
Buzzmaster: Live from Media Day
• Chat:
Buzzmaster: Live with oddsmaker
• Chat:
Buzzmaster: Live with Matt Hasselbeck
• Chat:
Buzzmaster: Live with Gregg Easterbrook
• Rank:
Super Bowl's best individual performances
• Rank:
Super Bowl coaches
• Rank:
Super Bowl careers
• Rank:
Super Bowl teams
• Rank:
Super Bowl games
• Rank:
Greatest all-time quarterbacks
• Vote:
Potential for QB greatness?
• Quiz:
Greatest quarterbacks
• ABCNews:
Super Bowl or Super Tuesday?
• Chat Rewind:
When did undefeated talk start?
• Vote:
Can we proposition you?
• Pulse:
What is SportsNation saying about XLII?
ESPN FAN SHOP