Commentary
Seau hoping his 18th season yields the promised ring
What's left for Junior Seau, the linebacker who seemingly has everything? After 18 seasons, the quest for that missing Super Bowl ring is the thing.
Updated:
January 29, 2008, 4:00 PM ET
By
Greg Garber
| ESPN.com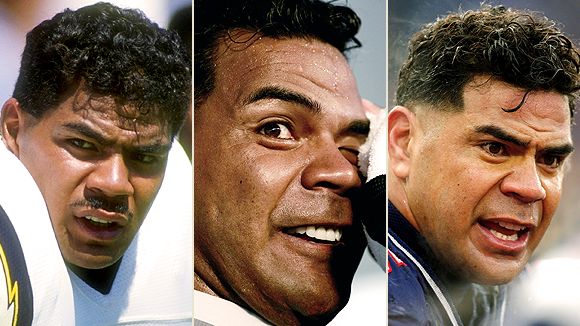 Getty ImagesJunior Seau has come a long way since his rookie season in San Diego. (left). After a stellar career there and a stint in Miami, Seau called it a career in 2006 (center). But with a comeback as a Patriot (right), he's near his first Super Bowl ring.
PHOENIX -- He bounced into the locker room under Gillette Stadium on Friday wearing a fedora made of straw, sandals and a smile that wouldn't -- couldn't -- subside.
Tiaina Baul Seau, Jr.
, is 39 years old, but for the last seven weeks the
New England Patriots
linebacker has been behaving like a man half his age. This is what happens when you've been riding the NFL carousel for 18 years, reaching for the great brass ring of your profession and suddenly, there it is, glittering, within your grasp. "The journey of getting to the Super Bowl is just that, a journey," Seau explained, as the Patriots' preparations in Massachusetts were winding down. "A journey to win, consistently. A chance to win is all I needed, because then I will be able to receive what I am looking for." He is one of the finest linebackers to ever play the game, a likely first-ballot Hall of Famer. Seau was named to play in 12 consecutive Pro Bowls when he played for the
San Diego Chargers
, he's made a ton of money and he has a restaurant with his name on it. The one thing he doesn't have, the thing he's desperately seeking, is a Super Bowl ring. In his only appearance in the ultimate game, the Chargers lost to the
San Francisco 49ers
49-26 in the 1995 Super Bowl. It wasn't Seau's fault; he had 11 tackles and a sack. "That's 181 games ago," he said Monday, as he nursed a cold in a nondescript ballroom at the Phoenix Convention Center. "I can't even remember that. I want to look forward." There have been a number of Hall of Fame players who have failed to bring home a ring -- most notably, perhaps, Dolphins quarterback Dan Marino -- and when questioned, they will assure you that it is disappointing, but not devastating. You get the sense that Seau would be crushed if the Patriots don't find a way to beat the Giants here in Super Bowl XLII. "I can't price-tag it," Seau said earnestly. "I can't give it any kind of substance because I've never done it. I am just working with my players to position ourselves to make sure we do the best thing that we can on Sunday. This place here, this culture here, breeds a chance to win, and win consistently." At 6 feet, 3 inches and 250 pounds, uncommonly agile and strong, Seau played in San Diego for 13 seasons. After averaging nearly 100 tackles per season and seven per game, he was traded to the
Miami Dolphins
. He ended the last two of three seasons on injured reserve and, at a ceremony back home in San Diego, he retired before the 2006 season. At the time, he called it a graduation but, in retrospect, he was about to pursue his master's degree. But three days later, Patriots head coach Bill Belichick called with a proposition. "There were teams that wanted me, maybe at leadership for the locker room, or a plug-in linebacker, sparingly, but there wasn't a team that needed me," Seau said. "A call came, and it was Bill Belichick, and the words he used on the phone were the reason why I'm here. He said to me, 'I have a position for you. This year.' Those were his words. "That's a team, a coach, that's a locker room that needed my service. And I was willing to do it." Seau started 10 of the first 11 games, but broke his arm against the
Chicago Bears
. The Patriots lost to the Colts in the AFC Championship game and Seau worked diligently to prepare for 2007. The acquisition of free agent
Adalius Thomas
knocked him out of the starting lineup, but Seau still was voted a defensive captain. He made himself useful in passing situations and recorded a single-season career high of three interceptions. When
Rosevelt Colvin
was lost for the season, Seau became a starter for the last four regular-season games and played in all 16 regular-season games for the first time in six seasons. In his six games as a starter, he has produced 42 tackles and 3.5 sacks -- in other words, vintage Seau five years removed from his last Pro Bowl. And so, here he is in Phoenix, along with a handful of consistently superb players aching to win their first league championship. There is New England wide receiver
Randy Moss
, who set a single-season record with 23 touchdown passes and has been voted to eight Pro Bowls.
New York Giants
defensive end
Michael Strahan
(141 ½ career sacks) and wide receiver
Amani Toomer
(the team's all-time leader with 620 receptions, 50 for touchdowns) are the only holdovers from Super Bowl XXXV. Punter
Jeff Feagles
, 41, has played in a league-record 320 consecutive games. None of these players, however, has more support from his teammates than Seau. "Why? Because he's Buddy-Buddy," said Thomas. "He calls everybody Buddy-Buddy. A guy that's been in the league that long, dedicated, works hard, practices hard, motivational -- you want to see him go out on top."
Perhaps more than anyone, Patriots linebacker Tedy Bruschi appreciates this grand stage. This is his fifth Super Bowl, going back to the Patriots' loss to Green Bay at the end of the 1996 season.
"Because all of us have experienced winning world championships before, we know the experience he's about to go through," Bruschi said. "We know how long he's worked to get to this moment. We're happy for him because it's an experience you should cherish. He's back here, and to put this on top of his already impressive résumé is something we want to do for him."
Safety Rodney Harrison, who played with Seau for nine seasons in San Diego and already has won two Super Bowl rings with the Patriots, said he is "elated" for his good friend.
"I've seen him work through so much pain," Harrison said. "Hard work, dedication, commitment, the sacrifices he's made with his family, away from his kids. Just to get an opportunity -- that's all Junior ever wanted. Coming back 18 years later, it's incredible."
On Monday, Seau was asked where all his energy came from.
"I love football," he said softly. "I love football."
Greg Garber is a senior writer for ESPN.com.
Writer, Reporter
Greg Garber joined ESPN in 1991 and provides reports for NFL Countdown and SportsCenter. He is also a regular contributor to Outside the Lines and a senior writer for ESPN.com.
SPONSORED HEADLINES
MORE NFL HEADLINES
MOST SENT STORIES ON ESPN.COM
SUPER BOWL XLII

In one of the great Super Bowl upsets, the Giants defeated the Patriots 17-14 in Super Bowl XLII in Glendale, Ariz.
Super Bowl Central

• Hashmarks blog: Mosley, Sando in Arizona


Game coverage
•
Belichick ready to move on from Super Bowl loss
•
Nevada sports books lose record $2.6M
•
View to a thrill: Record 97.5 million watch XLII
•
Giants' win shatters viewership records
•
Clayton: Can the Giants repeat?
•
Simmons: Free fallin'
•
Giants spoil Pats' perfect season
•
Wojciechowski: Blame Pats for this debacle
•
Wickersham: Brady dazed and confused
•
Clayton: Eli lets instincts take over
•
Clayton: N.Y. 'misfits' harass Brady
•
Sando: Was Brady rattled?
•
Mosley: Belichick left a second early
•
Chadiha: Ten things we learned
•
Garber: Tyree's catch one for the ages
•
Zoom galleries
1
|
2
|
Great SB upsets
•
SportsNation: Best Super Bowl?
•
SportsNation: Biggest SB upset?
•
SportsNation: Your favorite commercials?
Commentary/Features
•
Clayton: Top five contenders for the next SB
•
'72 Fins breathe sigh of relief after Giants win
•
Chadiha: Giants enjoy underdog role
•
Sando: Coughlin, Giants made it work
•
Super Bowl picks: Our experts weigh in
•
Merrill: Nine previously perfect Patriots
•
Merrill: Harrison deals with his rep just fine
•
Clayton: Giants' O-line worthy of accolades
•
Pasquarelli: Tip Sheet
•
Pasquarelli: Tip Sheet notes

•
Wojciechowski: 15 reasons Patriots will win
•
E-ticket: Patriots' man of mystery
•
Sunday Countdown
•
Clayton's First and Goal
•
Chadiha: Giants miss Shockey
•
Garber: Injured war vet inspires Giants
•
Pasquarelli: The Pats' crucial cameos
•
Garber: In Brady's world, insecurity remains
•
Merrill: Hixon's traumatizing season
•
Football Outsiders: SB numbers crunching
•
Pasquarelli: Patriots' silent sentinel
•
Wojciechowski: Unflappable Eli
•
Sando: Brady rising among all-time QBs
•
Chadiha: Giants' rookies playing prominent role
•
Fleming: Cardinals/Pottsville Curse
•
Clayton: Youth serving Giants well
•
Chadiha: Ranking the best QBs by decade
•
Klancnik: Top QBs by jersey number
•
Hashmarks: Media day coverage
|
Gallery
•
Pasquarelli: Pats' old-school LBs
•
Helyar: Marketing windfall for Eli Manning
•
Garber: Seau's ring quest
•
Pasquarelli: Bruschi's full-circle journey
•
Animated plays
•
From the research room
•
Chadiha: Pierce just wants to win
•
Wojciechowski: Explaining Bill Belichick
•
Helyar: Recession? Not at Super Bowl!
•
Giants' Snee doesn't stray from roots
•
Sando: Seymour in eye of storm
•
Merrill: Welker scales new heights for Pats
•
Pasquarelli: Brady is ready to play
•
Garber: The preservation of Plaxico
•
Pasquarelli: Hill's spirit lives on
•
Clayton: Giants' juggling act at CB works
•
Wickersham: Giant ideas
•
Klosterman: All too perfect
•
Crown Jewels: A look at Super Bowl rings
•
FB Outsiders: Giants one of worst SB teams
•
Helyar: Patriots will drive TV ratings
•
Clayton: First and goal
•
Chadiha: Giants' glory road
•
Mosley: Brady's ankle saves the week
•
Woj: Preseason predictions revisited
•
Merrill: David Woodley's dark spotlight
• Former SB QBs:
Plunkett
|
Rypien
|
Ferragamo
• More:
Morton
|
Humphries
|
Hostetler
|
Eason
•
Starting matchups of Super Bowl QBs
• Ranking the QB performances:
1-40
|
41-82
•
Jaworski: Six Super Bowl surprises

•
Joyner: Brady's bad decisions

•
Clayton: Eli's managing fine
•
Chadiha: Focused Giants
•
AccuScore simulation: Pats to prevail
•
Chadiha: First Look at the Super Bowl
•
Playoff schedule
Spy Games
News
•
Vermeil doubts spying made difference for Pats
•
Fish: Ex-Ram Warner suspicious of Pats in SB XXXVI
•&nbsp
Report: Pats taped Rams' SB walk-through
•
Specter to Goodell: Let's talk
•
Fish: Possible 'Spygate' witness surfaces
Commentary
•
Easterbrook: NFL can blame itself for scandal's timing
•
Munson: Congressional interest serious
•
Pasquarelli: Specter should stick with politics
•
Clayton: Spy saga won't distract Patriots
•
Hashmarks at Goodell's news conference
Letters
•&nbsp
Specter to Goodell (.pdf)
•&nbsp
Goodell to Specter (.pdf)
Page 2
•&nbsp
Gallo: Five stages of heartbreak for Pats' fans
•
Hill: Best Super Bowl parties
•
Hill: Teflon Tom Brady
•
Popculture roundtable on the Super Bowl
•
Hill: Raiders quit on Moss
•
Flem File at the Super Bowl
•
Fleming: Defining greatness
•
Best teams never to win a title
•
TMQ: Title-game analysis
•
Why Boston teams are so good
•
Gallo: Countdown to kickoff
•
More from Page 2
News
•
Brady ankle not on injury report
•
Brady on Plax prediction: Only 17 points for Pats?
•
Carey named first black Super Bowl referee
•
Brady practices in Pats' first Super Bowl session
•
Ross gets sick as unified Giants face flu
•
NFL not worried about spying
•
Security high for Super Bowl
•
Williams to be honored during Super Bowl
•
Bootless Brady departs for Arizona
•
Tickets reselling for average of $4,300
•
Burress: Giants' receivers are better
Scouts Inc.
•
Roundtable: Seven scouts weigh in
•
Super Bowl XLII X Factors
•
Coaching comparison: Styles vary, results same
•
Defensive line breakdowns
•
Horton: Notes from the film room (Day 5)
•
Matchups to watch in Super Bowl XLII
•
Running-game breakdown
•
Horton: Notes from the film room (Day 4)
•
QB tale of the the tape
•
Horton: Notes from the film room (Day 3)
•
Ranking NFL QBs 1-64
•
Take II on Super Bowl XLII
•
Giants' DBs overmatched or underrated?
•
Horton: Notes from film room (Day 2)
•
Horton: 10 things to watch in SB XLII
•
Horton: Notes from the film room (Day 1)
•
A tale of two underrated O-lines
•
Take I on Super Bowl XLII
•
Players ranked Nos. 1-106

SportsNation
• Vote:
Which team will win?
• Vote:
Who wins the head-to-head matchups?
• Vote:
Which team are you rooting for?
• Conversation:
Talk Super Bowl XLII
• Map:
Which states are picking the Giants?
• Quiz:
42 Super Bowl history questions
• Chat:
Buzzmaster: Hello from Arizona!
• Chat:
Buzzmaster: Live from Media Day
• Chat:
Buzzmaster: Live with oddsmaker
• Chat:
Buzzmaster: Live with Matt Hasselbeck
• Chat:
Buzzmaster: Live with Gregg Easterbrook
• Rank:
Super Bowl's best individual performances
• Rank:
Super Bowl coaches
• Rank:
Super Bowl careers
• Rank:
Super Bowl teams
• Rank:
Super Bowl games
• Rank:
Greatest all-time quarterbacks
• Vote:
Potential for QB greatness?
• Quiz:
Greatest quarterbacks
• ABCNews:
Super Bowl or Super Tuesday?
• Chat Rewind:
When did undefeated talk start?
• Vote:
Can we proposition you?
• Pulse:
What is SportsNation saying about XLII?