Commentary
I said it before, I'll say it again -- Jags will beat Pats
Yes, New England had a great season, but in the playoffs anything can happen. Even the Jaguars' beating the Patriots, writes Jeremy Green.
Updated:
January 10, 2008, 12:15 PM ET
By
Jeremy Green
| Scouts Inc.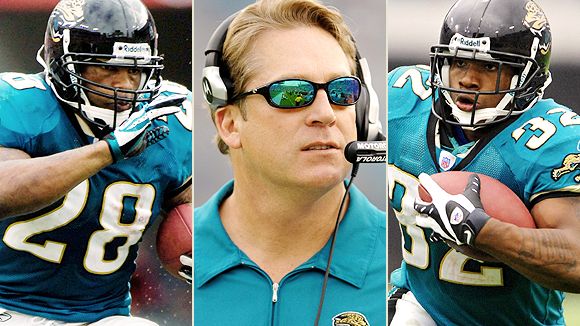 US PresswireWhat do you get when you add the one-two punch of Fred Taylor (left) and Maurice Jones-Drew (right) and a coach in Jack Del Rio who is making all the right moves? A Jacksonville upset of New England.
Nearly a month ago, I wrote a blog that said if they met in the playoffs, the
Jacksonville Jaguars
would beat the
New England Patriots
. Apparently, not everyone agreed. My inbox was flooded with hate mail and questions about my sanity. Some people wanted to know whether I had a recent concussion that went untreated. Eventually, the e-mails softened and users told me it was moot because the Jaguars would not even advance out of the first round to meet the Patriots.
Wickersham: Giant upset
With Eli Manning hot (6 TD passes past two games), Jessica Simpson distracting (Tony Romo fling) and Brandon Jacobs on a roll (5 yards per carry), the Giants are a lock Sunday. Seth Wickersham
Well, thanks to San Diego and Jacksonville winning their wild-card playoff games, my predicted matchup is here: Jags against the Patriots. So am I ready to take it back? Absolutely not. Despite the mild forecast (I was hoping for some snow and wind), I'm still picking the Jaguars.
First of all, it all starts with a little R-E-S-P-E-C-T. Aretha Franklin sang about it and the Jaguars are looking for some of it. The Jaguars went 11-5 in the toughest division in the NFL -- the AFC South -- and would have gone 12-4 had they played their starters in Week 17. The Patriots played in the dismal AFC East. After going 16-0, I will call them the best regular-season team of all time, but six of those wins came against the Bills, Dolphins and Jets, who were a combined 12-36. Still, despite that, the Patriots have eight Pro Bowlers while the Jaguars had zero. OK, Fred Taylor got in this week due to an injury to Willie Parker, but that's not exactly a rousing show of respect. I know Jacksonville coach Jack Del Rio will be reminding his players all week that they had no Pro Bowl players voted in by their peers, opposing coaches or fans. He will be telling his team the Patriots' coaches, players and fans don't respect them since those are the people who make up the voting process. The Jaguars will be motivated.
Secondly, I don't really care what the Patriots' defense is ranked -- it is overrated. Yes, they were fourth overall, 10th against the run and fourth in scoring defense. Those are great stats, but they are misleading. The Patriots' run defense was not very good against Dallas, which averaged 6.2 yards per carry. Or Indianapolis, as Joseph Addai ran for 112 yards. Or Baltimore (Willis McGahee had 138 yards) or the New York Giants, who averaged over four yards a carry. The common denominator is those last three games were close. The Patriots' run defense ranking looks good, but it's a mirage. It's that high because the Patriots blow people out and force them to throw. You know what I love about the Jags? They don't get blown out. Teams that don't commit penalties don't get blown out. Teams that take care of the ball don't get blown out. Teams that can run the ball don't get blown out.
Speaking of that run game, the Jaguars have big-time running backs in Taylor and Maurice Jones-Drew. They also have a ticked-off offensive line that gets overlooked despite its success. Taylor and Jones-Drew don't make miracles happen every week on their own. Vince Manuwai, one of the most physical guards in the NFL, should have been a Pro Bowler. He is an excellent athlete who can get to the second level, and his ability to reach veteran ILBs Tedy Bruschi and Junior Seau will open up the Jacksonville run game. The Patriots have an excellent defensive line and it gets much more hype than the Jaguars' offensive line. But the Jaguars won't back down from anyone. They look at this Patriots defensive line and believe it's just another opportunity to prove they are tougher and more physical.
And in a twist, what the Jaguars do best on offense is also their best defense against the amazing Patriots offense. There really is not a defensive scheme yet devised to stop the Patriots' offense. It is the most explosive attack we have seen in a long time, but know this: New England won't be able to run on Jacksonville. Pittsburgh ran it 26 times for a 1.7 average Saturday night, so the Patriots will throw the ball. The Jaguars' weak link is the back end of the defense. How do you protect your pass defense if you are the Jags? You run the ball. Then you run the ball again. Then you run the ball some more. The best way to beat the Patriots' offense is to leave it standing on the sideline. Tom Brady, Randy Moss, Wes Welker and Co. can't beat you if they are not on the field.
Now that sounds simple and there's much more Jacksonville will need to do to pull of this historic upset. And undoubtedly, Del Rio will have a great game plan because he is one of the best coaches in the NFL. There is only so much he can do though. To beat the best, you have to play your best. For Jacksonville, that means running the ball, establishing a good short-to-intermediate, high-percentage passing game, winning the turnover battle and having the advantage in the special teams. The Patriots have dominated teams with their talent and because they're intimidating. But Del Rio isn't easily intimidated and neither are the Jags.
So, yes, I guess I will continue to be unfazed by the Patriots' 16-0 record. And no, I am not a fan of the Jaguars or hater of the Patriots. A fan never thinks his team can lose, but no team is invincible. In the playoffs, it's one-and-done and anything can happen. Even Jacksonville beating New England.
Jeremy Green, director of pro scouting for Scouts Inc., has been an NFL scout for more than 10 years.
SPONSORED HEADLINES
MORE NFL HEADLINES
MOST SENT STORIES ON ESPN.COM
2007 PLAYOFFS

In a rematch of their Week 17 game, the unbeaten Patriots will play the red-hot Giants in Super Bowl XLII in Glendale, Ariz.
Super Bowl Central
Clayton: Eli's managing fine
Chadiha: Focused Giants
AccuScore simulation: Pats to prevail
Chadiha: First Look | Playoff schedule



Conference Championships (Jan. 20)
Patriots 21, Chargers 12
•
Merrill: Questions linger about Moss' postseason
•
Wojciechowski: Whatever it takes, Pats win
•
Pasquarelli: Patriots' offense grinds it out
•
Pasquarelli: Chargers squander opportunites
•
Pats make fourth SB in seven years
•
The Last Call: Mike Sando's observations, more
•
Zoom Gallery:
AFC title game
|
Pats' season
•
Playoff page
Giants 23, Packers 20
•
Clayton: Burress burns Harris, Packers
•
Chadiha: Bitter pill for Packers to swallow
•
Zoom Gallery: Giants edge Packers
•
The Last Call: Mike Sando's observations, more
•
Garber: Coughlin's personality makeover intact
•
Playoff page
Video
•
What is Tom Brady's legacy?
•
Eli and Burress lead Giants
•
Patriots avoid distractions on way to Super Bowl
•
Resilient Giants advance to SB
•
Red-zone efficiency fuels Patriots
Divisional Round (Jan. 12-13)
Packers 42, Seahawks 20
•
Recap
|
Playoff game page
•
Clayton: Ryan Grant sticks to the plan
•
Sando: Disastrous play at TE for Seattle
Patriots 31, Jaguars 20
•
Recap
|
Playoff game page
•
Pasquarelli: Patriots have too many weapons
Chargers 28, Colts 24
•
Recap
|
Playoff game page
•
Wojciechowski: Did Chargers get Pats' attention?
•
Clayton: Colts can't overcome mistakes
Giants 21, Cowboys 17
•
Recap
|
Playoff game page
•
Chadiha: Manning maturing at right time
More divisional playoffs
•
Saturday's Last Call: Pack, Pats advance
•
Sunday's Last Call: Giants, Chargers surprise
Commentary/Features
•
Pasquarelli: Tip Sheet
|
Notes

•
Smith: Special teams loom large
•
Scouts: Kryptonite for top four teams

•
Playoff upsets: By the numbers
•
Page 2: Handicapping the wild-card winners
Wild-Card Round (Jan. 5-6)
Seahawks 35, Redskins 14
•
Recap
|
Playoff game page
•
Clayton: Cool head Holmgren
•
Sando: Redskins inspired by Taylor
Jaguars 31, Steelers 29
•
Recap
|
Playoff game page
•
Chadiha: Jaguars pass character test
Giants 24, Bucs 14
•
Recap
|
Playoff game page
•
Pasquarelli: Manning delivers for Giants
•
Pasquarelli: Giants' D rises to occasion
Chargers 17, Titans 6
•
Recap
|
Playoff game page
•
Clayton: Turner, Rivers silence their critics
More Wild Card Weekend
•
Saturday's Last Call: Hawks, Jags escape
•
Sunday's Last Call: Giants, Chargers rule
•
ZOOM photos:
Saturday
|
Sunday
Commentary/Features
•
Sando: Controversial history of replay
•
Clayton: First and Goal, Wild Card
•
Sando: Playoff mantras
•
Numbers crunching: Wild-card weekend
•
Sunday Countdown
•
TMQ: Do the Pats need to run more?
•
Joyner: Steelers, Giants adjusting on the fly

•
Clayton: Handicapping possible Patriots foes
•
Clayton: Key playoff questions for the AFC
•
Pasquarelli: Key playoff questions for the NFC
Video
•
Chargers bolt past Titans, 17-6
•
Eli Manning silences his critics
•
Seattle's Hasselbeck is underrated
•
Phillips not concerned about late-season slide
Scouts Inc.
•
Ranking the playoff teams
•
Ranking the playoff coaches
•
Off. rankings:
Overall
|
QB
|
WR
|
RB
|
OL
•
Def. rankings:
Overall
|
DL
|
LB
|
DB
|
ST
•
Green: Smith's absence hurting Steelers
•
Williamson: Unknowns powering Bucs
ESPN FAN SHOP