Commentary
Poised, patient Manning delivers for Giants
After going to great lengths to remind himself about the importance of patience, Giants QB Eli Manning practiced what he preached against the Bucs, writes Len Pasquarelli.
Originally Published:
January 6, 2008
By
Len Pasquarelli
| ESPN.com
TAMPA, Fla. -- In the notebook Eli Manning maintains as part of his game preparation, a diary of personal insights and ideas gleaned from videotape inspection of the upcoming opponent and perusal of his own team's plan of attack, the New York Giants' quarterback kept scribbling down the same one-word reminder last week.
Patience.
"It was the main thing I wanted to drive home to myself," Manning acknowledged Sunday evening as he strolled down a corridor in the bowels of Raymond James Stadium with his first postseason win now embossed on his NFL résumé. "Against a defense like the one that [Tampa Bay] plays, you don't want to force things because the Bucs are so good at taking the ball away. You can't allow yourself to get too frustrated. Probably, early on today, part of the problems we had were maybe because I was a little too conservative, you know? But in the end, just staying calm and settling into the game, it paid off for us."
Indeed, patience is almost always virtuous. But for the Giants, and especially for Manning on Sunday afternoon, it was an attribute that proved victorious, as well, as New York dominated Tampa Bay 24-14 in a wild-card contest that wasn't really as close as the final score might suggest.
The win was the first postseason victory for New York since its 2000 NFC Championship Game rout of Minnesota, which earned the Giants a spot in Super Bowl XXXV. It means a matchup Sunday against the division rival Dallas Cowboys, a team that defeated the Giants twice in the regular season.
But in those two losses, Manning generally played well, completing 51 of 75 throws for 548 yards, with five touchdown passes and three interceptions, for a passer rating of 94.9. And since their season-opening loss at Texas Stadium -- a 45-35 shootout in which Manning threw for 312 yards and four touchdowns -- the Giants haven't lost on the road, with Sunday's wild-card win their eighth straight away from home.
Coming off their disappointing 38-35 loss to New England in the regular-season finale, a defeat that came as close to a moral victory as any New York veteran would ever concede and that several players noted might well be a momentum builder for the playoffs, the Giants arrived here "knowing the consequences," according to coach Tom Coughlin. And Manning, who had lost the first two playoff appearances of his career, certainly understood what might transpire if he was careless with the football against a Bucs defense that led the NFL in takeaway/turnover differential in 2007 with a plus-25 mark.
[+] Enlarge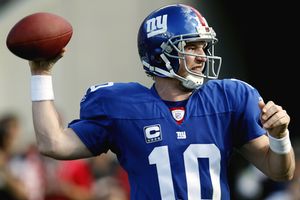 AP Photo/Chris O'MearaAfter a slow start, Eli Manning found his rhythm and led the Giants to their first playoff win since 2001.
So Manning, who tied for the league lead in interceptions (20), was notably cautious and quite deliberate in the manner in which he challenged the Tampa Bay defense.
But in completing 20 of 27 passes for 185 yards, with two touchdown passes, no interceptions and an efficiency rating of 117.1, Manning was very effective. The Giants, who had the fifth-most turnovers in the league in 2007 (34), didn't give the ball away at all Sunday afternoon.
"Eli played smart," said Tampa Bay cornerback Brian Kelly. "He made safe throws. He didn't take chances, and he didn't give us any opportunities to capitalize on mistakes because he just didn't make any."
The Bucs don't play nearly as much Cover 2 in the secondary as they once did, and on Sunday they relied on a lot of single-high safety looks early, which forced Manning to throw quick-hitch routes. But once he completed a few of those, Manning gained a rhythm and loosened up the Tampa Bay coverages.
Manning completed only one pass of more than 20 yards, a 21-yard hookup with rookie wide receiver Steve Smith. The play set up tailback Brandon Jacobs' 8-yard touchdown run, a blast over left tackle that gave the Giants a 14-7 halftime lead. And Manning averaged only 9.3 yards per completion and 6.8 yards per attempt. But after a very sluggish start, with the Giants going three-and-out on each of their first three possessions and not registering their initial first down until early in the second quarter, Manning managed the game nicely and operated with poise and precision.
And, as his teammates agreed, with admirable patience.
"He showed a lot of calm," said wide receiver Amani Toomer, who led the Giants with seven catches for 74 yards and whose 4-yard touchdown reception in the fourth quarter boosted New York to a 24-7 lead. "He didn't let the slow start get to him. He didn't rush anything, and just played inside himself and let the game come to him. Once we all settled in, he got into a rhythm. It was impressive. After the first quarter, he made a lot of big plays."
Two moments, each of which emphasized the patience Manning demonstrated, stood out.
The first was the 21-yard completion to Smith, a third-and-2 play on which Manning began to throw, pulled the ball down and reloaded, then allowed the rookie wide receiver to find a void in the Bucs' secondary as he continued his route. Had Manning released the ball when he initially cocked his arm, with Smith in a crowd, the pass might well have been intercepted.
Instead, the play resulted in a first down at the Tampa Bay 17-yard line, and Jacobs scored two snaps later.
The second instance was a surgical 15-play, 92-yard drive in the fourth quarter that culminated in the touchdown pass to Toomer. The long series, which consumed 8:37 in clock time, represented the Giants' longest touchdown march since a 95-yard scoring trek against the Baltimore Colts in the historic 1958 NFL championship game. That was the landmark overtime contest that thrust the league into national prominence.
On a first-and-10 play, Manning twice pumped before finding tight end Kevin Boss for 11 yards. On a second-and-10, he showed terrific timing, hitting wideout Plaxico Burress for 14 yards on a stop route to the left side. Then, on the touchdown throw to Toomer, he lured Tampa Bay cornerback Ronde Barber inside with a slight pump fake toward Boss. The hesitation bought Toomer enough time to uncover to the outside of the end zone.
"A big-time drive" was Manning's assessment of the long series that drained the life from the Bucs' defense and quashed any hopes of a Tampa Bay rally.
Mostly because of the big-time performance from Manning, who must play just as well -- and perhaps even better -- for New York to have a chance of upsetting the top-seeded Cowboys in a week.
"We know their team, and we know what they like to do," said Manning, who earned his first postseason victory on his third try. "Who knows, the third time might be the charm."
Senior writer Len Pasquarelli covers the NFL for ESPN.com.
SPONSORED HEADLINES
MORE NFL HEADLINES
MOST SENT STORIES ON ESPN.COM
2007 PLAYOFFS

In a rematch of their Week 17 game, the unbeaten Patriots will play the red-hot Giants in Super Bowl XLII in Glendale, Ariz.
Super Bowl Central
Clayton: Eli's managing fine
Chadiha: Focused Giants
AccuScore simulation: Pats to prevail
Chadiha: First Look | Playoff schedule



Conference Championships (Jan. 20)
Patriots 21, Chargers 12
•
Merrill: Questions linger about Moss' postseason
•
Wojciechowski: Whatever it takes, Pats win
•
Pasquarelli: Patriots' offense grinds it out
•
Pasquarelli: Chargers squander opportunites
•
Pats make fourth SB in seven years
•
The Last Call: Mike Sando's observations, more
•
Zoom Gallery:
AFC title game
|
Pats' season
•
Playoff page
Giants 23, Packers 20
•
Clayton: Burress burns Harris, Packers
•
Chadiha: Bitter pill for Packers to swallow
•
Zoom Gallery: Giants edge Packers
•
The Last Call: Mike Sando's observations, more
•
Garber: Coughlin's personality makeover intact
•
Playoff page
Video
•
What is Tom Brady's legacy?
•
Eli and Burress lead Giants
•
Patriots avoid distractions on way to Super Bowl
•
Resilient Giants advance to SB
•
Red-zone efficiency fuels Patriots
Divisional Round (Jan. 12-13)
Packers 42, Seahawks 20
•
Recap
|
Playoff game page
•
Clayton: Ryan Grant sticks to the plan
•
Sando: Disastrous play at TE for Seattle
Patriots 31, Jaguars 20
•
Recap
|
Playoff game page
•
Pasquarelli: Patriots have too many weapons
Chargers 28, Colts 24
•
Recap
|
Playoff game page
•
Wojciechowski: Did Chargers get Pats' attention?
•
Clayton: Colts can't overcome mistakes
Giants 21, Cowboys 17
•
Recap
|
Playoff game page
•
Chadiha: Manning maturing at right time
More divisional playoffs
•
Saturday's Last Call: Pack, Pats advance
•
Sunday's Last Call: Giants, Chargers surprise
Commentary/Features
•
Pasquarelli: Tip Sheet
|
Notes

•
Smith: Special teams loom large
•
Scouts: Kryptonite for top four teams

•
Playoff upsets: By the numbers
•
Page 2: Handicapping the wild-card winners
Wild-Card Round (Jan. 5-6)
Seahawks 35, Redskins 14
•
Recap
|
Playoff game page
•
Clayton: Cool head Holmgren
•
Sando: Redskins inspired by Taylor
Jaguars 31, Steelers 29
•
Recap
|
Playoff game page
•
Chadiha: Jaguars pass character test
Giants 24, Bucs 14
•
Recap
|
Playoff game page
•
Pasquarelli: Manning delivers for Giants
•
Pasquarelli: Giants' D rises to occasion
Chargers 17, Titans 6
•
Recap
|
Playoff game page
•
Clayton: Turner, Rivers silence their critics
More Wild Card Weekend
•
Saturday's Last Call: Hawks, Jags escape
•
Sunday's Last Call: Giants, Chargers rule
•
ZOOM photos:
Saturday
|
Sunday
Commentary/Features
•
Sando: Controversial history of replay
•
Clayton: First and Goal, Wild Card
•
Sando: Playoff mantras
•
Numbers crunching: Wild-card weekend
•
Sunday Countdown
•
TMQ: Do the Pats need to run more?
•
Joyner: Steelers, Giants adjusting on the fly

•
Clayton: Handicapping possible Patriots foes
•
Clayton: Key playoff questions for the AFC
•
Pasquarelli: Key playoff questions for the NFC
Video
•
Chargers bolt past Titans, 17-6
•
Eli Manning silences his critics
•
Seattle's Hasselbeck is underrated
•
Phillips not concerned about late-season slide
Scouts Inc.
•
Ranking the playoff teams
•
Ranking the playoff coaches
•
Off. rankings:
Overall
|
QB
|
WR
|
RB
|
OL
•
Def. rankings:
Overall
|
DL
|
LB
|
DB
|
ST
•
Green: Smith's absence hurting Steelers
•
Williamson: Unknowns powering Bucs