Commentary
Bucs have a need for speed, youth at wide receiver
For the Bucs to become more than a one-and-done playoff team, Jon Gruden must add playmakers and rethink his offensive design, writes Len Pasquarelli.
Originally Published:
January 7, 2008
By
Len Pasquarelli
| ESPN.com
TAMPA, Fla. -- Asked in the wake of Sunday's wild-card defeat here to describe the raw emotion that accompanies a playoff loss, Tampa Bay coach Jon Gruden, typically a man of many words and convoluted double-talk, required only four syllables.
"The music stops," Gruden said minutes after his team's 24-14 loss to the New York Giants.
No ambiguity, rationalization or coachspeak there, right?
When they pulled the plug on the noise emanating from the public address system at Raymond James Stadium on Sunday around 4 p.m., in the first stanza of the NFL's postseason exercise in high-stakes musical chairs, the Bucs were left without a seat at the party. The only chairs Tampa Bay players and coaches will fill now for the balance of the playoffs are all the plush, leather La-Z-Boy recliners in front of their big-screen televisions.
And they'll be there, in large part, because on offense, Gruden and Tampa Bay continue to play the same, old tune.
Give credit to the Bucs and their coaches for this: Chosen by most league observers to finish no better than third in the NFC South, the team defied the league pundits for a second time in three seasons by claiming the title in a division that essentially is the NFL equivalent of a neighborhood in blight. Tampa Bay was the only team in the diluted division with a winning record.
[+] Enlarge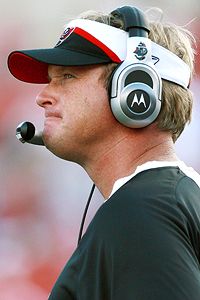 Doug Benc/Getty Images Jon Gruden needs more weapons. He also needs to adjust some of his offensive schemes.
Gruden was correct in assessing Sunday evening that the Bucs, who needed a little glue and baling wire and a lot of anonymous fill-ins to field a starting lineup, were a "great story." But like the league's other feel-good story, the Washington Redskins, who rallied after the death of safety Sean Taylor to win a wild-card invitation, the Bucs concluded the season 9-8.
One skinny game removed from mediocrity. And light years removed from contending for a Super Bowl XLII championship.
For a franchise that hasn't won a playoff game since hoisting the Vince Lombardi Trophy in January 2003, getting back to the playoffs was a step in the right direction. And for Gruden, whose job security might have been at stake entering the season, because not even a Super Bowl title carries a renewable warranty or an eternal grace period, the resurgent season will likely earn him a contract extension beyond his current deal that runs through 2008.
But for Tampa Bay to contend for more than just another championship in the NFL's slum division, the offense has to acquire some playmakers, and Gruden has to upgrade what has become a horizontal passing game.
That the Bucs' defense dissolved in the final three quarters against the Giants, especially in the red zone, was notable. Legendary coordinator Monte Kiffin's unit was, after all, statistically ranked No. 2 in the league during the season, and had surrendered the third-fewest points. Far more culpable, though, was the Tampa Bay offense, which started fast and then absolutely fizzled.
"In a lot of ways, I think we've ridden the back of our defense all season long," quarterback Jeff Garcia conceded. "We really needed to step up as an offense and to get better as an offense. Unfortunately, as we've seen through the year, the inconsistencies of our offense came back to haunt us. Not making enough plays, not finding a way to make a big play."
For the Bucs, the offensive side of the ball is Gruden's domain, and it will be incumbent for him to make changes if Tampa Bay is to progress in 2008.
Certainly there is going to be much discussion here in the next few weeks over Gruden's decision to rest many of his banged-up players in the final two regular-season games, after the Bucs had secured a playoff berth and the No. 4 seed in the NFC bracket. Gruden fairly bristled when the matter of "rust or rest" was broached in his postgame media session. Still, it's a fact that Garcia, who again looked like one big welt on Sunday evening, had played just seven quarters and registered only 45 passes in the six weeks leading up to the wild-card matchup with the Giants.
It wasn't the lack of playing time, though, that caught up to the Bucs in Sunday's loss. It was the lack of playmakers, and that continues to be a glaring shortcoming, particularly in the Tampa Bay passing game.
The team's starting wide receivers, Joey Galloway (36 years old and in his 13th season) and Ike Hilliard (31 years old, 11th season), are beyond long in the tooth. None of Tampa Bay's tight ends, a position where Gruden loves to amass players the way some people collect stamps or coins, scares anyone down the field. The typical Tampa Bay pass play commences with a lot of shifting and motion and usually concludes with Garcia throwing a ball sideways to someone for a 6-yard gain.
Good passing designs do, indeed, stretch secondaries along the horizontal plane at times. But the premier ones attack vertically, and for all of his offensive genius, the Gruden game plan just seems to feature a lot of crossing routes.
And then there is the matter of developing young playmakers, which the Bucs can't seem to accomplish, although some of that shortcoming is simple misfortune.
Wide receiver Michael Clayton, the team's first-round choice in 2004, caught 80 passes for 1,193 yards and seven touchdowns as a rookie. Then he suffered some injuries, and lost his confidence. In the three seasons since that standout debut year, he has totaled 87 catches, 1,029 yards and one touchdown.
Tailback Cadillac Williams looked like the real deal in 2005, when he ran for over 1,100 yards. But then injuries reduced his effectiveness, and then a severe knee injury early this season ended his year and casts some doubt on his future. The physical travails of onetime starting quarterback Chris Simms, who hasn't been the same since a splenectomy ended his 2006 season, would fill a medical textbook.
The fact the Bucs advanced as far as they did in 2007, with a third-string tailback, an offensive line that features three second-year veterans and a rookie, and Galloway nursing a bum shoulder, is laudable. But for Tampa Bay to become more than just a one-and-done playoff team, the Bucs need better personnel and a better design. And to achieve both, Gruden has to take a long, hard look at himself.
Somewhere, the Bucs have to find some younger, faster wide receivers. And not just the guys Gruden annually touts in training camp -- like Maurice Stovall this year -- who never live up to the hype he tries to create for them. And they've got to get people like Williams healthy again. And Gruden, for as good a coach as he has been, has to reinvent himself and his offense a bit.
Long miscast as a guy who loves to throw the ball, Gruden is actually a coach who thrives on smashing people. Yet with his running game at least modestly productive in the first quarter on Sunday, he stunningly abandoned it. Of the Bucs' 14 snaps in the second quarter, all but one was a pass. It was part of the ongoing enigma that is Gruden, and it's part of what has to change with the Tampa Bay offense.
Because the longer the offensive tune remains the same here, the sooner the music stops playing.
Senior writer Len Pasquarelli covers the NFL for ESPN.com.
SPONSORED HEADLINES
MORE NFL HEADLINES
MOST SENT STORIES ON ESPN.COM
2007 PLAYOFFS

In a rematch of their Week 17 game, the unbeaten Patriots will play the red-hot Giants in Super Bowl XLII in Glendale, Ariz.
Super Bowl Central
Clayton: Eli's managing fine
Chadiha: Focused Giants
AccuScore simulation: Pats to prevail
Chadiha: First Look | Playoff schedule



Conference Championships (Jan. 20)
Patriots 21, Chargers 12
•
Merrill: Questions linger about Moss' postseason
•
Wojciechowski: Whatever it takes, Pats win
•
Pasquarelli: Patriots' offense grinds it out
•
Pasquarelli: Chargers squander opportunites
•
Pats make fourth SB in seven years
•
The Last Call: Mike Sando's observations, more
•
Zoom Gallery:
AFC title game
|
Pats' season
•
Playoff page
Giants 23, Packers 20
•
Clayton: Burress burns Harris, Packers
•
Chadiha: Bitter pill for Packers to swallow
•
Zoom Gallery: Giants edge Packers
•
The Last Call: Mike Sando's observations, more
•
Garber: Coughlin's personality makeover intact
•
Playoff page
Video
•
What is Tom Brady's legacy?
•
Eli and Burress lead Giants
•
Patriots avoid distractions on way to Super Bowl
•
Resilient Giants advance to SB
•
Red-zone efficiency fuels Patriots
Divisional Round (Jan. 12-13)
Packers 42, Seahawks 20
•
Recap
|
Playoff game page
•
Clayton: Ryan Grant sticks to the plan
•
Sando: Disastrous play at TE for Seattle
Patriots 31, Jaguars 20
•
Recap
|
Playoff game page
•
Pasquarelli: Patriots have too many weapons
Chargers 28, Colts 24
•
Recap
|
Playoff game page
•
Wojciechowski: Did Chargers get Pats' attention?
•
Clayton: Colts can't overcome mistakes
Giants 21, Cowboys 17
•
Recap
|
Playoff game page
•
Chadiha: Manning maturing at right time
More divisional playoffs
•
Saturday's Last Call: Pack, Pats advance
•
Sunday's Last Call: Giants, Chargers surprise
Commentary/Features
•
Pasquarelli: Tip Sheet
|
Notes

•
Smith: Special teams loom large
•
Scouts: Kryptonite for top four teams

•
Playoff upsets: By the numbers
•
Page 2: Handicapping the wild-card winners
Wild-Card Round (Jan. 5-6)
Seahawks 35, Redskins 14
•
Recap
|
Playoff game page
•
Clayton: Cool head Holmgren
•
Sando: Redskins inspired by Taylor
Jaguars 31, Steelers 29
•
Recap
|
Playoff game page
•
Chadiha: Jaguars pass character test
Giants 24, Bucs 14
•
Recap
|
Playoff game page
•
Pasquarelli: Manning delivers for Giants
•
Pasquarelli: Giants' D rises to occasion
Chargers 17, Titans 6
•
Recap
|
Playoff game page
•
Clayton: Turner, Rivers silence their critics
More Wild Card Weekend
•
Saturday's Last Call: Hawks, Jags escape
•
Sunday's Last Call: Giants, Chargers rule
•
ZOOM photos:
Saturday
|
Sunday
Commentary/Features
•
Sando: Controversial history of replay
•
Clayton: First and Goal, Wild Card
•
Sando: Playoff mantras
•
Numbers crunching: Wild-card weekend
•
Sunday Countdown
•
TMQ: Do the Pats need to run more?
•
Joyner: Steelers, Giants adjusting on the fly

•
Clayton: Handicapping possible Patriots foes
•
Clayton: Key playoff questions for the AFC
•
Pasquarelli: Key playoff questions for the NFC
Video
•
Chargers bolt past Titans, 17-6
•
Eli Manning silences his critics
•
Seattle's Hasselbeck is underrated
•
Phillips not concerned about late-season slide
Scouts Inc.
•
Ranking the playoff teams
•
Ranking the playoff coaches
•
Off. rankings:
Overall
|
QB
|
WR
|
RB
|
OL
•
Def. rankings:
Overall
|
DL
|
LB
|
DB
|
ST
•
Green: Smith's absence hurting Steelers
•
Williamson: Unknowns powering Bucs
ESPN FAN SHOP