Commentary
Even without a rolling Moss, Brady's Patriots remain boss
The Jaguars had a brilliant plan to mute Randy Moss on Saturday. Unfortunately for them, that left the other Patriots free to do damage, writes Len Pasquarelli.
Originally Published:
January 13, 2008
By
Len Pasquarelli
| ESPN.com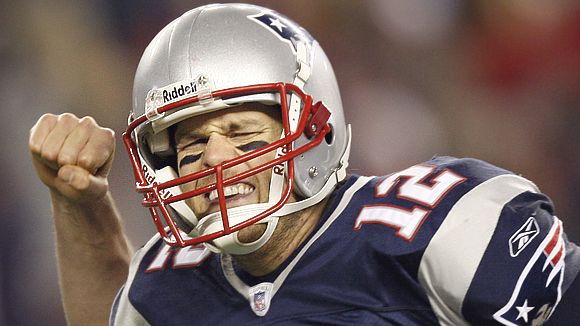 AP Photo/Winslow TownsonThe Patriots' Tom Brady was as close to perfect as you could expect a quarterback to be Saturday against the Jaguars. He had two incompletions, and each bounced off his target's hands.
FOXBOROUGH, Mass. -- Halfway through the first quarter of the New England Patriots' 31-20 divisional-round victory Saturday night, Tom Brady completed a 14-yard pass to wide receiver Randy Moss on an inside hook route to convert in a fourth-and-5 situation.
Then, over the ensuing 52 minutes of the win over the Jacksonville Jaguars that advanced the Patriots into the AFC Championship Game against the survivor of Sunday afternoon's San Diego Chargers-Indianapolis Colts matchup, Moss never caught another pass. In fact, Brady never so much as glanced his way again, let alone tried to get him the ball.
And did it matter?
Uh, no, not at all.
"Here's the thing about this team: Everybody has everyone else's back," said tailback Kevin Faulk, one of several complementary performers who came up big on an evening when the NFL's most explosive offensive unit got next to nothing from the most explosive vertical playmaker in the league.
"There's just an unbelievable trust factor here that is nurtured by the coaching staff. If one guy doesn't do it, all the rest of us know that we have to do just a little bit more then."
In moving to within one victory of a fourth Super Bowl appearance in seven seasons, New England had a lot of role players do a lot as it dispatched a feisty Jacksonville team that came into Gillette Stadium undaunted by the Patriots' perfection.
Brady, as usual, was brilliant. He completed all but two of his 28 attempts, for 262 yards, with three touchdown passes and no interceptions, for a glittering passer rating of 141.4. The only two times the ball hit the ground were on drops, one by tight end Benjamin Watson five minutes into the third quarter, breaking a string of 16 straight completions, and one by slot receiver Wes Welker with just under seven minutes left to play in the game.
After being sacked by defensive tackle John Henderson on New England's initial offensive snap of the contest, Brady was hit only twice the rest of the way. With that kind of incredible protection, watching him was like watching a training camp seven-on-seven drill.
Queried about the calm with which he plays, Brady joked that he was "all Zen." Watson had a different view.
"Spectacular," the tight end said. "No, make that very spectacular, if there is such an expression. But why are people surprised? I mean, this isn't like this is the first time Tom has performed great in a playoff game, you know? But, yeah, he was incredible."
The supporting cast -- even with Moss held in check by a superb coverage package conjured up by Jaguars defensive coordinator Mike Smith -- wasn't bad, either.
Even though Moss did nothing to dent the Jaguars, the Patriots still rang up 24 first downs and 403 yards. They scored on five of their seven meaningful possessions, not counting a late series in the first half on which Brady killed the clock with a kneel-down run. They squandered another scoring chance when kicker Stephen Gostkowski sailed a 35-yard field goal attempt wide right.
"Just a lot of guys, a lot of them, doing their jobs well," fullback Heath Evans said.
The roll call of playmakers on the offensive side was, indeed, a lengthy one.
Second-year tailback Laurence Maroney had a huge game, rushing for 122 yards and a score on 22 carries. Welker registered nine receptions for 54 yards and converted five of his grabs into first downs. Watson had only two receptions, but both were for touchdowns.
Faulk typically proved a problem for the Jaguars' linebackers when the Pats got him out in space. And wide receiver Donte' Stallworth -- a starter at the outset of the season, but a player who has watched his playing time dwindle as Jabar Gaffney has gotten more snaps -- made two huge plays.
The first, a 53-yard catch deep up the right sideline, demonstrated just how savvy Brady is, and how much he trusts guys to make plays for him. It came on a second-and-9 play in the fourth quarter, with the play designed as a screen to Maroney in the left flat. As Brady turned to throw, Jacksonville defensive end Paul Spicer penetrated upfield and right into his passing lane. Brady calmly pulled the ball down, turned his shoulders to the backside of the play, and tossed a perfectly lobbed rainbow to Stallworth. The wideout tapped the ball back to himself with one hand, then controlled if after it caromed off his face mask.
A few minutes later, Stallworth extended his body after a short catch, creating an 8-yard play in a third-and-7 situation.
"I just think it's what is expected of us, what we expect from each other," Stallworth said. "If you've got a helmet on, and you're on the field, they expect you to make plays. It's as simple as that. Play for this team, and that attitude becomes ingrained in you. We're pretty much just coached that way. Make plays, win games and move on to the next week. It's not all that complicated."
But because New England is so sophisticated and complex -- even through the Patriots cleverly did nothing exotic Saturday that might aid next week's AFC conference title game opponent in film study -- one wonders whether the Pats can be stopped short in their relentless pursuit of a 19-0 season and a Super Bowl XLII title.
"I thought we played them tough," said Jacksonville linebacker Daryl Smith, "and they still hung 31 [points] on us. I don't know what more you can do."
The Patriots know, though, precisely what they need to do. Brady noted that, "We're 17-0, and that doesn't mean anything." And that's the attitude that permeates every corner of the New England locker room. Starters, reserves, stars and role-players, they all know it.
"I mean, the whole 'can't be beat' thing, we sure don't think about it around here," Evans said. "That's a mighty big statement because this is the NFL and there are good players everywhere you look."
Unfortunately for the rest of the league, there are more of them in the Patriots' locker room than anywhere else.
Senior writer Len Pasquarelli covers the NFL for ESPN.com.
SPONSORED HEADLINES
MORE NFL HEADLINES
MOST SENT STORIES ON ESPN.COM
2007 PLAYOFFS

In a rematch of their Week 17 game, the unbeaten Patriots will play the red-hot Giants in Super Bowl XLII in Glendale, Ariz.
Super Bowl Central
Clayton: Eli's managing fine
Chadiha: Focused Giants
AccuScore simulation: Pats to prevail
Chadiha: First Look | Playoff schedule



Conference Championships (Jan. 20)
Patriots 21, Chargers 12
•
Merrill: Questions linger about Moss' postseason
•
Wojciechowski: Whatever it takes, Pats win
•
Pasquarelli: Patriots' offense grinds it out
•
Pasquarelli: Chargers squander opportunites
•
Pats make fourth SB in seven years
•
The Last Call: Mike Sando's observations, more
•
Zoom Gallery:
AFC title game
|
Pats' season
•
Playoff page
Giants 23, Packers 20
•
Clayton: Burress burns Harris, Packers
•
Chadiha: Bitter pill for Packers to swallow
•
Zoom Gallery: Giants edge Packers
•
The Last Call: Mike Sando's observations, more
•
Garber: Coughlin's personality makeover intact
•
Playoff page
Video
•
What is Tom Brady's legacy?
•
Eli and Burress lead Giants
•
Patriots avoid distractions on way to Super Bowl
•
Resilient Giants advance to SB
•
Red-zone efficiency fuels Patriots
Divisional Round (Jan. 12-13)
Packers 42, Seahawks 20
•
Recap
|
Playoff game page
•
Clayton: Ryan Grant sticks to the plan
•
Sando: Disastrous play at TE for Seattle
Patriots 31, Jaguars 20
•
Recap
|
Playoff game page
•
Pasquarelli: Patriots have too many weapons
Chargers 28, Colts 24
•
Recap
|
Playoff game page
•
Wojciechowski: Did Chargers get Pats' attention?
•
Clayton: Colts can't overcome mistakes
Giants 21, Cowboys 17
•
Recap
|
Playoff game page
•
Chadiha: Manning maturing at right time
More divisional playoffs
•
Saturday's Last Call: Pack, Pats advance
•
Sunday's Last Call: Giants, Chargers surprise
Commentary/Features
•
Pasquarelli: Tip Sheet
|
Notes

•
Smith: Special teams loom large
•
Scouts: Kryptonite for top four teams

•
Playoff upsets: By the numbers
•
Page 2: Handicapping the wild-card winners
Wild-Card Round (Jan. 5-6)
Seahawks 35, Redskins 14
•
Recap
|
Playoff game page
•
Clayton: Cool head Holmgren
•
Sando: Redskins inspired by Taylor
Jaguars 31, Steelers 29
•
Recap
|
Playoff game page
•
Chadiha: Jaguars pass character test
Giants 24, Bucs 14
•
Recap
|
Playoff game page
•
Pasquarelli: Manning delivers for Giants
•
Pasquarelli: Giants' D rises to occasion
Chargers 17, Titans 6
•
Recap
|
Playoff game page
•
Clayton: Turner, Rivers silence their critics
More Wild Card Weekend
•
Saturday's Last Call: Hawks, Jags escape
•
Sunday's Last Call: Giants, Chargers rule
•
ZOOM photos:
Saturday
|
Sunday
Commentary/Features
•
Sando: Controversial history of replay
•
Clayton: First and Goal, Wild Card
•
Sando: Playoff mantras
•
Numbers crunching: Wild-card weekend
•
Sunday Countdown
•
TMQ: Do the Pats need to run more?
•
Joyner: Steelers, Giants adjusting on the fly

•
Clayton: Handicapping possible Patriots foes
•
Clayton: Key playoff questions for the AFC
•
Pasquarelli: Key playoff questions for the NFC
Video
•
Chargers bolt past Titans, 17-6
•
Eli Manning silences his critics
•
Seattle's Hasselbeck is underrated
•
Phillips not concerned about late-season slide
Scouts Inc.
•
Ranking the playoff teams
•
Ranking the playoff coaches
•
Off. rankings:
Overall
|
QB
|
WR
|
RB
|
OL
•
Def. rankings:
Overall
|
DL
|
LB
|
DB
|
ST
•
Green: Smith's absence hurting Steelers
•
Williamson: Unknowns powering Bucs