Commentary
First Look: Chargers-Patriots AFC title game
The Chargers and Patriots will battle to decide the AFC's representative at the Super Bowl. Len Pasquarelli answers five questions about the conference title game.
Originally Published:
January 13, 2008
By
Len Pasquarelli
| ESPN.com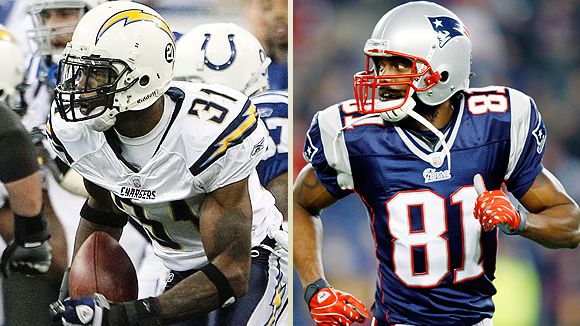 Getty Images/US PresswireExpect Chargers cornerback Antonio Cromartie to draw the assignment of stopping Randy Moss.
Courtesy of San Diego's upset victory Sunday at the RCA Dome, the world won't get to see the NFL's two best teams vying for the right to stretch the AFC's Super Bowl winning streak to five by whipping an overmatched NFC opponent. And we won't have an opportunity to see another chapter written in what has grown into an epic rivalry, one in which the two organizations just flat-out don't like each other.
The next revisiting of New England vs. Indianapolis will have to wait for another day.
But although there will be no replay of last year's memorable conference title bloodletting, there is some history between the Chargers and the Patriots, and the teams' divisional-round matchup of a year ago certainly will be recalled this week.
The Chargers, who had the best record in the NFL going into the 2006 postseason, all but had the Pats eliminated, leading 21-13 midway through the fourth quarter. And it appeared that San Diego free safety Marlon McCree had secured the victory with an interception that snuffed out a promising New England drive …
… Except that instead of simply going to the ground, McCree attempted to return the pickoff. He fumbled, and the Pats recovered, eventually scoring a TD and a tying two-point conversion. Pats kicker Stephen Gostkowski then won the game on a 31-yard field goal with 1:10 remaining.
"I'm sure those guys remember that, and I'm sure it sticks in their craws," Pats RB Kevin Faulk said. "I'm sure they want another shot."
And now, having bounced the Colts, the Chargers are going to get it.
San Diego lost at New England 38-14 on Sept. 16, in the second week of the regular season. In hindsight, that loss probably doesn't carry as much sting as the playoff defeat last year.
But can the Chargers derail the Patriots' quest to produce the league's first 19-0 season? Here are five questions looking ahead to Sunday's AFC Championship Game:
1. Any chance the Pats are just a little bit disappointed that it's not the Colts they'll face at Gillette Stadium?
Look, there's no love lost between the Pats and the Colts. But at this point on the road to the Super Bowl, the Pats only know that whichever team they're going to play would represent just the latest speed bump laid out in front of them.
Late Saturday night, after having dispatched the Jaguars, veteran New England players toed the party line in suggesting that it didn't matter who was next up on the dance card, and they were convincing in that stance. This is a team that has taken on the pragmatic mind-set of its leader, coach Bill Belichick, the man from whom it gets its cues.
No one is going to remember, if the Pats complete this magical season unblemished, all the teams they vanquished along the way. But the world will remember, and so will New England players, if they lose a game because they overlooked an opponent. That won't happen.
The Pats don't necessarily play opponents. Instead, they play to their own lofty standards. That's the weekly measuring stick. And it doesn't matter which team's on the wrong end of the whipping stick.
2. The Pats scored 38 points and produced 407 yards earlier this season against the Chargers. Any reason to believe San Diego's defense will play better this time?
Sure, and it starts with the fact that cornerback Antonio Cromartie -- who led the NFL this season with 10 interceptions and who is a threat to score every time he touches the ball -- wasn't even a starter in the earlier matchup. He was still the San Diego nickel cornerback at the time, playing behind four-year veteran Drayton Florence.
Consequently, Cromartie didn't hook up much against Randy Moss. That won't be the case this time.
Cromartie gives the Chargers a legitimate game-changer in the secondary. But more important than just having Cromartie in the lineup is that the San Diego defense is simply a changed unit since the first month of the season.
First-year coordinator Ted Cottrell was playing things too close to the vest early on, not turning the sack tandem of outside linebackers Shawne Merriman and Shaun Phillips loose to attack the pocket as they did a year ago when they combined for 28½ sacks.
Even though Merriman had a sack of Tom Brady in the first game, arguably one of the hardest hits the Pats QB took all year, Merriman dropped in coverage almost as much as he rushed. After the Chargers' sluggish 1-3 start, Cottrell made alterations, and the defense got back to the aggressive, up-the-field, attacking scheme Wade Phillips ran as coordinator in 2006.
The San Diego safeties are still vulnerable in coverage, especially McCree. Someone must figure out how to slow down New England slot receiver Wes Welker, but this is a markedly different defense from four months ago.
3. Anything different about the Patriots, not just from the first meeting with the Chargers, but in recent weeks?
Not a lot, essentially because they haven't been forced to make changes.
New England has begun to run the ball a little more in recent weeks, establishing tailback Laurence Maroney as a more consistent threat. If defenses play too many "sub" packages, and back off in nickel and dime coverages, the Pats will run Maroney, and they are starting to use the off-tackle "stretch" play as a staple -- much in the same manner the Colts have for so many years.
Because of injuries, New England hasn't been able to deploy as many two-tight end looks as it did earlier in season. To compensate, there's been an increase in the use of the I formation, with versatile Heath Evans as the fullback. Maroney provides balance and he's getting to the point now that, when he hits air, he can get into the secondary and make big plays.
Still, the bread and butter for the New England offense is spreading the field with three- and four-receiver formations, throwing with total obliviousness to down, distance and game situation. There's not much reason for that to change.
On defense, the loss of linebacker Rosevelt Colvin forced a reshuffling at the position since the first time the teams met, so the Chargers will have to deal with Adalius Thomas' playing outside as opposed to inside. He returned an interception for a touchdown in the regular-season game. And defensive lineman Richard Seymour, who was still on the physically unable to perform list for that first game, is back, and he is starting to make more plays now that he has his legs under him.
4. What's the biggest matchup on which the Chargers' offense might be able to cash in?
The Patriots' linebackers have had problems at times trying to cover people in space -- such as against Eagles tailback Brian Westbrook, with many of his first-half touches coming on pass plays into the flat or checkdowns between the hashes.
The New England defense isn't particularly shaky against an inside running game -- even though the San Diego interior trio of center Nick Hardwick and guards Kris Dielman and Mike Goff is very good -- because nose tackle Vince Wilfork can be a dominating presence.
But inside linebackers Tedy Bruschi and Junior Seau and strong safety Rodney Harrison are dubious, to say the least, when put in coverage situations. Teams that want to succeed in moving the ball against the Pats need to force Bruschi and Seau to chase people.
If LaDainian Tomlinson is healthy enough to play, San Diego needs to establish him early as a receiving threat. It must force the New England linebackers to tail LT in coverage, where the age of Seau and Bruschi could wear them down.
Even if Tomlinson doesn't play, the Chargers still have solid receivers out of the backfield in Michael Turner, Darren Sproles and Legedu Naanee. As he demonstrated against the Colts on Sunday, Sproles is a home run hitter. The Patriots might not have a linebacker capable of staying with him, and the Chargers' offensive staff needs to force that mismatch.
If tight end Antonio Gates is healthy, San Diego also should design ways to force Harrison onto him.
5. What's one area for each team that's been overlooked?
Well, neither offensive line has been ignored this year, that's for sure. But both units probably deserve an even bigger share of the spotlight than either has received.
The New England line looks like a bunch of mountain men about to audition for a ZZ Top cover band. The unit hasn't performed as well as it did early on, with left tackle Matt Light demonstrating a little more slippage than anyone will concede, but it's still plenty good.
The San Diego quintet is a bunch of maulers, too, particularly the inside three blockers. When the Chargers' line gets into a rhythm and is coming off the ball hard, it's an impressive bunch.
The unit does have a new right tackle, Jeromey Clary, who has replaced Shane Olivea since the last time the two clubs played. It will be interesting to see how Belichick and his defensive staff attack the youngster. Suffice it to say the performance of the offensive lines will be a major element in Sunday's game.
Senior writer Len Pasquarelli covers the NFL for ESPN.com.
SPONSORED HEADLINES
MORE NFL HEADLINES
MOST SENT STORIES ON ESPN.COM
2007 PLAYOFFS

In a rematch of their Week 17 game, the unbeaten Patriots will play the red-hot Giants in Super Bowl XLII in Glendale, Ariz.
Super Bowl Central
Clayton: Eli's managing fine
Chadiha: Focused Giants
AccuScore simulation: Pats to prevail
Chadiha: First Look | Playoff schedule



Conference Championships (Jan. 20)
Patriots 21, Chargers 12
•
Merrill: Questions linger about Moss' postseason
•
Wojciechowski: Whatever it takes, Pats win
•
Pasquarelli: Patriots' offense grinds it out
•
Pasquarelli: Chargers squander opportunites
•
Pats make fourth SB in seven years
•
The Last Call: Mike Sando's observations, more
•
Zoom Gallery:
AFC title game
|
Pats' season
•
Playoff page
Giants 23, Packers 20
•
Clayton: Burress burns Harris, Packers
•
Chadiha: Bitter pill for Packers to swallow
•
Zoom Gallery: Giants edge Packers
•
The Last Call: Mike Sando's observations, more
•
Garber: Coughlin's personality makeover intact
•
Playoff page
Video
•
What is Tom Brady's legacy?
•
Eli and Burress lead Giants
•
Patriots avoid distractions on way to Super Bowl
•
Resilient Giants advance to SB
•
Red-zone efficiency fuels Patriots
Divisional Round (Jan. 12-13)
Packers 42, Seahawks 20
•
Recap
|
Playoff game page
•
Clayton: Ryan Grant sticks to the plan
•
Sando: Disastrous play at TE for Seattle
Patriots 31, Jaguars 20
•
Recap
|
Playoff game page
•
Pasquarelli: Patriots have too many weapons
Chargers 28, Colts 24
•
Recap
|
Playoff game page
•
Wojciechowski: Did Chargers get Pats' attention?
•
Clayton: Colts can't overcome mistakes
Giants 21, Cowboys 17
•
Recap
|
Playoff game page
•
Chadiha: Manning maturing at right time
More divisional playoffs
•
Saturday's Last Call: Pack, Pats advance
•
Sunday's Last Call: Giants, Chargers surprise
Commentary/Features
•
Pasquarelli: Tip Sheet
|
Notes

•
Smith: Special teams loom large
•
Scouts: Kryptonite for top four teams

•
Playoff upsets: By the numbers
•
Page 2: Handicapping the wild-card winners
Wild-Card Round (Jan. 5-6)
Seahawks 35, Redskins 14
•
Recap
|
Playoff game page
•
Clayton: Cool head Holmgren
•
Sando: Redskins inspired by Taylor
Jaguars 31, Steelers 29
•
Recap
|
Playoff game page
•
Chadiha: Jaguars pass character test
Giants 24, Bucs 14
•
Recap
|
Playoff game page
•
Pasquarelli: Manning delivers for Giants
•
Pasquarelli: Giants' D rises to occasion
Chargers 17, Titans 6
•
Recap
|
Playoff game page
•
Clayton: Turner, Rivers silence their critics
More Wild Card Weekend
•
Saturday's Last Call: Hawks, Jags escape
•
Sunday's Last Call: Giants, Chargers rule
•
ZOOM photos:
Saturday
|
Sunday
Commentary/Features
•
Sando: Controversial history of replay
•
Clayton: First and Goal, Wild Card
•
Sando: Playoff mantras
•
Numbers crunching: Wild-card weekend
•
Sunday Countdown
•
TMQ: Do the Pats need to run more?
•
Joyner: Steelers, Giants adjusting on the fly

•
Clayton: Handicapping possible Patriots foes
•
Clayton: Key playoff questions for the AFC
•
Pasquarelli: Key playoff questions for the NFC
Video
•
Chargers bolt past Titans, 17-6
•
Eli Manning silences his critics
•
Seattle's Hasselbeck is underrated
•
Phillips not concerned about late-season slide
Scouts Inc.
•
Ranking the playoff teams
•
Ranking the playoff coaches
•
Off. rankings:
Overall
|
QB
|
WR
|
RB
|
OL
•
Def. rankings:
Overall
|
DL
|
LB
|
DB
|
ST
•
Green: Smith's absence hurting Steelers
•
Williamson: Unknowns powering Bucs
ESPN FAN SHOP