Commentary
Patriots' offense shows it can grind out an AFC title
Everyone is awed by the Patriots' passing game, but it was the running game that proved to be the difference in the AFC title game, writes Len Pasquarelli.
Originally Published:
January 20, 2008
By
Len Pasquarelli
| ESPN.com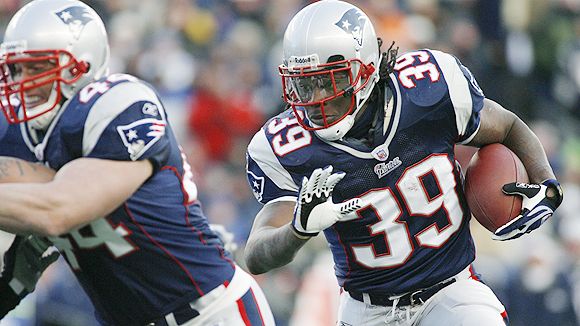 Stew Milne/US PresswireThe Patriots' Laurence Maroney ran for 122 yards and a TD for the second consecutive playoff game.
FOXBOROUGH, Mass. -- To live up to the loftiest expectations, it is sometimes necessary to lower the bar a bit, to grudgingly accept the reality that less can often be more.
So with the league's highest rated and most explosive offense sputtering into the early stages of the second half of the AFC Championship Game on Sunday afternoon, and with Tom Brady exhibiting uncharacteristic carelessness in the passing game, the New England Patriots' coaching staff consciously abandoned its long-ball mentality.
Instead, they used a small-ball approach that Pats players acknowledged was the most critical tactical adjustment in a tense 21-12 victory over the San Diego Chargers. The win moved New England to 18-0 on the season and earned it a spot in Super Bowl XLII in two weeks.
"For most of this season, everyone has paid attention to all the big plays we make, to how prolific the passing game has been, with Randy [Moss] and all the wide receivers, and justifiably so," tight end Kyle Brady said. "But when we have to grind it out, even though there haven't been a lot of those occasions, we've been able to do it. And being able to load up today, run the ball when we had to, take the game over on the ground ... it was pretty satisfying."
In a league in which in-game adjustments generally are overrated, the Patriots' staff has long been regarded as the best in the NFL at reacting to situations as a game unfolds. Certainly it was that trademark adaptability Sunday that served the Pats exceedingly well.
Such divergence from what normally works for New England was necessary, considering:
• San Diego's defense led the NFL in interceptions (30) and takeaways (48) this season, and the unit picked off Brady three times on Sunday -- including his first red zone interception in two years.
• A Chargers defense that had surrendered just 12 points per game during the eight-game winning streak entering Sunday's game took away Moss (one catch for 18 yards) and limited New England's wide receivers to just 11 catches and 97 yards.
[+] Enlarge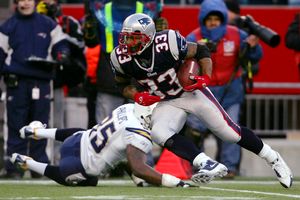 Chris McGrath/Getty ImagesKevin Faulk's versatility allows him to contribute on the ground and as a receiver.
But the Chargers couldn't slow the New England tailback tandem of Laurence Maroney and Kevin Faulk, with the duo combining for 221 yards on 35 touches from scrimmage. That factor, along with its own glaring deficiencies in the red zone, proved to be San Diego's undoing.
Said San Diego inside linebacker Matt Wilhelm: "It's kind of ironic that everyone thought we'd be the ones trying to shorten the game, to keep [the New England offense] off the field ... and they're the ones who actually did it."
The resourceful Patriots, who have operated from three- and four-wide receiver formations on about 75 percent of their offensive snaps this season, went to a three-tight end set on their opening possession of the second half. Although that series ended with Brady's second interception, the Pats kept going back to what coach Bill Belichick called "our tighten-down offense."
Of their 38 snaps in the second half, the Patriots aligned in a three-tight end formation 15 times, and in a two-tight end set on 11 occasions. The departure in strategy allowed New England to ring up 208 yards after intermission, after netting just 139 yards in the first half.
More importantly, it permitted the Patriots to establish a physical tone, control the ball for 21:38 of the second half, let their offensive line take over the hard-fought game and unleash Maroney and Faulk on a defense that was far better designed to take away the vertical passing game.
The Pats' tight end trio of Kyle Brady, Benjamin Watson and little-used Stephen Spach totaled one reception for eight yards on Sunday, but the group's importance went way beyond numbers. With the Pats aligned in a compressed formation, usually with only one wide receiver on the field, all three tight ends had key blocks. And in the second half, versatile running back Heath Evans, often lined up at fullback in an I formation, also made big contributions.
"Those guys, Heath and the tight ends, all made the little kinds of plays that only show up when you're watching the tape," Maroney said. "But they're winning plays, believe me, and they made it easier for me on a day when things were not coming all that easily for our offense."
After carrying six times for just 16 yards in the first half, Maroney ran for 106 yards on 19 attempts in the third and fourth quarters. His 122 yards marked his second straight 100-yard outing of the postseason. The always dependable but usually overlooked Faulk -- one of the premier third-down tailbacks of his generation because of his receiving and pass-protection skills -- finished with eight catches for 82 yards and one rush for eight yards.
Faulk had three catches for 32 yards in the second half, including a huge 14-yard grab on a third-and-3 play that enabled New England to extend its final possession. Protecting a 21-12 lead, the Pats gained possession with 9:13 remaining in the contest and never surrendered the ball. Maroney ran for 37 yards on eight carries in the 15-play drive and Faulk had all three of his second-half receptions. On the 14-yard catch, he laid out to snag a ball that appeared to be beyond his reach.
"We wanted to make them defend a lot of different things," Belichick said. "Whether it was spreading the field or going with more tight ends, we were going to run it out there and see how they reacted."
How the Chargers reacted was almost second in importance to the manner in which the Patriots, whose longest pass play of the afternoon was Moss' lone catch for 14 yards, responded to the challenge. For much of the season, New England didn't even have three healthy tight ends on the roster, let alone rely on a formation based on having three on the field at the same time.
"I think what it says about us," Watson noted, "is what we've always said about ourselves in this locker room. Every play in here is important. Everyone has a role. Despite some of the stuff we've accomplished this year, things haven't always been as easy as everyone makes them out to be, and you just have to dig down.
"Today we were able to dig as deep as we had to, and as a result, we're allowed to say the two words now, 'Super Bowl,' that we weren't allowed to so much as utter before this."
Senior writer Len Pasquarelli covers the NFL for ESPN.com.
SPONSORED HEADLINES
MORE NFL HEADLINES
MOST SENT STORIES ON ESPN.COM
2007 PLAYOFFS

In a rematch of their Week 17 game, the unbeaten Patriots will play the red-hot Giants in Super Bowl XLII in Glendale, Ariz.
Super Bowl Central
Clayton: Eli's managing fine
Chadiha: Focused Giants
AccuScore simulation: Pats to prevail
Chadiha: First Look | Playoff schedule



Conference Championships (Jan. 20)
Patriots 21, Chargers 12
•
Merrill: Questions linger about Moss' postseason
•
Wojciechowski: Whatever it takes, Pats win
•
Pasquarelli: Patriots' offense grinds it out
•
Pasquarelli: Chargers squander opportunites
•
Pats make fourth SB in seven years
•
The Last Call: Mike Sando's observations, more
•
Zoom Gallery:
AFC title game
|
Pats' season
•
Playoff page
Giants 23, Packers 20
•
Clayton: Burress burns Harris, Packers
•
Chadiha: Bitter pill for Packers to swallow
•
Zoom Gallery: Giants edge Packers
•
The Last Call: Mike Sando's observations, more
•
Garber: Coughlin's personality makeover intact
•
Playoff page
Video
•
What is Tom Brady's legacy?
•
Eli and Burress lead Giants
•
Patriots avoid distractions on way to Super Bowl
•
Resilient Giants advance to SB
•
Red-zone efficiency fuels Patriots
Divisional Round (Jan. 12-13)
Packers 42, Seahawks 20
•
Recap
|
Playoff game page
•
Clayton: Ryan Grant sticks to the plan
•
Sando: Disastrous play at TE for Seattle
Patriots 31, Jaguars 20
•
Recap
|
Playoff game page
•
Pasquarelli: Patriots have too many weapons
Chargers 28, Colts 24
•
Recap
|
Playoff game page
•
Wojciechowski: Did Chargers get Pats' attention?
•
Clayton: Colts can't overcome mistakes
Giants 21, Cowboys 17
•
Recap
|
Playoff game page
•
Chadiha: Manning maturing at right time
More divisional playoffs
•
Saturday's Last Call: Pack, Pats advance
•
Sunday's Last Call: Giants, Chargers surprise
Commentary/Features
•
Pasquarelli: Tip Sheet
|
Notes

•
Smith: Special teams loom large
•
Scouts: Kryptonite for top four teams

•
Playoff upsets: By the numbers
•
Page 2: Handicapping the wild-card winners
Wild-Card Round (Jan. 5-6)
Seahawks 35, Redskins 14
•
Recap
|
Playoff game page
•
Clayton: Cool head Holmgren
•
Sando: Redskins inspired by Taylor
Jaguars 31, Steelers 29
•
Recap
|
Playoff game page
•
Chadiha: Jaguars pass character test
Giants 24, Bucs 14
•
Recap
|
Playoff game page
•
Pasquarelli: Manning delivers for Giants
•
Pasquarelli: Giants' D rises to occasion
Chargers 17, Titans 6
•
Recap
|
Playoff game page
•
Clayton: Turner, Rivers silence their critics
More Wild Card Weekend
•
Saturday's Last Call: Hawks, Jags escape
•
Sunday's Last Call: Giants, Chargers rule
•
ZOOM photos:
Saturday
|
Sunday
Commentary/Features
•
Sando: Controversial history of replay
•
Clayton: First and Goal, Wild Card
•
Sando: Playoff mantras
•
Numbers crunching: Wild-card weekend
•
Sunday Countdown
•
TMQ: Do the Pats need to run more?
•
Joyner: Steelers, Giants adjusting on the fly

•
Clayton: Handicapping possible Patriots foes
•
Clayton: Key playoff questions for the AFC
•
Pasquarelli: Key playoff questions for the NFC
Video
•
Chargers bolt past Titans, 17-6
•
Eli Manning silences his critics
•
Seattle's Hasselbeck is underrated
•
Phillips not concerned about late-season slide
Scouts Inc.
•
Ranking the playoff teams
•
Ranking the playoff coaches
•
Off. rankings:
Overall
|
QB
|
WR
|
RB
|
OL
•
Def. rankings:
Overall
|
DL
|
LB
|
DB
|
ST
•
Green: Smith's absence hurting Steelers
•
Williamson: Unknowns powering Bucs