Commentary
Chargers squander red-zone opportunities
The Chargers' offense had plenty of chances to reach the end zone, but the Patriots rose to the test when needed, writes Len Pasquarelli.
Originally Published:
January 20, 2008
By
Len Pasquarelli
| ESPN.com
FOXBOROUGH, Mass. -- When the San Diego Chargers gather Monday to review videotape of Sunday's 21-12 loss to the New England Patriots in the AFC Championship Game, there are certain to be the normal regrets and recriminations about plays not made and opportunities squandered.
But when the Chargers' offense sees its lackluster performance in the red zone -- three trips, no touchdowns -- the players likely will feel downright nauseous.
"It just makes you want to [vomit]," said Chargers tailback Michael Turner. "Really, more than anything else probably, it was the biggest difference in the game."
The fact that the Chargers were forced to settle for four Nate Kaeding field goals, despite having 11 snaps inside the Patriots' 20-yard line and eight plays inside the 10-yard line, was out of character for both teams.
[+] Enlarge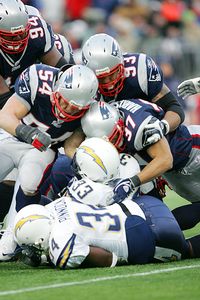 Paul Jasienski/Getty ImagesWhen they needed to, the Patriots defense managed to bury the Chargers' attack.
During the regular season, the Chargers scored touchdowns on 29 of their 52 red zone possessions; that 55.8 percent success rate was 11th-best in the league. On the flip side, a spotty New England defense surrendered touchdowns on 24 of its opponents' 41 red zone trips, the NFL's sixth-worst mark.
But the Patriots' defense came up big Sunday, stopping the Chargers on drives that reached the 8-, 5-, and 6-yard lines. The Chargers also had a drive that got to the New England 22 on which they settled for three points.
Certainly the absence of star tailback LaDainian Tomlinson, who played portions of only two series before retiring for good to the sideline with a sprained medial collateral ligament, was a detriment to the San Diego offense.
Tomlinson, who had two carries for five yards and one catch for one yard, spent most of the game huddled in a parka, looking a lot like the oft-killed Kenny from "South Park" fame. And tight end Antonio Gates, who is characteristically a force in the red zone, was slowed for a second straight playoff game with a dislocated toe, making him once again more a decoy than a destroyer.
But as much as any of San Diego's offensive shortcomings, it was the Patriots' knack for making timely plays that kept their end zone unsullied.
"Plain and simple, they were just better than us down there, you know?" said quarterback Philip Rivers, who performed admirably despite a sprained left medial collateral ligament and a partially torn anterior cruciate ligament in his right knee. "That's what it came down to. It's frustrating, but we had our chances, and we left a lot of points out there."
For the game, Rivers completed 19 of 37 passes for 211 yards, with two interceptions. While those numbers appear to be pretty ordinary, Rivers authored some huge throws in difficult situations. But the fourth-year veteran completed just three of his six red zone attempts for 20 yards. On the ground, the Chargers managed only three yards on five carries inside New England's 20-yard line.
The closest the Chargers came to scoring a TD came late in the first quarter, when wide receiver Chris Chambers made a tough catch deep in the end zone on an eight-yard pass, but was beyond the end line.
Then trailing 14-9 in the third quarter, San Diego reached the New England 4-yard line. But on a third-and-1 play, Patriots' inside linebacker Junior Seau, who played the first 13 seasons of his 18-year career in a Chargers' uniform, knifed though untouched to drop Turner for a 2-yard loss.
Based on the formation, with the San Diego fullback offset, the Patriots seemed to recognize in advance the play-call on the run by Turner. New England coordinator Dean Pees called for a maneuver in which Seau shot the inside gap and broke clean into the backfield.
For a Pats' defense that permitted too many red zone scores on the ground for much of the season, Sunday's performance was especially gratifying.
"Today was maybe our turn to win a game," linebacker Mike Vrabel said. "Our red- zone defense hasn't always been where we wanted it to be. But when we needed it today, it was there."
Senior writer Len Pasquarelli covers the NFL for ESPN.com.
2007 PLAYOFFS

In a rematch of their Week 17 game, the unbeaten Patriots will play the red-hot Giants in Super Bowl XLII in Glendale, Ariz.
Super Bowl Central
Clayton: Eli's managing fine
Chadiha: Focused Giants
AccuScore simulation: Pats to prevail
Chadiha: First Look | Playoff schedule



Conference Championships (Jan. 20)
Patriots 21, Chargers 12
•
Merrill: Questions linger about Moss' postseason
•
Wojciechowski: Whatever it takes, Pats win
•
Pasquarelli: Patriots' offense grinds it out
•
Pasquarelli: Chargers squander opportunites
•
Pats make fourth SB in seven years
•
The Last Call: Mike Sando's observations, more
•
Zoom Gallery:
AFC title game
|
Pats' season
•
Playoff page
Giants 23, Packers 20
•
Clayton: Burress burns Harris, Packers
•
Chadiha: Bitter pill for Packers to swallow
•
Zoom Gallery: Giants edge Packers
•
The Last Call: Mike Sando's observations, more
•
Garber: Coughlin's personality makeover intact
•
Playoff page
Video
•
What is Tom Brady's legacy?
•
Eli and Burress lead Giants
•
Patriots avoid distractions on way to Super Bowl
•
Resilient Giants advance to SB
•
Red-zone efficiency fuels Patriots
Divisional Round (Jan. 12-13)
Packers 42, Seahawks 20
•
Recap
|
Playoff game page
•
Clayton: Ryan Grant sticks to the plan
•
Sando: Disastrous play at TE for Seattle
Patriots 31, Jaguars 20
•
Recap
|
Playoff game page
•
Pasquarelli: Patriots have too many weapons
Chargers 28, Colts 24
•
Recap
|
Playoff game page
•
Wojciechowski: Did Chargers get Pats' attention?
•
Clayton: Colts can't overcome mistakes
Giants 21, Cowboys 17
•
Recap
|
Playoff game page
•
Chadiha: Manning maturing at right time
More divisional playoffs
•
Saturday's Last Call: Pack, Pats advance
•
Sunday's Last Call: Giants, Chargers surprise
Commentary/Features
•
Pasquarelli: Tip Sheet
|
Notes

•
Smith: Special teams loom large
•
Scouts: Kryptonite for top four teams

•
Playoff upsets: By the numbers
•
Page 2: Handicapping the wild-card winners
Wild-Card Round (Jan. 5-6)
Seahawks 35, Redskins 14
•
Recap
|
Playoff game page
•
Clayton: Cool head Holmgren
•
Sando: Redskins inspired by Taylor
Jaguars 31, Steelers 29
•
Recap
|
Playoff game page
•
Chadiha: Jaguars pass character test
Giants 24, Bucs 14
•
Recap
|
Playoff game page
•
Pasquarelli: Manning delivers for Giants
•
Pasquarelli: Giants' D rises to occasion
Chargers 17, Titans 6
•
Recap
|
Playoff game page
•
Clayton: Turner, Rivers silence their critics
More Wild Card Weekend
•
Saturday's Last Call: Hawks, Jags escape
•
Sunday's Last Call: Giants, Chargers rule
•
ZOOM photos:
Saturday
|
Sunday
Commentary/Features
•
Sando: Controversial history of replay
•
Clayton: First and Goal, Wild Card
•
Sando: Playoff mantras
•
Numbers crunching: Wild-card weekend
•
Sunday Countdown
•
TMQ: Do the Pats need to run more?
•
Joyner: Steelers, Giants adjusting on the fly

•
Clayton: Handicapping possible Patriots foes
•
Clayton: Key playoff questions for the AFC
•
Pasquarelli: Key playoff questions for the NFC
Video
•
Chargers bolt past Titans, 17-6
•
Eli Manning silences his critics
•
Seattle's Hasselbeck is underrated
•
Phillips not concerned about late-season slide
Scouts Inc.
•
Ranking the playoff teams
•
Ranking the playoff coaches
•
Off. rankings:
Overall
|
QB
|
WR
|
RB
|
OL
•
Def. rankings:
Overall
|
DL
|
LB
|
DB
|
ST
•
Green: Smith's absence hurting Steelers
•
Williamson: Unknowns powering Bucs


MOST SENT STORIES ON ESPN.COM