Commentary
Hill's spirit lives on inside Patriots' locker room
The memory of fallen teammate Marquise Hill remains strong among Patriots players, especially DE Jarvis Green, writes Len Pasquarelli.
Originally Published:
January 27, 2008
By
Len Pasquarelli
| ESPN.com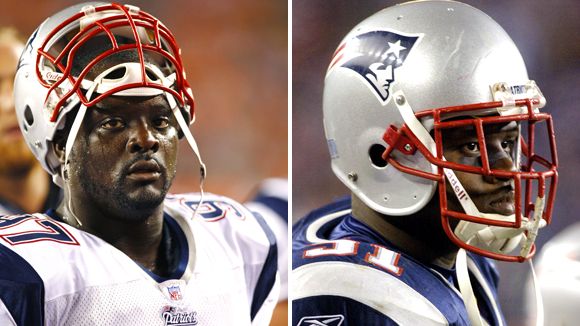 G. Newman Lowrance/Getty Images, Thomas Croke/NFLJarvis Green, left, acknowledges Marquise Hill before every game. The Super Bowl will be no exception.
PHOENIX -- It has become a ritual of sorts for
Jarvis Green
, as much a part of his pregame regimen as his stretching exercises and the prayer he recites to himself just before kickoff. And the
New England Patriots
veteran defensive end will go through the oft-repeated routine again Super Bowl Sunday.
As he stands in the tunnel at the University of Phoenix Stadium, just before taking the field for Super Bowl XLII, Green will reach around to the back of his helmet and rub the No. 91 decal attached there. And for a few seconds, Green will confront all the memories he has of Marquise Hill, his late teammate and friend.
"It's not for good luck or anything like that," said Green, who played with Hill at LSU before the two were reunited on the New England roster in 2004. "I guess it's just to let him know that I'm thinking about him, that I wished he was still here to run out on the field with me, and to have a little piece of him with me."
The record shows, of course, that the Patriots haven't lost a game this season. Sixteen consecutive wins during the regular season and two more in the playoffs, with many of the victories in dominating fashion, have left them poised on the brink of unparalleled perfection. But the Pats' organization suffered a a profound loss when Hill drowned in Lake Pontchartrain, near his home in New Orleans, on Memorial Day.
The Giants were propelled here, in large part, by their 38-35 loss to the Patriots in the regular-season finale. Although there are no moral victories in the NFL, that defeat, in a game in which New York led until deep in the fourth quarter, has served as a galvanizing agent for the Giants.
The loss of Hill -- a 24-year-old who had told his mother only days before his drowning that he felt the Patriots were "ready to do something special" in 2007 -- hasn't had quite the same effect on the Patriots' organization. There has not been, New England players acknowledge, an emotional "win one for Marquise" moment, and the passing of their young, well-liked teammate has not produced an overt rallying cry. This remains a talented but pragmatic team, an outfit that follows the cues of coach Bill Belichick, who believes that talent and preparation win football games.
Still, the memory of Hill has provided a quiet impetus, several players have noted in recent weeks.
"With this team, and what it has accomplished, you expect to win," said cornerback Randall Gay, another LSU product, who was Hill's roommate for road games and was on hand when officials pulled the defensive end's body from Lake Pontchartrain. "But for the guys who knew Marquise really well, and who were really tight with him … yeah, there's some extra [motivation] involved, for sure."
"Good kid, hard worker, a guy who wanted to be good," Belichick assessed. "We miss him."
A second-round choice in the 2004 draft, Hill appeared in only 13 games, with no starts, and registered just nine tackles in his three seasons. Chosen by Belichick and vice president of personnel Scott Pioli because he was a prototype 3-4 defensive end, Hill was regarded as the Patriots' latest building block from a fertile LSU program into which New England often has tapped.
When he left De La Salle High School in New Orleans, Hill was regarded as the most dominant prep defensive lineman in the country, and he helped LSU claim the 2003 national championship. Given his physical dimensions and skills, and the Pats' track record for developing defensive linemen, most believed he would flourish at the professional level as well.
But the truth is, Hill was a bit of an underachiever, a player who often was relegated to the inactive list on game day.
That said, few players worked as hard as Hill, who coaches felt still would blossom into a productive player, and no one in New England's locker room could make teammates laugh harder.
"He always had something funny to say," fellow defensive end Ty Warren said. "He made you smile a lot, and I think that, more than anything else, is what you miss. Marquise was just a good guy, a good person, fun to be around."
Said tailback Kevin Faulk: "He was just the kind of person who would do anything for you."
Indeed, in the wake of Hurricane Katrina, Hill spent much of his offseason downtime in his native city helping both friends and strangers attempt to put their homes and lives together again. His own home was affected by the flooding, but Hill delayed some of the repairs and instead dug into his savings to aid others.
In the turbulent waters of Lake Pontchartrain on the night he died, Hill also did a lot for Ashley Blazio, the friend with whom he was jet skiing, by yelling survival instructions to her after both were knocked from their personal watercrafts. At some point, though, the strong current pulled Hill, who inexplicably was not wearing a life jacket, under as he floated away from Blazio.
"Right up to the end, I guess, Marquise was helping people," said Sherry Hill, his mother.
For Hill's memorial service, Patriots owner Robert Kraft chartered a plane, and the entire team flew to New Orleans. Kraft paid for the funeral and, typically, agent Albert Elias confirmed, has been generous in supporting the fund established for Hill's fiancee, Inell Benn, and Ma'Shy, their 2-year-old son.
Benn, who lives in Austin, Texas, where she works as a nurse's aide while pursuing her nursing degree, attended the Pats' victory at Dallas on Oct. 14 but finds it difficult to watch the games. The home Hill had purchased for them in Bellingham, Mass., is on the market. Green has become a surrogate father to Ma'Shy. He and his wife, Rakia, and their three children phone often and have invited Ma'Shy to spend part of the offseason with them.
"Marquise talked a lot about not having a father around when he was growing up," Green said. "As a friend, the least I can do for him is to make sure his son has a father figure. I owe him that much."
In the Patriots' locker room, much of the equipment has been removed from Hill's stall, but his No. 91 jersey and football pants still hang there. There is a photo of a smiling Hill, and one of his teammates placed an "AFC Champions 2007" baseball cap in the locker last week.
"When you walk past his locker," strong safety Rodney Harrison told The New York Daily News last week, "it really kind of puts things in perspective. It makes you think a lot."
Green thinks of his late friend often and, as he has all season, will wear Hill's shoulder pads for the Super Bowl. Hill had long urged Green to try his model of shoulder pads. Green, who felt the pads were too light and didn't like them, rebuffed the attempts. Now, he dons the shoulder pads without a second thought.
"When I pull them over my head, it's like I'm putting on a little part of Marquise, you know?" Green said. "I mean, I know he's not here, but I put those pads on to honor him and to keep him and his memory close to me. It's funny, but with LSU winning [the national championship] again, and us being in the Super Bowl, you feel like Marquise somehow has a hand in this.
"It's like there is something at work here, and he's been a part of it."
Senior writer Len Pasquarelli covers the NFL for ESPN.com.
SPONSORED HEADLINES
MORE NFL HEADLINES
MOST SENT STORIES ON ESPN.COM
SUPER BOWL XLII

In one of the great Super Bowl upsets, the Giants defeated the Patriots 17-14 in Super Bowl XLII in Glendale, Ariz.
Super Bowl Central

• Hashmarks blog: Mosley, Sando in Arizona


Game coverage
•
Belichick ready to move on from Super Bowl loss
•
Nevada sports books lose record $2.6M
•
View to a thrill: Record 97.5 million watch XLII
•
Giants' win shatters viewership records
•
Clayton: Can the Giants repeat?
•
Simmons: Free fallin'
•
Giants spoil Pats' perfect season
•
Wojciechowski: Blame Pats for this debacle
•
Wickersham: Brady dazed and confused
•
Clayton: Eli lets instincts take over
•
Clayton: N.Y. 'misfits' harass Brady
•
Sando: Was Brady rattled?
•
Mosley: Belichick left a second early
•
Chadiha: Ten things we learned
•
Garber: Tyree's catch one for the ages
•
Zoom galleries
1
|
2
|
Great SB upsets
•
SportsNation: Best Super Bowl?
•
SportsNation: Biggest SB upset?
•
SportsNation: Your favorite commercials?
Commentary/Features
•
Clayton: Top five contenders for the next SB
•
'72 Fins breathe sigh of relief after Giants win
•
Chadiha: Giants enjoy underdog role
•
Sando: Coughlin, Giants made it work
•
Super Bowl picks: Our experts weigh in
•
Merrill: Nine previously perfect Patriots
•
Merrill: Harrison deals with his rep just fine
•
Clayton: Giants' O-line worthy of accolades
•
Pasquarelli: Tip Sheet
•
Pasquarelli: Tip Sheet notes

•
Wojciechowski: 15 reasons Patriots will win
•
E-ticket: Patriots' man of mystery
•
Sunday Countdown
•
Clayton's First and Goal
•
Chadiha: Giants miss Shockey
•
Garber: Injured war vet inspires Giants
•
Pasquarelli: The Pats' crucial cameos
•
Garber: In Brady's world, insecurity remains
•
Merrill: Hixon's traumatizing season
•
Football Outsiders: SB numbers crunching
•
Pasquarelli: Patriots' silent sentinel
•
Wojciechowski: Unflappable Eli
•
Sando: Brady rising among all-time QBs
•
Chadiha: Giants' rookies playing prominent role
•
Fleming: Cardinals/Pottsville Curse
•
Clayton: Youth serving Giants well
•
Chadiha: Ranking the best QBs by decade
•
Klancnik: Top QBs by jersey number
•
Hashmarks: Media day coverage
|
Gallery
•
Pasquarelli: Pats' old-school LBs
•
Helyar: Marketing windfall for Eli Manning
•
Garber: Seau's ring quest
•
Pasquarelli: Bruschi's full-circle journey
•
Animated plays
•
From the research room
•
Chadiha: Pierce just wants to win
•
Wojciechowski: Explaining Bill Belichick
•
Helyar: Recession? Not at Super Bowl!
•
Giants' Snee doesn't stray from roots
•
Sando: Seymour in eye of storm
•
Merrill: Welker scales new heights for Pats
•
Pasquarelli: Brady is ready to play
•
Garber: The preservation of Plaxico
•
Pasquarelli: Hill's spirit lives on
•
Clayton: Giants' juggling act at CB works
•
Wickersham: Giant ideas
•
Klosterman: All too perfect
•
Crown Jewels: A look at Super Bowl rings
•
FB Outsiders: Giants one of worst SB teams
•
Helyar: Patriots will drive TV ratings
•
Clayton: First and goal
•
Chadiha: Giants' glory road
•
Mosley: Brady's ankle saves the week
•
Woj: Preseason predictions revisited
•
Merrill: David Woodley's dark spotlight
• Former SB QBs:
Plunkett
|
Rypien
|
Ferragamo
• More:
Morton
|
Humphries
|
Hostetler
|
Eason
•
Starting matchups of Super Bowl QBs
• Ranking the QB performances:
1-40
|
41-82
•
Jaworski: Six Super Bowl surprises

•
Joyner: Brady's bad decisions

•
Clayton: Eli's managing fine
•
Chadiha: Focused Giants
•
AccuScore simulation: Pats to prevail
•
Chadiha: First Look at the Super Bowl
•
Playoff schedule
Spy Games
News
•
Vermeil doubts spying made difference for Pats
•
Fish: Ex-Ram Warner suspicious of Pats in SB XXXVI
•&nbsp
Report: Pats taped Rams' SB walk-through
•
Specter to Goodell: Let's talk
•
Fish: Possible 'Spygate' witness surfaces
Commentary
•
Easterbrook: NFL can blame itself for scandal's timing
•
Munson: Congressional interest serious
•
Pasquarelli: Specter should stick with politics
•
Clayton: Spy saga won't distract Patriots
•
Hashmarks at Goodell's news conference
Letters
•&nbsp
Specter to Goodell (.pdf)
•&nbsp
Goodell to Specter (.pdf)
Page 2
•&nbsp
Gallo: Five stages of heartbreak for Pats' fans
•
Hill: Best Super Bowl parties
•
Hill: Teflon Tom Brady
•
Popculture roundtable on the Super Bowl
•
Hill: Raiders quit on Moss
•
Flem File at the Super Bowl
•
Fleming: Defining greatness
•
Best teams never to win a title
•
TMQ: Title-game analysis
•
Why Boston teams are so good
•
Gallo: Countdown to kickoff
•
More from Page 2
News
•
Brady ankle not on injury report
•
Brady on Plax prediction: Only 17 points for Pats?
•
Carey named first black Super Bowl referee
•
Brady practices in Pats' first Super Bowl session
•
Ross gets sick as unified Giants face flu
•
NFL not worried about spying
•
Security high for Super Bowl
•
Williams to be honored during Super Bowl
•
Bootless Brady departs for Arizona
•
Tickets reselling for average of $4,300
•
Burress: Giants' receivers are better
Scouts Inc.
•
Roundtable: Seven scouts weigh in
•
Super Bowl XLII X Factors
•
Coaching comparison: Styles vary, results same
•
Defensive line breakdowns
•
Horton: Notes from the film room (Day 5)
•
Matchups to watch in Super Bowl XLII
•
Running-game breakdown
•
Horton: Notes from the film room (Day 4)
•
QB tale of the the tape
•
Horton: Notes from the film room (Day 3)
•
Ranking NFL QBs 1-64
•
Take II on Super Bowl XLII
•
Giants' DBs overmatched or underrated?
•
Horton: Notes from film room (Day 2)
•
Horton: 10 things to watch in SB XLII
•
Horton: Notes from the film room (Day 1)
•
A tale of two underrated O-lines
•
Take I on Super Bowl XLII
•
Players ranked Nos. 1-106

SportsNation
• Vote:
Which team will win?
• Vote:
Who wins the head-to-head matchups?
• Vote:
Which team are you rooting for?
• Conversation:
Talk Super Bowl XLII
• Map:
Which states are picking the Giants?
• Quiz:
42 Super Bowl history questions
• Chat:
Buzzmaster: Hello from Arizona!
• Chat:
Buzzmaster: Live from Media Day
• Chat:
Buzzmaster: Live with oddsmaker
• Chat:
Buzzmaster: Live with Matt Hasselbeck
• Chat:
Buzzmaster: Live with Gregg Easterbrook
• Rank:
Super Bowl's best individual performances
• Rank:
Super Bowl coaches
• Rank:
Super Bowl careers
• Rank:
Super Bowl teams
• Rank:
Super Bowl games
• Rank:
Greatest all-time quarterbacks
• Vote:
Potential for QB greatness?
• Quiz:
Greatest quarterbacks
• ABCNews:
Super Bowl or Super Tuesday?
• Chat Rewind:
When did undefeated talk start?
• Vote:
Can we proposition you?
• Pulse:
What is SportsNation saying about XLII?