Commentary
Preparing to coach in his sixth Super Bowl, Scarnecchia avoids spotlight
Dante Scarnecchia is the only coach in Patriots' franchise history to be a member of all six Super Bowl teams. Yet few know the offensive line coach, and that's the way he likes it, Len Pasquarelli writes.
Originally Published:
January 30, 2008
By
Len Pasquarelli
| ESPN.com
GLENDALE, Ariz. -- Dante Scarnecchia strolled the sideline during Super Bowl XLII media day at the University of Phoenix Stadium on Tuesday morning, glancing up into the stands and doing what he does second-best in life.
Scarnecchia was doing his damnedest not to be noticed.
"I love coaching and I love football and I love the privilege of being involved in this game … but I really don't like this part of it," said the New England Patriots assistant coach, nodding toward the crowd of Minicams and digital recorders 75 yards away. "Maybe that's why I've never been a head coach. Hey, I went out and walked the sideline a couple times, mostly to check out where my wife's ticket is for the game Sunday night. I figured if someone stopped me, I'd have to talk, because that's the rule for today. But nobody did."
Scarnecchia absolutely disdains public recognition.
[+] Enlarge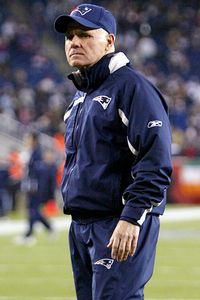 Icon SMIDante Scarnecchia has been a constant on the Patriots' staff for 24 of the past 26 years.
Four years ago, when the Patriots were in Super Bowl XXXVIII, he spent media day sitting high up in the stands at Reliant Stadium in Houston, anonymously observing the three-ring circus that unfolded below him. For the media day preceding Super Bowl XXXIX at Alltel Stadium in Jacksonville, he hid in a corner of the end zone and politely rebuffed interview attempts, contending he had nothing profound to offer.
Conventional wisdom says offensive linemen labor in anonymity. That isn't true anymore, especially for the Patriots, who have a pair of Pro Bowl blockers.
But the unit's leader, the invisible man of the New England coaching staff, pretty much does his job without fanfare. It's almost as if the person charged with coaching up the guys who safeguard star quarterback Tom Brady would like to figure a way to design a protective pocket for himself.
It's not that Scarnecchia, 59, is antisocial. To the contrary, he is a gracious, even-spoken and articulate man.
"He's about his family, about his players, about his team, and that's it," said former New England coach Ron Meyer, the man who originally brought Scarnecchia into the league in 1982. "None of this has anything to do with him. He doesn't take any credit and he doesn't want people to give him any credit. Scar just wants to do his job, and do it quietly, but do it really well."
Coaching the New England offensive line unit, a task he has undertaken since 1999, after having mentored just about every other position during his 26-year league tenure ranks at the top of his list of personal accomplishments.
New England's line is an assemblage of bearded blockers that reflects Scarnecchia's essential ethics and bedrock beliefs: Work hard. Punch the time-clock and put in an honest day's effort. Sweat the details. Prepare well. Play hard, play smart and, most important, play together.
And it is a group that responds well to Scarnecchia's perfectionist approach.
"Does he scream at us?" said left guard Logan Mankins, regarded by many as the NFL's best player at his position. "Let's just say that, if you make a mistake, you hear about it. He's big on personal accountability, and on us being responsible to one another, which is good. He takes this stuff personally, and he expects us to do the same."
Said left tackle Matt Light: "This means a lot to him. He works so hard. I mean, no one can outwork the guy. He's the ultimate professional in this sport, a remarkable person, really."
In a profession hardly associated with permanence, Scarnecchia has worked 24 of the past 26 seasons for the Patriots, leaving only for two years -- 1989-90 -- to serve on Meyer's staff with the Indianapolis Colts.
He has coached tight ends, special teams and linebackers, been a defensive assistant, and now carries the title of assistant head coach. Scarnecchia has worked for six different head coaches with the Patriots -- Meyer, Raymond Berry, Dick MacPherson, Bill Parcells, Pete Carroll, and Bill Belichick -- and earned paychecks from three different owners.
Sunday's game against the New York Giants will mark the sixth Super Bowl appearance in Patriots' history, and Scarnecchia has been a part of all of them.
Scarnechia has often been referred to as a survivor but, in his case, that assessment might be inappropriate. The term has a certain connotation in NFL circles, one which suggests a guy is a hanger-on, someone who flies below the radar screen and whose role isn't especially critical. Except for his efforts to camouflage his own excellence and downplay his importance, the whole survivor perception is a poor fit.
In 1993, when Parcells came to the Patriots, he knew nothing of Scarnecchia. But three of his old coaching cronies vouched for Scarnecchia, urged him to keep the New England assistant, to find a place for him on the staff. It wasn't much of a place, but Parcells carved out a niche.
"He told me, 'I don't know what you're going to coach, and it's probably going to be a crummy job, but you've got a job,'" recalled Scarnecchia of Parcells' offer to join his staff in a role for which Scarnecchia was overqualified.
"He was right. It wasn't a great job. I was basically doing the defensive film break-downs. But I learned a lot from Bill, he was good to me, and he paid me well for a job where guys don't make a lot of money. And it allowed me to stay here, and that's what I wanted to do.
"There have been a series of things made available to me, a series of favorable events that kept me here, circumstances that worked to my advantage. There have been some concessions on the part of me and my family, some crossroads and things that define who you are. But it's all worked out pretty well."
Indeed, it certainly has, for Scarnecchia and the Patriots.
Ask veteran NFL observers to identify the top offensive line coaches of, say, the past 30 years, and they will rattle off names such as Alex Gibbs, Jim Hanifan, Joe Bugel, Hudson Houck, Jim McNally, Howard Mudd, Russ Grimm and Bill Muir. Rarely is Scarnecchia cited in such lofty company, but he probably should be.

I was a dumbass for letting Dante go. Feel free to quote me on that.
--Ron Meyer on firing Dante Scarnecchia from the Colts' staff
"The guy knows 'ball, plain and simple," said Meyer, who inherited Scarnecchia as a graduate assistant at SMU in the mid-1970s and quickly elevated him to the Mustangs' offensive line coach.
One of the biggest regrets of his NFL career, Meyer said, was firing Scarnecchia from his Indianapolis staff following the 1990 season. Scarnecchia returned to the Pats in 1991 to work as MacPherson's tight ends and special teams coach. Five games into that same season, the Colts fired Meyer, essentially ending his NFL career.
"I was a dumbass for letting Dante go," allowed Meyer earlier this week. "Feel free to quote me on that."
Belichick was smart enough to retain Scarnecchia when he replaced Carroll for the 2000 campaign. With a fourth Super Bowl appearance in the seven seasons that the two have worked together, it's been a productive relationship.
"A smart football coach," Belichick said of Scarnecchia. "A detailed guy who works hard and who gets his players to work hard, too, and who isn't worried about where the credit goes. Which is about all you can ask of a guy."
Senior writer Len Pasquarelli covers the NFL for ESPN.com.
SPONSORED HEADLINES
MORE NFL HEADLINES
MOST SENT STORIES ON ESPN.COM
SUPER BOWL XLII

In one of the great Super Bowl upsets, the Giants defeated the Patriots 17-14 in Super Bowl XLII in Glendale, Ariz.
Super Bowl Central

• Hashmarks blog: Mosley, Sando in Arizona


Game coverage
•
Belichick ready to move on from Super Bowl loss
•
Nevada sports books lose record $2.6M
•
View to a thrill: Record 97.5 million watch XLII
•
Giants' win shatters viewership records
•
Clayton: Can the Giants repeat?
•
Simmons: Free fallin'
•
Giants spoil Pats' perfect season
•
Wojciechowski: Blame Pats for this debacle
•
Wickersham: Brady dazed and confused
•
Clayton: Eli lets instincts take over
•
Clayton: N.Y. 'misfits' harass Brady
•
Sando: Was Brady rattled?
•
Mosley: Belichick left a second early
•
Chadiha: Ten things we learned
•
Garber: Tyree's catch one for the ages
•
Zoom galleries
1
|
2
|
Great SB upsets
•
SportsNation: Best Super Bowl?
•
SportsNation: Biggest SB upset?
•
SportsNation: Your favorite commercials?
Commentary/Features
•
Clayton: Top five contenders for the next SB
•
'72 Fins breathe sigh of relief after Giants win
•
Chadiha: Giants enjoy underdog role
•
Sando: Coughlin, Giants made it work
•
Super Bowl picks: Our experts weigh in
•
Merrill: Nine previously perfect Patriots
•
Merrill: Harrison deals with his rep just fine
•
Clayton: Giants' O-line worthy of accolades
•
Pasquarelli: Tip Sheet
•
Pasquarelli: Tip Sheet notes

•
Wojciechowski: 15 reasons Patriots will win
•
E-ticket: Patriots' man of mystery
•
Sunday Countdown
•
Clayton's First and Goal
•
Chadiha: Giants miss Shockey
•
Garber: Injured war vet inspires Giants
•
Pasquarelli: The Pats' crucial cameos
•
Garber: In Brady's world, insecurity remains
•
Merrill: Hixon's traumatizing season
•
Football Outsiders: SB numbers crunching
•
Pasquarelli: Patriots' silent sentinel
•
Wojciechowski: Unflappable Eli
•
Sando: Brady rising among all-time QBs
•
Chadiha: Giants' rookies playing prominent role
•
Fleming: Cardinals/Pottsville Curse
•
Clayton: Youth serving Giants well
•
Chadiha: Ranking the best QBs by decade
•
Klancnik: Top QBs by jersey number
•
Hashmarks: Media day coverage
|
Gallery
•
Pasquarelli: Pats' old-school LBs
•
Helyar: Marketing windfall for Eli Manning
•
Garber: Seau's ring quest
•
Pasquarelli: Bruschi's full-circle journey
•
Animated plays
•
From the research room
•
Chadiha: Pierce just wants to win
•
Wojciechowski: Explaining Bill Belichick
•
Helyar: Recession? Not at Super Bowl!
•
Giants' Snee doesn't stray from roots
•
Sando: Seymour in eye of storm
•
Merrill: Welker scales new heights for Pats
•
Pasquarelli: Brady is ready to play
•
Garber: The preservation of Plaxico
•
Pasquarelli: Hill's spirit lives on
•
Clayton: Giants' juggling act at CB works
•
Wickersham: Giant ideas
•
Klosterman: All too perfect
•
Crown Jewels: A look at Super Bowl rings
•
FB Outsiders: Giants one of worst SB teams
•
Helyar: Patriots will drive TV ratings
•
Clayton: First and goal
•
Chadiha: Giants' glory road
•
Mosley: Brady's ankle saves the week
•
Woj: Preseason predictions revisited
•
Merrill: David Woodley's dark spotlight
• Former SB QBs:
Plunkett
|
Rypien
|
Ferragamo
• More:
Morton
|
Humphries
|
Hostetler
|
Eason
•
Starting matchups of Super Bowl QBs
• Ranking the QB performances:
1-40
|
41-82
•
Jaworski: Six Super Bowl surprises

•
Joyner: Brady's bad decisions

•
Clayton: Eli's managing fine
•
Chadiha: Focused Giants
•
AccuScore simulation: Pats to prevail
•
Chadiha: First Look at the Super Bowl
•
Playoff schedule
Spy Games
News
•
Vermeil doubts spying made difference for Pats
•
Fish: Ex-Ram Warner suspicious of Pats in SB XXXVI
•&nbsp
Report: Pats taped Rams' SB walk-through
•
Specter to Goodell: Let's talk
•
Fish: Possible 'Spygate' witness surfaces
Commentary
•
Easterbrook: NFL can blame itself for scandal's timing
•
Munson: Congressional interest serious
•
Pasquarelli: Specter should stick with politics
•
Clayton: Spy saga won't distract Patriots
•
Hashmarks at Goodell's news conference
Letters
•&nbsp
Specter to Goodell (.pdf)
•&nbsp
Goodell to Specter (.pdf)
Page 2
•&nbsp
Gallo: Five stages of heartbreak for Pats' fans
•
Hill: Best Super Bowl parties
•
Hill: Teflon Tom Brady
•
Popculture roundtable on the Super Bowl
•
Hill: Raiders quit on Moss
•
Flem File at the Super Bowl
•
Fleming: Defining greatness
•
Best teams never to win a title
•
TMQ: Title-game analysis
•
Why Boston teams are so good
•
Gallo: Countdown to kickoff
•
More from Page 2
News
•
Brady ankle not on injury report
•
Brady on Plax prediction: Only 17 points for Pats?
•
Carey named first black Super Bowl referee
•
Brady practices in Pats' first Super Bowl session
•
Ross gets sick as unified Giants face flu
•
NFL not worried about spying
•
Security high for Super Bowl
•
Williams to be honored during Super Bowl
•
Bootless Brady departs for Arizona
•
Tickets reselling for average of $4,300
•
Burress: Giants' receivers are better
Scouts Inc.
•
Roundtable: Seven scouts weigh in
•
Super Bowl XLII X Factors
•
Coaching comparison: Styles vary, results same
•
Defensive line breakdowns
•
Horton: Notes from the film room (Day 5)
•
Matchups to watch in Super Bowl XLII
•
Running-game breakdown
•
Horton: Notes from the film room (Day 4)
•
QB tale of the the tape
•
Horton: Notes from the film room (Day 3)
•
Ranking NFL QBs 1-64
•
Take II on Super Bowl XLII
•
Giants' DBs overmatched or underrated?
•
Horton: Notes from film room (Day 2)
•
Horton: 10 things to watch in SB XLII
•
Horton: Notes from the film room (Day 1)
•
A tale of two underrated O-lines
•
Take I on Super Bowl XLII
•
Players ranked Nos. 1-106

SportsNation
• Vote:
Which team will win?
• Vote:
Who wins the head-to-head matchups?
• Vote:
Which team are you rooting for?
• Conversation:
Talk Super Bowl XLII
• Map:
Which states are picking the Giants?
• Quiz:
42 Super Bowl history questions
• Chat:
Buzzmaster: Hello from Arizona!
• Chat:
Buzzmaster: Live from Media Day
• Chat:
Buzzmaster: Live with oddsmaker
• Chat:
Buzzmaster: Live with Matt Hasselbeck
• Chat:
Buzzmaster: Live with Gregg Easterbrook
• Rank:
Super Bowl's best individual performances
• Rank:
Super Bowl coaches
• Rank:
Super Bowl careers
• Rank:
Super Bowl teams
• Rank:
Super Bowl games
• Rank:
Greatest all-time quarterbacks
• Vote:
Potential for QB greatness?
• Quiz:
Greatest quarterbacks
• ABCNews:
Super Bowl or Super Tuesday?
• Chat Rewind:
When did undefeated talk start?
• Vote:
Can we proposition you?
• Pulse:
What is SportsNation saying about XLII?