Commentary
Support players important to Patriots' perfection pursuit
Every NFL team talks about getting players to fit into its philosophy. No one succeeds at it more often, though, than New England does.
Originally Published:
January 31, 2008
By
Len Pasquarelli
| ESPN.com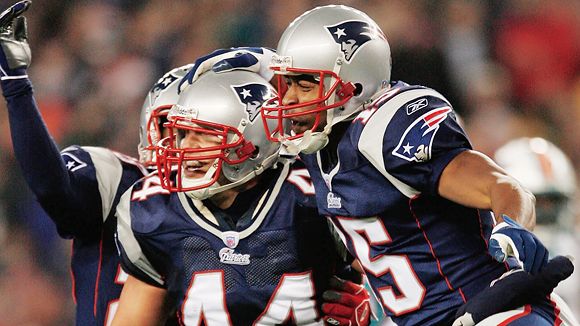 Jim Rogash/Getty ImagesHeath Evans (left) and Kelley Washington are just two of the Patriots' key support players.
PHOENIX -- Signed as an unrestricted free agent on March 13, 2007, and projected as one of the players who might upgrade the
New England Patriots
passing attack, wide receiver
Kelley Washington
didn't catch a single pass in 14 regular-season appearances.
He has zero receptions in the team's two playoff victories.
Even in the worst season of his mostly-disappointing tenure with the Cincinnati Bengals, a four-year stint marked by nagging injuries and a lack of consistency, the former third-round draft choice posted nine catches in 2006.
Yet on a New England roster that features an unusually high complement of seven wide receivers, and a team that often has dressed all of them for games, Washington has found a way to become a key contributor.
Instead of running up the boundary in pursuit of a Tom Brady bomb, Washington spends his time blowing up kick returners as one of the standout performers on the Patriots' special teams units.
"He has embraced the role," said New England special teams coach Brad Seely. "Guys here know that, if they want to play in games, they sometimes have to find a way to get themselves on the field. There are only so many uniforms to pass out on game day and you've got to earn the right to claim one of them. And Kelley has found a way. It might not necessarily be the role he envisioned when he came to us, but he's adapted and made a place for himself."
This franchise has more big-time players than just about any other, but the Patriots also boast a roster that includes more role players than anyone. Washington's story is typical of the Patriots' success in getting veterans to buy into the philosophy of selflessness espoused by coach Bill Belichick and vice president of player personnel Scott Pioli.
Every NFL team talks about getting players to fit into its philosophy. No one succeeds at it more often, though, than New England does. It's easy to find ways to highlight the great players. But the Patriots have an uncanny ability to create essential roles for capable players who work hard, prepare well and concern themselves more with the common good than individual accomplishments.
Longtime veterans such as tailback Kevin Faulk and wide receiver Troy Brown have enjoyed productive careers with the Patriots by doing many of the little things well.
[+] Enlarge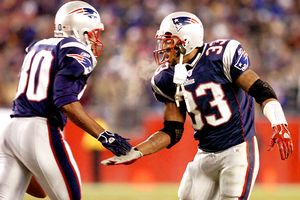 Michael Valeri/WireImage.comTroy Brown (left) and Kevin Faulk set the Patriots' standard for great play from role players.
Faulk remains one of the best third-down backs in the game, a terrific receiver and pass-protector and a guy who has quietly authored a lot of key plays in his nine-year career. Brown, a 15-year veteran who once started and averaged 93.7 catches over a three-season stretch 2000-2002, lined up as a nickel defender in 2004 and 2005 when injuries ravaged the Patriots' secondary.
"When you're on other teams in the league, on the outside looking in, you watch the Patriots and think, 'How do they get so many guys to buy into the whole concept of team first,' you know?" said 13-year veteran tight end Kyle Brady, who is in his first season with the Patriots.
"And then you get here and it's still hard to figure it out. It's just a mentality that sort of pervades this team. They find a way to take guys and give them certain, maybe lesser roles. But if you fill those roles well, they make you feel important, like you're a part of something bigger."
And it's not just young players who respond to the philosophy. Eighteen-year veteran linebacker Junior Seau, a future Hall of Famer, came out of retirement in 2006 when Belichick's sales pitch convinced him there was a role for him on the team. Seau returned for a second season in New England this year to be part of an interior rotation, but was forced to log more snaps because of injuries.
"You just do what they ask you to do," Seau said.
Washington, 28, is a good example of that.
During his tenure with the Bengals, he rarely played on special teams, finally making a few appearances on the kick coverage units in 2006, his final year with the club. Washington totaled three special teams tackles in Cincinnati, and never had more than one in a game. But when the New England wide receiver depth chart suddenly got crowded last spring, especially after the acquisition of Randy Moss, the Pats' coaches saw something in Washington that prompted them to think he might have potential on special teams.
And as usual, they were right; Washington finished second on the club in total special teams tackles (18) and first in solo tackles (nine).
"I don't know why, but I always thought that if I had to play [on special teams], I'd be pretty good at it," said Washington, a good athlete with exceptional size (6 feet, 3 inches and 215 pounds) and solid speed. "I don't remember exactly when the coaches told me they were going to try me out in the kicking game, sometime in the spring probably, but I felt pretty comfortable right from the first day. There are so many great players here that you can get squeezed out if you don't find a way to contribute. Playing on [special] teams, that was my way to get on the field and make plays. Maybe not the oh, wow plays our wide receivers have made, but, you know, plays that were still meaningful."
Two such plays in the postseason come to mind: The first occurred in New England's victory over the Jacksonville Jaguars in a divisional-round contest, when Washington sniffed out a gimmick play on a kickoff and stuffed the Jaguars' Scott Starks after a two-yard runback on a reverse.
Then, in the victory over the San Diego Chargers in the AFC Championship Game, Washington had one of the most overlooked, but important plays of that contest. In the second quarter, he laid out his body to down a Chris Hanson punt at the Jacksonville 4-yard line, somehow managing to keep both the ball and his feet out of the end zone.
Pinned deep in their own territory, the Chargers turned the ball over when New England cornerback Asante Samuel intercepted a Philip Rivers pass and returned it to the San Diego 24-yard line. Two plays later, the Pats scored on a 12-yard touchdown catch by wide receiver Jabar Gaffney for a 14-6 lead. In his postgame media session, Belichick cited Washington's special teams gem as one of the biggest plays of the contest.
"I think it's part culture and part the players," Pioli said of the team-first philosophy. "I mean, I don't know how it happens here, but it does. We tell everybody we bring here, rookies and veterans and whoever, the same two things: First off, the best players are going to play on game day. Second, you've got to create a role for yourself. And it just seems to work for us."
Crucial cameos
Patriots veterans such as Brown and Faulk have defined just how significant the contributions of role players are to the franchise. But there are some other notable nonstarters who have played key roles this season:

Running back
The Skinny: Capable of lining up at fullback, tailback or in the one-back set, Evans does a little of everything. He carried 34 times for 121 yards and three touchdowns during the season, and had four receptions for 43 yards. Evans has been excellent in short-yardage situations, has been a very good lead-blocker for tailback Laurence Maroney -- especially in I formation situations -- and even has been flanked out as a receiver when New England aligns in its "empty" sets. He also had six special teams tackles.
---

Cornerback
The Skinny: A starter as a rookie in 2004, including in Super Bowl XXXIX when he led the Pats with 11 tackles, the former undrafted free agent from LSU logged only eight appearances in 2005-2006 because of injuries. But he bounced back this season to play in all 16 games and had three starts. Playing mostly in nickel situations, Gay had 33 tackles, seven passes defensed, a forced fumble and a recovery. Also, his three interceptions were the second most on the team.
---

Wide receiver
The Skinny: At the outset of the season, it appeared the six-year veteran would be the odd-man out in a crowded wide receiver depth chart. He posted only 12 catches in the first eight games. In the second half of the season, though, Gaffney began to take snaps away from Donte' Stallworth, and he started seven of the final eight contests, catching 24 passes and scoring four times. He had the game-winning catch in the comeback victory at Baltimore on Dec. 3.
---

Offensive guard
The Skinny: The versatile interior lineman started eight games, seven at right guard and one at center, and typically graded out well on his assignments. The seven-year veteran appeared in all 16 games and also contributed on special teams units. Hochstein has started five playoff games, including Super Bowl XXXVIII, during his career.
---

Linebacker
The Skinny: Although he played sparingly from scrimmage, the two-year veteran did fill in at different junctures at all four linebacker spots in the Pats' 3-4 front. Woods, who had 11 special teams tackles in only eight games in 2006, led the Pats in kicking game tackles this season with 22.
Senior writer Len Pasquarelli covers the NFL for ESPN.com.
SUPER BOWL XLII

In one of the great Super Bowl upsets, the Giants defeated the Patriots 17-14 in Super Bowl XLII in Glendale, Ariz.
Super Bowl Central

• Hashmarks blog: Mosley, Sando in Arizona


Game coverage
•
Belichick ready to move on from Super Bowl loss
•
Nevada sports books lose record $2.6M
•
View to a thrill: Record 97.5 million watch XLII
•
Giants' win shatters viewership records
•
Clayton: Can the Giants repeat?
•
Simmons: Free fallin'
•
Giants spoil Pats' perfect season
•
Wojciechowski: Blame Pats for this debacle
•
Wickersham: Brady dazed and confused
•
Clayton: Eli lets instincts take over
•
Clayton: N.Y. 'misfits' harass Brady
•
Sando: Was Brady rattled?
•
Mosley: Belichick left a second early
•
Chadiha: Ten things we learned
•
Garber: Tyree's catch one for the ages
•
Zoom galleries
1
|
2
|
Great SB upsets
•
SportsNation: Best Super Bowl?
•
SportsNation: Biggest SB upset?
•
SportsNation: Your favorite commercials?
Commentary/Features
•
Clayton: Top five contenders for the next SB
•
'72 Fins breathe sigh of relief after Giants win
•
Chadiha: Giants enjoy underdog role
•
Sando: Coughlin, Giants made it work
•
Super Bowl picks: Our experts weigh in
•
Merrill: Nine previously perfect Patriots
•
Merrill: Harrison deals with his rep just fine
•
Clayton: Giants' O-line worthy of accolades
•
Pasquarelli: Tip Sheet
•
Pasquarelli: Tip Sheet notes

•
Wojciechowski: 15 reasons Patriots will win
•
E-ticket: Patriots' man of mystery
•
Sunday Countdown
•
Clayton's First and Goal
•
Chadiha: Giants miss Shockey
•
Garber: Injured war vet inspires Giants
•
Pasquarelli: The Pats' crucial cameos
•
Garber: In Brady's world, insecurity remains
•
Merrill: Hixon's traumatizing season
•
Football Outsiders: SB numbers crunching
•
Pasquarelli: Patriots' silent sentinel
•
Wojciechowski: Unflappable Eli
•
Sando: Brady rising among all-time QBs
•
Chadiha: Giants' rookies playing prominent role
•
Fleming: Cardinals/Pottsville Curse
•
Clayton: Youth serving Giants well
•
Chadiha: Ranking the best QBs by decade
•
Klancnik: Top QBs by jersey number
•
Hashmarks: Media day coverage
|
Gallery
•
Pasquarelli: Pats' old-school LBs
•
Helyar: Marketing windfall for Eli Manning
•
Garber: Seau's ring quest
•
Pasquarelli: Bruschi's full-circle journey
•
Animated plays
•
From the research room
•
Chadiha: Pierce just wants to win
•
Wojciechowski: Explaining Bill Belichick
•
Helyar: Recession? Not at Super Bowl!
•
Giants' Snee doesn't stray from roots
•
Sando: Seymour in eye of storm
•
Merrill: Welker scales new heights for Pats
•
Pasquarelli: Brady is ready to play
•
Garber: The preservation of Plaxico
•
Pasquarelli: Hill's spirit lives on
•
Clayton: Giants' juggling act at CB works
•
Wickersham: Giant ideas
•
Klosterman: All too perfect
•
Crown Jewels: A look at Super Bowl rings
•
FB Outsiders: Giants one of worst SB teams
•
Helyar: Patriots will drive TV ratings
•
Clayton: First and goal
•
Chadiha: Giants' glory road
•
Mosley: Brady's ankle saves the week
•
Woj: Preseason predictions revisited
•
Merrill: David Woodley's dark spotlight
• Former SB QBs:
Plunkett
|
Rypien
|
Ferragamo
• More:
Morton
|
Humphries
|
Hostetler
|
Eason
•
Starting matchups of Super Bowl QBs
• Ranking the QB performances:
1-40
|
41-82
•
Jaworski: Six Super Bowl surprises

•
Joyner: Brady's bad decisions

•
Clayton: Eli's managing fine
•
Chadiha: Focused Giants
•
AccuScore simulation: Pats to prevail
•
Chadiha: First Look at the Super Bowl
•
Playoff schedule
Spy Games
News
•
Vermeil doubts spying made difference for Pats
•
Fish: Ex-Ram Warner suspicious of Pats in SB XXXVI
•&nbsp
Report: Pats taped Rams' SB walk-through
•
Specter to Goodell: Let's talk
•
Fish: Possible 'Spygate' witness surfaces
Commentary
•
Easterbrook: NFL can blame itself for scandal's timing
•
Munson: Congressional interest serious
•
Pasquarelli: Specter should stick with politics
•
Clayton: Spy saga won't distract Patriots
•
Hashmarks at Goodell's news conference
Letters
•&nbsp
Specter to Goodell (.pdf)
•&nbsp
Goodell to Specter (.pdf)
Page 2
•&nbsp
Gallo: Five stages of heartbreak for Pats' fans
•
Hill: Best Super Bowl parties
•
Hill: Teflon Tom Brady
•
Popculture roundtable on the Super Bowl
•
Hill: Raiders quit on Moss
•
Flem File at the Super Bowl
•
Fleming: Defining greatness
•
Best teams never to win a title
•
TMQ: Title-game analysis
•
Why Boston teams are so good
•
Gallo: Countdown to kickoff
•
More from Page 2
News
•
Brady ankle not on injury report
•
Brady on Plax prediction: Only 17 points for Pats?
•
Carey named first black Super Bowl referee
•
Brady practices in Pats' first Super Bowl session
•
Ross gets sick as unified Giants face flu
•
NFL not worried about spying
•
Security high for Super Bowl
•
Williams to be honored during Super Bowl
•
Bootless Brady departs for Arizona
•
Tickets reselling for average of $4,300
•
Burress: Giants' receivers are better
Scouts Inc.
•
Roundtable: Seven scouts weigh in
•
Super Bowl XLII X Factors
•
Coaching comparison: Styles vary, results same
•
Defensive line breakdowns
•
Horton: Notes from the film room (Day 5)
•
Matchups to watch in Super Bowl XLII
•
Running-game breakdown
•
Horton: Notes from the film room (Day 4)
•
QB tale of the the tape
•
Horton: Notes from the film room (Day 3)
•
Ranking NFL QBs 1-64
•
Take II on Super Bowl XLII
•
Giants' DBs overmatched or underrated?
•
Horton: Notes from film room (Day 2)
•
Horton: 10 things to watch in SB XLII
•
Horton: Notes from the film room (Day 1)
•
A tale of two underrated O-lines
•
Take I on Super Bowl XLII
•
Players ranked Nos. 1-106

SportsNation
• Vote:
Which team will win?
• Vote:
Who wins the head-to-head matchups?
• Vote:
Which team are you rooting for?
• Conversation:
Talk Super Bowl XLII
• Map:
Which states are picking the Giants?
• Quiz:
42 Super Bowl history questions
• Chat:
Buzzmaster: Hello from Arizona!
• Chat:
Buzzmaster: Live from Media Day
• Chat:
Buzzmaster: Live with oddsmaker
• Chat:
Buzzmaster: Live with Matt Hasselbeck
• Chat:
Buzzmaster: Live with Gregg Easterbrook
• Rank:
Super Bowl's best individual performances
• Rank:
Super Bowl coaches
• Rank:
Super Bowl careers
• Rank:
Super Bowl teams
• Rank:
Super Bowl games
• Rank:
Greatest all-time quarterbacks
• Vote:
Potential for QB greatness?
• Quiz:
Greatest quarterbacks
• ABCNews:
Super Bowl or Super Tuesday?
• Chat Rewind:
When did undefeated talk start?
• Vote:
Can we proposition you?
• Pulse:
What is SportsNation saying about XLII?


MOST SENT STORIES ON ESPN.COM