Commentary
Reviewing instant replay's controversial playoff history
The lines between "reviewable" and "nonreviewable" plays as instant replay applies remained murky this regular season, presenting the prospect of more historic controversy this postseason, Mike Sando writes.
Updated:
January 5, 2008, 5:11 PM ET
By
Mike Sando
| ESPN.com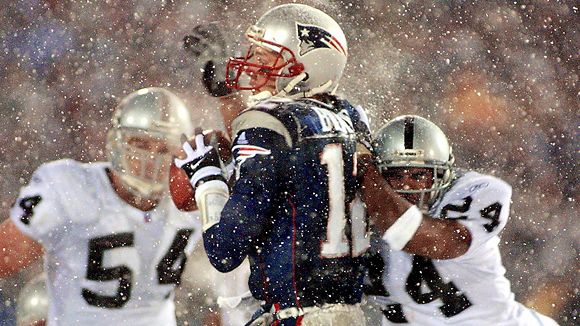 Matt Campbell/Getty ImagesThe Tuck Rule Game: Replay played a big role in this collision of Tom Brady (12) and Charles Woodson (24) in this New England-Oakland Jan. 2002 playoff contest, won by the Patriots in overtime.
The football referee in the sandwich-shop commercial steps forward, turns on his microphone and delivers a comical admission to an imaginary crowd: "I totally blew that call. In fact, it wasn't even close. But don't worry, I'll penalize the other team for no good reason in the second half, to even things up."
Suffice to say, that one did not come from Mike Pereira's office. Pereira, the NFL's officiating director, does have a sense of humor, however. He still chuckles over the elaborate presentations people sent to him following the famous Music City Miracle play during the Buffalo-Tennessee playoff game in January 2000.
Frank Wycheck's lateral to Titans teammate Kevin Dyson resulted in Dyson breaking free for the winning 75-yard touchdown on a kick return in the final seconds. The Bills challenged the ruling, raising the first big test for replay since its return to the NFL earlier that season.
The lines between "reviewable" and "nonreviewable" plays as instant replay applies remained murky this regular season, presenting the prospect of more historic controversy this postseason. A few plays from Cleveland Browns games alone drove home the point that the application -- or non-application -- of replay still can lead to surprises.
Few plays were as surprising as the Music City Miracle. "Despite all of the engineers and everybody that sent me diagrams about how it was logistically impossible for that ball to be either parallel or backwards, it was a lateral," Pereira said this week. "You should have seen the things I got, the videos people made to describe flight of ball combined with the velocity of the wind at that point and how the rotation of the ball that would have caused this degree of variation. That was a good one."
While the ruling stood as called, the league periodically revisits replay, looking for ways to improve an imperfect system. Avoiding a mistake during the playoffs is a top priority, but any sport with a 132-page rulebook, 22 players and an oblong ball is bound to produce unanticipated situations.
Non-reviewable calls
Here are nine types of plays the NFL lists as falling outside the scope of replay review.
1. Status of the clock
2. Proper down
3. Penalty administration
4. Runner ruled down by defensive contact (not involving fumbles)
5. Forward progress not relating to first down or goal line
6. Forceouts
7. Recovery of loose ball in the field of play
8. Field goals
9. Inadvertent whistle

Even correct rulings can confuse fans not fully versed in, say, the finer points of Rule 3, Section 21, Article 2. That would be the no-longer-obscure tuck rule that helped New England against Oakland in January 2002.
Referee Walt Coleman used replay to turn Tom Brady's apparent fumble into an incomplete pass, helping New England claim a hard-fought victory in the AFC divisional round. The Patriots won a Super Bowl for the first time a few weeks later.
Coleman got it right according to the letter of the rules, but the most memorable replay situation in NFL history generated controversy among those who thought they knew a fumble when they saw one.
"When a player is holding the ball to pass it forward," the tuck rule states, "any intentional movement forward of his hand starts a forward pass, even if the player loses possession of the ball as he is attempting to tuck it back toward his body."
Another unusual and perhaps unprecedented situation arose during the Cleveland-Cincinnati game two weeks ago. That one avoided widespread detection because the stakes were lower and the play's impact was negligible. But a similar situation in the playoffs conceivably could have an impact on the distance of a late field goal try.
The confusion unfolded when Bengals return man Glenn Holt fielded and returned a short kickoff after a teammate signaled for a fair catch. Cincinnati was not entitled to a return in that situation, but that was the easy part.
"It caught us so by surprise that by the time we got it shut down, we lost track of where the spot was, where the second guy actually caught it," Pereira said, "and as it turns out, we mis-spotted it by about three yards."
The Browns tried to challenge the spot, but when referee Gerald Austin went to look at the play, replay official James Wilson reminded him that the unusual sequence was not subject to review.
"Touching of the kick is reviewable," Pereira explained, "but the actual spot of the end of the kick is not reviewable."
Therein lies one of the more confounding and controversial aspects of replay. If the goal is to get calls right, why not try to get every call right? Why place limits on what is reviewable? "That is the object of replay, to get the call right, not to decide whether you can review this or whether you can review that," former
Green Bay Packers
general manager Ron Wolf said. "You have a tool; use it." As the rulebook states, nonreviewable plays include but are not limited to: status of the clock, proper down, penalty administration, runner ruled down by defensive contact (not involving fumbles), forward progress not relating to first down or goal line, forceouts, recovery of loose ball in the field of play, field goals and inadvertent whistles. Such limitations do not prevent a referee from using replay to rule on situations outside the scope of what was challenged on the play in question. A coach might challenge the ruling on a fumble, for example, only to have the referee determine the pass was incomplete. Everything reviewable is fair game during every replay. Referees also can use replay to assess penalties for 12 men on the field, the illegal touching of a pass, the illegal touching of a kick and passing the ball after crossing the line of scrimmage. But if a referee discovers during the course of replay that a cornerback illegally struck a defenseless receiver, he has no recourse because such plays are not reviewable. "If you tried to get into a fix-all once you were in there, then you get into the area of pass interference, holding and all those other areas that you don't want to be," Pereira said. "What you want to do is try to deal with plays that involve judgments on a set of facts. Did he get the second foot down inbounds? Did he break the plane? Those types of things."
Three situations could create controversy during the playoffs (coincidentally, all three had an impact on games involving the Browns this season):
1. Spotting the ball in relation to first downs.
Some coaches think replay officials have become too aggressive in challenging spots in relation to first downs. Seattle lost a Week 9 game in Cleveland after replay assistant Al Hynes challenged the spot following Matt Hasselbeck's 8-yard scramble on a third-and-8 play in overtime. Referee Gene Steratore ultimately ruled Hasselbeck down after a 7-yard gain, leading to a Seattle punt and the winning possession for Cleveland.
A similar situation affected the Indianapolis-San Diego game in Week 10. Spotting the ball in relation to first downs is clearly reviewable, but the practice could draw additional scrutiny in the offseason. "It seems like I'm beginning to see more challenges of the spot of the ball in relation to the first down, which is a difficult one to judge because you are not dealing with precise lines," Pereira said.
2. Determining whether defenders forced receivers out of bounds.

The forceout rule might be the toughest to enforce. Prevailing opinion has considered forceouts too subjective for review. The league doesn't want referees using replay to guess whether a defender pushed a receiver hard enough to carry him out of bounds. This rule is sure to draw additional scrutiny during the offseason.
Seahawks coach Mike Holmgren, a former member of the competition committee, is among those who have pushed to include forceouts on the list of reviewable plays. "We were always able to challenge lines -- the sideline, the goal line, the end line -- and that play is very much dealing with a line and a foot," Holmgren said. "I always thought that would be a very reviewable-type replay play; in fact, much easier to call on film than in the heat of battle." In Week 13, referee Jerome Boger's crew disallowed a potential Browns touchdown by ruling tight end
Kellen Winslow
out of bounds on a play that would have tied and probably won a game against Arizona. The Browns narrowly missed the playoffs despite a 10-6 record this season.
3. Determining whether a field goal should be allowed.
Reviewing all field goals probably isn't realistic because definitive camera angles remain elusive, but another 2007 play involving the Browns could precipitate changes in how replay applies -- or, in the current situation, does not apply -- to the NFL's three-point plays.
Phil Dawson
's tying field goal try against Baltimore in Week 11 struck the gooseneck atop the support post before bouncing back through the uprights. Referee Peter Morelli communicated with replay official Howard Slavin before announcing, correctly, that the field goal was good. Moreilli said replay was never used. An NFL spokesman later said the league would consider opening similar plays for review in future seasons.
Memorable replay situations in playoff games
1. The Tuck Rule. Raiders at Patriots. Jan. 19, 2002. AFC Divisional Game
Foxborough Stadium
Oakland led, 13-10, in the final two minutes. Raiders cornerback Charles Woodson appeared to sack New England quarterback Tom Brady, forcing a fumble that teammate Greg Biekert recovered. Replay assistant Rex Stuart challenged the play. Referee Walt Coleman determined Brady's arm was moving forward when the ball came loose. Brady appeared to be attempting to pull back the ball, but the quarterback's perceived intent wasn't reviewable. Coleman, following the letter of the rule, changed the ruling to an incomplete pass. The Patriots drove toward the tying field goal before scoring on the first possession of overtime. The Raiders were livid.
2. The Music City Miracle. Bills at Titans. Jan. 8, 2000. AFC Wild-Card Game
Adelphia Coliseum
Bills kicker Steve Christie gave his team a one-point lead in the final 20 seconds by making a 41-yard field goal, but the game was far from over. Titans tight end Frank Wycheck lateraled the ensuing kickoff to receiver Kevin Dyson, who broke loose for the winning 75-yard touchdown return. Buffalo challenged the play, claiming Wycheck's lateral was actually an illegal forward pass. Upon review, the ruling stood as called. The Bills did not agree.
3. The Polamalu Interception. Steelers at Colts. Jan. 15, 2006. AFC Divisional Game
RCA Dome
Pittsburgh safety
Troy Polamalu
picked off Indianapolis'
Peyton Manning
with 5:33 remaining in the fourth quarter. The Steelers were protecting a 21-10 lead, but Indy was driving. Colts coach Tony Dungy challenged the ruling. Video evidence seemed to show Polamalu making a clean interception, but referee Peter Morelli reversed the call, ruling an incomplete pass. The Colts scored on the drive, but Pittsburgh prevailed, 21-18. Morelli had ruled in error, the league later admitted.
4. The Romo Play. Cowboys at Seahawks. Jan. 6, 2007. NFC Wild-Card Game
Qwest Field
The game made Cowboys quarterback Tony Romo famous for fumbling the snap on a chip-shot field goal, allowing the Seahawks to escape with an improbable victory. But that play might never have happened if replay official Dale Hamer hadn't challenged the spot on Jason Witten's reception one play earlier. Referee Walt Anderson changed a 7-yard gain on third-and-7 to a 6-yard gain, setting up fourth down with 1:19 remaining. This was the right call, Pereira said.
5. The Unhappy Return. Titans at Colts. Jan. 16, 2000. AFC Divisional Game, RCA Dome

One week after the Music City Miracle, another favorable replay ruling helped Tennessee advance. This one turned
Terrence Wilkins
' 87-yard punt return to the Tennessee 3 into a 24-yard return to the Indianapolis 34. Tennessee was protecting a 16-9 early in the fourth quarter when Wilkins broke free. Titans' kicker Al Del Greco helped to convince coach Jeff Fisher to challenge the play, maintaining Wilkins had stepped out of bounds. It was a decision that helped the Titans take another step in their improbable Super Bowl season. The reversal was the right call, the Colts agreed.
Mike Sando covers the NFL for ESPN.com.
NFL Insider
ESPN Insider NFL columnist and blogger
Covered the NFL since 1998
Member of Pro Football Hall of Fame selection committee
2007 PLAYOFFS

In a rematch of their Week 17 game, the unbeaten Patriots will play the red-hot Giants in Super Bowl XLII in Glendale, Ariz.
Super Bowl Central
Clayton: Eli's managing fine
Chadiha: Focused Giants
AccuScore simulation: Pats to prevail
Chadiha: First Look | Playoff schedule



Conference Championships (Jan. 20)
Patriots 21, Chargers 12
•
Merrill: Questions linger about Moss' postseason
•
Wojciechowski: Whatever it takes, Pats win
•
Pasquarelli: Patriots' offense grinds it out
•
Pasquarelli: Chargers squander opportunites
•
Pats make fourth SB in seven years
•
The Last Call: Mike Sando's observations, more
•
Zoom Gallery:
AFC title game
|
Pats' season
•
Playoff page
Giants 23, Packers 20
•
Clayton: Burress burns Harris, Packers
•
Chadiha: Bitter pill for Packers to swallow
•
Zoom Gallery: Giants edge Packers
•
The Last Call: Mike Sando's observations, more
•
Garber: Coughlin's personality makeover intact
•
Playoff page
Video
•
What is Tom Brady's legacy?
•
Eli and Burress lead Giants
•
Patriots avoid distractions on way to Super Bowl
•
Resilient Giants advance to SB
•
Red-zone efficiency fuels Patriots
Divisional Round (Jan. 12-13)
Packers 42, Seahawks 20
•
Recap
|
Playoff game page
•
Clayton: Ryan Grant sticks to the plan
•
Sando: Disastrous play at TE for Seattle
Patriots 31, Jaguars 20
•
Recap
|
Playoff game page
•
Pasquarelli: Patriots have too many weapons
Chargers 28, Colts 24
•
Recap
|
Playoff game page
•
Wojciechowski: Did Chargers get Pats' attention?
•
Clayton: Colts can't overcome mistakes
Giants 21, Cowboys 17
•
Recap
|
Playoff game page
•
Chadiha: Manning maturing at right time
More divisional playoffs
•
Saturday's Last Call: Pack, Pats advance
•
Sunday's Last Call: Giants, Chargers surprise
Commentary/Features
•
Pasquarelli: Tip Sheet
|
Notes

•
Smith: Special teams loom large
•
Scouts: Kryptonite for top four teams

•
Playoff upsets: By the numbers
•
Page 2: Handicapping the wild-card winners
Wild-Card Round (Jan. 5-6)
Seahawks 35, Redskins 14
•
Recap
|
Playoff game page
•
Clayton: Cool head Holmgren
•
Sando: Redskins inspired by Taylor
Jaguars 31, Steelers 29
•
Recap
|
Playoff game page
•
Chadiha: Jaguars pass character test
Giants 24, Bucs 14
•
Recap
|
Playoff game page
•
Pasquarelli: Manning delivers for Giants
•
Pasquarelli: Giants' D rises to occasion
Chargers 17, Titans 6
•
Recap
|
Playoff game page
•
Clayton: Turner, Rivers silence their critics
More Wild Card Weekend
•
Saturday's Last Call: Hawks, Jags escape
•
Sunday's Last Call: Giants, Chargers rule
•
ZOOM photos:
Saturday
|
Sunday
Commentary/Features
•
Sando: Controversial history of replay
•
Clayton: First and Goal, Wild Card
•
Sando: Playoff mantras
•
Numbers crunching: Wild-card weekend
•
Sunday Countdown
•
TMQ: Do the Pats need to run more?
•
Joyner: Steelers, Giants adjusting on the fly

•
Clayton: Handicapping possible Patriots foes
•
Clayton: Key playoff questions for the AFC
•
Pasquarelli: Key playoff questions for the NFC
Video
•
Chargers bolt past Titans, 17-6
•
Eli Manning silences his critics
•
Seattle's Hasselbeck is underrated
•
Phillips not concerned about late-season slide
Scouts Inc.
•
Ranking the playoff teams
•
Ranking the playoff coaches
•
Off. rankings:
Overall
|
QB
|
WR
|
RB
|
OL
•
Def. rankings:
Overall
|
DL
|
LB
|
DB
|
ST
•
Green: Smith's absence hurting Steelers
•
Williamson: Unknowns powering Bucs

MOST SENT STORIES ON ESPN.COM