Commentary
Taylor's death helps Redskins keep loss in perspective
Those who thought the Washington Redskins somehow trivialized Sean Taylor's death by harnessing it for a playoff push surely weren't looking into Joe Gibbs' eyes Saturday night.
Updated:
January 6, 2008, 12:21 AM ET
By
Mike Sando
| ESPN.com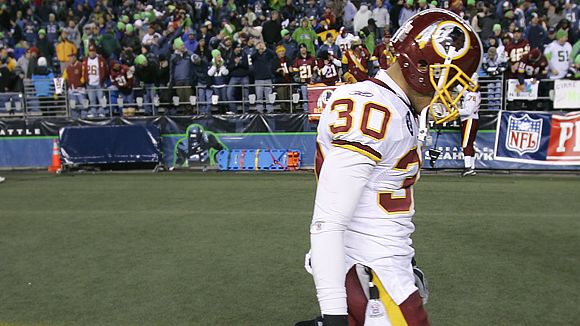 AP Photo/Ted S. WarrenRedskins safety LaRon Landry dejectedly walks off the field after the 35-14 loss to Seattle.
SEATTLE -- Those who thought the
Washington Redskins
somehow trivialized
Sean Taylor
's death by harnessing it for a playoff push surely weren't looking into Joe Gibbs' eyes Saturday night.
The Hall of Fame coach, though disappointed after a 35-14 loss to Seattle in an NFC wild-card game at Qwest Field, wasted little time dwelling on game details afterward.
"Sean's life changed a lot of other lives," he said. "Our chaplain has been going nonstop meeting with people that really are questioning, 'Where are they going to spend eternity?'"
Gibbs' brand of Christianity might not be for everyone. But it takes a cynic to discount the impact Taylor's life and death continues to impart on the Redskins, win or lose.
As Gibbs walked through the team hotel Friday night, he ran across a group of players spending time together in a meeting room before the usual game-planning sessions.
"They were talking about some things, and you could hear them getting emotional," Gibbs said. "This year was a trying year for us, and certainly our players deserve the credit the way they were handling it."
The finality of playoff elimination often leads to a postgame locker room so silent as to be uncomfortable for visitors. That wasn't the case in the Redskins' locker room this time. Players demonstrated a level of perspective that usually proves elusive until a day or two later.
Taylor's death during a botched burglary in November came one day after Washington suffered a third consecutive defeat, dropping its record to 5-6. Gibbs' mishandling of a late timeout one week later added frustration to a 17-16 home defeat to Buffalo. The Redskins appeared finished.
"The thing I'll be most proud of is the fact that when the odds were stacked against us, when everyone had counted us out, we were 5-7 coming off a last-second loss, having buried our teammate, everything seemed gloomy for us, and we went to work," linebacker London Fletcher said. "The way we handled ourselves down the stretch those last four games was unbelievable."
Emotion and clutch play from backup quarterback Todd Collins carried the Redskins during their four-game winning streak to end the regular season. Emotion doesn't mean as much in the playoffs; every team plays on adrenaline. The Seahawks had the advantage this time, backed by the NFL's loudest crowd at Qwest Field.
Redskins fullback Mike Sellers grew up in the Seattle area and should have known better than to question the impact noise can have on an offense, even one stocked with veterans. The Redskins struggled to function, falling behind 13-0 even though Seattle's offense sputtered repeatedly on third down. Gibbs called it the loudest, toughest environment he has faced in close to four decades of coaching. His players agreed.
"I know it bothered us a lot early in the game," Gibbs said. "It's an extremely tough place to come and play, I'll tell you that. When you are hesitant coming off the line of scrimmage, it's extremely hard to get a good, smooth operation going."
The Redskins had success as the game progressed by going with a silent snap count and no-huddle offense. They scored 14 points in the first three minutes of the fourth quarter. Collins threw touchdown passes to Antwaan Randle El and Santana Moss. The Redskins, suddenly leading 14-13, promptly took over at the Seattle 14 when Seattle's return team inexplicably failed to field the ensuing kickoff.
Washington could not capitalize, though. Shaun Suisham missed wide left from 30 yards, and Seattle's Matt Hasselbeck answered with a 20-yard scoring pass to D.J. Hackett.
"We felt like we were turning the corner," Redskins center Casey Rabach said. "Then we had that missed field goal and everything went awry."
Collins' patience had been a key to Washington's getting hot late in the season and staying close to Seattle in this game. But no one had roughed him up the way the Seahawks did, backed by the crowd and working against an offensive line missing both starters on the right side. Seattle blew it open with two interception returns for touchdowns in the final six minutes. Moss lost track of the football on the one Marcus Trufant returned 78 yards. Collins never saw the play develop because the Seahawks had knocked him on his back.
"Todd fought his guts out," Gibbs said. "He did a lot for this football team today. He got hit some and came right back out fighting, brought us back to a point where we had a chance to win the football game. You could not ask for much more."
Football and a common purpose carried the Redskins through the weeks since Taylor's death. Players will disperse over the coming days and weeks. They won't forget.
"You think about it and what he meant to the game and what he meant to this team," linebacker Marcus Washington said. "I don't think you would ever have a player that had as much fun and played with such -- it was pure football in him. It wasn't about the money, it wasn't about the fame. It was just pure for the love of the game, and it was beautiful the way he played football.
"You're always going to remember that. I think he'll be proud of the way this team fought."
Mike Sando covers the NFL for ESPN.com.
NFL Insider
ESPN Insider NFL columnist and blogger
Covered the NFL since 1998
Member of Pro Football Hall of Fame selection committee
SPONSORED HEADLINES
MORE NFL HEADLINES
MOST SENT STORIES ON ESPN.COM
2007 PLAYOFFS

In a rematch of their Week 17 game, the unbeaten Patriots will play the red-hot Giants in Super Bowl XLII in Glendale, Ariz.
Super Bowl Central
Clayton: Eli's managing fine
Chadiha: Focused Giants
AccuScore simulation: Pats to prevail
Chadiha: First Look | Playoff schedule



Conference Championships (Jan. 20)
Patriots 21, Chargers 12
•
Merrill: Questions linger about Moss' postseason
•
Wojciechowski: Whatever it takes, Pats win
•
Pasquarelli: Patriots' offense grinds it out
•
Pasquarelli: Chargers squander opportunites
•
Pats make fourth SB in seven years
•
The Last Call: Mike Sando's observations, more
•
Zoom Gallery:
AFC title game
|
Pats' season
•
Playoff page
Giants 23, Packers 20
•
Clayton: Burress burns Harris, Packers
•
Chadiha: Bitter pill for Packers to swallow
•
Zoom Gallery: Giants edge Packers
•
The Last Call: Mike Sando's observations, more
•
Garber: Coughlin's personality makeover intact
•
Playoff page
Video
•
What is Tom Brady's legacy?
•
Eli and Burress lead Giants
•
Patriots avoid distractions on way to Super Bowl
•
Resilient Giants advance to SB
•
Red-zone efficiency fuels Patriots
Divisional Round (Jan. 12-13)
Packers 42, Seahawks 20
•
Recap
|
Playoff game page
•
Clayton: Ryan Grant sticks to the plan
•
Sando: Disastrous play at TE for Seattle
Patriots 31, Jaguars 20
•
Recap
|
Playoff game page
•
Pasquarelli: Patriots have too many weapons
Chargers 28, Colts 24
•
Recap
|
Playoff game page
•
Wojciechowski: Did Chargers get Pats' attention?
•
Clayton: Colts can't overcome mistakes
Giants 21, Cowboys 17
•
Recap
|
Playoff game page
•
Chadiha: Manning maturing at right time
More divisional playoffs
•
Saturday's Last Call: Pack, Pats advance
•
Sunday's Last Call: Giants, Chargers surprise
Commentary/Features
•
Pasquarelli: Tip Sheet
|
Notes

•
Smith: Special teams loom large
•
Scouts: Kryptonite for top four teams

•
Playoff upsets: By the numbers
•
Page 2: Handicapping the wild-card winners
Wild-Card Round (Jan. 5-6)
Seahawks 35, Redskins 14
•
Recap
|
Playoff game page
•
Clayton: Cool head Holmgren
•
Sando: Redskins inspired by Taylor
Jaguars 31, Steelers 29
•
Recap
|
Playoff game page
•
Chadiha: Jaguars pass character test
Giants 24, Bucs 14
•
Recap
|
Playoff game page
•
Pasquarelli: Manning delivers for Giants
•
Pasquarelli: Giants' D rises to occasion
Chargers 17, Titans 6
•
Recap
|
Playoff game page
•
Clayton: Turner, Rivers silence their critics
More Wild Card Weekend
•
Saturday's Last Call: Hawks, Jags escape
•
Sunday's Last Call: Giants, Chargers rule
•
ZOOM photos:
Saturday
|
Sunday
Commentary/Features
•
Sando: Controversial history of replay
•
Clayton: First and Goal, Wild Card
•
Sando: Playoff mantras
•
Numbers crunching: Wild-card weekend
•
Sunday Countdown
•
TMQ: Do the Pats need to run more?
•
Joyner: Steelers, Giants adjusting on the fly

•
Clayton: Handicapping possible Patriots foes
•
Clayton: Key playoff questions for the AFC
•
Pasquarelli: Key playoff questions for the NFC
Video
•
Chargers bolt past Titans, 17-6
•
Eli Manning silences his critics
•
Seattle's Hasselbeck is underrated
•
Phillips not concerned about late-season slide
Scouts Inc.
•
Ranking the playoff teams
•
Ranking the playoff coaches
•
Off. rankings:
Overall
|
QB
|
WR
|
RB
|
OL
•
Def. rankings:
Overall
|
DL
|
LB
|
DB
|
ST
•
Green: Smith's absence hurting Steelers
•
Williamson: Unknowns powering Bucs