Commentary
Packers' blueprint: Draft wisely, pick spots in free agency
By emphasizing the draft instead of quick fixes in free agency, the Packers have a built a solid foundation, writes Mike Sando.
Originally Published:
January 10, 2008
By
Mike Sando
| ESPN.com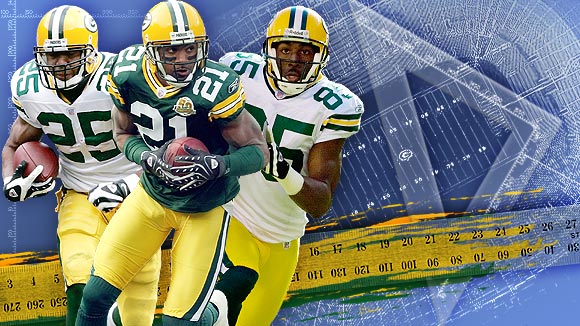 ESPN.com IllustrationPackers leading rusher Ryan Grant, left, was acquired for a sixth-round pick. Cornerback Charles Woodson, center, is one of Green Bay's few major free-agent pickups. Receiver Greg Jennings has blossomed (53 catches, 920 yards, 12 TDs).
Top Combine Performances
Want to see the best numbers in various combine drills since 2000? ESPN.com researcher Ryan McCrystal has the breakdowns.
The eight remaining NFL playoff teams allocated more than $104 million in guaranteed bonuses during the first month of free agency last year. That works out to more than $13 million per team, a massive number that is also massively misleading. For all the attention NFL free agency commands each March, Green Bay's spending accounted for two-tenths of 1 percent of that $104 million, a mere $215,000 in guaranteed bonuses. The money secured three backups and predictably low grades on free-agency report cards.
The Packers' approach also produced the second-best record in the NFC, a date with Seattle in a divisional playoff game Saturday (FOX, 4:30 ET) and a contract extension for general manager Ted Thompson.
"I didn't know what our record was going to be," Thompson said this week, "but we felt like we put together a team that would have a chance to win week in and week out."
Thompson's Packers generally will not win praise for being "proactive" during the offseason.
[+] Enlarge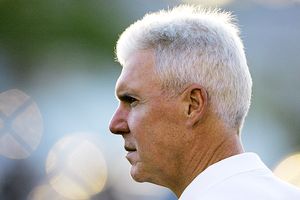 AP Photo/Morry GashPackers GM Ted Thompson has drafted a league-high 34 players since 2005.
What the Packers will do -- what they have done -- is improve their record from 4-12 to 8-8 to 13-3 in Thompson's first three seasons. They have done it almost exclusively the old-fashioned way, through the draft. Cornerback
Charles Woodson
stands as the only premier unrestricted free agent signed from another team since Thompson arrived in January 2005. (
Marquand Manuel
, since waived, and
Ryan Pickett
signed less lucrative free-agent deals.)
The conservative tack is not for everyone. Thompson inherited a team that finished 10-6 the year before his arrival. He inherited Brett Favre, now the NFL's all-time passing leader. He inherited young talent on the defensive line.
Thompson also inherited a brutally weak 2004 draft class featuring four first-day picks no longer in the league. He inherited a roster that was aging in a few areas, notably at running back and in spots on the offensive line.
The Packers wanted to get younger, and Thompson knew that would not happen through the "dangerous waters" of free agency, to borrow a term he has used.
"The team was coming off [a 10-6 record], so it was a good team, but at the same time we felt like we needed to add some core players," Thompson said. "In an effort to try to win the big one and hang in every year, the roster got a little out of balance. We needed to add some youth."
The Packers have drafted a league-high 34 players since 2005. Their 53-man roster features 28 of their own draft choices, the fifth-highest total in the league. Thompson drafted 18 of the 28, including seven starters. While only Indianapolis and Buffalo are younger from one through 53, Green Bay's starters are slightly older than average thanks to Favre, who turned 38 this season. The starting defense averages 27.6 years old, just below the league average.
Green Bay has seven starters younger than 26. The NFL average is 7.1. Green Bay has nine starters between 26 and 29. The league average is 9.2. Green Bay has six starters in their 30s or older. The average is 5.7. "A lot is made of our youth," Thompson said, "but the mixture of the veterans and youth has been a very good combination. It's led to a productive team on the field and a good one in the locker room."
Tough decisions
The Packers got worse under Thompson before they got better. In early 2005, following that 10-6 season, the team allowed starting guards Mike Wahle and Marco Rivera to leave in free agency, destabilizing the line. (Center Mike Flanagan signed a deal with Houston a year later.)
Like his mentor, former Packers GM Ron Wolf, Thompson has avoided paying top dollar for guards. Rivera was wearing down. He lasted 30 games with Dallas before retiring. Wahle remains a starter for Carolina, although his play has slipped, according to scouts. Salary-cap pressures made keeping both linemen less palatable.
"You try to never use that as an excuse," Thompson said. "We would have to move forward at those positions anyway. We did not get it fixed quick enough."
Great Green Bay moves
Five key moves since Ted Thompson became Green Bay's general manager: 1. Hiring Mike McCarthy: The second-year head coach has helped Brett Favre enjoy a career revival at age 38. 2. Signing Charles Woodson: A top cover corner, Woodson stands as a rare high-profile addition in free agency. 3. Signing Ryan Pickett: The free-agent defensive lineman has solidified the Packers' run defense. 4. Drafting Greg Jennings: The second-round choice caught 12 touchdown passes this season, including a memorable game-winner at Denver in overtime. 5. Acquiring Ryan Grant: Acquired from the Giants this season, Grant spent the 2006 on injured reserve and 2005 on the practice squad. -- Mike Sando
The Packers' ground game stalled early this season after Thompson watched former Pro Bowl runner
Ahman Green
leave in free agency. But with skepticism over the team's winter-worthiness mounting, little-known newcomer
Ryan Grant
hit stride, averaging 92.9 yards per game over the final 10 games.
Only league rushing champion LaDainian Tomlinson rushed for more yards over that span.
Green, who averaged 75.6 yards per game for Green Bay last season, missed 10 games to injury in his first season with Houston. He finished with 260 yards and two touchdowns.
The decisions to let Rivera, Wahle and Green depart could not compare to the one Thompson called his toughest.
With Favre contemplating retirement following the 4-12 finish in 2005, Thompson fired head coach and former GM Mike Sherman. The move was risky because the Packers had averaged 10.6 victories per season under Sherman from 2000 to 2004, and new coach Mike McCarthy was not yet in high demand as a head coaching candidate.
But in making the change, Thompson created a more natural working relationship between head coach and GM. Sherman had lost the GM title against his wishes, adding a potentially uncomfortable dynamic.
McCarthy came with no such baggage and he already had a working relationship with Favre, having served as the Packers' quarterbacks coach in 1999. Favre has cut down on interceptions while averaging 7.8 yards per pass attempt this season, a career high. His passer rating (95.7) was his highest since 1996, the most recent season in which Green Bay won a Super Bowl.
"What Ted and I brought to the table was the type of culture that we wanted to establish here," McCarthy told reporters in Green Bay. "We accomplished that last year. … We're bringing in the right type of player that fits our program, and it's paying dividends."
Filling in the roster
Thompson shored up the defensive front in 2006 by re-signing pass-rusher
Aaron Kampman
and adding free-agent tackle Pickett.
"When everyone is healthy," a rival NFC scout said, "they are so deep on the D-line that they can go nine deep with ends who play tackle, and vice versa."
Atari Bigby, a street free agent and former practice squad player, has emerged as the starting strong safety after the Manuel signing failed to work out. Jarrett Bush, also undrafted, became the nickel cornerback before suffering injuries. Tramon Williams has shown enough promise in the secondary to potentially serve in a nickel role against Seattle.
Second-year receiver Ruvell Martin has four touchdown receptions. Tracy White, a player Thompson initially brought to Seattle when he worked in personnel there, is a special-teams standout.
Six starters remain from Sherman's run as GM: linebacker Nick Barnett, center Scott Wells, defensive tackle Corey Williams and Kampman. (Wolf drafted right tackle Mark Tauscher and left tackle Chad Clifton.)
The starters Thompson drafted include linebacker A.J. Hawk, receiver Greg Jennings, free safety Nick Collins, linebacker Brady Poppinga, left guard Jason Spitz, right guard Daryn Colledge and fullback Korey Hall.
Jennings, a second-round choice in 2006, scored touchdowns on 12 of his 53 receptions this season. Hawk, chosen fifth overall the same year, has been steady but not dynamic.
This season, Thompson bought needed insurance at running back by acquiring Grant from the New York Giants for a sixth-round draft choice. Grant had spent last season on injured reserve after one season on the Giants' practice squad. His production has far exceeded reasonable expectations.
"No. 1, our personnel department did an excellent job of tracking Ryan," McCarthy said. "What I liked about him was his body type and his running style, and how he runs with a forward lane and doesn't waste any steps. He's a very bright young man, and he's someone that could definitely improve with his opportunities, and you can see that week-by-week just based on his production."
Looking ahead
The Packers could be strong again next season, particularly if Favre decides to keep playing.
Williams, the def ensive tackle, is the Packers' only notable player scheduled to become an unrestricted free agent. Rookie first-round pick Justin Harrell would be a leading candidate to replace him.
The situation at running back appears less dire given Grant's unexpected production. Cornerback
Al Harris
turned 33 last month, meaning Green Bay soon must develop fresh talent at the position. The Packers could also use another impact linebacker to go with Hawk and Barnett. Salary-cap restrictions won't stand in the way. By some estimates, the Packers could have close to $25 million in cap room to address whatever issues they identify as priorities. Not that they will necessarily use it.
Free-Agency Frenzies
A look at how much money the eight remaining playoff teams committed in guaranteed bonuses during the first month of unrestricted free agency in 2007:
1. Seattle
$27.45 million*
+1 win
Signed: DE Patrick Kerney, S Deon Grant, S Brian Russell, OL Floyd Womack, FB Josh Parry, TE Will Heller, TE Marcus Pollard.
2. Dallas
$22.7 million
+4 wins
Signed: OL Leonard Davis, OL Marc Colombo, QB Brad Johnson, K Martin Gramatica.
3. New England
$22.68 million**
+4 wins
Signed: LB Adalius Thomas, WR Wes Welker (restricted free agent, acquired via trade), TE Kyle Brady, WR Donte' Stallworth, WR Kelley Washington, RB Sammy Morris, LB Larry Izzo, FB Heath Evans, S Rashad Baker.
4. San Diego
$13.6 million
-3 wins
Signed: OL Kris Dielman, OL Cory Withrow, LB Carlos Polk.
5. Jacksonville
$9.25 million
+3 wins
Signed: OL Tony Pashos, WR Dennis Northcutt, K Josh Scobee.
6. N.Y. Giants
$7.5 million
+2 wins
Signed: OL Shaun O'Hara, RB Reuben Droughns.
7. Indianapolis
$640,000
-1 wins
Signed: LB Rob Morris, QB John Navarre, DE Bo Schobel.
8. Green Bay
$215,000
+5 wins
Signed: CB Frank Walker, OL Tyson Walter, LB Tracy White.
* Seattle's total includes $8 million in guaranteed roster bonuses for DE Patrick Kerney.
** New England's total includes $5.5 million in guaranteed bonuses for WR Wes Welker, a high-impact restricted free agent acquired from Miami.
Mike Sando covers the NFL for ESPN.com.
NFL Insider
ESPN Insider NFL columnist and blogger
Covered the NFL since 1998
Member of Pro Football Hall of Fame selection committee
2007 PLAYOFFS

In a rematch of their Week 17 game, the unbeaten Patriots will play the red-hot Giants in Super Bowl XLII in Glendale, Ariz.
Super Bowl Central
Clayton: Eli's managing fine
Chadiha: Focused Giants
AccuScore simulation: Pats to prevail
Chadiha: First Look | Playoff schedule



Conference Championships (Jan. 20)
Patriots 21, Chargers 12
•
Merrill: Questions linger about Moss' postseason
•
Wojciechowski: Whatever it takes, Pats win
•
Pasquarelli: Patriots' offense grinds it out
•
Pasquarelli: Chargers squander opportunites
•
Pats make fourth SB in seven years
•
The Last Call: Mike Sando's observations, more
•
Zoom Gallery:
AFC title game
|
Pats' season
•
Playoff page
Giants 23, Packers 20
•
Clayton: Burress burns Harris, Packers
•
Chadiha: Bitter pill for Packers to swallow
•
Zoom Gallery: Giants edge Packers
•
The Last Call: Mike Sando's observations, more
•
Garber: Coughlin's personality makeover intact
•
Playoff page
Video
•
What is Tom Brady's legacy?
•
Eli and Burress lead Giants
•
Patriots avoid distractions on way to Super Bowl
•
Resilient Giants advance to SB
•
Red-zone efficiency fuels Patriots
Divisional Round (Jan. 12-13)
Packers 42, Seahawks 20
•
Recap
|
Playoff game page
•
Clayton: Ryan Grant sticks to the plan
•
Sando: Disastrous play at TE for Seattle
Patriots 31, Jaguars 20
•
Recap
|
Playoff game page
•
Pasquarelli: Patriots have too many weapons
Chargers 28, Colts 24
•
Recap
|
Playoff game page
•
Wojciechowski: Did Chargers get Pats' attention?
•
Clayton: Colts can't overcome mistakes
Giants 21, Cowboys 17
•
Recap
|
Playoff game page
•
Chadiha: Manning maturing at right time
More divisional playoffs
•
Saturday's Last Call: Pack, Pats advance
•
Sunday's Last Call: Giants, Chargers surprise
Commentary/Features
•
Pasquarelli: Tip Sheet
|
Notes

•
Smith: Special teams loom large
•
Scouts: Kryptonite for top four teams

•
Playoff upsets: By the numbers
•
Page 2: Handicapping the wild-card winners
Wild-Card Round (Jan. 5-6)
Seahawks 35, Redskins 14
•
Recap
|
Playoff game page
•
Clayton: Cool head Holmgren
•
Sando: Redskins inspired by Taylor
Jaguars 31, Steelers 29
•
Recap
|
Playoff game page
•
Chadiha: Jaguars pass character test
Giants 24, Bucs 14
•
Recap
|
Playoff game page
•
Pasquarelli: Manning delivers for Giants
•
Pasquarelli: Giants' D rises to occasion
Chargers 17, Titans 6
•
Recap
|
Playoff game page
•
Clayton: Turner, Rivers silence their critics
More Wild Card Weekend
•
Saturday's Last Call: Hawks, Jags escape
•
Sunday's Last Call: Giants, Chargers rule
•
ZOOM photos:
Saturday
|
Sunday
Commentary/Features
•
Sando: Controversial history of replay
•
Clayton: First and Goal, Wild Card
•
Sando: Playoff mantras
•
Numbers crunching: Wild-card weekend
•
Sunday Countdown
•
TMQ: Do the Pats need to run more?
•
Joyner: Steelers, Giants adjusting on the fly

•
Clayton: Handicapping possible Patriots foes
•
Clayton: Key playoff questions for the AFC
•
Pasquarelli: Key playoff questions for the NFC
Video
•
Chargers bolt past Titans, 17-6
•
Eli Manning silences his critics
•
Seattle's Hasselbeck is underrated
•
Phillips not concerned about late-season slide
Scouts Inc.
•
Ranking the playoff teams
•
Ranking the playoff coaches
•
Off. rankings:
Overall
|
QB
|
WR
|
RB
|
OL
•
Def. rankings:
Overall
|
DL
|
LB
|
DB
|
ST
•
Green: Smith's absence hurting Steelers
•
Williamson: Unknowns powering Bucs
Nike Women's Home Limited Jersey Green Bay Packers Aaron Rodgers #12 Shop »

MOST SENT STORIES ON ESPN.COM