Commentary
Air show aside, McCarthy's roots are in the ground game
Prior to the midseason emergence of Ryan Grant, the Packers seemed a pass-happy bunch. But coach Mike McCarthy has deep roots in the ground game, and Grant's blossoming is the latest proof.
Originally Published:
January 18, 2008
By
Mike Sando
| ESPN.com
Green Bay Packers fans should have known the team's running game eventually would come around.
Coach Mike McCarthy spent five of his first seven NFL seasons tutoring quarterbacks, but his roots in the ground game might run deeper. They run through Marty Schottenheimer, his first NFL boss, and even back to McCarthy's initial days as a tight end at Baker (Kan.) University. As a junior college transfer in 1985, McCarthy reported for camp expecting to catch passes, only to have a coach hand him gloves made for offensive linemen. McCarthy put them to good use. "It was amazing that a running team ran a draw," said former Baker offensive line coach Dan Harris, now athletic director at the NAIA school, "but we ran it to perfection and it involved the tight end making a slight hesitation off the line so he wouldn't get hooked up with the defensive end."
[+] Enlarge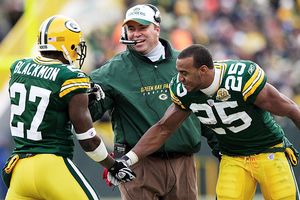 Jeff Hanisch/US PresswireIt was just a matter of time before Mike McCarthy (center) got the Packers' running game moving -- thanks primarily to Ryan Grant (25).
McCarthy would then take out a linebacker.
"We have on film a lot of plays where a linebacker is just de-cleated when Mike came down on him," Harris said. "I don't think I had a stronger blocking tight end, ever." While McCarthy's Packers won't face any NAIA defenses in the playoffs, Green Bay did rush for 235 yards during a 42-20 victory over Seattle in the NFC divisional round last week. The Packers have rushed for 577 yards in their past three games, matching their total through the first eight games of the season. With McCarthy calling plays, the Packers' formerly pass-happy offense has developed into a versatile, highly efficient unit -- one that is peaking at the right time. A victory over the
New York Giants
in the NFC title game (Sunday, 6:30 ET, Fox) would deliver host Green Bay to a Super Bowl for the first time since the 1997 season -- not bad for a team that finished 4-12 in 2005 and 8-8 last season, its first under McCarthy. "I thought it would be hard for him to come in last year [after the 4-12 record in 2005] and say we're going to the Super Bowl and be very believable," quarterback
Brett Favre
told reporters this week. "But right from the get-go this year, he said that has to be our focus. I'm looking around and I'm thinking, 'Some of these guys are just happy to be here.'
Running Man's Roots
McCarthy, 44, worked under former NFL head coaches Marty Schottenheimer, Ray Rhodes and Jim Haslett before joining Mike Nolan's staff in San Francisco in 2005.
Joe Montana was the quarterback in Kansas City when McCarthy broke into the NFL coaching ranks with the Chiefs.
As the Packers' QB coach in 1999, McCarthy tutored Brett Favre and Matt Hasselbeck
As a tight end at Baker (Kan.) University, McCarthy missed the NAIA championship game after suffering a knee injury a week earlier
Giants punter Jeff Feagles played with McCarthy at Scottsdale (Ariz.) Community College -- Mike Sando
"You wonder how young guys will handle that sometimes. Our guys have handled it well." The Packers have been grounded in more than one way. Yet, for all their rushing success against Seattle, their offense hit stride during a first-quarter stretch featuring seven consecutive pass plays. McCarthy showed variations of four personnel groupings over those seven plays, and he was only getting started. Green Bay ran the ball on 10 of the next 15 plays, showing everything from four receivers on first down to groupings with three running backs, one receiver and one tight end. Green Bay averaged 6.7 yards per carry against Seattle. "Mike McCarthy knows the running game," said Seahawks quarterback
Matt Hasselbeck
, who was with Green Bay in 1999, when McCarthy coached QBs for the Packers. "Everyone talks about how they didn't have the run game early on this season, but he's committed." By birth, perhaps. McCarthy grew up in Pittsburgh, where physical football is part of the DNA. His father, a firefighter, owned a bar popular with steel workers. When McCarthy entered the coaching ranks as a graduate assistant at Fort Hays (Kan.) State, the passing game was a sworn enemy. "He was cutting his teeth to be a defensive ball coach," said Baker coach Mike Grossner, who played quarterback on McCarthy's Scottsdale (Ariz.) Community College team and coached with him at Fort Hays State. McCarthy's career took off after he returned home and volunteered to coach at Pitt. He worked the overnight shift at a toll booth before reporting to work in the morning, an experience sure to become part of the McCarthy legend if the Packers win a championship under him. Two other current NFL head coaches -- Cincinnati's Marvin Lewis and Tampa Bay's Jon Gruden -- worked with McCarthy at Pitt. McCarthy worked his way up to coaching receivers and quarterbacks under Pitt coach Paul Hackett, now an assistant on Gruden's staff. McCarthy went with Hackett to Kansas City in 1993, the year the Schottenheimer-coached Chiefs added Joe Montana and Marcus Allen. McCarthy spent two seasons as the Chiefs' offensive quality-control coach and four coaching quarterbacks, all under Schottenheimer. Kansas City ranked among the NFL's top six in rushing attempts in three of those six seasons. "I think we're all a product of our past, and I've been very fortunate to be around those types of people and to go through those experiences," McCarthy told reporters. McCarthy emphasizes pass protection, running the ball and making big plays on offense. The Packers are succeeding on all fronts. They allowed 19 sacks during the regular season, third fewest in the league. Running back
Ryan Grant
, acquired from the Giants on Sept. 1, ranked second to NFL rushing champion
LaDainian Tomlinson
in rushing yards over the final 10 games. Green Bay's offense finished with 17 pass plays of 40-plus yards, two more than New England and the most in the league. "McCarthy has some really good hard play-action-sell deep throws that were made famous back in Kansas City when he was there with
Rich Gannon
and
Elvis Grbac
and those guys," Hasselbeck said. Favre appears as comfortable as ever, posting his highest passer rating since 1996, the season Green Bay defeated New England in the Super Bowl. The Packers aren't back in the big game yet, but McCarthy has them headed in the right direction, through the air and on the ground.
Mike Sando covers the NFL for ESPN.com.
NFL Insider
ESPN Insider NFL columnist and blogger
Covered the NFL since 1998
Member of Pro Football Hall of Fame selection committee
2007 PLAYOFFS

In a rematch of their Week 17 game, the unbeaten Patriots will play the red-hot Giants in Super Bowl XLII in Glendale, Ariz.
Super Bowl Central
Clayton: Eli's managing fine
Chadiha: Focused Giants
AccuScore simulation: Pats to prevail
Chadiha: First Look | Playoff schedule



Conference Championships (Jan. 20)
Patriots 21, Chargers 12
•
Merrill: Questions linger about Moss' postseason
•
Wojciechowski: Whatever it takes, Pats win
•
Pasquarelli: Patriots' offense grinds it out
•
Pasquarelli: Chargers squander opportunites
•
Pats make fourth SB in seven years
•
The Last Call: Mike Sando's observations, more
•
Zoom Gallery:
AFC title game
|
Pats' season
•
Playoff page
Giants 23, Packers 20
•
Clayton: Burress burns Harris, Packers
•
Chadiha: Bitter pill for Packers to swallow
•
Zoom Gallery: Giants edge Packers
•
The Last Call: Mike Sando's observations, more
•
Garber: Coughlin's personality makeover intact
•
Playoff page
Video
•
What is Tom Brady's legacy?
•
Eli and Burress lead Giants
•
Patriots avoid distractions on way to Super Bowl
•
Resilient Giants advance to SB
•
Red-zone efficiency fuels Patriots
Divisional Round (Jan. 12-13)
Packers 42, Seahawks 20
•
Recap
|
Playoff game page
•
Clayton: Ryan Grant sticks to the plan
•
Sando: Disastrous play at TE for Seattle
Patriots 31, Jaguars 20
•
Recap
|
Playoff game page
•
Pasquarelli: Patriots have too many weapons
Chargers 28, Colts 24
•
Recap
|
Playoff game page
•
Wojciechowski: Did Chargers get Pats' attention?
•
Clayton: Colts can't overcome mistakes
Giants 21, Cowboys 17
•
Recap
|
Playoff game page
•
Chadiha: Manning maturing at right time
More divisional playoffs
•
Saturday's Last Call: Pack, Pats advance
•
Sunday's Last Call: Giants, Chargers surprise
Commentary/Features
•
Pasquarelli: Tip Sheet
|
Notes

•
Smith: Special teams loom large
•
Scouts: Kryptonite for top four teams

•
Playoff upsets: By the numbers
•
Page 2: Handicapping the wild-card winners
Wild-Card Round (Jan. 5-6)
Seahawks 35, Redskins 14
•
Recap
|
Playoff game page
•
Clayton: Cool head Holmgren
•
Sando: Redskins inspired by Taylor
Jaguars 31, Steelers 29
•
Recap
|
Playoff game page
•
Chadiha: Jaguars pass character test
Giants 24, Bucs 14
•
Recap
|
Playoff game page
•
Pasquarelli: Manning delivers for Giants
•
Pasquarelli: Giants' D rises to occasion
Chargers 17, Titans 6
•
Recap
|
Playoff game page
•
Clayton: Turner, Rivers silence their critics
More Wild Card Weekend
•
Saturday's Last Call: Hawks, Jags escape
•
Sunday's Last Call: Giants, Chargers rule
•
ZOOM photos:
Saturday
|
Sunday
Commentary/Features
•
Sando: Controversial history of replay
•
Clayton: First and Goal, Wild Card
•
Sando: Playoff mantras
•
Numbers crunching: Wild-card weekend
•
Sunday Countdown
•
TMQ: Do the Pats need to run more?
•
Joyner: Steelers, Giants adjusting on the fly

•
Clayton: Handicapping possible Patriots foes
•
Clayton: Key playoff questions for the AFC
•
Pasquarelli: Key playoff questions for the NFC
Video
•
Chargers bolt past Titans, 17-6
•
Eli Manning silences his critics
•
Seattle's Hasselbeck is underrated
•
Phillips not concerned about late-season slide
Scouts Inc.
•
Ranking the playoff teams
•
Ranking the playoff coaches
•
Off. rankings:
Overall
|
QB
|
WR
|
RB
|
OL
•
Def. rankings:
Overall
|
DL
|
LB
|
DB
|
ST
•
Green: Smith's absence hurting Steelers
•
Williamson: Unknowns powering Bucs

MOST SENT STORIES ON ESPN.COM