Commentary
Special teams loom large in playoffs
Special teams had a huge impact on the outcomes of the wild-card round. Don't be surprised if that's the case this weekend as well, writes Michael Smith.
Originally Published:
January 9, 2008
By
Michael Smith
| ESPN.com
Please pardon the cliché, but had someone told me that David Garrard would go 9-of-21 with two picks while Fred Taylor and Maurice Jones-Drew would combine to rush for 77 yards, I'd have said Jacksonville had no chance to win at Pittsburgh last Saturday night.
Of course, it helped the Jaguars' cause that both of their touchdown drives began in Steelers territory (one thanks to an interception), and the game-winning drive started at the Jags' 49.
It was the same sort of thing in Seattle, where both Seahawks touchdown drives started in Redskins territory, including the go-ahead score. In Tampa Bay, the Giants' first touchdown drive started near midfield, and a fumbled kickoff return set them up deep in Buccaneers territory and led to a field goal that put New York up 10.
[+] Enlarge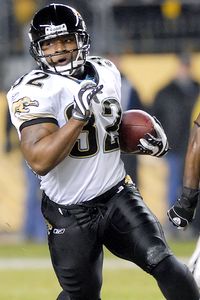 AP Photo/Tom E. PuskarMaurice Jones-Drew will be one of many dangerous return men on display in the divisional playoffs.
When good teams collide, the X factor often is field position, created through turnovers or via the return game. That was the case in the wild-card round and it will continue to be the case through the rest of the playoffs.
So I'll be paying special attention to the special teams. The remaining playoff participants feature players capable of making field position-changing, and therefore game-changing, plays in the kicking game. Jones-Drew (96-yard return Saturday against Pittsburgh), San Diego's Darren Sproles (kickoff and punt return touchdown last time he played the Colts), and New England's Ellis Hobbs (record 108-yard kickoff return in Week 1) were the league's fifth-, sixth-, and seventh-leading kickoff return men, respectively, during the regular season. Seattle's Nate Burleson had a big 20-yard punt return against the Skins and can hurt Green Bay if the Packers aren't careful.
And as always the games could come down to the kickers. Dallas and Green Bay employ a couple of good rookie kickers in Nick Folk and Mason Crosby, respectively, about to get their first taste of the postseason. Seattle's Josh Brown is solid. And then there's Mr. Clutch, the Colts' Adam Vinatieri.
Can't forget about the punters. Dallas' Mat McBriar and San Diego's Mike Scifres are two of the league's finest. The Chargers also feature the AFC Pro Bowl cover guy, Kassim Osgood.
Special teams isn't sexy stuff, but most likely next week we'll be talking about plays here and there in that third of the game that helped decide the divisional matchups.
No point harping on two-point: Get a grip Steelers fans. The Steelers didn't lose to the Jaguars because Mike Tomlin went for two from the 12 down five in the fourth quarter. (The correct call. You've got to make it a three-point game at that point.) Blame the loss on Ben Roethlisberger committing four turnovers, including a pick-six, being sacked six times and Jones-Drew returning a kickoff to the 1. The only call I didn't like was the designed Roethlisberger third-down run with the Steelers protecting a one-point lead.

Crennel
Reward the man: Staying in the AFC North, Romeo Crennel's agent, Joe Linta, and Browns owner Randy Lerner have had preliminary discussions about a contract extension for the head coach. To me it's really simple. If Crennel was worth a five-year deal three years ago when he hadn't been a head coach, isn't he worth five years now after a 10-6 season?
Save it for the tabloids: Let me know when Tony Romo misses practice or a meeting, OK? What's he supposed to do, sleep at the facility and cuddle with the tackling dummies? He's allowed to have a life outside Valley Ranch. Speaking of a life, the people who have a problem with it should go get one.
They know him well: With the Giants' focus presumably on slowing down the Cowboys' Greg Ellis and DeMarcus Ware (26½ sacks between them), I wouldn't be surprised to see Dallas try to pressure Eli Manning up the middle with its inside linebackers to try to rattle him. New York needs center Shaun O'Hara to play Sunday and the interior O-line to play well for Eli to keep up his recent stellar play.
Timely addition: Indy should finally get Marvin Harrison back Sunday. Should he manage to stay on the field throughout the playoffs, the Colts believe he could energize their offense the way Bob Sanders did their defense last postseason, also after missing most of the regular season. Defensively, Indy is more physical and possesses more depth than last year. Looking ahead, I really like the Colts in Foxborough. I just do.
Nice to see you -- sort of: Speaking of Foxborough, as I mentioned on the network the other day, include Patriots director of college scouting Thomas Dimitroff in the group of candidates having interviewed for the Atlanta Falcons' general manager opening.
It truly was a 21st century business meeting. Falcons owner Arthur Blank and his search committee were unable to meet with Dimitroff face-to-face at his home in Colorado last weekend. But after receiving permission to speak with Dimitroff from the Patriots and clearing it with the league, the Falcons quickly and quietly put together a Webcast interview Sunday afternoon with Dimitroff, New England's college director the past four years. The conversation lasted about three-and-a-half hours and included Dimitroff's PowerPoint presentation.
Gotta love modern technology. A lot of people seem to believe the gig will go to Eagles GM Tom Heckert. Dimitroff could emerge as a dark horse in what seems to be a more open race than people on the outside think.
I can understand not going after New England's Scott Pioli because he's unlikely to leave New England, but it's a bit surprising to see Atlanta interview Jags college scouting director Gene Smith but not vice president of player personnel James "Shack" Harris, or for that matter experienced director of pro personnel Charles Bailey. Harris worked under Ozzie Newsome in Baltimore and has had a big hand in building the Jags we're watching, though he does not have final say in Jacksonville and could leave for a GM job.
Staying put: Defensive coordinator Rob Ryan's future in Oakland isn't uncertain. He isn't going anywhere. He and owner Al Davis already have discussed next season, according to a team source. Head coach Lane Kiffin, with one year plus a team option remaining on his contract, supposedly told Davis to fire him if he can't hire and fire coaches. Davis, who's to say the least very hands on with the defense, countered by telling Kiffin to resign if he didn't like it. Ryan's a quality coach whose defense got something of a bad rap this season, but how's any head coach ever supposed to succeed if he can't surround himself with colleagues he trusts? Another reason why the Raiders won't win again anytime soon.
Michael Smith covers pro football for ESPN.
NFL Senior Writer
Michael Smith joined ESPN in July 2004 as a National Football League senior writer for ESPN.com, covering league news and major events such as the NFL Draft, NFL Playoffs and the Super Bowl, and continues to write breaking news stories. He is also a correspondent for E:60, ESPN's first multi-themed prime-time newsmagazine program, which debuted October 2007.
2007 PLAYOFFS

In a rematch of their Week 17 game, the unbeaten Patriots will play the red-hot Giants in Super Bowl XLII in Glendale, Ariz.
Super Bowl Central
Clayton: Eli's managing fine
Chadiha: Focused Giants
AccuScore simulation: Pats to prevail
Chadiha: First Look | Playoff schedule



Conference Championships (Jan. 20)
Patriots 21, Chargers 12
•
Merrill: Questions linger about Moss' postseason
•
Wojciechowski: Whatever it takes, Pats win
•
Pasquarelli: Patriots' offense grinds it out
•
Pasquarelli: Chargers squander opportunites
•
Pats make fourth SB in seven years
•
The Last Call: Mike Sando's observations, more
•
Zoom Gallery:
AFC title game
|
Pats' season
•
Playoff page
Giants 23, Packers 20
•
Clayton: Burress burns Harris, Packers
•
Chadiha: Bitter pill for Packers to swallow
•
Zoom Gallery: Giants edge Packers
•
The Last Call: Mike Sando's observations, more
•
Garber: Coughlin's personality makeover intact
•
Playoff page
Video
•
What is Tom Brady's legacy?
•
Eli and Burress lead Giants
•
Patriots avoid distractions on way to Super Bowl
•
Resilient Giants advance to SB
•
Red-zone efficiency fuels Patriots
Divisional Round (Jan. 12-13)
Packers 42, Seahawks 20
•
Recap
|
Playoff game page
•
Clayton: Ryan Grant sticks to the plan
•
Sando: Disastrous play at TE for Seattle
Patriots 31, Jaguars 20
•
Recap
|
Playoff game page
•
Pasquarelli: Patriots have too many weapons
Chargers 28, Colts 24
•
Recap
|
Playoff game page
•
Wojciechowski: Did Chargers get Pats' attention?
•
Clayton: Colts can't overcome mistakes
Giants 21, Cowboys 17
•
Recap
|
Playoff game page
•
Chadiha: Manning maturing at right time
More divisional playoffs
•
Saturday's Last Call: Pack, Pats advance
•
Sunday's Last Call: Giants, Chargers surprise
Commentary/Features
•
Pasquarelli: Tip Sheet
|
Notes

•
Smith: Special teams loom large
•
Scouts: Kryptonite for top four teams

•
Playoff upsets: By the numbers
•
Page 2: Handicapping the wild-card winners
Wild-Card Round (Jan. 5-6)
Seahawks 35, Redskins 14
•
Recap
|
Playoff game page
•
Clayton: Cool head Holmgren
•
Sando: Redskins inspired by Taylor
Jaguars 31, Steelers 29
•
Recap
|
Playoff game page
•
Chadiha: Jaguars pass character test
Giants 24, Bucs 14
•
Recap
|
Playoff game page
•
Pasquarelli: Manning delivers for Giants
•
Pasquarelli: Giants' D rises to occasion
Chargers 17, Titans 6
•
Recap
|
Playoff game page
•
Clayton: Turner, Rivers silence their critics
More Wild Card Weekend
•
Saturday's Last Call: Hawks, Jags escape
•
Sunday's Last Call: Giants, Chargers rule
•
ZOOM photos:
Saturday
|
Sunday
Commentary/Features
•
Sando: Controversial history of replay
•
Clayton: First and Goal, Wild Card
•
Sando: Playoff mantras
•
Numbers crunching: Wild-card weekend
•
Sunday Countdown
•
TMQ: Do the Pats need to run more?
•
Joyner: Steelers, Giants adjusting on the fly

•
Clayton: Handicapping possible Patriots foes
•
Clayton: Key playoff questions for the AFC
•
Pasquarelli: Key playoff questions for the NFC
Video
•
Chargers bolt past Titans, 17-6
•
Eli Manning silences his critics
•
Seattle's Hasselbeck is underrated
•
Phillips not concerned about late-season slide
Scouts Inc.
•
Ranking the playoff teams
•
Ranking the playoff coaches
•
Off. rankings:
Overall
|
QB
|
WR
|
RB
|
OL
•
Def. rankings:
Overall
|
DL
|
LB
|
DB
|
ST
•
Green: Smith's absence hurting Steelers
•
Williamson: Unknowns powering Bucs

MOST SENT STORIES ON ESPN.COM