Commentary
Cowboys will lose, but don't blame Jessica
The Cowboys will fall to the Giants on Sunday, but it won't be Jessica Simpson's fault, Seth Wickersham writes.
Originally Published:
January 9, 2008
By
Seth Wickersham
| ESPN The Magazine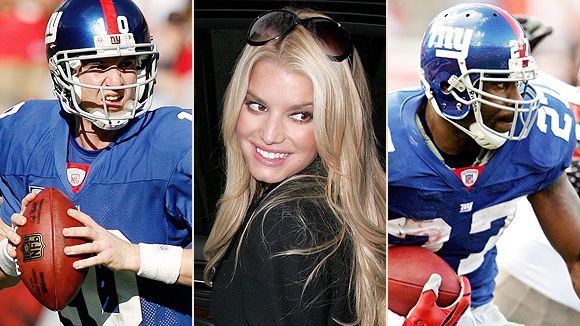 Getty ImagesWith Eli Manning hot (6 TD passes past two games), Jessica Simpson distracting (Tony Romo fling) and Brandon Jacobs on a roll (5 yards per carry), the Giants are a lock Sunday, Seth Wickersham writes.
What's that? You want nine reasons the fifth-seeded Giants will beat the top-seeded Cowboys? Sure, in a New York -- er, New Jersey -- minute.
1. Eli Manning
Note that it's "Eli Manning" and not "The Eli Manning Factor." Now, that's not to say Manning is forever over his inconsistent ways. In fact, Cowboys fans are praying he regresses into one of his 13-of-38 afternoons. But it won't happen, not this Sunday. Not when Manning has hit 42 of his past 59 passes with six touchdowns and one interception against teams with a combined 25-7 record. Not against a defense that, since November, has struggled to stop Aaron Rodgers, Jon Kitna, Jason Campbell, Todd Collins and, in stretches, even Matt Moore.
Divisional Playoff Upsets, 2000-06
Home teams have posted a 20-8 record in the divisional round since 2000. Four of the road victories featured No. 3 seeds' defeating No. 2 seeds. The top seed has lost three times: fourth-seeded Baltimore defeated Tennessee after the 2000 season; sixth-seeded Pittsburgh defeated Indianapolis following the 2005 season; and fourth-seeded New England defeated San Diego last season. Here's a closer look at the eight games in question (conference seedings in parenthesis before team names): Jan. 14, 2007
(4) Patriots 24, (1) Chargers 21
Tom Brady tossed three interceptions and the New England ground game managed only 51 yards, but the Patriots scored 11 points in the final 4:36 to shock the Chargers. Seeding note: The Patriots (12-4) won the AFC East while the Chargers (14-2) ran away with the AFC West. Jan. 13, 2007
(3) Colts 15, (2) Ravens 6
The teams combined for seven field goals without a miss. Adam Vinatieri made kicks from 23, 42, 51, 48 and 35 yards for the Colts. The Colts' Peyton Manning and the Ravens' Steve McNair each tossed two interceptions. Seeding note: One game separated the Ravens (13-3) and Colts (12-4) in the conference standings. Jan. 15, 2006
(5) Panthers 29, (2) Bears 21
Steve Smith caught 12 passes for 218 yards and two touchdowns for the Panthers. Chicago's Rex Grossman completed only 17 of 41 passes with one touchdown and one interception. Seeding note: Chicago and Carolina finished the regular season with 11-5 records. Jan. 15, 2006
(6) Steelers 21, (1) Colts 18
The Steelers jumped to a 21-3 lead and held on even though a botched replay ruling wiped out Troy Polamalu's fourth-quarter interception. Colts kicker Mike Vanderjagt missed from 46 yards with 21 seconds remaining. Seeding note: The Steelers (11-5) finished behind Cincinnati (11-5) in the AFC North before knocking off the Colts (14-2). Jan. 11, 2004
(3) Colts 38, (2) Chiefs 31
Peyton Manning tossed three touchdown passes without an interception, enough to overcome the Chiefs' 196-yard rushing performance. Seeding note: The Colts (12-4) edged Tennessee (12-4) for the AFC South title before defeating the AFC West champion Chiefs (13-3). Jan. 10, 2004
(3) Panthers 29, (2) Rams 23
The Rams overcame an 11-point deficit in the final three minutes of regulation, but Jake Delhomme's 69-yard touchdown pass to Steve Smith ended the game in double overtime. Seeding note: Carolina won the NFC South with an 11-5 record. The Rams (12-4) won the NFC West. Jan. 19, 2002
(3) Eagles 33, (2) Bears 19
The Eagles' Donovan McNabb tossed two touchdown passes. The Bears' Shane Matthews tossed two interceptions. Seeding note: The Eagles won the NFC East and the third seed with an 11-5 record. The Bears (13-3) edged Green Bay (12-4) for the NFC Central crown. Jan. 7, 2001
(4) Ravens 24, (1) Titans 10
The Ravens won despite finishing with five completed passes, six first downs and a 2.1-yard rushing average. The Titans possessed the ball for more than 40 minutes, but the Ravens scored twice on returns. Seeding note: The Titans were 13-3 during regular season, edging the Ravens (12-4) for AFC Central title, relegating Baltimore to wild-card status. • Playoff Upsets: By the numbers -- Mike Sando
Watching Manning the past few weeks: He's shaking secondaries around with his eyes, freezing them with pump fakes, hanging in the pocket and finding the open guy -- and the Giants' pass-catchers, after leading the NFL in drops with 42, are holding on to the ball. Manning won't be fazed by two losses to Dallas this year. His confidence, after all, is sky high because …
2. The loss to New England was a good thing
Tom Coughlin made the right call in playing his starters against the Patriots in Week 17, even if it cost him a few of them. He put it on his players to dig deep against the best regular-season team in history, and they responded, even though they lost. Now, the Giants think, "Hey, we almost -- maybe even should have -- beat the Patriots. Why should we fear anyone else?" Last Sunday, that meant the Bucs. This Sunday, the Cowboys.
Hang around the Giants for a little while, and you hardly recognize them. Last year's famously divided locker room is now tight and confident. Guys pass each other and say hi. Players rumored to be prima donnas (Plaxico Burress) are leaders. Leaders who specialized in self-promotion (Tiki Barber) are gone. Nowhere in this group will you find a player who, oh, declares the star quarterback's girlfriend unwelcome around the team and its fans. Which leads us to …
3. Jessica Simpson
No, she's not a problem. Nor was Tony Romo vacationing with her last week in Mexico. But the media's talking about their relationship can be a problem, not to mention an infuriating irritation for those involved. On Tuesday, there were three headlines in Dallas-area newspapers referring to Romo's bye-week vacation, compared to one about Terrell Owens' injured ankle. In Dallas, they're talking about Mexico. In New York, they're talking about how …
4. The Giants are hot
By any objective measure, the Cowboys are a better team than the Giants, with a better coach, better quarterback, better weapons, not to mention 12 Pro Bowlers. But the Giants have been the better team during the past month, and being hot matters more than being a No. 1 seed. Just ask the '06 Chargers, '05 Colts, and the '04 and '01 Steelers. And the Giants are on a roll in part because …
5. They can run
Among backs with 1,000 or more yards, only Adrian Peterson and Fred Taylor averaged more yards per carry than Brandon Jacobs' 5.0. He's the next Larry Johnson, minus the enigma factor. Mix in Ahmad Bradshaw (17 carries for 151 yards against the Bills in Week 16), and New York has enough to keep Dallas off balance and control the clock. And time of possession will be a headache for the Cowboys because …
6. They can't run
Not consistently, anyway. Rushing yards the past five games: 105, 87, 53, 148, 1. (1!) Which wouldn't be such a big deal, but …
7. Dallas has serious questions at receiver
We know about T.O.'s ankle. He'll gut it out, like he did in Super Bowl XXXIX. But how effective will he be? Suddenly, the guy who elevates Dallas' passing game to another level might not even merit a double team. The Cowboys are happy to have Terry Glenn back, but who knows what kind of threat he will be after missing virtually the entire season. Their timing will be off, unlike that of the Giants' offense, which is reaping the benefits of the fact that …
8. The rest of the '04 QB class has arrived
Three playoff teams -- Pittsburgh, New York and San Diego -- put the game into the hands of their respective first-round quarterback from 2004. Opposing defenses wanted the game in the hands of those quarterbacks. Well, the one with the most playoff success in the past, Ben Roethlisberger, turned the ball over four times. The ones who hadn't won a playoff game, Manning and Philip Rivers, carried their teams to wins. Now, amazingly, Manning has had more playoff success than Romo, not to mention …
9. Two good thumbs
Seth Wickersham is a senior writer for ESPN The Magazine and a columnist for ESPN.com. For Wick's Picks, click here.
ESPN The Magazine senior writer
Seth Wickersham joined ESPN The Magazine after graduating from the University of Missouri. Although he primarily covers the NFL, his assignments also have taken him to the Athens Olympics, the World Series, the NCAA tournament and the NHL and NBA playoffs.
2007 PLAYOFFS

In a rematch of their Week 17 game, the unbeaten Patriots will play the red-hot Giants in Super Bowl XLII in Glendale, Ariz.
Super Bowl Central
Clayton: Eli's managing fine
Chadiha: Focused Giants
AccuScore simulation: Pats to prevail
Chadiha: First Look | Playoff schedule



Conference Championships (Jan. 20)
Patriots 21, Chargers 12
•
Merrill: Questions linger about Moss' postseason
•
Wojciechowski: Whatever it takes, Pats win
•
Pasquarelli: Patriots' offense grinds it out
•
Pasquarelli: Chargers squander opportunites
•
Pats make fourth SB in seven years
•
The Last Call: Mike Sando's observations, more
•
Zoom Gallery:
AFC title game
|
Pats' season
•
Playoff page
Giants 23, Packers 20
•
Clayton: Burress burns Harris, Packers
•
Chadiha: Bitter pill for Packers to swallow
•
Zoom Gallery: Giants edge Packers
•
The Last Call: Mike Sando's observations, more
•
Garber: Coughlin's personality makeover intact
•
Playoff page
Video
•
What is Tom Brady's legacy?
•
Eli and Burress lead Giants
•
Patriots avoid distractions on way to Super Bowl
•
Resilient Giants advance to SB
•
Red-zone efficiency fuels Patriots
Divisional Round (Jan. 12-13)
Packers 42, Seahawks 20
•
Recap
|
Playoff game page
•
Clayton: Ryan Grant sticks to the plan
•
Sando: Disastrous play at TE for Seattle
Patriots 31, Jaguars 20
•
Recap
|
Playoff game page
•
Pasquarelli: Patriots have too many weapons
Chargers 28, Colts 24
•
Recap
|
Playoff game page
•
Wojciechowski: Did Chargers get Pats' attention?
•
Clayton: Colts can't overcome mistakes
Giants 21, Cowboys 17
•
Recap
|
Playoff game page
•
Chadiha: Manning maturing at right time
More divisional playoffs
•
Saturday's Last Call: Pack, Pats advance
•
Sunday's Last Call: Giants, Chargers surprise
Commentary/Features
•
Pasquarelli: Tip Sheet
|
Notes

•
Smith: Special teams loom large
•
Scouts: Kryptonite for top four teams

•
Playoff upsets: By the numbers
•
Page 2: Handicapping the wild-card winners
Wild-Card Round (Jan. 5-6)
Seahawks 35, Redskins 14
•
Recap
|
Playoff game page
•
Clayton: Cool head Holmgren
•
Sando: Redskins inspired by Taylor
Jaguars 31, Steelers 29
•
Recap
|
Playoff game page
•
Chadiha: Jaguars pass character test
Giants 24, Bucs 14
•
Recap
|
Playoff game page
•
Pasquarelli: Manning delivers for Giants
•
Pasquarelli: Giants' D rises to occasion
Chargers 17, Titans 6
•
Recap
|
Playoff game page
•
Clayton: Turner, Rivers silence their critics
More Wild Card Weekend
•
Saturday's Last Call: Hawks, Jags escape
•
Sunday's Last Call: Giants, Chargers rule
•
ZOOM photos:
Saturday
|
Sunday
Commentary/Features
•
Sando: Controversial history of replay
•
Clayton: First and Goal, Wild Card
•
Sando: Playoff mantras
•
Numbers crunching: Wild-card weekend
•
Sunday Countdown
•
TMQ: Do the Pats need to run more?
•
Joyner: Steelers, Giants adjusting on the fly

•
Clayton: Handicapping possible Patriots foes
•
Clayton: Key playoff questions for the AFC
•
Pasquarelli: Key playoff questions for the NFC
Video
•
Chargers bolt past Titans, 17-6
•
Eli Manning silences his critics
•
Seattle's Hasselbeck is underrated
•
Phillips not concerned about late-season slide
Scouts Inc.
•
Ranking the playoff teams
•
Ranking the playoff coaches
•
Off. rankings:
Overall
|
QB
|
WR
|
RB
|
OL
•
Def. rankings:
Overall
|
DL
|
LB
|
DB
|
ST
•
Green: Smith's absence hurting Steelers
•
Williamson: Unknowns powering Bucs
ESPN FAN SHOP