Commentary
Above 'The Norv' hangs a cloud of skepticism, win or lose
Seth Wickersham wonders how Norv Turner can win in the court of public opinion. If the Chargers upset the Patriots on Sunday, their deep roster will be hailed. If they lose, it will be considered Turner's fault.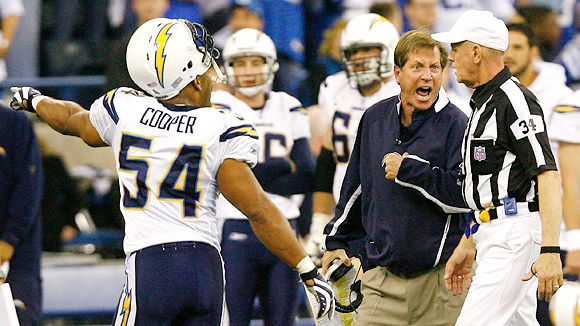 Kevin Terrell/Getty ImagesNorv Turner (center), seen here arguing a call with referee Gerald Austin last Sunday, has the Chargers in the AFC Championship Game. Is that enough for him to win respect for his coaching job this season?
It's so rare to see a team come together right before your eyes. Usually, those moments are behind closed doors, reserved for insiders only. But with 10 minutes left in the fourth quarter Sunday at the RCA Dome, with the
San Diego Chargers
trailing the
Indianapolis Colts
24-21, with
LaDainian Tomlinson
and
Philip Rivers
sidelined, with
Antonio Gates
running on one foot, with the defending Super Bowl champs thinking they finally had put the pesky Chargers to rest, it happened. San Diego's eight-play, 78-yard,
Billy Volek
-led touchdown drive was one of the gutsiest, coolest, most inspiring football moments of the season. And one of the reasons it resonated was that, in a year in which coach Norv Turner has been rightly questioned about his ability to lead the Chargers, he came through in San Diego's seminal moment. This brings up the larger issue surrounding Turner: He might be winning a lot this season, but really, he can't win. It's the tragedy of his job, a curse he knew he would have when he assumed the head coaching crown of what most deem "the NFL's most talented 53-man roster." It's good and bad, fair and unfair, to take over the league's most talented team.
The questions Turner received upon taking over in February 2007 weren't about how he would put his mark on the team; they were about how, with his 58-82-1 career record, he wouldn't derail this talented team's chances. And right now, as the Chargers prepare to face the 17-0 New England Patriots in the AFC Championship Game, Turner either has validated his hiring or has gotten the Chargers to where they should have been all along. Or neither. Or both.
It's easy to say Turner has proved wise the decision by Chargers president Dean Spanos and general manager A.J. Smith to fire Marty Schottenheimer. Many very smart people have. But it's a sentimental time right now, with both Turner's Chargers and Tom Coughlin's
New York Giants
plucking their way from Wild Card Weekend games to the conference championships. Both have been through 2007 seasons rife with criticism, and many media types want to force common ground between the two coaches by claiming that any doubters didn't have the foresight to see this coming -- that the lasting lesson of Coughlin's and Turner's success is how the media rushes to judgment too quickly, that in this 24-hour news cycle, we fail to see the big picture, so on and so forth. But Coughlin and Turner, when you look at it, actually have little in common. Coughlin wasn't blessed with a four-year contract and coaching "the NFL's most talented 53-man roster." No, he was dangling all season, a lame duck charged with fixing his inconsistent franchise quarterback. The Giants gutted their way through almost every opponent during the regular season and overcame the
Dallas Cowboys
when it mattered most. Nobody expected the Giants to make it to the NFC Championship Game, and even if the
Green Bay Packers
roll over them, the Giants' season will go down as a successful one to build upon. Not so in San Diego. While many have marveled at the road the Chargers have taken to Foxborough, Mass. -- overcoming a 1-3 start, turning it on after being 5-5 -- others characterize it as underachieving. Finishing 11-5 in an awful AFC West isn't so impressive, considering Turner's team is littered with young Pro Bowlers, not to mention the greatest tailback since Barry Sanders,
LaDainian Tomlinson
. You could argue that with that roster, San Diego is supposed to be playing for the Super Bowl, and the only reason the current situation seems extraordinary is the lessened expectations following the Chargers' terrible September. So, Turner is in an impossible position. When the Chargers win -- well, isn't the NFL's most talented 53-man roster supposed to win? When the Chargers lose -- why didn't the coaches put those talented players in the right positions? It seems like a reach right now to claim that based on his 18 games as San Diego's coach, Turner is clearly -- without a doubt -- the man who will lead this team to a Super Bowl. But you know what? He is only one win away. His team might be banged up, but a year ago, it dominated the Patriots and would have won had
Marlon McCree
simply dropped down after intercepting
Tom Brady
instead of trying to score. Sure, that was a different Patriots team -- the current one creamed San Diego in September, at a point in the season when New England was its angriest and San Diego was confused. But based on that 78-yard drive against the Colts, you never know when an outmanned team -- even the NFL's most talented 53-man roster -- will prove everyone wrong. Turner has shown that he can make it happen.
Seth Wickersham is a senior writer for ESPN The Magazine and a columnist for ESPN.com. For Wick's Picks, click here.
ESPN The Magazine senior writer
Seth Wickersham joined ESPN The Magazine after graduating from the University of Missouri. Although he primarily covers the NFL, his assignments also have taken him to the Athens Olympics, the World Series, the NCAA tournament and the NHL and NBA playoffs.
2007 PLAYOFFS

In a rematch of their Week 17 game, the unbeaten Patriots will play the red-hot Giants in Super Bowl XLII in Glendale, Ariz.
Super Bowl Central
Clayton: Eli's managing fine
Chadiha: Focused Giants
AccuScore simulation: Pats to prevail
Chadiha: First Look | Playoff schedule



Conference Championships (Jan. 20)
Patriots 21, Chargers 12
•
Merrill: Questions linger about Moss' postseason
•
Wojciechowski: Whatever it takes, Pats win
•
Pasquarelli: Patriots' offense grinds it out
•
Pasquarelli: Chargers squander opportunites
•
Pats make fourth SB in seven years
•
The Last Call: Mike Sando's observations, more
•
Zoom Gallery:
AFC title game
|
Pats' season
•
Playoff page
Giants 23, Packers 20
•
Clayton: Burress burns Harris, Packers
•
Chadiha: Bitter pill for Packers to swallow
•
Zoom Gallery: Giants edge Packers
•
The Last Call: Mike Sando's observations, more
•
Garber: Coughlin's personality makeover intact
•
Playoff page
Video
•
What is Tom Brady's legacy?
•
Eli and Burress lead Giants
•
Patriots avoid distractions on way to Super Bowl
•
Resilient Giants advance to SB
•
Red-zone efficiency fuels Patriots
Divisional Round (Jan. 12-13)
Packers 42, Seahawks 20
•
Recap
|
Playoff game page
•
Clayton: Ryan Grant sticks to the plan
•
Sando: Disastrous play at TE for Seattle
Patriots 31, Jaguars 20
•
Recap
|
Playoff game page
•
Pasquarelli: Patriots have too many weapons
Chargers 28, Colts 24
•
Recap
|
Playoff game page
•
Wojciechowski: Did Chargers get Pats' attention?
•
Clayton: Colts can't overcome mistakes
Giants 21, Cowboys 17
•
Recap
|
Playoff game page
•
Chadiha: Manning maturing at right time
More divisional playoffs
•
Saturday's Last Call: Pack, Pats advance
•
Sunday's Last Call: Giants, Chargers surprise
Commentary/Features
•
Pasquarelli: Tip Sheet
|
Notes

•
Smith: Special teams loom large
•
Scouts: Kryptonite for top four teams

•
Playoff upsets: By the numbers
•
Page 2: Handicapping the wild-card winners
Wild-Card Round (Jan. 5-6)
Seahawks 35, Redskins 14
•
Recap
|
Playoff game page
•
Clayton: Cool head Holmgren
•
Sando: Redskins inspired by Taylor
Jaguars 31, Steelers 29
•
Recap
|
Playoff game page
•
Chadiha: Jaguars pass character test
Giants 24, Bucs 14
•
Recap
|
Playoff game page
•
Pasquarelli: Manning delivers for Giants
•
Pasquarelli: Giants' D rises to occasion
Chargers 17, Titans 6
•
Recap
|
Playoff game page
•
Clayton: Turner, Rivers silence their critics
More Wild Card Weekend
•
Saturday's Last Call: Hawks, Jags escape
•
Sunday's Last Call: Giants, Chargers rule
•
ZOOM photos:
Saturday
|
Sunday
Commentary/Features
•
Sando: Controversial history of replay
•
Clayton: First and Goal, Wild Card
•
Sando: Playoff mantras
•
Numbers crunching: Wild-card weekend
•
Sunday Countdown
•
TMQ: Do the Pats need to run more?
•
Joyner: Steelers, Giants adjusting on the fly

•
Clayton: Handicapping possible Patriots foes
•
Clayton: Key playoff questions for the AFC
•
Pasquarelli: Key playoff questions for the NFC
Video
•
Chargers bolt past Titans, 17-6
•
Eli Manning silences his critics
•
Seattle's Hasselbeck is underrated
•
Phillips not concerned about late-season slide
Scouts Inc.
•
Ranking the playoff teams
•
Ranking the playoff coaches
•
Off. rankings:
Overall
|
QB
|
WR
|
RB
|
OL
•
Def. rankings:
Overall
|
DL
|
LB
|
DB
|
ST
•
Green: Smith's absence hurting Steelers
•
Williamson: Unknowns powering Bucs

MOST SENT STORIES ON ESPN.COM