Commentary
Learning from history could help the Giants make history
What works against the Patriots? There's nothing foolproof. But here are some things the Giants should not do, Seth Wickersham writes.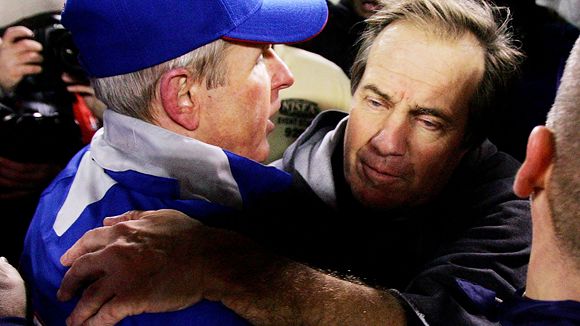 Chris McGrath/Getty ImagesFor their rematch in the Super Bowl, Giants coach Tom Coughlin (left) should learn a trick Patriots counterpart Bill Belichick (right) used as a Giants' assistant in a previous championship game.
OK, Giants, listen up. We here at Upsetters Inc. want to bring your goals to reality. And we know what you want on Super Sunday: To follow the 1990 Giants, 1997 Broncos and 2001 Patriots as underdogs-turned-champs. Well, lucky for you, we've already got a Dos and Don'ts blueprint to victory. Well, not quite. Actually, for the first time since 1972, there are no Dos. See, that's the problem with playing the 18-0 Patriots. You can't name any surefire keys to beating them because no one has. But we do know what you
shouldn't
do. So just make sure a check is by each one of the following and, come Feb. 3, you might be pulling confetti from your hair.
Don't
[+] Enlarge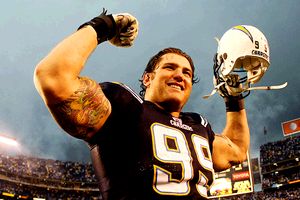 Donald Miralle/Getty ImagesThe Chargers' Igor Olshansky went into the AFC Championship Game against the Patriots feeling confident -- too confident.
say anything stupid.
Steelers safety
Anthony Smith
and Chargers defensive end
Igor Olshansky
are examples 1 and 1A of what happens when you pop off and slight the Patriots before kickoff. Look, we know it's tempting to speak your mind, maybe even pull a Joe Willie, especially with all the cameras around. But keep stroking the Patriots, tough as it may be. The best way to handle being two-touchdown underdogs is to ride with it. Memorize these: "We are facing the best coach, quarterback, and team in NFL history. We just hope it's close."
"Tom Brady doesn't need two feet to beat us."
"I don't blame the oddsmakers. I would have made the spread 17."
See, Giants, this is exactly what the Broncos did against the Packers. They put the spotlight on them all week and didn't give Mike Holmgren any material. Ditto with the 2001 Patriots.
Don't
assume that the Patriots will underprepare. New England knows every in-game scenario because it has practiced each one. You know that punt against the Chargers that Kelley Washington downed inside the 5-yard line? "We've practiced it probably 100 times," he says. Before the San Diego game, Washington and punter Chris Hanson stayed after practice to work on that exact drill. Remember, New York: The Pats won't hand you anything. You have to earn it.
Don't
expect the Patriots to break. This is as tight a team as the NFL has ever seen. After each practice, Brady brings everyone together and leads a "Super Bowl" chant on the count of three. Usually, this stuff is for high school and college. Most NFL teams don't end practice with a cheer. But the Patriots do. No wonder Bill Belichick says they "love" one another. If you expect them to turn on each other if the going gets bad, you're mistaken.
Don't
forget the Giants-Bills Super Bowl. In 1991, the lunch-pail Giants faced the high-flying, fancy Bills. The Giants' defensive game plan -- hatched by Belichick, of course -- was to allow Thurman Thomas to gain 100-plus yards. The logic was this: Knowing that the Giants would struggle against the pass, Belichick told his team to let the Bills gain yardage, luring them into believing they truly controlled the line of scrimmage. Belichick figured it would shorten the game and keep the ball out of Jim Kelly's hands. Then, on third-and-short, he believed the Giants could rise up and stuff the Bills.
Well, that scheme worked. Barely.
Of course it's risky, but the Giants might do well to use Belichick's ideas against his Patriots. Think about it: Would you rather have Laurence Maroney running or Brady passing? Give Maroney some yards. Just stiffen up on third down.
Don't
[+] Enlarge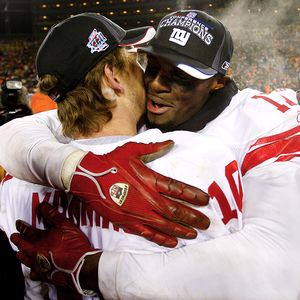 Jamie Squire/Getty ImagesNote to Eli Manning (left): Remember to continue to embrace Plaxico Burress (right) as a huge part of your game plan on Super Bowl Sunday.
forget Terrell Davis.
Before the Packers-Broncos Super Bowl, nobody thought the Broncos, with the lightest offensive line in the NFL, would be able to run on DT
Gilbert Brown
and the Packers. Guess what? They tried anyway, and Davis went around and through the Packers as if they were slalom poles and won the game's MVP honors. The point is to play to your strength. Stick with what got you here. Don't assume just because the Patriots have two weeks to prepare for you that they'll have every equation solved. That means making
Plaxico Burress
a huge part of the game plan, not assuming the Patriots will eliminate him.
Don't
give New England's receivers a clean release. Yeah, we saw what happened to Corey Webster in the NFC Championship when he tried to jam Donald Driver and whiffed: Driver caught a 90-yard touchdown. But it didn't cost you the game.
Don't get frightened by the big play. See how
Randy Moss
,
Wes Welker
,
Donte' Stallworth
, and
Kevin Faulk
-- especially Faulk -- do when they're punished. That's what the 2001 Patriots did against the Rams, and
Isaac Bruce
and
Torry Holt
struggled until the fourth quarter, when it was too late. Rough up New England's pass-catchers a little. Their pain is your friend.
Don't
get conservative.
You're not going to beat the Patriots with field goals. Just ask the Chargers. Don't forget the lessons of UC Berkeley professor David Romer: Field position is overrated. Going for it on fourth down isn't. That should do it, Giants. Good luck. Oh, wait -- we thought of one Do. Pray.
Seth Wickersham is a senior writer for ESPN The Magazine and a columnist for ESPN.com.
ESPN The Magazine senior writer
Seth Wickersham joined ESPN The Magazine after graduating from the University of Missouri. Although he primarily covers the NFL, his assignments also have taken him to the Athens Olympics, the World Series, the NCAA tournament and the NHL and NBA playoffs.
SPONSORED HEADLINES
MORE NFL HEADLINES
MOST SENT STORIES ON ESPN.COM
SUPER BOWL XLII

In one of the great Super Bowl upsets, the Giants defeated the Patriots 17-14 in Super Bowl XLII in Glendale, Ariz.
Super Bowl Central

• Hashmarks blog: Mosley, Sando in Arizona


Game coverage
•
Belichick ready to move on from Super Bowl loss
•
Nevada sports books lose record $2.6M
•
View to a thrill: Record 97.5 million watch XLII
•
Giants' win shatters viewership records
•
Clayton: Can the Giants repeat?
•
Simmons: Free fallin'
•
Giants spoil Pats' perfect season
•
Wojciechowski: Blame Pats for this debacle
•
Wickersham: Brady dazed and confused
•
Clayton: Eli lets instincts take over
•
Clayton: N.Y. 'misfits' harass Brady
•
Sando: Was Brady rattled?
•
Mosley: Belichick left a second early
•
Chadiha: Ten things we learned
•
Garber: Tyree's catch one for the ages
•
Zoom galleries
1
|
2
|
Great SB upsets
•
SportsNation: Best Super Bowl?
•
SportsNation: Biggest SB upset?
•
SportsNation: Your favorite commercials?
Commentary/Features
•
Clayton: Top five contenders for the next SB
•
'72 Fins breathe sigh of relief after Giants win
•
Chadiha: Giants enjoy underdog role
•
Sando: Coughlin, Giants made it work
•
Super Bowl picks: Our experts weigh in
•
Merrill: Nine previously perfect Patriots
•
Merrill: Harrison deals with his rep just fine
•
Clayton: Giants' O-line worthy of accolades
•
Pasquarelli: Tip Sheet
•
Pasquarelli: Tip Sheet notes

•
Wojciechowski: 15 reasons Patriots will win
•
E-ticket: Patriots' man of mystery
•
Sunday Countdown
•
Clayton's First and Goal
•
Chadiha: Giants miss Shockey
•
Garber: Injured war vet inspires Giants
•
Pasquarelli: The Pats' crucial cameos
•
Garber: In Brady's world, insecurity remains
•
Merrill: Hixon's traumatizing season
•
Football Outsiders: SB numbers crunching
•
Pasquarelli: Patriots' silent sentinel
•
Wojciechowski: Unflappable Eli
•
Sando: Brady rising among all-time QBs
•
Chadiha: Giants' rookies playing prominent role
•
Fleming: Cardinals/Pottsville Curse
•
Clayton: Youth serving Giants well
•
Chadiha: Ranking the best QBs by decade
•
Klancnik: Top QBs by jersey number
•
Hashmarks: Media day coverage
|
Gallery
•
Pasquarelli: Pats' old-school LBs
•
Helyar: Marketing windfall for Eli Manning
•
Garber: Seau's ring quest
•
Pasquarelli: Bruschi's full-circle journey
•
Animated plays
•
From the research room
•
Chadiha: Pierce just wants to win
•
Wojciechowski: Explaining Bill Belichick
•
Helyar: Recession? Not at Super Bowl!
•
Giants' Snee doesn't stray from roots
•
Sando: Seymour in eye of storm
•
Merrill: Welker scales new heights for Pats
•
Pasquarelli: Brady is ready to play
•
Garber: The preservation of Plaxico
•
Pasquarelli: Hill's spirit lives on
•
Clayton: Giants' juggling act at CB works
•
Wickersham: Giant ideas
•
Klosterman: All too perfect
•
Crown Jewels: A look at Super Bowl rings
•
FB Outsiders: Giants one of worst SB teams
•
Helyar: Patriots will drive TV ratings
•
Clayton: First and goal
•
Chadiha: Giants' glory road
•
Mosley: Brady's ankle saves the week
•
Woj: Preseason predictions revisited
•
Merrill: David Woodley's dark spotlight
• Former SB QBs:
Plunkett
|
Rypien
|
Ferragamo
• More:
Morton
|
Humphries
|
Hostetler
|
Eason
•
Starting matchups of Super Bowl QBs
• Ranking the QB performances:
1-40
|
41-82
•
Jaworski: Six Super Bowl surprises

•
Joyner: Brady's bad decisions

•
Clayton: Eli's managing fine
•
Chadiha: Focused Giants
•
AccuScore simulation: Pats to prevail
•
Chadiha: First Look at the Super Bowl
•
Playoff schedule
Spy Games
News
•
Vermeil doubts spying made difference for Pats
•
Fish: Ex-Ram Warner suspicious of Pats in SB XXXVI
•&nbsp
Report: Pats taped Rams' SB walk-through
•
Specter to Goodell: Let's talk
•
Fish: Possible 'Spygate' witness surfaces
Commentary
•
Easterbrook: NFL can blame itself for scandal's timing
•
Munson: Congressional interest serious
•
Pasquarelli: Specter should stick with politics
•
Clayton: Spy saga won't distract Patriots
•
Hashmarks at Goodell's news conference
Letters
•&nbsp
Specter to Goodell (.pdf)
•&nbsp
Goodell to Specter (.pdf)
Page 2
•&nbsp
Gallo: Five stages of heartbreak for Pats' fans
•
Hill: Best Super Bowl parties
•
Hill: Teflon Tom Brady
•
Popculture roundtable on the Super Bowl
•
Hill: Raiders quit on Moss
•
Flem File at the Super Bowl
•
Fleming: Defining greatness
•
Best teams never to win a title
•
TMQ: Title-game analysis
•
Why Boston teams are so good
•
Gallo: Countdown to kickoff
•
More from Page 2
News
•
Brady ankle not on injury report
•
Brady on Plax prediction: Only 17 points for Pats?
•
Carey named first black Super Bowl referee
•
Brady practices in Pats' first Super Bowl session
•
Ross gets sick as unified Giants face flu
•
NFL not worried about spying
•
Security high for Super Bowl
•
Williams to be honored during Super Bowl
•
Bootless Brady departs for Arizona
•
Tickets reselling for average of $4,300
•
Burress: Giants' receivers are better
Scouts Inc.
•
Roundtable: Seven scouts weigh in
•
Super Bowl XLII X Factors
•
Coaching comparison: Styles vary, results same
•
Defensive line breakdowns
•
Horton: Notes from the film room (Day 5)
•
Matchups to watch in Super Bowl XLII
•
Running-game breakdown
•
Horton: Notes from the film room (Day 4)
•
QB tale of the the tape
•
Horton: Notes from the film room (Day 3)
•
Ranking NFL QBs 1-64
•
Take II on Super Bowl XLII
•
Giants' DBs overmatched or underrated?
•
Horton: Notes from film room (Day 2)
•
Horton: 10 things to watch in SB XLII
•
Horton: Notes from the film room (Day 1)
•
A tale of two underrated O-lines
•
Take I on Super Bowl XLII
•
Players ranked Nos. 1-106

SportsNation
• Vote:
Which team will win?
• Vote:
Who wins the head-to-head matchups?
• Vote:
Which team are you rooting for?
• Conversation:
Talk Super Bowl XLII
• Map:
Which states are picking the Giants?
• Quiz:
42 Super Bowl history questions
• Chat:
Buzzmaster: Hello from Arizona!
• Chat:
Buzzmaster: Live from Media Day
• Chat:
Buzzmaster: Live with oddsmaker
• Chat:
Buzzmaster: Live with Matt Hasselbeck
• Chat:
Buzzmaster: Live with Gregg Easterbrook
• Rank:
Super Bowl's best individual performances
• Rank:
Super Bowl coaches
• Rank:
Super Bowl careers
• Rank:
Super Bowl teams
• Rank:
Super Bowl games
• Rank:
Greatest all-time quarterbacks
• Vote:
Potential for QB greatness?
• Quiz:
Greatest quarterbacks
• ABCNews:
Super Bowl or Super Tuesday?
• Chat Rewind:
When did undefeated talk start?
• Vote:
Can we proposition you?
• Pulse:
What is SportsNation saying about XLII?
ESPN FAN SHOP