Commentary
Giants leave Brady dazed and confused
With well-timed and beautifully orchestrated blitzes, the Giants managed to do something no other team had done all season -- confuse the great Tom Brady, writes Seth Wickersham.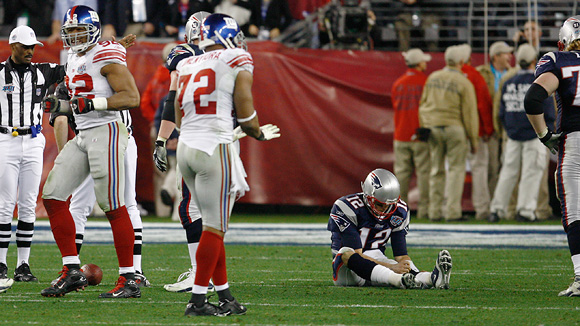 Rob Tringalli for ESPN.comPatriots QB Tom Brady spent a good amount of Sunday's game trying to avoid the Giants' relentless pressure. The league MVP was sacked five times and struggled to find a rhythm.
GLENDALE, Ariz. -- No quarterback has ever been a bigger target before the Super Bowl than
Tom Brady
. He was targeted by 75 photographers outside his girlfriend's Greenwich Village apartment, a fraction of whom targeted him at 4 a.m. outside the New York club Butter.
He was targeted by stalkers, which led to police guarding his Back Bay townhouse in Boston. He was targeted by a faux bride on media day, and most importantly, he was targeted during breakfast on Super Bowl Sunday, when Giants defensive end Osi Umenyiora walked up to Michael Strahan and said, "Do you realize if we don't hit Brady, we don't win the game?"
Strahan realized that. Heck, everybody did. But in developing the game plan that would win Super Bowl XLII, New York did more than target Brady. It confused him, the first defense to do so successfully during New England's 18-1 season. In the Patriots' 17-14 loss, Brady's head was down, his hands on his hips, and between whistles, he was on his back more than in any New England game in recent history.
Everyone realized the Giants had to pressure Brady, including Bill Belichick. Now, had the Patriots won Super Bowl XLII, the following would have been viewed as another genius move by arguably the greatest coach of all time: All week, Belichick tried to simulate the speed of New York's blindingly fast front four in practice by lining up reserve cornerbacks opposite offensive tackles Matt Light and Nick Kaczur.
But although the Patriots seemed prepared for the Giants' speed, New England was caught off guard by New York's power and unpredictability. Running back Kevin Faulk said his team was "out-physicalled." Kaczur said that the Giants, "just outplayed us. They're just better than us." Receiver Donte' Stallworth said, "S---, I don't know what they did."
In the locker room after the game, the Patriots seemed lost rather than distraught. Which meant that Giants defensive coordinator Steve Spagnuolo -- who might have guaranteed himself the Washington Redskins' head coaching job with Sunday's win -- got exactly what he wanted.
"No matter what we called, the players were going to will themselves to be successful," he said. "Even when we didn't blitz, and even when we didn't outfool them or outnumber them, our players just made up their minds to get it done."
It worked. Brady was sacked five times. Laurence Maroney, a hero for the Patriots the past two months, rushed 14 times for only 36 yards. Despite an offensive line full of Pro Bowlers, it seemed as though the Patriots couldn't go more than five plays without a false start penalty. New England's longest completion was 19 yards, its yards-per-attempt average only 4.3, and its 14 points a season low. A few times Sunday, Brady pleaded with New York defensive end Justin Tuck to slow down. Tuck's response: "Just hold the ball a little longer."
Brady did so on occasion, which meant that the game's best quarterback, coming off the greatest season a passer has ever had, was confused. Sometimes, Tuck (five tackles, two sacks) rushed from a two-point stance. Sometimes, it was from a three-point. Sometimes, he was a decoy. Sometimes, the Giants sent free safety Gibril Wilson and linebacker Kawika Mitchell. The Giants, by Spagnuolo's estimation, blitzed only 30-35 percent Sunday. But they were so unpredictable that no Patriot knew what was coming. In other words, they out-New Englanded New England.
"They did a few things that were different," Brady said. "They mixed it up. Because of our inconsistency, it hurt us."
The league MVP resembled his three-time Super Bowl champion self in spurts Sunday, most noticeably while throwing on 11 of 12 plays in a fourth-quarter drive that ended with a 6-yard touchdown pass to Randy Moss. But he never looked comfortable. On the Patriots' first offensive play, he threw incomplete with three Giants in his face. Brady was hit on half of his first 18 pass attempts.
His famously injured right ankle wasn't the factor, but it was a factor. On Saturday night, a Patriots source said that Brady's ankle was bothering him more than anyone let on, especially when throwing deep. His usually deadly accurate passes were woefully off, including a badly overthrown pass to a wide-open Moss with 9:36 in the fourth quarter.
No wonder the Patriots switched almost exclusively to the shotgun, even using tight end Ben Watson as a blocker, on the drive that gave New England a 14-10 lead. While a variety of schemes kept Brady off guard, the one constant was New York's intensity. No wonder the team's Saturday night speaker, Hall of Famer Mike Singletary, lauded the Giants on how they "hit people in the mouth."
"All week long, we talked about even if Brady gets the ball out, we have to hit him to disrupt his rhythm," Spagnuolo said. "The more we do it, the more it'll pay off in the end."
Consider it a target hit.
Seth Wickersham is a senior writer for ESPN The Magazine and a columnist for ESPN.com. Senior writer David Fleming contributed to this story.
ESPN The Magazine senior writer
Seth Wickersham joined ESPN The Magazine after graduating from the University of Missouri. Although he primarily covers the NFL, his assignments also have taken him to the Athens Olympics, the World Series, the NCAA tournament and the NHL and NBA playoffs.
Email him
and follow him on Twitter at
@sethwickersham
.
SPONSORED HEADLINES
MORE NFL HEADLINES
MOST SENT STORIES ON ESPN.COM
SUPER BOWL XLII

In one of the great Super Bowl upsets, the Giants defeated the Patriots 17-14 in Super Bowl XLII in Glendale, Ariz.
Super Bowl Central

• Hashmarks blog: Mosley, Sando in Arizona


Game coverage
•
Belichick ready to move on from Super Bowl loss
•
Nevada sports books lose record $2.6M
•
View to a thrill: Record 97.5 million watch XLII
•
Giants' win shatters viewership records
•
Clayton: Can the Giants repeat?
•
Simmons: Free fallin'
•
Giants spoil Pats' perfect season
•
Wojciechowski: Blame Pats for this debacle
•
Wickersham: Brady dazed and confused
•
Clayton: Eli lets instincts take over
•
Clayton: N.Y. 'misfits' harass Brady
•
Sando: Was Brady rattled?
•
Mosley: Belichick left a second early
•
Chadiha: Ten things we learned
•
Garber: Tyree's catch one for the ages
•
Zoom galleries
1
|
2
|
Great SB upsets
•
SportsNation: Best Super Bowl?
•
SportsNation: Biggest SB upset?
•
SportsNation: Your favorite commercials?
Commentary/Features
•
Clayton: Top five contenders for the next SB
•
'72 Fins breathe sigh of relief after Giants win
•
Chadiha: Giants enjoy underdog role
•
Sando: Coughlin, Giants made it work
•
Super Bowl picks: Our experts weigh in
•
Merrill: Nine previously perfect Patriots
•
Merrill: Harrison deals with his rep just fine
•
Clayton: Giants' O-line worthy of accolades
•
Pasquarelli: Tip Sheet
•
Pasquarelli: Tip Sheet notes

•
Wojciechowski: 15 reasons Patriots will win
•
E-ticket: Patriots' man of mystery
•
Sunday Countdown
•
Clayton's First and Goal
•
Chadiha: Giants miss Shockey
•
Garber: Injured war vet inspires Giants
•
Pasquarelli: The Pats' crucial cameos
•
Garber: In Brady's world, insecurity remains
•
Merrill: Hixon's traumatizing season
•
Football Outsiders: SB numbers crunching
•
Pasquarelli: Patriots' silent sentinel
•
Wojciechowski: Unflappable Eli
•
Sando: Brady rising among all-time QBs
•
Chadiha: Giants' rookies playing prominent role
•
Fleming: Cardinals/Pottsville Curse
•
Clayton: Youth serving Giants well
•
Chadiha: Ranking the best QBs by decade
•
Klancnik: Top QBs by jersey number
•
Hashmarks: Media day coverage
|
Gallery
•
Pasquarelli: Pats' old-school LBs
•
Helyar: Marketing windfall for Eli Manning
•
Garber: Seau's ring quest
•
Pasquarelli: Bruschi's full-circle journey
•
Animated plays
•
From the research room
•
Chadiha: Pierce just wants to win
•
Wojciechowski: Explaining Bill Belichick
•
Helyar: Recession? Not at Super Bowl!
•
Giants' Snee doesn't stray from roots
•
Sando: Seymour in eye of storm
•
Merrill: Welker scales new heights for Pats
•
Pasquarelli: Brady is ready to play
•
Garber: The preservation of Plaxico
•
Pasquarelli: Hill's spirit lives on
•
Clayton: Giants' juggling act at CB works
•
Wickersham: Giant ideas
•
Klosterman: All too perfect
•
Crown Jewels: A look at Super Bowl rings
•
FB Outsiders: Giants one of worst SB teams
•
Helyar: Patriots will drive TV ratings
•
Clayton: First and goal
•
Chadiha: Giants' glory road
•
Mosley: Brady's ankle saves the week
•
Woj: Preseason predictions revisited
•
Merrill: David Woodley's dark spotlight
• Former SB QBs:
Plunkett
|
Rypien
|
Ferragamo
• More:
Morton
|
Humphries
|
Hostetler
|
Eason
•
Starting matchups of Super Bowl QBs
• Ranking the QB performances:
1-40
|
41-82
•
Jaworski: Six Super Bowl surprises

•
Joyner: Brady's bad decisions

•
Clayton: Eli's managing fine
•
Chadiha: Focused Giants
•
AccuScore simulation: Pats to prevail
•
Chadiha: First Look at the Super Bowl
•
Playoff schedule
Spy Games
News
•
Vermeil doubts spying made difference for Pats
•
Fish: Ex-Ram Warner suspicious of Pats in SB XXXVI
•&nbsp
Report: Pats taped Rams' SB walk-through
•
Specter to Goodell: Let's talk
•
Fish: Possible 'Spygate' witness surfaces
Commentary
•
Easterbrook: NFL can blame itself for scandal's timing
•
Munson: Congressional interest serious
•
Pasquarelli: Specter should stick with politics
•
Clayton: Spy saga won't distract Patriots
•
Hashmarks at Goodell's news conference
Letters
•&nbsp
Specter to Goodell (.pdf)
•&nbsp
Goodell to Specter (.pdf)
Page 2
•&nbsp
Gallo: Five stages of heartbreak for Pats' fans
•
Hill: Best Super Bowl parties
•
Hill: Teflon Tom Brady
•
Popculture roundtable on the Super Bowl
•
Hill: Raiders quit on Moss
•
Flem File at the Super Bowl
•
Fleming: Defining greatness
•
Best teams never to win a title
•
TMQ: Title-game analysis
•
Why Boston teams are so good
•
Gallo: Countdown to kickoff
•
More from Page 2
News
•
Brady ankle not on injury report
•
Brady on Plax prediction: Only 17 points for Pats?
•
Carey named first black Super Bowl referee
•
Brady practices in Pats' first Super Bowl session
•
Ross gets sick as unified Giants face flu
•
NFL not worried about spying
•
Security high for Super Bowl
•
Williams to be honored during Super Bowl
•
Bootless Brady departs for Arizona
•
Tickets reselling for average of $4,300
•
Burress: Giants' receivers are better
Scouts Inc.
•
Roundtable: Seven scouts weigh in
•
Super Bowl XLII X Factors
•
Coaching comparison: Styles vary, results same
•
Defensive line breakdowns
•
Horton: Notes from the film room (Day 5)
•
Matchups to watch in Super Bowl XLII
•
Running-game breakdown
•
Horton: Notes from the film room (Day 4)
•
QB tale of the the tape
•
Horton: Notes from the film room (Day 3)
•
Ranking NFL QBs 1-64
•
Take II on Super Bowl XLII
•
Giants' DBs overmatched or underrated?
•
Horton: Notes from film room (Day 2)
•
Horton: 10 things to watch in SB XLII
•
Horton: Notes from the film room (Day 1)
•
A tale of two underrated O-lines
•
Take I on Super Bowl XLII
•
Players ranked Nos. 1-106

SportsNation
• Vote:
Which team will win?
• Vote:
Who wins the head-to-head matchups?
• Vote:
Which team are you rooting for?
• Conversation:
Talk Super Bowl XLII
• Map:
Which states are picking the Giants?
• Quiz:
42 Super Bowl history questions
• Chat:
Buzzmaster: Hello from Arizona!
• Chat:
Buzzmaster: Live from Media Day
• Chat:
Buzzmaster: Live with oddsmaker
• Chat:
Buzzmaster: Live with Matt Hasselbeck
• Chat:
Buzzmaster: Live with Gregg Easterbrook
• Rank:
Super Bowl's best individual performances
• Rank:
Super Bowl coaches
• Rank:
Super Bowl careers
• Rank:
Super Bowl teams
• Rank:
Super Bowl games
• Rank:
Greatest all-time quarterbacks
• Vote:
Potential for QB greatness?
• Quiz:
Greatest quarterbacks
• ABCNews:
Super Bowl or Super Tuesday?
• Chat Rewind:
When did undefeated talk start?
• Vote:
Can we proposition you?
• Pulse:
What is SportsNation saying about XLII?
Fathead Tom Brady Wall Graphic Shop »