Commentary
Giants' Hixon recovers from fateful collision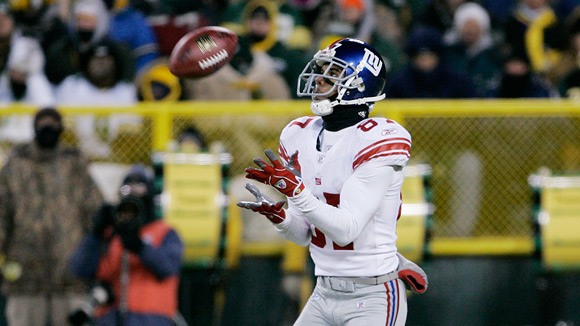 AP Photo/David DupreyDomenik Hixon developed into a key contributor during the Giants' run to the NFC Championship.
GLENDALE, Ariz. -- In the dream, Domenik Hixon is the one on the ground. He wants to get up, but he can't move. He doesn't know who hit him. He has no idea what the dream means.
It is nearly 1 p.m. on Tuesday, and the Pro Bowlers, bald-headed veterans and very serious coaches have all waxed philosophical on the five-month journey that has led them to the Super Bowl. Hixon is standing off to the side, wearing his Giants uniform and a cap pushed backward. His trip has been so much longer.
It started with an NFL debut in Week 1, and froze for 15 minutes when he was on the other end of a collision that put Buffalo's Kevin Everett in the back of an ambulance. Hixon met his family outside by the bus after the game. The first words out of his mouth were, "Hey, Dad, I think he's paralyzed."
Hixon fumbled through the next month, so badly that he was cut by the Broncos, then landed with the Giants a day and a half later.
Now Hixon, an unwitting footnote to the 2007 season, is going to Super Bowl XLII with a New York team that is possibly the ultimate footnote. And he believes they were all brought together for a reason, the 23-year-old castoff from the MAC, Everett and the Giants.
"Best way I can describe it," he says, "is a roller coaster. Up, then down. … But that's the NFL.
"I don't think I'm 100 percent. I just want him to be 100 percent."
"Too good to be true"
Birgit Hixon wouldn't let her son play football until he was about 8 years old. She was afraid he'd get hurt. If it weren't for Domenik's talent, and the fact crowds marveled when he did anything -- football, basketball, baseball or soccer -- the family might've stayed in Germany, where Marvin Hixon, a U.S. serviceman, was stationed.
[+] Enlarge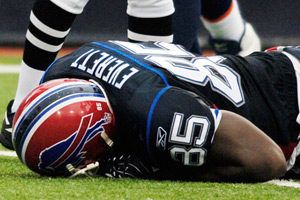 AP Photo/Don HeupelKevin Everett's injury shook many in the NFL community -- but none more than Domenik Hixon.
"I told my wife a long time ago that he would play professional something," Marvin says. "She didn't believe it."
Domenik Hixon learned English and German at the same time, which often confused him. But football always seemed to make sense. He'd always have to watch the Super Bowl, even though it didn't start until about 2 a.m. in Germany. He always had his mom tape it, then begged his buddies not to tell him who won.
When Hixon reached the eighth grade, the family left for the States in pursuit of a college scholarship. Marvin wanted to be stationed in the South; the Army sent him to Columbus, Ohio. In a football-rich state, Domenik was right where he needed to be.
He went to Akron and caught footballs from future NFL quarterback Charlie Frye. He was supposed to play free safety. Coach J.D. Brookhart didn't have a choice, not with a world-class quarterback who had no targets.
In 2005, the Zips were playing for their first conference title, and Hixon was out with cramps and dehydration. He checked himself back into the game with 16 seconds left, with Akron down by six, and caught a 36-yard touchdown pass.
"He's the ultimate team guy," Brookhart says. "If I had a daughter and was looking for a son-in-law, he's the type of man I'd love to have her bring home.
"He's too good to be true."
Like a bad dream
To Hixon, Sept. 9, 2007, was supposed to be a fresh start. He'd lost his entire rookie season because of a foot injury. He lost two friends in Denver that offseason when Darrent Williams was gunned down and Damien Nash died of a heart ailment. Hixon still wears rubber bracelets with his late teammate's names and numbers.
[+] Enlarge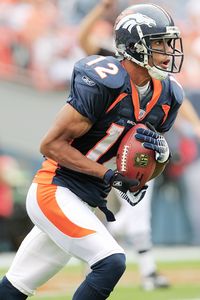 Doug Pensinger/Getty ImagesStill struggling with the impact of Everett's injury, Hixon was released by the Broncos just four games into the 2007 season.
Entering the Broncos' regular-season opener, Hixon was essentially a rookie, a starting receiver who ran a 4.4 40 and possessed unlimited upside. He took the second-half kickoff. He saw Everett coming in for what appeared to be a routine tackle.
They were jolted by the impact. Everett's helmet struck Hixon's shoulder pad, and Everett collapsed to the turf and lay motionless.
The stadium was silent for 15 minutes, but it seemed much longer for Hixon. He begged for Everett to get up, and kneeled and prayed for a man he'd never met.
In the following hours, Everett's injury was called "catastrophic" and "potentially fatal." Buffalo team doctors said Everett was paralyzed from the shoulders down.
"He was devastated," Marvin Hixon says. "Even though it's not your fault, you're still connected."
Hixon played the next few weeks in a fog of guilt and self-doubt. He fumbled in a Week 3 loss to Jacksonville. He fumbled and had a 15-yard penalty the next week in a loss to the Colts. There were whispers that he'd lost his instincts, and Hixon found himself backing off just a little on collisions. But when Denver cut him, Hixon never saw it coming.
He was on the phone with his father just after that, telling him he might be going to Tampa Bay. Thirty seconds later, Hixon found out he had been claimed off waivers by New York. He knew absolutely nothing about the Giants. He knew even less of where his career was headed.
Two weeks after he arrived in New York, he had a dream that he was in Everett's place, lying motionless on the grass.
"It was just me lying there for a second," he says. "Then I woke up. I don't really interpret dreams or anything, but it was really weird."
Road to recovery
Everybody wanted to help Hixon. Opposing players. Old teammates. If there was a turning point in his season, it probably came Dec. 23, when Hixon met Everett in a stadium suite after the Giants played Buffalo.
[+] Enlarge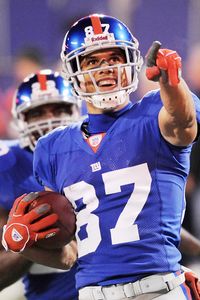 AP Photo/David DupreyHixon's outlook changed immensely after he met with Everett in December.
Seeing Everett, who was walking 14 weeks after a severe spinal cord injury, put Hixon at peace. He didn't want to call him before that. He didn't really know what to say. Now Everett and Hixon have become friends.
They talk and text message about Everett's recovery and the warm weather in Everett's hometown of Houston. Everett laughs about Hixon slogging his way through the cold in New York and tells him he needs to visit. On Thursday, Everett will be on "Oprah." Hixon wants to watch, but he probably won't have time.
He is standing in the middle of the media day circus as a man wearing a swami costume struts by. A guy from a German TV station asks him to do a teaser in his semi-native tongue. Hixon laughs and says he might need 10 takes.
In some ways, he's living the week Everett will probably never get to experience. He talks about the accident almost as if he's talking to a therapist.
"Sometimes, it's mentally draining," he says. "I think time has changed it. But you know, [I] just prayed about it, and God works miracles."
Hixon's recovery has helped put the Giants in the Super Bowl. It was Hixon who pounced on a fumble to help preserve New York's NFC Championship Game upset of the Packers. A few weeks earlier, he returned a kickoff 74 yards against the Patriots for a touchdown.
Now, he does not hesitate. Hixon is himself.
"One of the first things Domenik told me [after the accident] was that he hoped [Everett] had true friends that would stick by him," Marvin says. "That right there changed their lives forever."
Elizabeth Merrill is a senior writer for ESPN.com. She can be reached at merrill2323@hotmail.com.
Senior writer for ESPN.com
Formerly at "The Kansas City Star" and "The Omaha World-Herald"
SPONSORED HEADLINES
MORE NFL HEADLINES
MOST SENT STORIES ON ESPN.COM
SUPER BOWL XLII

In one of the great Super Bowl upsets, the Giants defeated the Patriots 17-14 in Super Bowl XLII in Glendale, Ariz.
Super Bowl Central

• Hashmarks blog: Mosley, Sando in Arizona


Game coverage
•
Belichick ready to move on from Super Bowl loss
•
Nevada sports books lose record $2.6M
•
View to a thrill: Record 97.5 million watch XLII
•
Giants' win shatters viewership records
•
Clayton: Can the Giants repeat?
•
Simmons: Free fallin'
•
Giants spoil Pats' perfect season
•
Wojciechowski: Blame Pats for this debacle
•
Wickersham: Brady dazed and confused
•
Clayton: Eli lets instincts take over
•
Clayton: N.Y. 'misfits' harass Brady
•
Sando: Was Brady rattled?
•
Mosley: Belichick left a second early
•
Chadiha: Ten things we learned
•
Garber: Tyree's catch one for the ages
•
Zoom galleries
1
|
2
|
Great SB upsets
•
SportsNation: Best Super Bowl?
•
SportsNation: Biggest SB upset?
•
SportsNation: Your favorite commercials?
Commentary/Features
•
Clayton: Top five contenders for the next SB
•
'72 Fins breathe sigh of relief after Giants win
•
Chadiha: Giants enjoy underdog role
•
Sando: Coughlin, Giants made it work
•
Super Bowl picks: Our experts weigh in
•
Merrill: Nine previously perfect Patriots
•
Merrill: Harrison deals with his rep just fine
•
Clayton: Giants' O-line worthy of accolades
•
Pasquarelli: Tip Sheet
•
Pasquarelli: Tip Sheet notes

•
Wojciechowski: 15 reasons Patriots will win
•
E-ticket: Patriots' man of mystery
•
Sunday Countdown
•
Clayton's First and Goal
•
Chadiha: Giants miss Shockey
•
Garber: Injured war vet inspires Giants
•
Pasquarelli: The Pats' crucial cameos
•
Garber: In Brady's world, insecurity remains
•
Merrill: Hixon's traumatizing season
•
Football Outsiders: SB numbers crunching
•
Pasquarelli: Patriots' silent sentinel
•
Wojciechowski: Unflappable Eli
•
Sando: Brady rising among all-time QBs
•
Chadiha: Giants' rookies playing prominent role
•
Fleming: Cardinals/Pottsville Curse
•
Clayton: Youth serving Giants well
•
Chadiha: Ranking the best QBs by decade
•
Klancnik: Top QBs by jersey number
•
Hashmarks: Media day coverage
|
Gallery
•
Pasquarelli: Pats' old-school LBs
•
Helyar: Marketing windfall for Eli Manning
•
Garber: Seau's ring quest
•
Pasquarelli: Bruschi's full-circle journey
•
Animated plays
•
From the research room
•
Chadiha: Pierce just wants to win
•
Wojciechowski: Explaining Bill Belichick
•
Helyar: Recession? Not at Super Bowl!
•
Giants' Snee doesn't stray from roots
•
Sando: Seymour in eye of storm
•
Merrill: Welker scales new heights for Pats
•
Pasquarelli: Brady is ready to play
•
Garber: The preservation of Plaxico
•
Pasquarelli: Hill's spirit lives on
•
Clayton: Giants' juggling act at CB works
•
Wickersham: Giant ideas
•
Klosterman: All too perfect
•
Crown Jewels: A look at Super Bowl rings
•
FB Outsiders: Giants one of worst SB teams
•
Helyar: Patriots will drive TV ratings
•
Clayton: First and goal
•
Chadiha: Giants' glory road
•
Mosley: Brady's ankle saves the week
•
Woj: Preseason predictions revisited
•
Merrill: David Woodley's dark spotlight
• Former SB QBs:
Plunkett
|
Rypien
|
Ferragamo
• More:
Morton
|
Humphries
|
Hostetler
|
Eason
•
Starting matchups of Super Bowl QBs
• Ranking the QB performances:
1-40
|
41-82
•
Jaworski: Six Super Bowl surprises

•
Joyner: Brady's bad decisions

•
Clayton: Eli's managing fine
•
Chadiha: Focused Giants
•
AccuScore simulation: Pats to prevail
•
Chadiha: First Look at the Super Bowl
•
Playoff schedule
Spy Games
News
•
Vermeil doubts spying made difference for Pats
•
Fish: Ex-Ram Warner suspicious of Pats in SB XXXVI
•&nbsp
Report: Pats taped Rams' SB walk-through
•
Specter to Goodell: Let's talk
•
Fish: Possible 'Spygate' witness surfaces
Commentary
•
Easterbrook: NFL can blame itself for scandal's timing
•
Munson: Congressional interest serious
•
Pasquarelli: Specter should stick with politics
•
Clayton: Spy saga won't distract Patriots
•
Hashmarks at Goodell's news conference
Letters
•&nbsp
Specter to Goodell (.pdf)
•&nbsp
Goodell to Specter (.pdf)
Page 2
•&nbsp
Gallo: Five stages of heartbreak for Pats' fans
•
Hill: Best Super Bowl parties
•
Hill: Teflon Tom Brady
•
Popculture roundtable on the Super Bowl
•
Hill: Raiders quit on Moss
•
Flem File at the Super Bowl
•
Fleming: Defining greatness
•
Best teams never to win a title
•
TMQ: Title-game analysis
•
Why Boston teams are so good
•
Gallo: Countdown to kickoff
•
More from Page 2
News
•
Brady ankle not on injury report
•
Brady on Plax prediction: Only 17 points for Pats?
•
Carey named first black Super Bowl referee
•
Brady practices in Pats' first Super Bowl session
•
Ross gets sick as unified Giants face flu
•
NFL not worried about spying
•
Security high for Super Bowl
•
Williams to be honored during Super Bowl
•
Bootless Brady departs for Arizona
•
Tickets reselling for average of $4,300
•
Burress: Giants' receivers are better
Scouts Inc.
•
Roundtable: Seven scouts weigh in
•
Super Bowl XLII X Factors
•
Coaching comparison: Styles vary, results same
•
Defensive line breakdowns
•
Horton: Notes from the film room (Day 5)
•
Matchups to watch in Super Bowl XLII
•
Running-game breakdown
•
Horton: Notes from the film room (Day 4)
•
QB tale of the the tape
•
Horton: Notes from the film room (Day 3)
•
Ranking NFL QBs 1-64
•
Take II on Super Bowl XLII
•
Giants' DBs overmatched or underrated?
•
Horton: Notes from film room (Day 2)
•
Horton: 10 things to watch in SB XLII
•
Horton: Notes from the film room (Day 1)
•
A tale of two underrated O-lines
•
Take I on Super Bowl XLII
•
Players ranked Nos. 1-106

SportsNation
• Vote:
Which team will win?
• Vote:
Who wins the head-to-head matchups?
• Vote:
Which team are you rooting for?
• Conversation:
Talk Super Bowl XLII
• Map:
Which states are picking the Giants?
• Quiz:
42 Super Bowl history questions
• Chat:
Buzzmaster: Hello from Arizona!
• Chat:
Buzzmaster: Live from Media Day
• Chat:
Buzzmaster: Live with oddsmaker
• Chat:
Buzzmaster: Live with Matt Hasselbeck
• Chat:
Buzzmaster: Live with Gregg Easterbrook
• Rank:
Super Bowl's best individual performances
• Rank:
Super Bowl coaches
• Rank:
Super Bowl careers
• Rank:
Super Bowl teams
• Rank:
Super Bowl games
• Rank:
Greatest all-time quarterbacks
• Vote:
Potential for QB greatness?
• Quiz:
Greatest quarterbacks
• ABCNews:
Super Bowl or Super Tuesday?
• Chat Rewind:
When did undefeated talk start?
• Vote:
Can we proposition you?
• Pulse:
What is SportsNation saying about XLII?