Commentary
Giants spoil Patriots' season
It wasn't pretty, but the Patriots held on to complete their perfect season.
Updated:
February 3, 2008, 11:00 PM ET
By
Greg Garber
| ESPN.com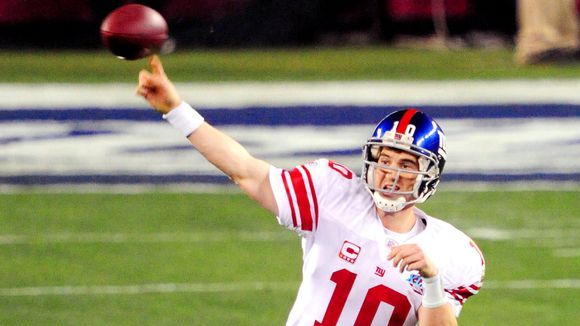 Mark J. Rebilas-US PRESSWIRESuper Bowl MVP Eli Manning, who passed for 255 yards, became the second straight Manning to win a title. Brother Peyton led the Colts to the Super Bowl XLI title last season.
GLENDALE, Ariz. -- There was a palpable expectation of history here on chilly night in the Arizona desert. Super Bowl XLII delivered on that score, but history of a different sort was made Sunday.
The Giants, 12-point underdogs, ruined the New England Patriots' quest for a perfect season. New York, which lost six of 16 games during the regular season, prevailed 17-14 at University of Phoenix Stadium.
Quarterback Eli Manning, the game's MVP, lofted a regal, floating 13-yard pass to Plaxico Burress -- over Patriots cornerback Ellis Hobbs - to put the Giants over the top with 35 seconds left.
"The guys on this team and the run we've made, it's hard to believe -- it really is," Manning said. "The drive at the end there were so many clutch plays by so many guys. It is an unbelievable game and an unbelievable feeling."
Said Burress: "This is the greatest feeling in professional sports. For us to come out and win a world championship tonight -- nobody gave us a shot."
Somewhere, the 1972 Miami Dolphins (17-0) are popping their long-awaited champagne.
The Giants are nothing if not resilient. Because they were technically the visiting team, they won their 11th consecutive game on the road, including all four playoff games.
It was the second straight Super Bowl victory for a son of Archie and Olivia Manning, a tribute to good genes and diligent film study. The Colts' Peyton Manning won his first Super Bowl last season at the age of 30. Eli, who was also a No. 1 overall pick in the NFL Draft, is three years younger.
Manning completed 19 of 34 passes for 255 yards and two touchdowns.
This was especially sweet for defensive end Michael Strahan and wide receiver Amani Toomer, the only holdovers from the 34-7 strafing by the Baltimore Ravens in Super Bowl XXXV. In addition, it was the third Super Bowl victory for one of the league's most venerable franchises, to go with the Vince Lombardi trophies won at the end of the 1986 and 1990 seasons.
"We shocked the world but not ourselves," Giants linebacker Antonio Pierce said.
The Patriots beat the Giants 38-35 in the final regular-season game five weeks ago, but the Giants gained a great deal of confidence in the process. On Sunday, they proved that first meeting was no fluke.
If the Giants had a dream scenario for the opening drive, their first possession, which consumed nine minutes and 59 seconds and required 16 plays, was it. Manning converted his first three third downs (a first-drive record for Super Bowls), but couldn't manage a fourth, when he threw too far underneath to Steve Smith. Lawrence Tynes, who won the NFC title game with an overtime field goal, hit one from 32 yards out to give the Giants a 3-0 lead.
The Patriots answered with a similarly muscular drive but, tellingly, came away with more. On third-and-10 at the Giants' 17-yard-line, Pierce, his back to the ball, hit Patriots tight end Benjamin Watson as he reached for the ball in the end zone. It was called pass interference and two plays later Laurence Maroney - who began things with a 43-yard kickoff return - finished it with a 1-yard run three seconds into the second quarter.
It marked the fewest possessions ever (two) in a Super Bowl's opening quarter.
The Giants drove inside the Patriots' 20, when something happened to Manning for the first time in these playoffs - he was intercepted, but through no fault of his own. Smith bobbled a low ball and it popped up, right into the hands of cornerback Ellis Hobbs. The Giants' defense held the Patriots, but then the offense nearly turned the ball over a second time, but Ahmad Bradshaw recovered his own fumble.
Coming into the game, the key matchup appeared to be the Giants' pass rush -- which produced a league-high 53 sacks over the regular season -- versus the Patriots' offensive line. In the Dec. 29 meeting between the two teams, Brady was only sacked once, and that was minus two starters.
With all five regular starters in, the Giants sacked Brady on back-to-back plays midway through the second quarter. Kawika Mitchell, feigned a drop-back posture and blitzed. He and Michael Strahan both got a piece of Brady for a six-yard loss. On the next play, defensive end Justin Tuck blew inside left guard Logan Mankins and leveled Brady.
The Giants had a terrific opportunity to make it a one-point game, but a crazy circus play worked against them. Patriots' linebacker Adalius Thomas knocked the ball loose from Manning and Bradshaw tried to knock the ball out of bounds. It stayed in, and Smith recovered for what would have been a first down. But Bradshaw was flagged for an illegal touch and the Giants were eventually forced to punt.
The Patriots were driving down the field, when Tuck hit Brady again, this time from behind, and knocked the ball loose. The Giants recovered and a Hail Mary fell incomplete in the New England end zone to end a curiously quiet first half.
At halftime, the Giants had run 34 plays to 27 by the Patriots, and possessed the ball for 19 minutes and 27 seconds of 30 minutes. And yet, they trailed by the modest margin of 7-3.
Tuck, who recently signed a contract extension, had six tackles at the half , two sacks and a forced fumble. Giants defensive coordinator Steve Spagnuolo created pressure with a variety of looks (one time he blitzed two defensive backs), almost exclusively up the middle.
As a result, the Patriots had a paltry 81 yards in the first half and the offense looked disjointed and unsettled.
With the Spygate scandal and new allegations that the Patriots videotaped the St. Louis Rams, Belichick has been under fire for violating the moral spirit of competition. Just the same, his anal-retentive nature can be a plus. Early in the third quarter, Belichick successfully challenged a non-call and a review showed that, indeed, linebacker Chase Blackburn was the 12th man on the field for a punt. The Patriots retained possession, but a Strahan sack eventually led Belichick to pass on a 49-yard field goal attempt.
And so, Giants continued to hang around.
On first down at their own 20, Manning flipped a pass to rookie tight end Kevin Boss. He caught it at the 39 and, when safety Rodney Harrison missed the tackle, it was good very good for a 45-yard play. A few plays later, Manning threaded a perfect five-yard pass through traffic to David Tyree and the Giants, almost inexplicably, led 10-7 with 11:05 remaining.
It was Tyree's first touchdown of the season.
Naturally, the Patriots came back. Brady moved them down the field, throwing underneath more often than not. And then, on the 12th play of the drive, Brady hit his favorite receiver, Randy Moss. The Giants elected to double Wes Welker inside and left cornerback Corey Webster alone with Moss. When Webster tripped on his backpedal, Moss was wide open for a seven-yard touchdown on third-and-goal.
Manning, however, engineered a terrific drive as time ran down. The signature play: Manning, ducking and spinning, somehow avoided a serve rush and Tyree managed to catch a 33-yard catch he initially pinned the ball on his helmet with one hand and the Giants had the ball at the Patriots' 24-yard-line. With 35 seconds left, Manning hit Burress with a gorgeous 25-yard touchdown pass and the perfect season had congealed, horribly, into the twisted wreckage of a shocking loss.
The Patriots started their final drive on their own 26 with 29 seconds left, but Brady had no magic to offer. Two incomplete passes and a sack preceded the final chance, with 10 seconds left. A long, long pass to Moss fell incomplete and the crowd went absolutely berserk.
For two weeks, the focus was on the Patriots and their date with destiny. Few outside the locker room in East Rutherford, N.J. gave the Giants much of a chance.
So much for perfection. The Giants will take a little something less.
Greg Garber is a senior writer for ESPN.com.
Writer, Reporter
Greg Garber joined ESPN in 1991 and provides reports for NFL Countdown and SportsCenter. He is also a regular contributor to Outside the Lines and a senior writer for ESPN.com.
SPONSORED HEADLINES
MORE NFL HEADLINES
MOST SENT STORIES ON ESPN.COM
SUPER BOWL XLII

In one of the great Super Bowl upsets, the Giants defeated the Patriots 17-14 in Super Bowl XLII in Glendale, Ariz.
Super Bowl Central

• Hashmarks blog: Mosley, Sando in Arizona


Game coverage
•
Belichick ready to move on from Super Bowl loss
•
Nevada sports books lose record $2.6M
•
View to a thrill: Record 97.5 million watch XLII
•
Giants' win shatters viewership records
•
Clayton: Can the Giants repeat?
•
Simmons: Free fallin'
•
Giants spoil Pats' perfect season
•
Wojciechowski: Blame Pats for this debacle
•
Wickersham: Brady dazed and confused
•
Clayton: Eli lets instincts take over
•
Clayton: N.Y. 'misfits' harass Brady
•
Sando: Was Brady rattled?
•
Mosley: Belichick left a second early
•
Chadiha: Ten things we learned
•
Garber: Tyree's catch one for the ages
•
Zoom galleries
1
|
2
|
Great SB upsets
•
SportsNation: Best Super Bowl?
•
SportsNation: Biggest SB upset?
•
SportsNation: Your favorite commercials?
Commentary/Features
•
Clayton: Top five contenders for the next SB
•
'72 Fins breathe sigh of relief after Giants win
•
Chadiha: Giants enjoy underdog role
•
Sando: Coughlin, Giants made it work
•
Super Bowl picks: Our experts weigh in
•
Merrill: Nine previously perfect Patriots
•
Merrill: Harrison deals with his rep just fine
•
Clayton: Giants' O-line worthy of accolades
•
Pasquarelli: Tip Sheet
•
Pasquarelli: Tip Sheet notes

•
Wojciechowski: 15 reasons Patriots will win
•
E-ticket: Patriots' man of mystery
•
Sunday Countdown
•
Clayton's First and Goal
•
Chadiha: Giants miss Shockey
•
Garber: Injured war vet inspires Giants
•
Pasquarelli: The Pats' crucial cameos
•
Garber: In Brady's world, insecurity remains
•
Merrill: Hixon's traumatizing season
•
Football Outsiders: SB numbers crunching
•
Pasquarelli: Patriots' silent sentinel
•
Wojciechowski: Unflappable Eli
•
Sando: Brady rising among all-time QBs
•
Chadiha: Giants' rookies playing prominent role
•
Fleming: Cardinals/Pottsville Curse
•
Clayton: Youth serving Giants well
•
Chadiha: Ranking the best QBs by decade
•
Klancnik: Top QBs by jersey number
•
Hashmarks: Media day coverage
|
Gallery
•
Pasquarelli: Pats' old-school LBs
•
Helyar: Marketing windfall for Eli Manning
•
Garber: Seau's ring quest
•
Pasquarelli: Bruschi's full-circle journey
•
Animated plays
•
From the research room
•
Chadiha: Pierce just wants to win
•
Wojciechowski: Explaining Bill Belichick
•
Helyar: Recession? Not at Super Bowl!
•
Giants' Snee doesn't stray from roots
•
Sando: Seymour in eye of storm
•
Merrill: Welker scales new heights for Pats
•
Pasquarelli: Brady is ready to play
•
Garber: The preservation of Plaxico
•
Pasquarelli: Hill's spirit lives on
•
Clayton: Giants' juggling act at CB works
•
Wickersham: Giant ideas
•
Klosterman: All too perfect
•
Crown Jewels: A look at Super Bowl rings
•
FB Outsiders: Giants one of worst SB teams
•
Helyar: Patriots will drive TV ratings
•
Clayton: First and goal
•
Chadiha: Giants' glory road
•
Mosley: Brady's ankle saves the week
•
Woj: Preseason predictions revisited
•
Merrill: David Woodley's dark spotlight
• Former SB QBs:
Plunkett
|
Rypien
|
Ferragamo
• More:
Morton
|
Humphries
|
Hostetler
|
Eason
•
Starting matchups of Super Bowl QBs
• Ranking the QB performances:
1-40
|
41-82
•
Jaworski: Six Super Bowl surprises

•
Joyner: Brady's bad decisions

•
Clayton: Eli's managing fine
•
Chadiha: Focused Giants
•
AccuScore simulation: Pats to prevail
•
Chadiha: First Look at the Super Bowl
•
Playoff schedule
Spy Games
News
•
Vermeil doubts spying made difference for Pats
•
Fish: Ex-Ram Warner suspicious of Pats in SB XXXVI
•&nbsp
Report: Pats taped Rams' SB walk-through
•
Specter to Goodell: Let's talk
•
Fish: Possible 'Spygate' witness surfaces
Commentary
•
Easterbrook: NFL can blame itself for scandal's timing
•
Munson: Congressional interest serious
•
Pasquarelli: Specter should stick with politics
•
Clayton: Spy saga won't distract Patriots
•
Hashmarks at Goodell's news conference
Letters
•&nbsp
Specter to Goodell (.pdf)
•&nbsp
Goodell to Specter (.pdf)
Page 2
•&nbsp
Gallo: Five stages of heartbreak for Pats' fans
•
Hill: Best Super Bowl parties
•
Hill: Teflon Tom Brady
•
Popculture roundtable on the Super Bowl
•
Hill: Raiders quit on Moss
•
Flem File at the Super Bowl
•
Fleming: Defining greatness
•
Best teams never to win a title
•
TMQ: Title-game analysis
•
Why Boston teams are so good
•
Gallo: Countdown to kickoff
•
More from Page 2
News
•
Brady ankle not on injury report
•
Brady on Plax prediction: Only 17 points for Pats?
•
Carey named first black Super Bowl referee
•
Brady practices in Pats' first Super Bowl session
•
Ross gets sick as unified Giants face flu
•
NFL not worried about spying
•
Security high for Super Bowl
•
Williams to be honored during Super Bowl
•
Bootless Brady departs for Arizona
•
Tickets reselling for average of $4,300
•
Burress: Giants' receivers are better
Scouts Inc.
•
Roundtable: Seven scouts weigh in
•
Super Bowl XLII X Factors
•
Coaching comparison: Styles vary, results same
•
Defensive line breakdowns
•
Horton: Notes from the film room (Day 5)
•
Matchups to watch in Super Bowl XLII
•
Running-game breakdown
•
Horton: Notes from the film room (Day 4)
•
QB tale of the the tape
•
Horton: Notes from the film room (Day 3)
•
Ranking NFL QBs 1-64
•
Take II on Super Bowl XLII
•
Giants' DBs overmatched or underrated?
•
Horton: Notes from film room (Day 2)
•
Horton: 10 things to watch in SB XLII
•
Horton: Notes from the film room (Day 1)
•
A tale of two underrated O-lines
•
Take I on Super Bowl XLII
•
Players ranked Nos. 1-106

SportsNation
• Vote:
Which team will win?
• Vote:
Who wins the head-to-head matchups?
• Vote:
Which team are you rooting for?
• Conversation:
Talk Super Bowl XLII
• Map:
Which states are picking the Giants?
• Quiz:
42 Super Bowl history questions
• Chat:
Buzzmaster: Hello from Arizona!
• Chat:
Buzzmaster: Live from Media Day
• Chat:
Buzzmaster: Live with oddsmaker
• Chat:
Buzzmaster: Live with Matt Hasselbeck
• Chat:
Buzzmaster: Live with Gregg Easterbrook
• Rank:
Super Bowl's best individual performances
• Rank:
Super Bowl coaches
• Rank:
Super Bowl careers
• Rank:
Super Bowl teams
• Rank:
Super Bowl games
• Rank:
Greatest all-time quarterbacks
• Vote:
Potential for QB greatness?
• Quiz:
Greatest quarterbacks
• ABCNews:
Super Bowl or Super Tuesday?
• Chat Rewind:
When did undefeated talk start?
• Vote:
Can we proposition you?
• Pulse:
What is SportsNation saying about XLII?