Commentary
Holmes gains toehold as great player
By asking to be the go-to guy on the Steelers' winning drive, Santonio Holmes established himself as a great player, Jeffri Chadiha writes.
TAMPA, Fla. -- Pittsburgh Steelers wide receiver Santonio Holmes knew what he had to do as Pittsburgh prepared for its game-winning drive in Super Bowl XLIII. He had spent all season trying to convince his coaches that he should be a go-to guy in clutch situations. He'd spent all week listening to friends tell him how he'd have a great shot at winning the Most Valuable Player award in this game.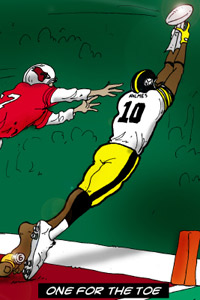 ESPN Illustration/Kurt Snibbe
So when Holmes entered the Steelers' huddle with his team trailing the
Arizona Cardinals
by three points with just over two minutes left in the contest, he didn't mince words: "I just told Ben [Roethlisberger] that I wanted to be the guy who makes the key plays here," Holmes said.
Holmes didn't just put himself on a path to claiming Super Bowl MVP honors after that proclamation; he took an undeniably valuable step in his career development. By stepping forward and demanding the ball in the critical moments of a 27-23 win over the Cardinals, Holmes proved he was more than just a promising receiver with blazing speed and dependable hands. He also showed the world that he had one key quality that separates good players from great ones: He wanted the game on his shoulders when it truly mattered most.
This is the same characteristic that made Arizona Pro Bowl wide receiver Larry Fitzgerald such a special player this postseason. It's also a trademark of fellow Steelers wide receiver Hines Ward, who has been the team's top target for most of the past decade. Now Holmes seems to be fully aware that this is his time to shine.
Winning the MVP "means all the hard work and dedication I put into this season has paid off," Holmes said. "Things didn't always go my way this season. I didn't become a 1,000-yard receiver [Holmes had 821 yards on 55 receptions], but I always kept telling the coaches I wanted to be a playmaker. I wanted to be the guy they could trust in the key situations."
Super Bowl MVPs

Santonio Holmes followed in the footsteps of fellow Steelers receiver Hines Ward in winning a Super Bowl MVP award. Here are the last 10 winners:
| Year | MVP | Team |
| --- | --- | --- |
| 2009 | Santonio Holmes | Steelers |
| 2008 | Eli Manning | Giants |
| 2007 | Peyton Manning | Colts |
| 2006 | Hines Ward | Steelers |
| 2005 | Deion Branch | Patriots |
| 2004 | Tom Brady | Patriots |
| 2003 | Dexter Jackson | Buccaneers |
| 2002 | Tom Brady | Patriots |
| 2001 | Ray Lewis | Ravens |
| 2000 | Kurt Warner | Rams |
There's no denying Holmes was that player Sunday night. He produced more than any other receiver on the field (nine receptions, 131 yards and one touchdown) and was at his best on the final drive. Holmes wound up with four catches during that possession and Roethlisberger went to him three straight times at the end of the series. One of those plays was a 40-yard reception. Another was a dropped pass in the back of the end zone after Ward mistimed his leap. And the final one was a moment that will now live in the memories of Steelers fans for years to come.
Initially, Roethlisberger had wanted to look for other receivers on the second-down play from the Cardinals' 6-yard line with 48 seconds left in the game. But Arizona's defenders had clamped down on Roethlisberger's first read (running back Mewelde Moore in the flat) and they had pounced on his second option, which was Ward working around the goal line. That defensive strategy didn't account for Holmes, however. He broke free in the back corner of the end zone and snared Roethlisberger's pass while barely keeping his feet inbounds.
"Once I got my hands on the football," Holmes said. "I knew I could make the play."
"After that [dropped pass by Holmes], Santonio came back to the huddle and said, 'My bad,'" Roethlisberger said. "I told him it didn't matter because I'm coming back to you. That's the kind of confidence I have in him and I know he has it in himself."
To be honest, it wasn't a stretch to see Holmes playing a major role in this game. When Ward suffered a knee injury in the AFC Championship Game win over the Baltimore Ravens, Holmes understood that he'd have to step up his game. In fact, Ward pulled Holmes aside on the bus ride from the team hotel to Raymond James Stadium. Ward broke things down quickly for Holmes, too: Holmes needed to be playing at a high level because Ward wasn't going to be completely healthy.
Remember, this was the same player whom the Steelers suspended for a game after police arrested him for marijuana possession in October. It wasn't the first time Holmes had a run-in with the law as a pro athlete -- he was arrested on suspicion of assault during his rookie season -- but he's thankful that coach Mike Tomlin punished him. Holmes said he learned plenty about himself and his love of football when the game was taken away from him. It helped him realize the kind of player he really needed to become.
Insider

Santonio Holmes showed that these days a go-to guy at WR can win you a Super Bowl. Story
• Big Ben Vs. Blitz
• Can't Stop Fitzgerald
That's another reason why Sunday was so momentous for Holmes. When the Cardinals surged ahead to take that three-point lead late in the fourth quarter, Holmes sat on the bench wondering how his dreams could die so quickly. But that's when teammates like cornerback
Bryant McFadden
came up to Holmes and told him to get ready. As much as Fitzgerald was dominating for the Cardinals -- he finished with seven receptions for 127 yards and two touchdowns -- the Steelers expected the same from Holmes.
The only thing Holmes couldn't predict was the MVP trophy actually winding up in his hands. He figured that would never happen after he watched Steelers Pro Bowl outsider linebacker and NFL Defensive Player of the Year James Harrison return a second-quarter interception 100 yards for a touchdown. Plays like that are pretty rare in the Super Bowl, Holmes thought. And seldom do they go unrewarded.
But Holmes eventually did realize his dream and his teammates are grateful for that. They know how hard he has worked and they know what he has meant to this Super Bowl season. That's also why Roethlisberger joked with Holmes that he shouldn't let this MVP award go to his head. The way the Steelers see it, this young receiver has plenty of other big moments still waiting for him in what should be a brilliant career.
Senior writer Jeffri Chadiha covers the NFL for ESPN.com.
ESPN.com senior NFL columnist
Reporter for ESPN TV's "E:60"
Sports Illustrated senior writer (2000-07)
Covered Raiders, 49ers for San Francisco Examiner (1996-1999)
SPONSORED HEADLINES
MORE NFL HEADLINES
MOST SENT STORIES ON ESPN.COM
SUPER BOWL XLIII
In one of the best Super Bowls ever, the Steelers blew a 13-point lead before they delivered their own comeback to beat Arizona, 27-23. Super Central
Super Bowl results | MVPs
Photos: Game action | Halftime show


GAME COVERAGE
SB WEEK COLUMNS/FEATURES
CARDINALS SB WEEK COVERAGE
STEELERS SB WEEK COVERAGE