Commentary
Tomlin needs a milestone playoff victory
To move his career to the next level of acceptance, second-year Steelers head coach Mike Tomlin must help his team beat the Chargers on Sunday, John Clayton writes.
Originally Published:
January 4, 2009
By
John Clayton
| ESPN.com
Replacing Bill Cowher wasn't easy. On the surface, Mike Tomlin has appeared to do it seamlessly.
In his two-year stint as Pittsburgh Steelers head coach, Tomlin has a 22-10 regular-season record. The team has made the playoffs in both seasons. His most impressive accomplishment was winning 12 games this season despite playing a schedule against opponents with a combined 2007 record of .598, considered one of the toughest in decades. Tomlin's Steelers went 7-4 against teams with .500 records or better.
Tomlin doesn't garner nearly as much coach of the year consideration as other candidates. In Pittsburgh, winning seems to be expected.
AFC North blog

ESPN.com's Jamison Hensley writes about all things AFC North in his division blog.
On Sunday at Heinz Field in the AFC divisional-round playoffs against the visiting San Diego Chargers, he'll face his toughest challenge. Tomlin, whose Steelers lost a divisional-round home game to the Jacksonville Jaguars last season, still seeks his first playoff victory. To move his coaching career into the next level of acceptance, Tomlin must beat the Chargers. Winning the big one is what defines head coaches in the NFL.
Steelers owner Dan Rooney bet on youth and enthusiasm when he hired Cowher as head coach in 1992. The Steelers did the same when they hired Tomlin, who will turn 37 in March. Both Cowher and Tomlin worked in the shadow of league legend Chuck Noll. As Steelers head coach from 1969 to '91, Noll won four Super Bowls while building one of the NFL's greatest dynasties. Although Tomlin faces much scrutiny as Cowher's successor, Cowher faced enormous pressure as Noll's replacement.
Cowher went against the grain in many ways. Although he wanted his players to appreciate the success of the Steelers' past, he also wanted them to think about being a new group of Steelers. Critics grumbled. Noll had his way of doing things. Cowher wanted to update some of the techniques and strategies.
"That's not the way the Steelers did things," was the response from players, people in the organization and the Steelers' knowledgeable fan base. Cowher didn't care. He wanted things done his way.
Cowher went 20-12 during his first two seasons and made the playoffs each season. But he didn't win a playoff game during those first two seasons.
[+] Enlarge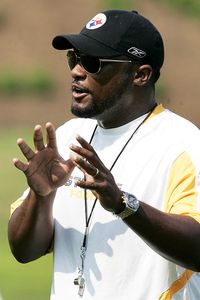 AP Photo/Keith SrakocicMike Tomlin has had an excellent start to his NFL head coaching career.
A 12-4 season in 1994 set up the total transition and acceptance of Cowher. Those Steelers beat the Cleveland Browns 29-9 in the divisional round of the playoffs. Cowher had his first playoff win in his third season as head coach. The next season, the Steelers went to the Super Bowl.
Cowher coached 15 seasons, won 149 games, took 10 teams to the playoffs and won one Super Bowl title before retiring. His legacy would be tough to match for the next coach.
Instead of selecting from Cowher's staff to hire offensive coordinator Ken Whisenhunt or offensive line coach Russ Grimm, Rooney hired Tomlin in 2007. The move surprised everyone, although Tomlin had great credentials. He was considered a fast-rising coach in many circles while learning the Tampa Bay Buccaneers' famed Cover 2 defense. Brad Childress hired him as the Minnesota Vikings' defensive coordinator in 2006.
Tomlin was hard on his Vikings defense in training camp. At first, the players resisted. But before the end of the season, Vikings players fell in love with Tomlin. He made them accountable. He made them better players. He established a tough persona for that unit.
What is remarkable about Tomlin's first two seasons with the Steelers is how he has adjusted and learned on the job. Instead of junking the 3-4 defense that defined the Steelers, he embraced it. Tomlin let Dick LeBeau do his zone-blitzing magic and did his best to motivate the team to play tough, hard-nosed football.
Training camps and practices were a little harder than veteran players might have liked, but the team won the close games and two AFC North titles. Tomlin's first Steelers team made the postseason but lost a heartbreaking 31-29 home playoff game to Jacksonville. Jaguars quarterback David Garrard scrambled for a big run to set up Josh Scobee's winning field goal.
Fans don't appreciate how difficult it is to win playoff games. The pace of the game quickens and intensifies once the playoffs begin. Big plays seem bigger. Although a team can learn the mentality of winning close games during the season, it has to learn a new level of focus and toughness to be successful in the playoffs. Tomlin's task is to put that focus and toughness into play Sunday.
All Tomlin and the Steelers have to do is look across the field at the Chargers. Their inability to win playoff games cost Marty Schottenheimer his job as San Diego's head coach. General manager A.J. Smith gambled on Norv Turner as the coach who would push the Chargers over the top and win playoff games.
Turner has won three of the Chargers' past four postseason games. His team is playoff-savvy. Turner won only one playoff game in seven seasons with the Redskins and couldn't do anything in two seasons with the Raiders.
Anytime a team wins a playoff game, it should be considered a successful season. The pressure is on Tomlin to beat Turner and the Chargers on Sunday.
John Clayton, a recipient of the Pro Football Hall of Fame's McCann Award for distinguished reporting, is a senior writer for ESPN.com.
NFL senior writer
Senior NFL writer and commentator
Joined ESPN in 1995
Member of the writers' wing of the Pro Football Hall of Fame in Canton, Ohio
SPONSORED HEADLINES
MORE NFL HEADLINES
MOST SENT STORIES ON ESPN.COM
2008 NFL Playoffs

The road to Tampa for Super Bowl XLIII on Feb. 1, 2009, began Jan. 3 with the wild-card playoff round. Will the Steelers or Cardinals replace the Giants as champs?

Championship Game results: NFC | AFC


COLUMNS/FEATURES
•
Wojciechowski: May the bitter team win
•
Chadiha: McNabb lets good times roll
•
Football Outsiders: Numbers Crunching
•
Sunday Countdown: Predictions and more
•
Clayton: First and Goal
•
Garber: This Philly Story seeks proper ending
•
Clayton: Peaking Steelers should advance
•
Chadiha: Eagles will soar in desert
•
Wojciechowski: Book Eagles for Tampa
•
Football Outsiders: Any Given Sunday
•
Football Outsiders: Quick Reads
CHAMPIONSHIP GAMES (Jan. 18)
Steelers 23, Ravens 14
•
Polamalu's INT return secures win
•
Playoff page
|
AFC North blog
Cardinals 32, Eagles 25
•
Fitzgerald leads Cardinals to first Super Bowl
•
Playoff page
|
NFC West blog
...
East
DIVISIONAL ROUND (Jan. 10-11)
Steelers 35, Chargers 24
•
Walker: The Bus sparks Parker
•
Williamson: Bolts need season-long urgency
•
Recap: Steelers knock out Chargers
•
More
|
AFC West blog
...
AFC North
Ravens 13, Titans 10
•
Graham: Battered Ravens pass physical
•
Kuharsky: Titans failed to answer critics
•
Recap: Turnovers doom Titans
•
Zoom Gallery
•
Fleming: Can anyone stop the Ravens?
•
More
|
AFC North blog
...
AFC South
Cardinals 33, Panthers 13
•
Sando: Desert bloom for Arizona's faithful
•
Sando: No denying Cards' makeover
•
Yasinskas: Carolina's big plans fall apart
•
Recap: Delhomme's 5 INTs doom Panthers
•
Zoom Gallery
•
More
|
NFC West blog
...
NFC South
Eagles 23, Giants 11
•
Wojciechowski: Book Eagles for Tampa
•
Mosley: Giants lost to better team
•
Recap: Defense smothers Giants
•
Zoom gallery
•
Chadiha: Eagles' defense hitting stride
•
More
|
NFC East blog
WILD-CARD ROUND (Jan. 3-4)
Ravens 27, Dolphins 9
•&nbsp
Wojciechowski: Scary Ravens' D
•
Recap: Ravens' defense overpowers Dolphins
•
More
|
AFC North blog
...
AFC East
Eagles 26, Vikings 14
•
Mosley: Eagles' run continues
•
Recap: Westbrook, big plays carry Eagles
•
More
|
NFC East blog
...
NFC North
Cardinals 30, Falcons 24
•
Sando: Cards' winning identity
•
Recap: Strong second half powers Cards
•
More
|
NFC South blog
...
NFC West
Chargers 23, Colts 17
•
Williamson: 5-6 Sproles comes up big
•
Recap: Chargers shock Manning, Colts in OT
•
More
|
AFC South blog
...
AFC West