Commentary
Labor storm brewing, but don't despair
Super Bowl Week provides the players union and the league chances to make lots of noise about labor strife. Still, we probably won't get a resolution until the last minute, writes John Clayton.
Originally Published:
January 30, 2009
By
John Clayton
| ESPN.com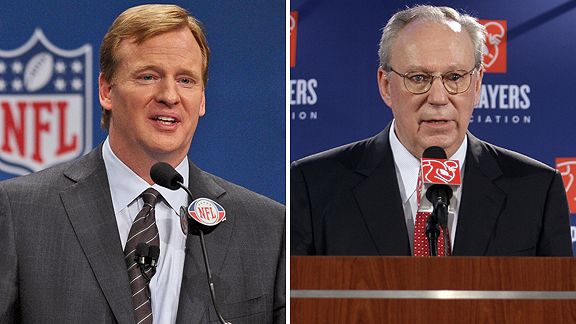 Getty Images/AP PhotoCommissioner Roger Goodell (left) and NFL Players Association acting executive director Richard Berthelsen held the floor at separate news conferences this week in Tampa to talk about the league's labor situation.
TAMPA, Fla. -- Commissioner Roger Goodell gave his annual state-of-the-league address Friday amid the growing concern of a possible lockout in 2011.
If the information and opinions offered by owners and players this week were given to the Weather Channel, storm warnings would result. The forecast would be for a lockout.
I know I'm in the minority, but I'm going to make a bold prediction: A deal will be done that will preserve labor peace by March 2010. Why? There is too much money available for both sides, and the game is more important than greed. I say this having covered labor peace and labor unrest in this league for more than three decades.
So much of labor negotiations involve rhetoric. Players want owners to open the books. Owners say no. The reality is that players know every dollar teams and the league make in revenue because those numbers are used to calculate the salary cap. The union knows the players' costs, so they know 60 percent of the owners' expenses. What the union doesn't know is how the owners are using the remaining 40 percent of revenue to handle additional costs, such as coaches' salaries or travel expenses. Chances are the union won't be given those details, but that isn't a deal-breaker. This is just the start of what you will hear from the union, the owners and Goodell over the next 13 months. Here's the banter from this week as the various bodies convened here in anticipation of Super Bowl XLIII.
Labor unrest is brewing though the league, and players continue to profit -- even in these dire economic times. On Thursday, the NFLPA distributed a 17-page study, researched independently by Chicago Partners, that painted a rosy picture of NFL finances. The survey said the average NFL team earned about $25 million in profit and had a estimated value of $1.04 billion.
Goodell hadn't had much chance to review the study but offered one review: "There's a lot of fiction in there."
The NFL and the players have roughly 13 months to come to a labor resolution before significant changes occur in a sport that is in the peak of popularity and success. If no deal is reached by March 2010, the league will not have a salary cap for that season. Free agency will be tougher for players to achieve because they have to wait longer in their careers to qualify for it.
Trying to get a labor extension in these tough economic times won't be easy. The NFLPA said Thursday it is willing to cut a deal, but it doesn't want to give up the 60 percent of total revenues it currently receives. Goodell said Friday he thinks a deal can be reached, but the union will have to make some major adjustments. The salary cap increases to $123 million in 2009. Add the benefits, and team costs for players increase to an average of $149 million per team, which puts lower-revenue teams more at risk.
"The model has shifted over the years," Goodell said of the economic model of the league after the collective bargaining extension of 2006.
Clearly, the NFL isn't as negatively affected as other businesses. Television ratings are strong. Interest is high. Still, Goodell said the league and the teams have to be aware of the impact of the economy on fans and business partners such as the television networks. The league, according to Goodell, is studying the pricing of tickets. Already three quarters of the 32 teams have announced no ticket-price increases for 2009. To improve cost structures, the league and teams offered buyouts to employees or began cutting jobs.
"It's very clear we're not immune from what is going on in the economy," Goodell said.
Goodell does see interest continuing to grow for the annual international regular-season game in London each season. A game in Mexico City could be added in 2010. He sees the second year of efforts to regionalize the Buffalo Bills with a bigger presence in Toronto getting stronger: Having a preseason and regular-season game in Toronto in 2008 increased Bills' season ticket sales by 40 percent last year. Down the line, the league would consider putting a Super Bowl in Los Angeles by 2016 and maybe at some point getting a team in the Los Angeles market.
"There is no reason for a lockout as a drastic circumstance," interim NFLPA executive director Richard Bertelsen said.
Deals in this league are done at the last minute, so don't expect anything until late February or March 2010. Bertelsen is right. There is no reason for a lockout. The process might be painful, but I still believe they will get a deal.
John Clayton, a recipient of the Pro Football Hall of Fame's McCann Award for distinguished reporting, is a senior writer for ESPN.com.
NFL senior writer
Senior NFL writer and commentator
Joined ESPN in 1995
Member of the writers' wing of the Pro Football Hall of Fame in Canton, Ohio
SUPER BOWL XLIII
In one of the best Super Bowls ever, the Steelers blew a 13-point lead before they delivered their own comeback to beat Arizona, 27-23. Super Central
Super Bowl results | MVPs
Photos: Game action | Halftime show


GAME COVERAGE
SB WEEK COLUMNS/FEATURES
CARDINALS SB WEEK COVERAGE
STEELERS SB WEEK COVERAGE

MOST SENT STORIES ON ESPN.COM