Commentary
History suggests Steelers will prevail
Beating a team three times in one season is a daunting task, but there's a lot working in the Steelers' favor when they collide with the Ravens in the AFC title game, writes John Clayton.
Originally Published:
January 15, 2009
By
John Clayton
| ESPN.com
Beating a team three times in a season is difficult, but it's not impossible.
The Steelers know that the challenge of beating the Ravens in the AFC Championship Game is daunting. Pittsburgh's two regular-season victories over Baltimore were decided by a total of only seven points. The game figures to be physical, but history favors the Steelers' winning.
This is the fifth time a team will face a divisional rival in the championship round after beating it twice in the regular season. The 2-0 team got the sweep in three of the four previous instances. The 1982 Miami Dolphins won their third matchup against the New York Jets. The 1986 New York Giants swept the Washington Redskins. The 1999 Tennessee Titans went to Jacksonville and got their third win over the Jaguars.
The Steelers looked Super Bowl sharp during their 35-24 victory over the Chargers in the divisional round. Willie Parker ran the ball well. Ben Roethlisberger was effective throwing long passes. The defense was as sharp as ever.
If this game were played in the divisional round, the Ravens might have had the advantage. Overconfidence might have affected the Steelers. Not being adjusted to the speed of the playoffs might have left the Steelers vulnerable at the beginning of the game.
Now, the best team will be the one to win this game. The loser will have no excuses.
[+] Enlarge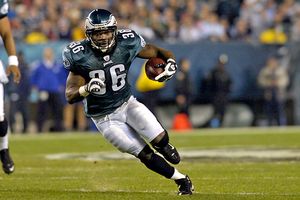 Eric Hartline/US PresswireBrian Westbrook didn't get 1,000 yards rushing, but he poses problems for any defense.
1. Running on empty? Perhaps the weirdest aspect of the championship round is that there are no 1,000-yard running backs. The leading rusher remaining in the playoffs is the Eagles' Brian Westbrook, who had 936 rushing yards for a coach, Andy Reid, who prefers to win through the air. Le'Ron McClain is the Ravens' leading rusher with 902 yards, but he started the season as a fullback. Parker has had an injury-plagued season for the Steelers. He had 791 yards. Edgerrin James was the Cardinals' leading rusher with 514 yards.
This shows that just running the ball and playing great defense probably won't be enough to get a team to the Super Bowl. The pressure is on the quarterbacks to deliver, and each team has a QB who can make big plays and generate touchdown drives.
2. Ghosts of Thanksgiving: The Cardinals have to prove their 48-20 Thanksgiving loss to the Eagles was a fluke. The game came at a time when the Cardinals didn't know how to handle prosperity. They had all but clinched the NFC West. There was no urgency in the way they played then. The Eagles jumped out to a 21-0 lead -- the Cardinals aren't good enough to spot any team 21 points. In that first meeting, the Cardinals let Westbook score three touchdowns. Obviously, it's critical that Arizona get off to a fast start.
3. McNabb's redemption: The NFC Championship Game is a showcase and a test for Eagles QB Donovan McNabb. McNabb played with a chip on his shoulder in the Thanksgiving game against the Cardinals. He completed 27 of 39 passes for 260 yards and four touchdowns. McNabb was mad because Reid had benched him the previous week, and it appeared he was on his way out of Philadelphia after the season. Now, he's in his fifth NFC title game and has a chance to go to his second Super Bowl. Trade speculation has ceased. Still, it's important that he win. No quarterback wants the reputation of not winning the big game.
In many ways, this might be the defining game of McNabb's career. A second trip to the Super Bowl would place him among elite company. Since his benching, McNabb is 5-1, completing 80 percent of his passes and registering a 146.1 quarterback rating.
[+] Enlarge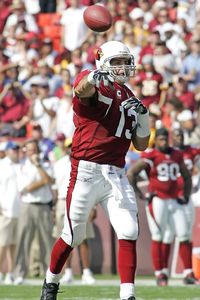 Geoff Burke/US Presswire Kurt Warner has impressive postseason credentials and is tough to beat at home.
4. Warner well-armed: Don't count out Kurt Warner. The Cardinals' QB is 7-2 in the playoffs with 19 touchdown passes in nine playoff games and a 92.6 quarterback rating. He's also at home. During the regular season, he completed 70.5 percent of his passes at home and had 17 touchdown passes. He threw only five interceptions at home.
The key for the Eagles is preventing Warner from getting into a rhythm. In the win at Carolina in the divisional playoffs, Warner was able to get the play-action game going.
Larry Fitzgerald
catches just about everything Warner puts in the air. To make matters worse for the Eagles, Pro Bowl wide receiver
Anquan Boldin
is expected to return after missing last week's game with a hamstring injury.
5. Samuel's big payoff: Philadelphia's signing of CB Asante Samuel last offseason could be the difference between the Eagles' going to the Super Bowl and losing another NFC title game. Despite having Lito Sheppard and Sheldon Brown under contract, the Eagles wagered big money to get Samuel. Now they have three top cornerbacks to match up against three-receiver sets, and the Cardinals have perhaps the most dangerous three-receiver set in football. Samuel has done exactly what he did in helping the New England Patriots win Super Bowls. He's flawless in coverage and makes key interceptions.
6. Feeling the heat: The quarterback who handles the blitz the best will have a decided advantage in the NFC title game. Warner has the edge over McNabb in that area. Warner completed 134 of 208 passes (64 percent) for 1,645 yards and 14 touchdowns against the blitz during the regular season, with only four interceptions and a 103.1 quarterback rating. McNabb completed 108 of 196 passes (55.1 percent) against the blitz for 1,388 yards, 10 touchdowns and four interceptions. Naturally, there is a big difference in the quality of receivers. Warner has Fitzgerald, Boldin and Steve Breaston. McNabb doesn't.
7. Can Flacco rebound? Ravens rookie QB Joe Flacco has been unflappable all season, but he struggled mightily against the Steelers in Week 15. Flacco was 11-of-28 for 115 yards and a 22.2 quarterback rating. He completed only five of 13 passes for 47 yards in the second half of that 13-9 loss. A major part of Flacco's game is being able to stretch the field with the long throw. Six of his 11 completions in the second meeting came on throws that traveled only 9 yards or less in the air. He was 5-of-15 on throws longer than 10 yards, and the completions gained only 32 yards. Two of those longer passes were intercepted.
[+] Enlarge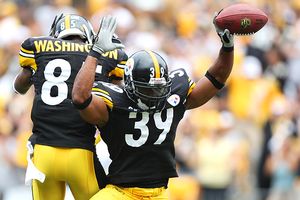 Jason Bridge/US PresswireIf Willie Parker (39) finds running room on Sunday, chances are the Steelers will have reason to celebrate.
8. Parker looms large: Parker has had some of his worst games against the Ravens. He's averaged only 2.8 yards an attempt against Baltimore during his career. How he fares Sunday will dictate how the Steelers run their offense. His 146-yard rushing performance against the Chargers opened the play-action passing game for Roethlisberger, who was then able to target receivers deep and make some long throws. A big play in what figures to be a low-scoring game can be the difference. Parker doesn't figure to go for 100 yards against the Ravens. The only team that really ran well against Baltimore was the Giants, and they did it by pounding the big backs. The Steelers don't have that big-back option, but if they can get 60 or 70 yards out of Parker, they'll have more options in the passing game.
9. Injury update: Injuries will be a big factor in the AFC Championship Game, and that's where the Ravens will be at a disadvantage. Half of the Ravens' starters are on the injury report.
NFL Insider

The Steelers face the interesting question of how to attack the Ravens run defense.
• The Mag on Home Field
• McNabb's Renaissance
Although they should all be able to suit up, the question is going to be how long they can last. Linebacker
Terrell Suggs
has a shoulder sprain. Can he play every down or will he have to limit himself to just pass-rushing situations? Cornerback
Samari Rolle
has a tender ankle. McClain limped noticeably during the Ravens' win over the Titans last weekend. Tight end
Todd Heap
has a tight back and a sore rib. The Steelers have to be concerned about the knee of center
Justin Hartwig
. If it doesn't hold up, Ravens nose tackle
Haloti Ngata
could destroy Pittsburgh's interior blocking scheme. Safety
Troy Polamalu
has a calf injury that is preventing him from practicing. The Steelers' defense won't be the same if he has to sit out plays.
10. Don't forget the officials: How the AFC title game is officiated could also be a factor. Because of the extreme dislike between these teams, the game figures to be aggressively officiated. The first two games didn't get too vicious even though there were postgame conversations about the Ravens' "bounties" and a spitting incident. Only 25 total penalties were called in the first two games. The two Titans-Ravens games were worse. More than 20 penalties were called in each of the Ravens-Titans games. The more penalties called, the lower the score tends to be, and this figures to be a low-scoring game as it is.
John Clayton, a recipient of the Pro Football Hall of Fame's McCann Award for distinguished reporting, is a senior writer for ESPN.com.
NFL senior writer
Senior NFL writer and commentator
Joined ESPN in 1995
Member of the writers' wing of the Pro Football Hall of Fame in Canton, Ohio
2008 NFL Playoffs

The road to Tampa for Super Bowl XLIII on Feb. 1, 2009, began Jan. 3 with the wild-card playoff round. Will the Steelers or Cardinals replace the Giants as champs?

Championship Game results: NFC | AFC


COLUMNS/FEATURES
•
Wojciechowski: May the bitter team win
•
Chadiha: McNabb lets good times roll
•
Football Outsiders: Numbers Crunching
•
Sunday Countdown: Predictions and more
•
Clayton: First and Goal
•
Garber: This Philly Story seeks proper ending
•
Clayton: Peaking Steelers should advance
•
Chadiha: Eagles will soar in desert
•
Wojciechowski: Book Eagles for Tampa
•
Football Outsiders: Any Given Sunday
•
Football Outsiders: Quick Reads
CHAMPIONSHIP GAMES (Jan. 18)
Steelers 23, Ravens 14
•
Polamalu's INT return secures win
•
Playoff page
|
AFC North blog
Cardinals 32, Eagles 25
•
Fitzgerald leads Cardinals to first Super Bowl
•
Playoff page
|
NFC West blog
...
East
DIVISIONAL ROUND (Jan. 10-11)
Steelers 35, Chargers 24
•
Walker: The Bus sparks Parker
•
Williamson: Bolts need season-long urgency
•
Recap: Steelers knock out Chargers
•
More
|
AFC West blog
...
AFC North
Ravens 13, Titans 10
•
Graham: Battered Ravens pass physical
•
Kuharsky: Titans failed to answer critics
•
Recap: Turnovers doom Titans
•
Zoom Gallery
•
Fleming: Can anyone stop the Ravens?
•
More
|
AFC North blog
...
AFC South
Cardinals 33, Panthers 13
•
Sando: Desert bloom for Arizona's faithful
•
Sando: No denying Cards' makeover
•
Yasinskas: Carolina's big plans fall apart
•
Recap: Delhomme's 5 INTs doom Panthers
•
Zoom Gallery
•
More
|
NFC West blog
...
NFC South
Eagles 23, Giants 11
•
Wojciechowski: Book Eagles for Tampa
•
Mosley: Giants lost to better team
•
Recap: Defense smothers Giants
•
Zoom gallery
•
Chadiha: Eagles' defense hitting stride
•
More
|
NFC East blog
WILD-CARD ROUND (Jan. 3-4)
Ravens 27, Dolphins 9
•&nbsp
Wojciechowski: Scary Ravens' D
•
Recap: Ravens' defense overpowers Dolphins
•
More
|
AFC North blog
...
AFC East
Eagles 26, Vikings 14
•
Mosley: Eagles' run continues
•
Recap: Westbrook, big plays carry Eagles
•
More
|
NFC East blog
...
NFC North
Cardinals 30, Falcons 24
•
Sando: Cards' winning identity
•
Recap: Strong second half powers Cards
•
More
|
NFC South blog
...
NFC West
Chargers 23, Colts 17
•
Williamson: 5-6 Sproles comes up big
•
Recap: Chargers shock Manning, Colts in OT
•
More
|
AFC South blog
...
AFC West
Nike Men's Salute To Service Limited Jersey Philadelphia Eagles Nick Foles #9 Shop »

MOST SENT STORIES ON ESPN.COM