Commentary
Harrison rumbles into history books
Originally Published:
February 1, 2009
By
Greg Garber
| ESPN.com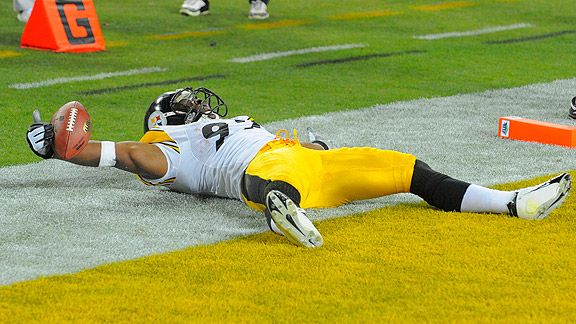 Scott A. Miller/US PresswireJames Harrison's interception and touchdown stole the momentum from the Cardinals.
TAMPA, Fla. -- Do not be surprised that one of the biggest plays in Super Bowl history -- perhaps in all of sports -- was executed on Sunday night by Steelers linebacker
James Harrison
.
As it turned out, Harrison was the only logical player on either roster to single-handedly turn Super Bowl XLIII. All he did was turn a seemingly inevitable Arizona Cardinals touchdown from Kurt Warner to Anquan Boldin into an interception and a 100-yard return for a touchdown -- on the last play of the first half.
Technically, Ben Roethlisberger's 6-yard touchdown pass to Santonio Holmes with 35 seconds remaining was the difference in Pittsburgh's 27-23 victory at Raymond James Stadium. But in their hearts, the Steelers knew what time it was.
"That's the difference in the game," said Pittsburgh safety Troy Polamalu. "I can honestly tell you. We had a defensive touchdown. They didn't."
Here is how it happened: There were 18 seconds left in the first half when, with the Steelers in an all-out blitz, Harrison suddenly veered backward at the snap of the ball and filled the void where Warner's short slant pass on the right side was headed toward Boldin.
Warner never saw him.
The funny thing? Harrison wasn't supposed to be there. Of course, that's what they said about him when he was scuffling to make an NFL team.
Tim Hightower
, when he flashed out of the backfield. Instead, Harrison dropped into what was actually a pick play being run by Boldin and fellow receiver
Larry Fitzgerald
.
"He certainly wasn't supposed to draw up to get the slant on Fitzgerald," explained defensive coordinator Dick LeBeau. "But he was in the area for sure, and James' instincts just took over. And that's why James is the Defensive Player of the Year in the league. He's just a football player."
Warner, the Cardinals' two-time MVP, was beaten by this year's Defensive Player of the Year -- and it wasn't a sack. Harrison snagged the ball at the goal line and started down the right sideline.
"I was in the middle of the end zone," said Steelers linebacker James Farrior. "I was just hoping we had the cavalry in front of him." Three different Cardinals players, including Warner, touched him as he careened down the sideline. It looked awkward -- at 242 pounds, Harrison makes a living whacking people, not catching and running -- but he never lost his feet. Fitzgerald managed to hit him just short of the goal line, but Harrison's knee landed on the Cardinals' receiver and he pitched head-first into the end zone.
"I came a long way from where I started," said Harrison, who did not record a tackle in the first three quarters. "To be honest, I didn't think I could make it all the way back."
He required oxygen after the play -- and so did the Cardinals.
With Arizona poised to take a 14-10 lead into halftime, or a 10-all tie at worst, Harrison literally stole the Cardinals' momentum. The Steelers led 17-7 and it would require a heroic effort in the second half to pull ahead.
"That's just a great football play," said LeBeau, who is 71 years old and has been coaching in the NFL since 1973. "In fact, I believe that is the greatest single defensive play in Super Bowl history."
Greg Garber is a senior writer for ESPN.com.
Writer, Reporter
Greg Garber joined ESPN in 1991 and provides reports for NFL Countdown and SportsCenter. He is also a regular contributor to Outside the Lines and a senior writer for ESPN.com.
SPONSORED HEADLINES
MORE NFL HEADLINES
MOST SENT STORIES ON ESPN.COM
SUPER BOWL XLIII
In one of the best Super Bowls ever, the Steelers blew a 13-point lead before they delivered their own comeback to beat Arizona, 27-23. Super Central
Super Bowl results | MVPs
Photos: Game action | Halftime show


GAME COVERAGE
SB WEEK COLUMNS/FEATURES
CARDINALS SB WEEK COVERAGE
STEELERS SB WEEK COVERAGE