Commentary
Want nasty? Check out Ravens-Steelers
It is not the longest rivalry in the history of the NFL, but at the moment, Ravens-Steelers is the most intense, Greg Garber writes.
Originally Published:
January 15, 2009
By
Greg Garber
| ESPN.com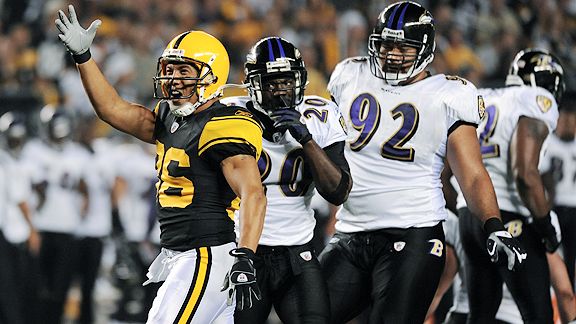 George Gojkovich/Getty ImagesSteelers receiver Hines Ward has been a thorn in the Ravens' side since he came into the league in 1998.
The most recent volley in the ongoing 13-year war between the Ravens and Steelers came from the mouth of Baltimore backup cornerback
Frank Walker
. Walker and Steelers punter
Mitch Berger
were jawing late in their Dec. 14 game. Berger, the holder for extra points, was angry that, in his view, Walker had tried to injure kicker
Jeff Reed
.
"I had my mouth right open and was about to say something when he spit right on me," Berger told reporters. "It wasn't something that happens by accident. There was the full noise. He made the spitting noise."
HOT READ: NFL's nastiest rivalry
Bounty talk. Breathtaking hits. Woofing. Chaos. And, hey, let's mix in a little phlegm. The Ravens-Steelers rivalry is the NFL's nastiest. Here are five more nasty rivalries:

Hines Ward: 5 Good Minutes

Walker, for his part, admitted he had slimed Berger -- "It was just a slobber moment," he said -- although he denied it was intentional.
Replays were inconclusive (you think we're kidding), and Walker was not disciplined by the league. Berger, however, might have been scarred for life.
"I kept spitting for 24 hours," he said. "I kept brushing my teeth. To have another man spit in your mouth like that -- it was gross."
Walker said he didn't care whether the Steelers believed him.
"I hate Pittsburgh," he said. Welcome to the Ravens-Steelers rivalry, arguably the nastiest in all of sports. If a punter and a little-used cornerback can create this kind of smear and loathing, what happens when you throw the irresistible force that is Steelers wide receiver
Hines Ward
and the immovable object that is Ravens linebacker
Ray Lewis
onto the same field? Breathtaking hits, some of them late. Woofing. Pathos. Chaos. And maybe even some more phlegm. It is not the longest rivalry in the history of the NFL, but it is the most intense. The teams meet for the 28th time Sunday in the AFC Championship Game. "What else would you expect -- us and the Ravens," Steelers head coach Mike Tomlin said Sunday after the Steelers handled the Chargers 35-24. "It would be a big game if it was a scrimmage. It just happens to be the AFC Championship Game."
Familiarity between these two AFC North teams breeds, well, something beyond contempt. There have been alleged late hits, reported bounties and even not-so-veiled death threats.
[+] Enlarge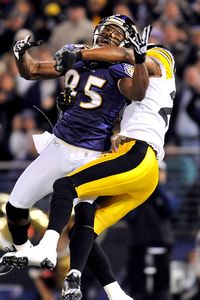 Larry French/Getty Images"Every block, every tackle -- none of them are done casually," says former Steelers Tunch Ilkin of the Baltimore-Pittsburgh rivalry.
"Every block, every tackle -- none of them are done casually," said Steelers radio broadcaster Tunch Ilkin, who played in Pittsburgh from 1980 to 1992. "They're all done with full intensity and malicious intent. If you have a chance to rub a guy's face in the dirt on a tackle, you do. If you can put a knee in a guy's back to help yourself get up, you do it. "Not to sound like a football snob, but if you're a purist, you love this. You can't wait for this game." Kevin Byrne, the Ravens' senior vice president of public and community relations, has been with the franchise for 28 years, all the way back to when it was based in Cleveland. "These games have been played by two teams who have the same belief: If you are more physical than the guys on the other side, you will win," Byrne said. "The meek may inherit the earth, but it won't be a Raven or a Steeler. "I've been on the sidelines late in games. It's thunderous. You're not even on the field and your adrenaline gets going because of the intensity. … There's a deep respect, too." This season, appropriately, the Ravens and Steelers have the league's top-ranked defenses in terms of points and yards allowed. The Steelers lead the series 17-10 -- including a divisional-round playoff victory at the end of the 2001 season -- and won both previous games this season, one in overtime, by a total of seven points. The Ravens, though, have had their moments. In 2006, they won both games and sacked quarterback
Ben Roethlisberger
16 times. One of them was a brutal shot by Ravens linebacker
Bart Scott
. "That's the cleanest tackle I've had in my life," Scott said later. "It felt good to hear the air leave his body."
If it doesn't kill you
It is a fact of life: Competition makes you stronger.
Coke versus Pepsi. Hilton versus Sheraton. Republicans versus Democrats. Ford versus Chevy --- OK, bad example. The Ravens and Steelers have driven each other since the Ravens left Cleveland after the 1995 season and settled in Baltimore. The Ravens and Steelers have won two of the eight Super Bowls contested since the turn of the century. One of them will play for a second. NFC East rivals the Giants, Redskins and Cowboys helped elevate one another to a total of seven Super Bowl victories between 1986 and 1995. If it's a rivalry, there's some shared emotional history that almost certainly serves as a backstory. The Ravens-Steelers rivalry goes back to when the Ravens were the
Cleveland Browns
. Those teams
really
disliked each other, captured by the unforgettable image of Steelers defensive tackle Mean Joe Greene kicking Browns lineman Bob McKay repeatedly in the groin at the end of a blowout -- for Pittsburgh -- in 1975.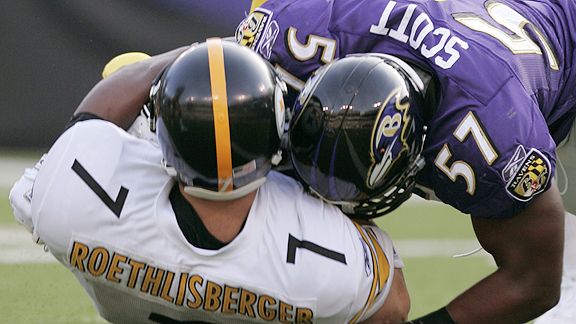 AP Photo/Chris GardnerRavens linebacker Bart Scott described this 2006 sack of Ben Roethlisberger as "the cleanest tackle I've had in my life. It felt good to hear the air leave his body."
Ilkin, the former Steelers offensive tackle, said he was punched, kicked, clawed and even had a ball spiked off his head by the Browns.
"In the old days, it was nastier, guys kicking each other in the head," Ilkin said. "I remember when [Steelers linebacker Jack] Lambert tackled [Browns quarterback] Brian Sipe on the sideline. If you're the Steelers, it was close to the sideline, Jack just playing football. If you're the Browns, he's 3 yards out of bounds, and Jack cheap-shotted him.
"After the game, Chuck Noll explained it by saying the Browns were kicking Jack in a place where a young man should not be kicked. Man, those were the days."
Chicago Bears
and
Green Bay Packers
. The first game was in 1921 and went to the Chicago Staleys, 20-0. But the
Houston Texans
, born in 2002, have played the Rams, Cardinals, Seahawks and 49ers only once each. That oversight will be solved in the 2009 season, the NFL's 90th, when the AFC South plays the NFC West. The Cowboys-Redskins overheated rivalry began even before the first game in 1960. When Washington owner George Preston Marshall opposed Dallas' expansion proposal, the prospective ownership group bought the rights to "Hail to the Redskins" and threatened to hold the team's fight song hostage. Marshall acquiesced, and the Cowboys were born. Dallas holds a 57-37-2 edge in the regular season, but the Redskins are 2-0 in the playoffs. The Raiders-Broncos games in the old AFL were wild and woolly, but after head coach Mike Shanahan was fired four games into the 1989 season by Raiders owner Al Davis, the rivalry was rekindled. During Shanahan's 14-season tenure in Denver, his record against the Raiders was 21-7. The Browns and Bengals share an uneasy history -- and a man named Paul Brown. He was the head coach in Cleveland and won three NFL and four All-America Football Conference titles there before. Brown coached the fledgling Bengals from 1968 to 1975, and his family still owns the franchise. Cincinnati head coach Sam Wyche fired a shot at Cleveland during a December 1989 game against Seattle. Taking the public address microphone after Bengals fans started throwing debris on the field in reaction to what they thought was an official's bad call, Wyche asked them to stop, adding, "You don't live in Cleveland, you live in Cincinnati."
Passion play
Only one man has played in all 27 Ravens-Steelers games: Matt Stover.
The 40-year-old Baltimore kicker described the rivalry this way Thursday: "Intensity. It's about the passion that we've brought forth, the team we've gathered together. We understand emotionally what it's going to take. They got the best of us the last two times.
NFL Insider

The Steelers face the interesting question of how to attack the Ravens run defense.
• The Mag on Home Field
• McNabb's Renaissance
"I'm excited because our guys are ready." Stover has been playing against the Steelers since 1991, when he broke in with the Browns. One thing that charged the matchup, he said, is that when the Colts left Baltimore after the 1983 season, some of their fans became Steelers fans. With about a five-hour drive between the cities, visiting fans are always well represented.
But, really, it comes down to mutual dislike.
"Our [teams'] linebackers don't like each other," Stover said. "Ray Lewis, his passion is unmatched by anybody I ever played with in 19 years. If no one can match it, then nobody can stop us."
Ward, naturally, begs to differ.
"I definitely don't want to have Baltimore celebrating on our field," he said this week. "I don't know how long [it takes] to be able to get over that. So we're going to make sure that doesn't happen this Sunday."
The very first game of the series, in 1996, went to the Steelers 31-17 in Pittsburgh. Three months later, the Ravens won by the same score in Baltimore. The real fireworks began, not coincidentally, with the arrival of Lewis in 1996 and Ward in Pittsburgh in 1998. They are the souls of their respective teams and, appropriately, have each played in 22 games of this rivalry.
In 2001, Ward cracked Ravens safety
Rod Woodson
, a former Steeler, in the face, bloodying his nose. A year later, Ravens cornerback
James Trapp
intercepted a pass and was tossed out of bounds by Pittsburgh receiver
Antwaan Randle El
. In the ensuing melee, Trapp jumped (with both feet) on the stomach of Steelers wideout
Plaxico Burress
and tore off his helmet. Both were ejected.
[+] Enlarge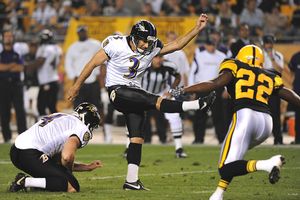 George Gojkovich/Getty ImagesKicker Matt Stover has played in all 27 Ravens-Steelers games. "We understand emotionally what it's going to take," he says of Sunday's AFC title game.
The Ravens were executing a spike play to kill time off the clock in 2004 when Pittsburgh linebacker
Joey Porter
slammed to the ground Ravens tight end
Todd Heap
, who had limped to the line. Heap did not return to the game, and afterward, the Ravens accused Porter of a cheap shot.
Ward delivered crushing (but unflagged) blocks on the Ravens' Scott and safety Ed Reed in November 2007. Scott threatened to "kill" Ward, but the feisty Steelers receiver sat out the December rematch because the Steelers had already clinched a playoff spot. Ravens linebacker Terrell Suggs suggested in a radio interview earlier this season that the Ravens had placed bounties on Ward and rookie running back Rashard Mendenhall, who was hit by Lewis and knocked out for the season with an injured shoulder Sept. 29.
This season, Ward had Scott lined up for another shot on a Roethlisberger scramble, only to miss him. "They put a bounty on me," Ward said, "and then he ducks."
According to Ilkin, the former Steelers tackle, the intensity began building on Wednesday, when the teams started breaking down film.
"You'll see a cheap shot and you start keeping score," Ilkin said. "You go into this game with your head on a swivel. You're thinking, 'Don't let them get to the quarterback, don't let them get a shot on the ball carrier when they're peeling off the pile.' "They're probably saying the same thing. That's what makes it so exciting." Stover knows how this grinding, gruesome game will go. "It will definitely come down to the team that has the passion going in the right direction," he said. "Who has enough guys charged up and ready to go?" And then he laughed. "Of course, the kicker may have to come in and win the game," he added. "I'm prepared to do that."
Greg Garber is a senior writer for ESPN.com.
Writer, Reporter
Greg Garber joined ESPN in 1991 and provides reports for NFL Countdown and SportsCenter. He is also a regular contributor to Outside the Lines and a senior writer for ESPN.com.
SPONSORED HEADLINES
MORE NFL HEADLINES
MOST SENT STORIES ON ESPN.COM
2008 NFL Playoffs

The road to Tampa for Super Bowl XLIII on Feb. 1, 2009, began Jan. 3 with the wild-card playoff round. Will the Steelers or Cardinals replace the Giants as champs?

Championship Game results: NFC | AFC


COLUMNS/FEATURES
•
Wojciechowski: May the bitter team win
•
Chadiha: McNabb lets good times roll
•
Football Outsiders: Numbers Crunching
•
Sunday Countdown: Predictions and more
•
Clayton: First and Goal
•
Garber: This Philly Story seeks proper ending
•
Clayton: Peaking Steelers should advance
•
Chadiha: Eagles will soar in desert
•
Wojciechowski: Book Eagles for Tampa
•
Football Outsiders: Any Given Sunday
•
Football Outsiders: Quick Reads
CHAMPIONSHIP GAMES (Jan. 18)
Steelers 23, Ravens 14
•
Polamalu's INT return secures win
•
Playoff page
|
AFC North blog
Cardinals 32, Eagles 25
•
Fitzgerald leads Cardinals to first Super Bowl
•
Playoff page
|
NFC West blog
...
East
DIVISIONAL ROUND (Jan. 10-11)
Steelers 35, Chargers 24
•
Walker: The Bus sparks Parker
•
Williamson: Bolts need season-long urgency
•
Recap: Steelers knock out Chargers
•
More
|
AFC West blog
...
AFC North
Ravens 13, Titans 10
•
Graham: Battered Ravens pass physical
•
Kuharsky: Titans failed to answer critics
•
Recap: Turnovers doom Titans
•
Zoom Gallery
•
Fleming: Can anyone stop the Ravens?
•
More
|
AFC North blog
...
AFC South
Cardinals 33, Panthers 13
•
Sando: Desert bloom for Arizona's faithful
•
Sando: No denying Cards' makeover
•
Yasinskas: Carolina's big plans fall apart
•
Recap: Delhomme's 5 INTs doom Panthers
•
Zoom Gallery
•
More
|
NFC West blog
...
NFC South
Eagles 23, Giants 11
•
Wojciechowski: Book Eagles for Tampa
•
Mosley: Giants lost to better team
•
Recap: Defense smothers Giants
•
Zoom gallery
•
Chadiha: Eagles' defense hitting stride
•
More
|
NFC East blog
WILD-CARD ROUND (Jan. 3-4)
Ravens 27, Dolphins 9
•&nbsp
Wojciechowski: Scary Ravens' D
•
Recap: Ravens' defense overpowers Dolphins
•
More
|
AFC North blog
...
AFC East
Eagles 26, Vikings 14
•
Mosley: Eagles' run continues
•
Recap: Westbrook, big plays carry Eagles
•
More
|
NFC East blog
...
NFC North
Cardinals 30, Falcons 24
•
Sando: Cards' winning identity
•
Recap: Strong second half powers Cards
•
More
|
NFC South blog
...
NFC West
Chargers 23, Colts 17
•
Williamson: 5-6 Sproles comes up big
•
Recap: Chargers shock Manning, Colts in OT
•
More
|
AFC South blog
...
AFC West