Commentary
It's payback time for Chargers
The breaks are finally going San Diego's way, which is one reason the Chargers will defeat the Steelers, Seth Wickersham writes.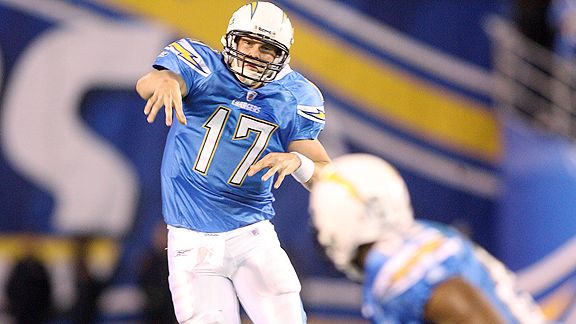 Kevin Reece/Icon SMIExpect Chargers QB Philip Rivers to make adjustments in his second meeting with the Steelers this season.
I really shouldn't have to give you five reasons the
San Diego Chargers
will beat the
Pittsburgh Steelers
. You should just take my word for it. After all,
I have a proven track record with these things
. But what the heck, I'll let you in on the rationale. I'm nice like that.
1. LaDainian Tomlinson won't play.
It's awful to see a future Hall of Famer and one of the league's classiest players banged up in the postseason. But San Diego has wasted precious plays during the past two playoff games -- against the Pats in the 2008 AFC Championship and the Colts last week -- giving the injured superstar a chance. Tomlinson deserves credit for toughing it out, but if he can't plant or accelerate, he's not himself, and it hurts the team. He knows it, and so does everyone else, including Steelers coach Mike Tomlin, who might have been egging Tomlinson into playing with quotes like "Guys like him find a way. Guys like him defy the odds."
You wish, Coach. Instead …
2. The Steelers will face Darren Sproles every play.
After gaining 328 total yards against the Colts, the 5-foot-6, 181-pound flash is the league's newest, hottest weapon. Everyone knew he was a good return guy, but his skills out of the backfield sneaked up on everyone. He didn't reach double digits in carries until the season finale. Against Pittsburgh on Nov. 16, he had one carry.
The Steelers are probably salivating, eager to put a lick on Sproles to see how he responds. But they've got to find him first. Sproles was almost invisible against the Colts, ducking and dodging behind the line, squirting through holes, making it hard for the defense to get a square shot on him. Granted, Pittsburgh's defense is better than Indy's. But the Chargers don't need Sproles to put up huge numbers. They just need Pittsburgh to respect the threat of him. That will open passing lanes for Rivers, who's confident going into this game because …
3. The second meeting between a defense and a quarterback favors the QB.
True, Pittsburgh has played great defense this season. True, one of its better games was against Rivers on Nov. 16, holding him to 164 yards and intercepting two passes. But there's a reason Rivers has lost consecutive games to the same opponent only once in his career. He adjusts.
Pittsburgh's speed or home crowd won't surprise him. He'll know which matchups work and which won't. "You can't make a snap judgment of what [Rivers] is capable of based upon what happened in that game," Tomin told reporters this week. Agreed.
True, Ben Roethlisberger is facing San Diego's defense for the second time, too. But the problem is …
4. Unlike Rivers, who has been on fire recently, Big Ben has played just well enough to win.
Norv Turner tried gushing over Big Ben earlier this week, saying the Steelers have "one of the best quarterbacks in the league in almost every category."
Joe Flacco
for worst touchdown-to-interception differential (plus-2). Sneaky guy that Turner, disguising indifference that way.
This isn't to hate on Ben. He has had a screen-door offensive line (another reason the Steelers won't win) and has played hurt all season. But Tomin was asked this week if he'd bench Big Ben if the quarterback played poorly. Tomlin said no (probably another reason right there), but the fact that it's even a topic is disconcerting.
Turner, of course, isn't being asked those questions. Nor is he being asked questions about bad calls by the refs that cost San Diego games, because …
5. The football gods are repaying the snakebitten Chargers.
Face it: As badly as the Chargers played at times this season, they couldn't get a break. They lost to Carolina on the last play. A lousy call killed them against Denver. The power went out in Buffalo, literally. They had to travel to London. Bad calls against the Colts on Nov. 23 had a hand in that loss. "It would have been so easy for us to lose confidence as a team," said defensive end Luis Castillo. "But we stayed confident."
Last week against Indy, the breaks went San Diego's way, despite the Chargers' best tries to tempt fate. After all, Turner called his final timeout with 2:30 left; the Colts were one first down from being able to kneel the game to its end. The Qualcomm crowd booed, sensing another clock-management botch.
But San Diego forced a punt, getting the ball back with plenty of time to tie the score. In overtime, the Bolts benefited from three penalties, including a holding call on third-and-8 by cornerback Tim Jennings on receiver Chris Chambers. It was a terrible call, the type that San Diego has suffered from this season. But nobody was complaining. The powers that be were saying to the Chargers what the Chargers on Sunday will say to Pittsburgh:
It's payback time.
Seth Wickersham is a senior writer for ESPN The Magazine and a columnist for ESPN.com.
ESPN The Magazine senior writer
Seth Wickersham joined ESPN The Magazine after graduating from the University of Missouri. Although he primarily covers the NFL, his assignments also have taken him to the Athens Olympics, the World Series, the NCAA tournament and the NHL and NBA playoffs.
2008 NFL Playoffs

The road to Tampa for Super Bowl XLIII on Feb. 1, 2009, began Jan. 3 with the wild-card playoff round. Will the Steelers or Cardinals replace the Giants as champs?

Championship Game results: NFC | AFC


COLUMNS/FEATURES
•
Wojciechowski: May the bitter team win
•
Chadiha: McNabb lets good times roll
•
Football Outsiders: Numbers Crunching
•
Sunday Countdown: Predictions and more
•
Clayton: First and Goal
•
Garber: This Philly Story seeks proper ending
•
Clayton: Peaking Steelers should advance
•
Chadiha: Eagles will soar in desert
•
Wojciechowski: Book Eagles for Tampa
•
Football Outsiders: Any Given Sunday
•
Football Outsiders: Quick Reads
CHAMPIONSHIP GAMES (Jan. 18)
Steelers 23, Ravens 14
•
Polamalu's INT return secures win
•
Playoff page
|
AFC North blog
Cardinals 32, Eagles 25
•
Fitzgerald leads Cardinals to first Super Bowl
•
Playoff page
|
NFC West blog
...
East
DIVISIONAL ROUND (Jan. 10-11)
Steelers 35, Chargers 24
•
Walker: The Bus sparks Parker
•
Williamson: Bolts need season-long urgency
•
Recap: Steelers knock out Chargers
•
More
|
AFC West blog
...
AFC North
Ravens 13, Titans 10
•
Graham: Battered Ravens pass physical
•
Kuharsky: Titans failed to answer critics
•
Recap: Turnovers doom Titans
•
Zoom Gallery
•
Fleming: Can anyone stop the Ravens?
•
More
|
AFC North blog
...
AFC South
Cardinals 33, Panthers 13
•
Sando: Desert bloom for Arizona's faithful
•
Sando: No denying Cards' makeover
•
Yasinskas: Carolina's big plans fall apart
•
Recap: Delhomme's 5 INTs doom Panthers
•
Zoom Gallery
•
More
|
NFC West blog
...
NFC South
Eagles 23, Giants 11
•
Wojciechowski: Book Eagles for Tampa
•
Mosley: Giants lost to better team
•
Recap: Defense smothers Giants
•
Zoom gallery
•
Chadiha: Eagles' defense hitting stride
•
More
|
NFC East blog
WILD-CARD ROUND (Jan. 3-4)
Ravens 27, Dolphins 9
•&nbsp
Wojciechowski: Scary Ravens' D
•
Recap: Ravens' defense overpowers Dolphins
•
More
|
AFC North blog
...
AFC East
Eagles 26, Vikings 14
•
Mosley: Eagles' run continues
•
Recap: Westbrook, big plays carry Eagles
•
More
|
NFC East blog
...
NFC North
Cardinals 30, Falcons 24
•
Sando: Cards' winning identity
•
Recap: Strong second half powers Cards
•
More
|
NFC South blog
...
NFC West
Chargers 23, Colts 17
•
Williamson: 5-6 Sproles comes up big
•
Recap: Chargers shock Manning, Colts in OT
•
More
|
AFC South blog
...
AFC West
Nike Women's Home Game Jersey San Diego Chargers Philip Rivers #17 Shop »

MOST SENT STORIES ON ESPN.COM