Commentary
Five to thrive: Unheralded players primed for postseason
Unheralded players always play a key role in their team's playoff success. This year, there are a handful of players who could produce a similar impact, writes Jeffri Chadiha.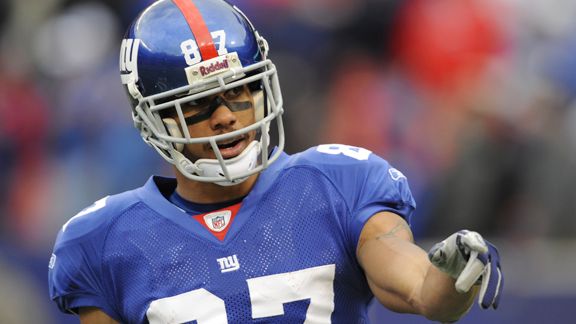 Icon SMIDomenik Hixon has been a solid replacement for Plaxico Burress, finishing the season with 43 receptions for 596 yards.
Now that the postseason has arrived once again, it's time to start talking about how teams win championships. They do it by raising their energy level to match the playoff atmosphere and minimizing mistakes. They do it with stars making critical plays and coaches devising effective game plans. And they also do it with help from another area -- unexpected contributions from players who somehow rise to the occasion.
This is something we saw from the New York Giants last season, a team that won a Super Bowl with a handful of unheralded players stepping into critical roles. Tight end Kevin Boss made Jeremy Shockey's season-ending injury irrelevant. Steve Smith blossomed into a valuable third receiver, and fellow wideout David Tyree made the greatest catch in Super Bowl history. Running back Ahmad Bradshaw also carried a valuable load, as he became a viable complement to bruising runner Brandon Jacobs.
Every team can thrive with players like these, and you're about to see plenty of this year's postseason participants ask for just such contributions from their own rosters. Some of these players -- we'll call them emergency responders -- have been in the lineup because of injuries. Others have risen up the depth chart because off-the-field problems sidelined a starter. But they all know they have one main responsibility: to deliver the kind of effort that made their teams believe in them in the first place.
So here are the five most important emergency responders heading into this postseason:
Domenik Hixon

Wide Receiver
New York Giants

Profile
2008 SEASON STATISTICS
Rec
Yds
TD
Avg
Long
YAC
43
596
2
13.9
41
143
1. Domenik Hixon, WR, New York Giants
Hixon knows all eyes are on his position for one key reason: He's the guy who replaced Plaxico Burress after Burress' season ended with a suspension in late November. The downside for New York is that Hixon obviously doesn't have Burress' intimidating size (Hixon is 6-foot-2, while Burress goes 6-5) and he can't create the same mismatches against smaller defensive backs. The upside, however, is that Hixon was a blossoming player before Burress' boneheaded decisions ever turned into a major issue. The Giants just have the opportunity to see how far he has come in a litle over a year.
Hixon is quick to note that he gained plenty of confidence while playing with the first-team offense during most of training camp -- when Burress was sidelined with an ankle injury -- and he has been a solid target for Eli Manning for most of this season (43 receptions, 596 yards, two touchdowns). The key for Hixon now is making sure he can beat the single coverage he's likely to get throughout this postseason. There will be plenty of times when the Giants will need a receiver to make the kind of big plays that Burress made in last season's Super Bowl run. Remember, the Giants probably wouldn't have won last year's NFC Championship Game if not for Burress' 11 receptions for 151 yards in that victory over Green Bay.
Said Hixon: "Without Plaxico out there, we know we're not going to have a guy who demands double coverage. That means the safeties are going to be closer to the line of scrimmage to stop the run and we're going to see more press coverage on the outside. We saw that in the first game we played after Plaxico was out for the year [a 23-7 win over Washington]. That's why I'm always focusing on being accountable. That's what I've been practicing all season -- doing my job."
Le'Ron McClain

Fullback
Baltimore Ravens

Profile
2008 SEASON STATISTICS
Tot
Solo
Ast
FF
Sack
Int
1
1
0
0
0
0
2. Le'Ron McClain, FB, Baltimore

Talk about your hidden gems. The 6-0, 260-pound McClain tried telling the previous Ravens coaching staff that he could be an effective runner, and all they ever told him was to shut up and block. Then he offered the same suggestion to new offensive coordinator Cam Cameron this season, and McClain got his wish. Of course, it helped that Cameron had envisioned McClain as a potential runner when the coach first saw the player at the 2007 NFL combine. But McClain also had to make the most of his chance, and that's exactly what he has done.
McClain's presence made Willis McGahee's injury-plagued season far easier for the Ravens to handle. In fact, McClain's team-leading 902 yards and 10 touchdowns earned him a spot in this year's Pro Bowl and made him a critical cog in Baltimore's backfield rotation. By the way, he's not just a banger. McClain can catch the ball out of the backfield, and has learned plenty about recognizing defensive schemes from Ravens fullback Lorenzo Neal.
That knowledge helps McClain identify extra defenders lurking around the line of scrimmage, so he knows how to elude them. He showcased that skill in the Ravens' 33-24 win over Dallas on Dec. 20, when McClain sealed that victory with an 82-yard scoring run.
"I remember the Cowboys were saying I couldn't run the ball after my first couple carries in that game," McClain said. "But when I broke that long run, you could see the shock in their faces. That's how I am. It doesn't matter if you hold me to three or four yards a carry. I'll get a big one on you eventually, because people don't want to take that kind of pounding."
Davone Bess

Wide Receiver
Miami Dolphins

Profile
2008 SEASON STATISTICS
Rec
Yds
TD
Avg
Long
YAC
54
554
1
10.3
37
239
3. Davone Bess, WR, Miami

Somebody had to step up when the Dolphins lost starter Greg Camarillo to a season-ending injury in November. So in came Bess, a third receiver and undrafted rookie free agent who has proved to be a serviceable replacement for Miami's steadiest receiver.
"My role pretty much is the same as it was before, even now that I'm [a] starter," Bess said. "I have to beat coverage when I get a one-on-one matchup. The coaches do a good job of getting me into good positions, and it helps that I've learned a lot from playing at Hawaii [in college]. I understand things, like how a defender is trying to play me inside or outside, and I can read coverages. I know how to be a student of the game."
Bess also has had plenty of help in the studying department. Camarillo has been in his ear about running sharp routes. Quarterback Chad Pennington has tutored him on how to get open against certain defenses, and they've been working after practice nearly every day since training camp. Now Bess has to put those lessons into action. He's already had a solid rookie year -- 54 receptions, 554 yards, one touchdown -- but you can bet Miami's opponents will try to stop the run first while making players like Bess elevate their games.
"All I want the coaches to know," Bess said, "is that they made the right decision by going with me."
Tim Jennings

Safety
Indianapolis Colts

Profile
2008 SEASON STATISTICS
Tot
Solo
Ast
FF
Sack
Int
66
51
15
2
0
2
4. Tim Jennings, CB, Indianapolis

Jennings has started a career-high 12 games this season, first as a replacement for Kelvin Hayden and then as a permanent starter following a season-ending injury to Marlin Jackson. He doesn't have ideal size (5-8, 185) but he has embraced the task of facing larger receivers in the Colts' Cover 2 scheme.
"I feel like I've brought a physical nature to our defense," Jennings said. "That's what you have to have in this scheme. They want you to make tackles and be comfortable with your role. That's what I've been doing."
Jennings has produced solid numbers for the Colts this season (66 tackles, two interceptions and two forced fumbles). He adds that he's not worried about teams trying to target him. The Colts' two-deep scheme makes it harder to exploit cornerbacks, and Indianapolis has two Pro Bowl pass-rushers (Dwight Freeney and Robert Mathis) to make life difficult for opposing quarterbacks and easier for the men in the secondary. Jennings also has shown that he can deliver a big play, with a prime example being his key interception in a 24-20 win over Pittsburgh on Nov. 9.
Jennings thinks the Colts' defense can have more game-changing moments like those for a team that is riding a nine-game win streak. "We're coming together at the right time," Jennings said. "We got off to a slow start earlier this year [Indianapolis was 4-4 at midseason], but it's good to go into the playoffs as a hot team."
Mewelde Moore

Running Back
Pittsburgh Steelers

Profile
2008 SEASON STATISTICS
Rush
Yds
TD
Rec
Yds
TD
140
588
5
40
320
1
5. Mewelde Moore, RB, Pittsburgh

When injuries sidelined both Willie Parker and Rashard Mendenhall earlier this season, it was Moore who came to the rescue. The end result: He had the second-highest number of rushing attempts (140) and yards (588) in his five-year NFL career, while scoring six touchdowns. While those aren't gaudy statistics, the Steelers appreciate them just the same. Without Moore around, they might not be sitting in the second-seeded position in the AFC playoff race.
Moore initially was supposed to be a third-down back when he joined Pittsburgh this year after four seasons in Minnesota. Now that he's proved himself capable of spelling a healthy Parker, he's found himself more involved in the offense. Steelers offensive coordinator Bruce Arians is using Moore for entire possessions instead of a play or two these days, and Moore is ready to show what he can do in the postseason.
"It's hard to guard me," Moore said. "I'm listed at 205 pounds, but I'm actually 220. So I'm quicker than most linebackers and stronger than a lot of safeties. I can create a mismatch anywhere that I line up on the field."
Senior writer Jeffri Chadiha covers the NFL for ESPN.com.
ESPN.com senior NFL columnist
Reporter for ESPN TV's "E:60"
Sports Illustrated senior writer (2000-07)
Covered Raiders, 49ers for San Francisco Examiner (1996-1999)
SPONSORED HEADLINES
MORE NFL HEADLINES
MOST SENT STORIES ON ESPN.COM
2008 NFL Playoffs

The road to Tampa for Super Bowl XLIII on Feb. 1, 2009, began Jan. 3 with the wild-card playoff round. Will the Steelers or Cardinals replace the Giants as champs?

Championship Game results: NFC | AFC


COLUMNS/FEATURES
•
Wojciechowski: May the bitter team win
•
Chadiha: McNabb lets good times roll
•
Football Outsiders: Numbers Crunching
•
Sunday Countdown: Predictions and more
•
Clayton: First and Goal
•
Garber: This Philly Story seeks proper ending
•
Clayton: Peaking Steelers should advance
•
Chadiha: Eagles will soar in desert
•
Wojciechowski: Book Eagles for Tampa
•
Football Outsiders: Any Given Sunday
•
Football Outsiders: Quick Reads
CHAMPIONSHIP GAMES (Jan. 18)
Steelers 23, Ravens 14
•
Polamalu's INT return secures win
•
Playoff page
|
AFC North blog
Cardinals 32, Eagles 25
•
Fitzgerald leads Cardinals to first Super Bowl
•
Playoff page
|
NFC West blog
...
East
DIVISIONAL ROUND (Jan. 10-11)
Steelers 35, Chargers 24
•
Walker: The Bus sparks Parker
•
Williamson: Bolts need season-long urgency
•
Recap: Steelers knock out Chargers
•
More
|
AFC West blog
...
AFC North
Ravens 13, Titans 10
•
Graham: Battered Ravens pass physical
•
Kuharsky: Titans failed to answer critics
•
Recap: Turnovers doom Titans
•
Zoom Gallery
•
Fleming: Can anyone stop the Ravens?
•
More
|
AFC North blog
...
AFC South
Cardinals 33, Panthers 13
•
Sando: Desert bloom for Arizona's faithful
•
Sando: No denying Cards' makeover
•
Yasinskas: Carolina's big plans fall apart
•
Recap: Delhomme's 5 INTs doom Panthers
•
Zoom Gallery
•
More
|
NFC West blog
...
NFC South
Eagles 23, Giants 11
•
Wojciechowski: Book Eagles for Tampa
•
Mosley: Giants lost to better team
•
Recap: Defense smothers Giants
•
Zoom gallery
•
Chadiha: Eagles' defense hitting stride
•
More
|
NFC East blog
WILD-CARD ROUND (Jan. 3-4)
Ravens 27, Dolphins 9
•&nbsp
Wojciechowski: Scary Ravens' D
•
Recap: Ravens' defense overpowers Dolphins
•
More
|
AFC North blog
...
AFC East
Eagles 26, Vikings 14
•
Mosley: Eagles' run continues
•
Recap: Westbrook, big plays carry Eagles
•
More
|
NFC East blog
...
NFC North
Cardinals 30, Falcons 24
•
Sando: Cards' winning identity
•
Recap: Strong second half powers Cards
•
More
|
NFC South blog
...
NFC West
Chargers 23, Colts 17
•
Williamson: 5-6 Sproles comes up big
•
Recap: Chargers shock Manning, Colts in OT
•
More
|
AFC South blog
...
AFC West