Commentary
Resurgent ground game brings Cardinals back to life
Originally Published:
January 5, 2009
By
Ned Macey
| Football Outsiders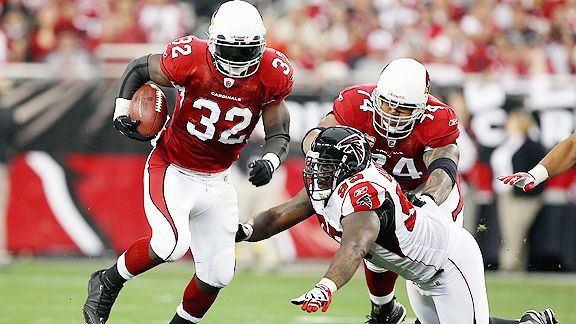 Jed Jacobsohn/Getty ImagesEdgerrin James rushed for 73 yards in the wild-card game and exposed some flaws in Atlanta's defense.
Arizona clinched the weak NFC West in Week 14, then spent the next two weeks being outscored 82-21. Given the weakness of their division (possibly the worst in NFL history), their mediocre 9-7 record and their weak finish, the Cardinals were widely considered the most likely home team to lose in the wild-card round.
Instead, the Cardinals looked reborn, and held off the upstart Falcons 30-24. What seemed like a mismatch in Atlanta's favor actually had several factors that tilted the matchup toward Arizona. The Falcons' run defense is particularly poor, which allowed the Cardinals' often nonexistent rushing attack to reappear from football purgatory. Also, the Falcons are a run-first team, and the Cardinals always defend the run first and commit safeties to stop the run against almost any opponent. As a result, the Cardinals were able to play what is their base defense while still focusing on stopping the Falcons' primary offensive weapon, Michael Turner.
These matchups led to some surprising numbers. The Cardinals outgained the Falcons on the ground 86-60, and veteran Edgerrin James outgained Turner 73-42. James had lost his starting job in the middle of the season, while Turner finished second in the league in total rushing yards.
The reinsertion of James for rookie Tim Hightower was a necessary step for the Cardinals to have any shot in the playoffs. Hightower appears the more impressive back based on his combination of size and speed, but the rookie's instincts are poor, and he was terrible as a starter. Hightower averaged only 2.8 yards per carry. James' 3.9-yard average is not amazing, but it makes him seem like Jim Brown when compared to Hightower.
James' success against Atlanta came largely because run defense was Atlanta's Achilles' heel in 2008. The Falcons' run defense ranked 25th in Football Outsiders' DVOA rankings. Their defensive line rarely got penetration, and James was able to find sufficient holes to stretch out consistent gains. The Cardinals' first touchdown came on a flea-flicker after three straight successful James runs. Their third offensive touchdown capped a 14-play drive in which James and Hightower carried a combined eight times.
For the pass-happy Cardinals, this was certainly a change of tune, but the Cardinals did not suddenly become a run-first unit. Kurt Warner still attempted more than 30 passes, and the Cardinals' two great receivers each made a spectacular play. Larry Fitzgerald came down with an amazing catch on the flea-flicker, while Anquan Boldin ran away from safety Lawyer Milloy for a 72-yard catch-and-run touchdown.
The Cardinals' offense was efficient, but the bigger surprise was the play of the defense. The Falcons were an offense-first team with Turner. Against the Cardinals, however, the Falcons struggled to establish the run. The Cardinals have traditionally defended the run very well, using safeties Antrel Rolle and especially Adrian Wilson frequently near the line of scrimmage.
The Cardinals' quality run defense is usually undermined by their porous pass defense. On Saturday, however, they were able to prevent the big play and thus keep the Falcons under control. Roddy White caught 11 passes, but they totaled only 84 yards, and his longest reception was 12 yards. By stifling the run game and eliminating the big play, the Cardinals forced Atlanta QB Matt Ryan to consistently make throws underneath. The rookie was not up to the task.
For the season, more than one out of six Ryan completions gained 20 yards. On Saturday, only two of his 26 completions gained 20 yards. Ryan succeeded in the second quarter at leading three scoring drives, but once the Cardinals took the lead on Rolle's fumble return to start the second half, the Falcons' offense got predictable, and the Cardinals could bring a safety up on first down. On the Falcons' four drives after the Rolle touchdown, they threw on first down only once and ran after first down only once. The first-down throw got single coverage against White, but Ryan underthrew the pass and Dominique Rodgers-Cromartie made a fine play for an interception.
This successful season should not mask the substantial amount of work that remains in building the Falcons. Their offensive core is no doubt outstanding, but defensively the team has a number of issues. The Falcons get little pressure outside of John Abraham, and the secondary is easily exposed. Even worse, the defense has a number of older players and might require a total overhaul before the Falcons emerge as legitimate title contenders.
Arizona gets a chance to show it is a legitimate title contender with a trip to Carolina. The Cardinals traveled there in Week 8, when they controlled the game before a dominant performance by Steve Smith helped Carolina escape with the win. The good news is that Carolina and Atlanta have many of the same strengths and weaknesses. Both are run-first teams with outstanding primary receivers but little receiving depth. Both teams struggle in run defense. The Panthers have a better pass defense and a more dominant running offense, but the strategy to beat Carolina is the same as for Atlanta.
The bigger problem for Arizona is that the game will be on the road. Before the Cardinals clinched the NFC West, they were 5-1 at home with only an eight-point loss to the top-seeded Giants. On the road, however, the Cardinals were 3-4, including blowout losses to the Jets and Eagles. If Boldin is not healthy, and at this point he is questionable, the task is likely too large for the Cardinals, who might have to be satisfied with their first playoff win in a decade instead of a trip to the NFC Championship Game.
Ned Macey is an analyst for Football Outsiders.
SPONSORED HEADLINES
MORE NFL HEADLINES
MOST SENT STORIES ON ESPN.COM
2008 NFL Playoffs

The road to Tampa for Super Bowl XLIII on Feb. 1, 2009, began Jan. 3 with the wild-card playoff round. Will the Steelers or Cardinals replace the Giants as champs?

Championship Game results: NFC | AFC


COLUMNS/FEATURES
•
Wojciechowski: May the bitter team win
•
Chadiha: McNabb lets good times roll
•
Football Outsiders: Numbers Crunching
•
Sunday Countdown: Predictions and more
•
Clayton: First and Goal
•
Garber: This Philly Story seeks proper ending
•
Clayton: Peaking Steelers should advance
•
Chadiha: Eagles will soar in desert
•
Wojciechowski: Book Eagles for Tampa
•
Football Outsiders: Any Given Sunday
•
Football Outsiders: Quick Reads
CHAMPIONSHIP GAMES (Jan. 18)
Steelers 23, Ravens 14
•
Polamalu's INT return secures win
•
Playoff page
|
AFC North blog
Cardinals 32, Eagles 25
•
Fitzgerald leads Cardinals to first Super Bowl
•
Playoff page
|
NFC West blog
...
East
DIVISIONAL ROUND (Jan. 10-11)
Steelers 35, Chargers 24
•
Walker: The Bus sparks Parker
•
Williamson: Bolts need season-long urgency
•
Recap: Steelers knock out Chargers
•
More
|
AFC West blog
...
AFC North
Ravens 13, Titans 10
•
Graham: Battered Ravens pass physical
•
Kuharsky: Titans failed to answer critics
•
Recap: Turnovers doom Titans
•
Zoom Gallery
•
Fleming: Can anyone stop the Ravens?
•
More
|
AFC North blog
...
AFC South
Cardinals 33, Panthers 13
•
Sando: Desert bloom for Arizona's faithful
•
Sando: No denying Cards' makeover
•
Yasinskas: Carolina's big plans fall apart
•
Recap: Delhomme's 5 INTs doom Panthers
•
Zoom Gallery
•
More
|
NFC West blog
...
NFC South
Eagles 23, Giants 11
•
Wojciechowski: Book Eagles for Tampa
•
Mosley: Giants lost to better team
•
Recap: Defense smothers Giants
•
Zoom gallery
•
Chadiha: Eagles' defense hitting stride
•
More
|
NFC East blog
WILD-CARD ROUND (Jan. 3-4)
Ravens 27, Dolphins 9
•&nbsp
Wojciechowski: Scary Ravens' D
•
Recap: Ravens' defense overpowers Dolphins
•
More
|
AFC North blog
...
AFC East
Eagles 26, Vikings 14
•
Mosley: Eagles' run continues
•
Recap: Westbrook, big plays carry Eagles
•
More
|
NFC East blog
...
NFC North
Cardinals 30, Falcons 24
•
Sando: Cards' winning identity
•
Recap: Strong second half powers Cards
•
More
|
NFC South blog
...
NFC West
Chargers 23, Colts 17
•
Williamson: 5-6 Sproles comes up big
•
Recap: Chargers shock Manning, Colts in OT
•
More
|
AFC South blog
...
AFC West