Namath's numbers not eye-popping
From Joe Montana to Tony Eason, ESPN.com ranks the Super Bowl starting quarterbacks from 1-84.
Originally Published:
January 19, 2009
By
Allison Wachs
| ESPN.com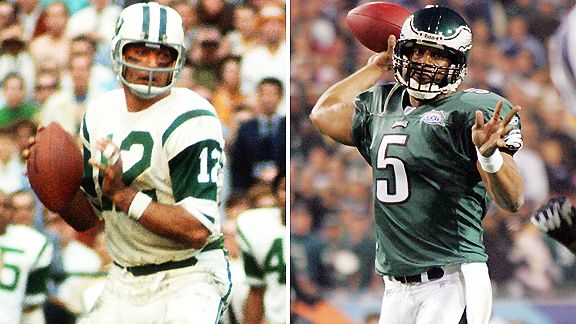 Getty ImagesIn the historically significant Super Bowl III win over the Colts, the Jets' Joe Namath didn't put up huge numbers but was named MVP. In a Super Bowl XXXIX loss to New England, the Eagles' Donovan McNabb was hamstrung by an impotent running game.
Through 42 Super Bowls, there have been 52 different starting quarterbacks. Among them are players who put up monster numbers and won regular-season MVP awards, and guys who still make us wonder how they ever started a Super Bowl.
Our list is top-heavy with 49ers (Joe Montana and Steve Young) and bottom-heavy with Hall of Famers (John Elway, John Unitas) and guys who will get into the Hall only with a ticket (Neil O'Donnell, Rich Gannon).
• THE BREAKDOWN: 1-20 | 41-60 | 61-84 | Super Bowl winning/losing QBs

RANKING SUPER BOWL STARTING QB PERFORMANCES
Pos.
Player, team, Super Bowl/season
Skinny
21.
Mark Rypien, Redskins, XXVI (1991)
18-33, 292 yards, 2 TD, 1 interception in 37-24 win over Bills. Rypien's solid performance resulted in both Gary Clark and Art Monk collecting more than 100 receiving.
22.
Jim McMahon, Bears, XX (1985)
12-20, 256 yards, 2 TD (both rushing) in 46-10 win over Patriots. McMahon became the first quarterback in Super Bowl history to rush for two touchdowns. He left the game in the fourth quarter with a wrist injury.
23.
Joe Namath, Jets, III (1968)
17-28, 206 yards, 0 TD, 0 interceptions in 16-7 win over Colts.
His numbers alone wouldn't be enough to put Namath this high. But we're giving him major props for guaranteeing the win over the heavily favored Colts -- the AFL's first win over the NFL.
24.
Brett Favre, Packers, XXXII (1997)
25-42, 256 yards, 3 TD, 1 interception in 31-24 loss to Broncos. Favre led the Packers on a 76-yard opening touchdown drive, but Green Bay fell short in its attempt for back-to-back Super Bowl titles.
25.
Joe Montana, 49ers, XVI (1981)
14-22, 157 yards, 2 TD (1 rush) in 26-21 win over Bengals.
Yes, this is the fourth time that Montana has appeared on this list -- it certainly says a lot that he has one-sixth of the best 24 performances by a Super Bowl quarterback. Montana's steady hand in this game -- his first Super Bowl appearance -- earned him MVP.
26.
Len Dawson, Chiefs, IV (1969)
12-17, 142 yards, 1 TD, 1 interception in 23-7 win over Vikings. While the numbers look rather pedestrian, Dawson's game management was impeccable; the Chiefs led 16-0 at the half. It was the AFL's second straight upset of the NFL.
27.
Tom Brady, Patriots, XXXVI (2001)
16-27, 145 yards, 1 TD, 0 interceptions in 20-17 win over Rams.
New England's defense stood out, but Brady orchestrated the drive at the end of the game to set up Adam Vinatieri's game-winning field goal as time expired for the upset win. Brady completed 5 of 6 passes on the winning 53-yard drive.
28.
Troy Aikman, Cowboys, XXX (1995)
15-23, 209 yards, 1 TD, 0 interceptions in win over Steelers.
Aikman was efficient and easily outperformed his counterpart, Neil O'Donnell (see No. 71). Most impressively, Aikman was able to lead the Cowboys to victory despite a rushing attack that was held to just 56 yards.
29.
Ken Anderson, Bengals, XVI (1981)
25-34, 300 yards, 3 TD (1 rush), 2 picks in 26-21 loss to 49ers.
Anderson put up better numbers than Joe Montana (14-22, 157 yards) in this game but would probably like those two interceptions back.
30.
Roger Staubach, Cowboys, VI (1971)
12-19, 119 yards, 2 TD, 1 interception in 24-3 win over Dolphins.
Staubach didn't need to throw much as the Cowboys rolled to the win with 252 rushing yards.
31.
Jeff Hostetler, Giants, XXV (1990)
20-32, 222 yards, 1 TD, 0 interceptions in 20-19 win over Bills. Hostetler was a made Scott Norwood FG away from dropping on this list, but his efficient performance cannot be overlooked. He managed a game that saw the Giants rack up 40 minutes, 33 seconds in time of possession.
32.
Ken Stabler, Raiders, XI (1976)
12-19, 180 yards, 1 TD, 0 interceptions in 32-14 win over Vikings. Stabler had a solid performance as the Raiders put up a then-record 429 yards of total offense. Fred Biletnikoff, who had only four receptions for 79 yards, was named MVP.
33.
John Elway, Broncos, XXI (1986)
22-37, 304 yards, 2 TD (1 rush), 1 pick in 39-20 loss to Giants. Behind Elway's 187 passing yards in the first half, the Broncos actually led 10-9 at the break. In the second half, however, Elway was outdueled by a white-hot Phil Simms, who completed 22 of 25 passes overall.
34.
Bart Starr, Packers, II (1967)
13-24, 202 yards, 1 TD, 1 interception in 33-14 win over Raiders. Starr, coming off one of the worst regular seasons of his career, pulled it together to earn Super Bowl MVP honors for the second straight year.
35.
Peyton Manning, Colts, XLI (2006)
25-38, 247 yards, 1 TD, 1 interception in 29-17 win over Bears.
On a rainy Miami night, Manning completed a 53-yard TD pass to Reggie Wayne in the first quarter and earned MVP honors. His running back duo of Joseph Addai (143 total yards) and Dominic Rhodes (113 rush yards) arguably had better games.
36.
Steve McNair, Titans, XXXIV (1999)
22-36, 214 yards, 0 TD, 0 interceptions in 23-16 loss to Rams. McNair and the Titans came up just short -- literally -- of winning. After catching a McNair pass, Kevin Dyson was tackled by Mike Jones at the 1-yard line as time expired. McNair rushed for 64 yards, the most by a QB in Super Bowl history.
37.
Roger Staubach, Cowboys, XII (1977)
17-25, 183 yards, 1 TD, 0 interceptions in 27-10 win over Broncos. Staubach's solid performance was aided by the Cowboys' defense, which forced eight turnovers. His 45-yard touchdown to Butch Johnson in the third quarter put the game away.
38.
Terry Bradshaw, Steelers, X (1975)
9-19, 209 yards, 2 TD, 0 interceptions in 21-17 win over Cowboys Four of Bradshaw's completions went to game MVP Lynn Swann for 161 yards, including a 64-yard TD pass in the fourth quarter that clinched Pittsburgh's second straight championship.
39.
Brad Johnson, Buccaneers, XXXVII (2002)
18-34, 215 yards, 2 TD, 1 interception in 48-21 win over Raiders.
It's hard to believe that a quarterback whose team scored 48 points is this low, but it was the Bucs' defense that drove up the score with three interceptions returned for touchdowns.
40.
Donovan McNabb, Eagles, XXXIX (2004)
30-51, 357 yards, 3 TD, 3 interceptions in 24-21 loss to Patriots. While critics will point out McNabb's three interceptions -- including one on the Eagles' final drive -- it's hard to fault the Eagles' QB, especially with Philadelphia's ground game (45 yards) shut down.
• THE BREAKDOWN: 1-20 | 41-60 | 61-84 | Super Bowl winning/losing QBs

EDITORS' PICKS
Jameis Winston's pro day workout wasn't exceptional, but he confirmed he's worthy of being the top pick.
McShay

Athletes, teams

Mailbag: John Clayton explains why expanded playoffs are on hold and discusses overtime rules and extra points.
Story »

MOST SENT STORIES ON ESPN.COM