Griese completed 8 passes, perfection
From Joe Montana to Tony Eason, ESPN.com ranks the Super Bowl starting quarterbacks from 1-84.
Originally Published:
January 19, 2009
By
Allison Wachs
| ESPN.com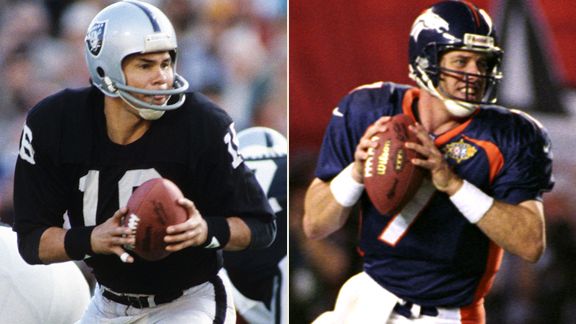 Getty ImagesThe Raiders' Jim Plunkett was 16-for-25 for 172 yards and a touchdown in a 38-9 rout of Washington in Super Bowl XVIII. In a Super Bowl XXXII win over Green Bay, the Broncos didn't need a huge contribution from John Elway.
Through 42 Super Bowls, there have been 52 different starting quarterbacks. Among them are players who put up monster numbers and won regular-season MVP awards, and guys who still make us wonder how they ever started a Super Bowl.
Our list is top-heavy with 49ers (Joe Montana and Steve Young) and bottom-heavy with Hall of Famers (John Elway, John Unitas) and guys who will get into the Hall only with a ticket (Neil O'Donnell, Rich Gannon).
• THE BREAKDOWN: 1-20 | 21-40 | 61-84 | Super Bowl winning/losing QBs

RANKING SUPER BOWL STARTING QB PERFORMANCES
Pos.
Player, team, SB/season
Skinny
41.
Tom Brady, Patriots, XLII (2007)
29-48, 266 yards, 1 TD, 0 interceptions in 17-14 loss to Giants.
Brady was unable to follow up arguably the most productive season by a passer (50 TD passes, 4,806 yards) in league history. Constantly peppered by a powerful Giants pass rush, Brady was limited to one TD pass as the Patriots' offense looked nothing like the one that went 16-0 in the regular season.
42.
Vince Ferragamo, Rams, XIV (1979)
15-25, 212 yards, 0 TD, 1 interception in 31-19 loss to Steelers.
In a game that was back and forth, Ferragamo more than held his own, making only one big mistake. The Rams' only touchdown pass was by Lawrence McCutcheon on a halfback option play.
43.
Troy Aikman, Cowboys, XXVIII (1993)
19-27, 207 yards, 0 TD, 1 interception in 30-13 win over Bills. Aikman's performance was fairly nondescript. He made the throws when he had to and did not get in Super Bowl MVP Emmitt Smith's way (132 yards rushing) as the Cowboys outscored Buffalo 24-0 in the second half.
44.
Len Dawson, Chiefs, SB I (1966)
16-27, 211 yards, 1 TD, 1 interception in 35-10 loss to Packers. Dawson put up decent numbers, but the Chiefs failed to score in the second half en route to a decisive loss.
45.
Matt Hasselbeck, Seahawks, XL (2005)
26-49, 273 yards, 1 TD, 1 interception in 21-10 loss to Steelers. Playing from behind for most of the game, the Seahawks were depending on Hasselbeck's arm. He threw just one interception in his 49 attempts, but it came when Seattle was threatening to score and take the lead in the fourth quarter
46.
Joe Theismann, Redskins, XVII (1982)
15-23, 143 yards, 2 TD, 2 interceptions in 27-17 win over Dolphins. Theismann methodically managed the game for the Redskins and let John Riggins (166 yards rushing) do most of the work.
47.
Daryle Lamonica, Raiders, II (1967)
15-34, 208 yards, 2 TD, 1 interception in 33-14 loss to Packers. Lamonica did not have a terrible game statistically, but his second touchdown pass came well after the game was out of hand.
48.
Fran Tarkenton, Vikings, VIII (1973)
18-28, 182 yards, 1 rush TD, 0 interceptions in 24-7 loss to Dolphins. Tarkenton and the Vikings were dominated from the start. Minnesota's only touchdown came on Tarkenton's 4-yard run with the Vikings down 24-0.
49.
Terry Bradshaw, Steelers, IX (1974)
9-14, 96 yards, 1 TD, 0 interceptions in 16-6 win over Vikings.
As he usually did, Bradshaw made the big throw when it counted, securing the Steelers' win with a 4-yard touchdown pass to Larry Brown in the fourth quarter.
50.
Dan Marino, Dolphins, XIX (1984)
29-50, 318 yards, 1 TD, 2 interceptions in 38-16 loss to 49ers.
In a game that featured one of the best regular-season quarterbacks ever against one of the best postseason quarterbacks ever, Marino was unable to keep the momentum from his 1984 regular season (48 TD passes) going.
51.
Roger Staubach, Cowboys, X (1975)
15-24, 204 yards, 2 TD, 2 interceptions in 21-17 loss to Steelers. Staubach's third interception of the game came in the end zone on the last play of the game.
52.
Trent Dilfer, Ravens, XXXV (2000)
12-25, 153 yards, 1 TD, 0 interceptions in 34-7 win over Giants. Dilfer did his best to just stay out of the way while the Ravens' defense dominated. He had a 38-yard touchdown pass and would have done even more damage if he hadn't missed open receivers on several occasions.
53.
Jim Kelly, Bills, XXV (1989)
18-30, 212 yards, 0 TD, 0 interceptions in 20-19 loss to Giants.
It wasn't an overwhelming performance by Kelly, but he should be given credit for putting his team in position for a game-winning field goal attempt. Paging Scott Norwood.
54.
Jim Plunkett, Raiders, XVIII (1983)
16-25, 172 yards, 1 TD, 0 interceptions in 38-9 win over Redskins. Plunkett's touchdown pass put the Raiders up 14-0 and Marcus Allen took it from there, racking up 191 rushing yards in the lopsided victory.
55.
Stan Humphries, Chargers, XXIX (1994)
24-49, 275 yards, 1 TD, 2 interceptions in 49-26 loss to 49ers.
From the start, Humphries and the Chargers were blown away by a better 49ers team. Humphries fared better than his team's defense, which surrendered 455 yards.
56.
John Elway, Broncos, XXXII (1997)
12-22, 123 yards, 1 rush TD, 1 pick in 31-24 win over Packers.
It's hard to believe that Elway's first Super Bowl triumph is ranked so low, but he did little to help his team win this game. Terrell Davis carried the offense with 157 rushing yards and three touchdowns.
57.
Jim Kelly, Bills, XXVIII (1993)
31-50, 260 yards, 0 TD, 1 interception in 30-13 loss to Cowboys.
The Bills had a 13-6 lead at the half but were shut out in the second half en route to their fourth straight Super Bowl loss. Kelly's 31 completions were a Super Bowl record at the time.
58.
Jim Kelly, Bills, XXVI (1991)
28-58, 275 yards, 2 TD, 4 interceptions in 37-24 loss to Redskins. Kelly was forced to lead the Bills from behind the entire game, leading to his Super Bowl-record 58 pass attempts.
59.
Drew Bledsoe, Patriots, XXXI (1996)
25-48, 253 yards, 2 TD, 4 interceptions in 35-21 loss to Packers. Bledsoe threw two touchdown passes in the first quarter to give the Patriots the lead. In the fourth quarter, he was picked off twice, spoiling a comeback attempt.
60.
Bob Griese, Dolphins, VII (1973)
8-11, 88 yards, 1 TD, 1 interception in 14-7 win over Redskins.
Don Shula and the Dolphins found a winning formula -- Griese passed infrequently as Miami amassed 184 rushing yards and completed a perfect season.
•
THE BREAKDOWN:
1-20
|
21-40
|
61-84
|
Super Bowl winning/losing QBs
EDITORS' PICKS
Draft-day trades are bold. But rarely does the capital gained match the price paid.
TMQ »

Mailbag: What's up with the NFC South and AFC East? Plus: roster sizes, the 49ers' identity and more.

Clayton »

Is Houston for real? How about Detroit? Here's how our experts view the six teams at 3-1.
Power Rankings »