Commentary
Fitzgeralds share bittersweet Sunday
The first sports writer to cover his son in a Super Bowl almost had his offspring write the perfect ending for him. Larry Fitzgerald Sr. offers his perspective on watching Larry Jr. in Super Bowl XLIII.
Originally Published:
February 2, 2009
By
Larry Fitzgerald Sr.
| Special to ESPN.com
TAMPA, Fla. -- Let's start with the obvious: The Pittsburgh Steelers are the world champions of football. Again.
Quarterback Ben Roethlisberger drove the Steelers 78 yards in eight plays, hitting Santonio Holmes with a 6-yard touchdown pass with just 35 seconds left to give Pittsburgh a 27-23 win over the Arizona Cardinals on Sunday night, snatching victory from the jaws of defeat.
For a fleeting moment, however, in the night chill at Raymond James Stadium, the first sports writer to cover his son in the biggest game of them all -- the Super Bowl -- nearly had the perfect story.
The biggest surprise for me was that megastar receiver Larry Fitzgerald Jr. -- who set several postseason receiving records and who, yes, happens to be my son -- was held in check for three quarters. In that span, he had just one catch for 12 yards.
It took the combination of Steelers defensive coordinator Dick LeBeau's top-ranked defense and Pittsburgh's ball-control offense to build a 17-7 halftime lead over Arizona. That said, you have to question the inability of the Cardinals to get Fitzgerald involved in the first half.
In reality, Pittsburgh jumped to a 10-0 lead before the Cardinals did anything offensively. With the Steelers leading 10-7 with just 18 seconds left in the half, it looked as if the Cardinals were in position to take the lead, owning a first-and-goal at the Pittsburgh 1-yard line. After a timeout, the Cardinals slotted a pair of Pro Bowl receivers -- Fitzgerald and Anquan Boldin -- on the left side of the formation.
Cardinals quarterback Kurt Warner tried to squeeze a pass to Boldin at the goal line, but Pittsburgh linebacker James Harrison -- the NFL's defensive player of the year -- intercepted the pass and raced 100 yards for a touchdown. It was a 14-point swing -- instead of the Cardinals going in at the half up 14-10 or, at worst, tied 10-10, the Steelers were in command 17-7. It stayed that way until the Steelers added a field goal to lead 20-7 after three quarters.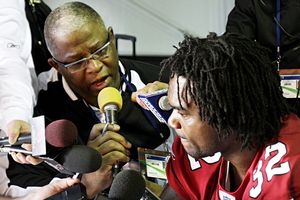 AP Photo/Ross D. FranklinLarry Fitzgerald Sr., left, interviewed Cardinals running back Edgerrin James before Super Bowl XLIII.
Game over?
Not so fast. The Cardinals, Warner and Fitzgerald finally got hot. Suddenly the veteran QB was throwing the ball in Fitzgerald's direction. Barely involved in the first half, Fitzgerald took over the fourth quarter, grabbing six passes for 115 yards and two TDs as the Cardinals rallied for a 23-20 lead in the final three minutes.
Fitzgerald scored in two dramatically different ways. First, he leaped over a defender and caught a 1-yard fade route. Later in the period, Fitzgerald scored on a sizzling 64-yard pass from Warner; Fitzgerald split the Steelers' safeties and ran untouched into the end zone.
It was looking good for the Cardinals -- that is, until Roethlisberger and Holmes combined for heroics of their own on the decisive, game-winning drive.
As a sports writer, it was an incredible game. As a father, it was one of my proudest moments: seeing my son maintain his poise throughout the game. Knowing him as I do, I know how badly he wanted to win the Vince Lombardi Trophy. When the Cardinals finally got him the ball, he gave his team a huge lift when it needed it most -- and came within a few minutes of reaching that Super Bowl championship dream.
It was an incredible experience to see my son at Super Bowl media day, and then in the pregame warm-ups. It was equally amazing to walk the stadium, jammed with more than 70,000 fans, and see literally hundreds of people wearing his No. 11 Cardinals jersey.
But the moment I'll remember most came during the NBC pregame broadcast, when President Barack Obama said that my son is an excellent young man. Now that is a humbling feeling -- so pardon me if you notice a few tears on the screen as you read this story. They are mine, and proudly so.
It was an exciting experience to be in the spotlight, especially during such an emotional event, and to share in making history with my son -- especially when all I did is all I've ever done: Cover the game. That said, I've covered many Super Bowls. Somehow I think this one will be special to me for a long, long time.
Larry Fitzgerald Sr. is a sports columnist for the Minnesota Spokesman-Recorder and has covered 29 Super Bowls. His son, Larry Fitzgerald Jr., is a wide receiver for the Arizona Cardinals.
SUPER BOWL XLIII
In one of the best Super Bowls ever, the Steelers blew a 13-point lead before they delivered their own comeback to beat Arizona, 27-23. Super Central
Super Bowl results | MVPs
Photos: Game action | Halftime show


GAME COVERAGE
SB WEEK COLUMNS/FEATURES
CARDINALS SB WEEK COVERAGE
STEELERS SB WEEK COVERAGE

MOST SENT STORIES ON ESPN.COM