Fiendish 5: Rivalries that get nasty
The Ravens meet the Steelers in one of the nastiest rivalries in sports. Here are five others that get blood boiling.
Updated:
January 16, 2009, 6:35 PM ET
ESPN.com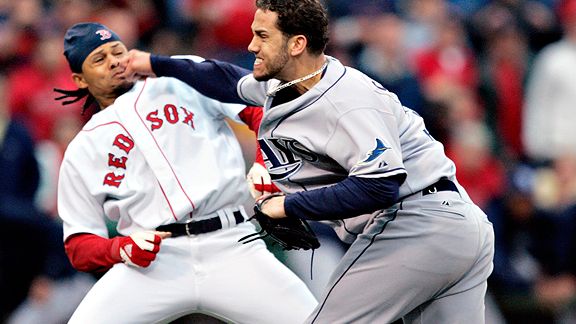 AP Photo/Michael DwyerRed Sox-Rays has evolved into a nasty, nasty rivalry. The once-dominant Sox were ousted in the playoffs by Tampa Bay in '08, and a June game between the teams featured fisticuffs between Boston's Coco Crisp and Tampa Bay's James Shields.
Thanks mostly to the smashmouth nature of both teams (and a little trash-talking), the Ravens-Steelers rivalry is one of the nastiest in sports. Better stick an ice pack on your noggin. Here are five more rivalries that could get your blood boiling:
MLB: Red Sox-Rays
HOT READ: NFL's nastiest rivalry
Bounty talk. Breathtaking hits. Woofing. Chaos. And, hey, let's mix in a little phlegm. The Ravens-Steelers rivalry is the NFL's nastiest.

Hines Ward: 5 Good Minutes

Trash those ARod-versus-
Jason Varitek
videos. If you've really been paying attention, you know the Red Sox's nastiest rival these days is
not
the Yankees. It's those pesky
Tampa Bay Rays
.
This fracas has been building for nine years now, dating way, way back to that night in 2000 when Pedro Martinez drilled Gerald Williams, eight guys got ejected and Pedro almost pitched a no-hitter. But that was just Act I. Starting with that game, according to Sports Illustrated, the Rays and Red Sox have been involved in eight "incidents" that together have produced 25 ejections and 22 suspensions, adding up to a total of 98 games. And then came 2008, when the Rays outwrestled the Red Sox for the AL East, won two spine-tingling September games at Fenway, ousted the Red Sox from Octoberfest and got mixed up in a fiery June dust-up that spit sparks (and featured a James Shields haymaker) after a confrontational slide by Coco Crisp into Rays second baseman Akinori Iwamura.
"You could definitely say," Boston closer
Jonathan Papelbon
deadpanned in October, "there's a certain something developing here." Hey, if it develops any more in its current direction, it'll be more action-packed than the next Royal Rumble.
-- Jayson Stark
NBA: Cavaliers-Wizards
[+] Enlarge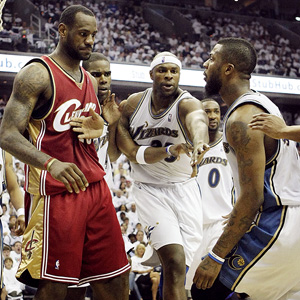 AP Photo/Pablo Martinez MonsivaisThe Wizards' DeShawn Stevenson (right) called LeBron James "overrated" last spring. James and the Cavs proved otherwise in the playoffs.
This rivalry began in the 2006 playoffs, with two up-and-coming teams led by electric young superstars, the Cavs'
LeBron James
and the Wizards'
Gilbert Arenas
. Although that series included two game winners by James and another by
Damon Jones
, as well as some questionable calls, the most enduring moment might have been James' sidling up to a foul-shooting Arenas in overtime and whispering, "If you miss both of these free throws, the game is over." Of course, Arenas, an 82 percent foul shooter, bricked both, and Cleveland prevailed 4-2 in a tough, controversial series. The Cavs and Wizards met the next two postseasons, as well, in series most memorable for hard fouls and trash talk, on the court and off. The rivalry reached a new level in spring 2008, when Washington guard
DeShawn Stevenson
called James "overrated.'' James replied that Stevenson's challenge was akin to one-hit wonder "Soulja Boy taking shots at Jay-Z." So Stevenson invited Soulja Boy to Game 3 in Washington, and the teenage rapper sat courtside in the player's No. 2 jersey. That prompted Jay-Z, a close friend of James', to quickly record a dis track about Stevenson and the Wizards that was played repeatedly in a D.C. nightclub to the glee of a group of partying Cavaliers, including James. Then Jones grabbed the mike and shot a few more insults Washington's way. The Wizards chafed at Cleveland's takeover of their city, their court and their clubs, but in the end, they were powerless to stop their rivals, getting eliminated by the Cavs for a third straight year.
--Chris Broussard
NHL: Penguins-Capitals
[+] Enlarge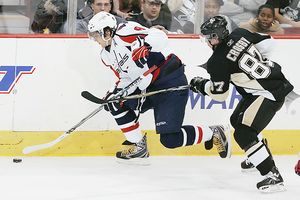 AP Photo/Gene J. PuskarA meeting in the playoffs between Alex Ovechkin's Capitals and Sidney Crosby's Penguins could be a very volatile mix.
Although there are many storied rivalries in the NHL (Bruins-Canadiens tops our list), there have been some particularly prickly subplots to the Capitals-Penguins matchups of late. Yes, these games pair two of the NHL's biggest stars in
Alex Ovechkin
(Washington) and
Sidney Crosby
(Pittsburgh), which in and of itself, sparks the "Who's better?" debates. But this season, the off-ice back-and-forth has been heated.
Earlier this season, Caps forward Alexander Semin wondered, through an interpreter, why there was all the hype around Crosby. "What's so special about [Sidney Crosby]? I don't see anything special there. Yes, he does skate well, has a good head, good pass. But there's nothing else."
Then, there's the Ovechkin-Evgeni Malkin feud, a healthy dislike that dates to a couple of offseasons ago when, sources told ESPN.com, a dispute in a Russian bar led to Ovie's taking a swing at Malkin's adviser and leaving the latter with a broken jaw that had to be wired shut for a month. The teams will battle twice more this season, but imagine if they meet in the playoffs? Even Jim Mora would approve.
-- ESPN.com NHL staff
COLLEGE BASKETBALL: North Carolina-Duke
[+] Enlarge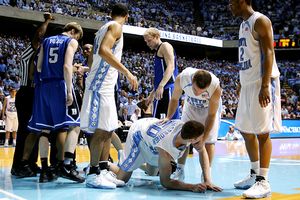 Streeter Lecka/Getty ImagesGerald Henderson's smackdown of Tyler Hansbrough bloodied the Tar Heels' star and turned up the red-hot Duke-North Carolina rivalry a few more degrees.
Eight miles. Eight miles of Tobacco Road is all that separates the two schools involved in the fiercest, most personal rivalry in college hoops. And it's not just because UNC and Duke are two of the sport's blue bloods, making up half of the four winningest programs in the country. Sure, the high stakes ramp up the intensity, but the rivalry itself goes much deeper.
It's public school versus private school, a clash of culture and class. Former Esquire editor Will Blythe, a UNC grad and author of "To Hate Like This Is to Be Happy Forever," summed it up perfectly: "To legions of otherwise reasonable adults, it is a conflict that surpasses sports; it is locals against outsiders, elitists against populists, even good against evil . The rivalry may be a way of aligning oneself with larger philosophic ideals -- of choosing teams in life -- a tradition of partisanship that reveals the pleasures and even the necessity of hatred."
The images are indelible: Art Heyman and Larry Brown brawling in the '60s, the 2003 fracas involving UNC head coach Matt Doherty and Duke assistant Chris Collins, Gerald Henderson's "hard foul" in 2007 that bloodied up Tyler Hansbrough and broke his nose.
All the essential elements of a classic rivalry are there: legendary players and coaches, always plenty at stake, extreme proximity, an ancient history with some brutal battles and, most importantly, a good old-fashioned hatred. What more could you want?
-- Brett Edgerton
COLLEGE FOOTBALL: Texas-Oklahoma
[+] Enlarge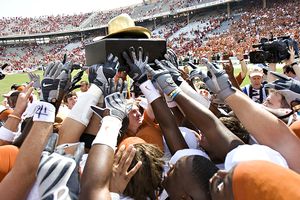 AP Photo/Jim SigmonTexas' win over OU in October meant nothing come BCS time, much to Longhorns fans displeasure.
Traditionally, there have been more-heated college football rivalries. Auburn and Alabama. Georgia and Florida. Ohio State and Michigan. USC and Notre Dame. But as we look forward to the 2009 season, no single game figures to spur as much emotion and downright dislike for the opposition as Texas versus Oklahoma.
The Longhorns and Sooners will play in the Red River Rivalry in Dallas on Oct. 17. Fans of both schools will be divided by a single score: 45-35. The Longhorns beat the Sooners by that score in 2008. The victory propelled Texas to No. 1 in the national rankings, a position it held until losing at Texas Tech 39-33 on Nov. 1. Even though Texas won the head-to-head meeting between the schools, Oklahoma represented the Big 12 South in the Big 12 championship game because of the league's complicated tiebreaker. Texas fans felt their team was dissed because of its regular-season victory; Oklahoma fans felt the Longhorns whined too much.
The Sooners blasted Missouri 62-21 in the Big 12 title game in Kansas City, then lost to Florida 24-14 in the FedEx BCS National Championship Game. Texas-Oklahoma has become the sport's hottest rivalry because it tends to mean the most. At least one team has been ranked in the top 10 in each of the past nine meetings. In four of those games, including this past season, both teams were ranked in the top five.
Clearly, blood seems to boil a little hotter when everything is on the line.
-- Mark Schlabach

SPONSORED HEADLINES
MORE NFL HEADLINES
MOST SENT STORIES ON ESPN.COM
2008 NFL Playoffs

The road to Tampa for Super Bowl XLIII on Feb. 1, 2009, began Jan. 3 with the wild-card playoff round. Will the Steelers or Cardinals replace the Giants as champs?

Championship Game results: NFC | AFC


COLUMNS/FEATURES
•
Wojciechowski: May the bitter team win
•
Chadiha: McNabb lets good times roll
•
Football Outsiders: Numbers Crunching
•
Sunday Countdown: Predictions and more
•
Clayton: First and Goal
•
Garber: This Philly Story seeks proper ending
•
Clayton: Peaking Steelers should advance
•
Chadiha: Eagles will soar in desert
•
Wojciechowski: Book Eagles for Tampa
•
Football Outsiders: Any Given Sunday
•
Football Outsiders: Quick Reads
CHAMPIONSHIP GAMES (Jan. 18)
Steelers 23, Ravens 14
•
Polamalu's INT return secures win
•
Playoff page
|
AFC North blog
Cardinals 32, Eagles 25
•
Fitzgerald leads Cardinals to first Super Bowl
•
Playoff page
|
NFC West blog
...
East
DIVISIONAL ROUND (Jan. 10-11)
Steelers 35, Chargers 24
•
Walker: The Bus sparks Parker
•
Williamson: Bolts need season-long urgency
•
Recap: Steelers knock out Chargers
•
More
|
AFC West blog
...
AFC North
Ravens 13, Titans 10
•
Graham: Battered Ravens pass physical
•
Kuharsky: Titans failed to answer critics
•
Recap: Turnovers doom Titans
•
Zoom Gallery
•
Fleming: Can anyone stop the Ravens?
•
More
|
AFC North blog
...
AFC South
Cardinals 33, Panthers 13
•
Sando: Desert bloom for Arizona's faithful
•
Sando: No denying Cards' makeover
•
Yasinskas: Carolina's big plans fall apart
•
Recap: Delhomme's 5 INTs doom Panthers
•
Zoom Gallery
•
More
|
NFC West blog
...
NFC South
Eagles 23, Giants 11
•
Wojciechowski: Book Eagles for Tampa
•
Mosley: Giants lost to better team
•
Recap: Defense smothers Giants
•
Zoom gallery
•
Chadiha: Eagles' defense hitting stride
•
More
|
NFC East blog
WILD-CARD ROUND (Jan. 3-4)
Ravens 27, Dolphins 9
•&nbsp
Wojciechowski: Scary Ravens' D
•
Recap: Ravens' defense overpowers Dolphins
•
More
|
AFC North blog
...
AFC East
Eagles 26, Vikings 14
•
Mosley: Eagles' run continues
•
Recap: Westbrook, big plays carry Eagles
•
More
|
NFC East blog
...
NFC North
Cardinals 30, Falcons 24
•
Sando: Cards' winning identity
•
Recap: Strong second half powers Cards
•
More
|
NFC South blog
...
NFC West
Chargers 23, Colts 17
•
Williamson: 5-6 Sproles comes up big
•
Recap: Chargers shock Manning, Colts in OT
•
More
|
AFC South blog
...
AFC West