Commentary
Beware if you don't account for Colts' Sanders
The value of these people to their AFC playoff teams can't be overestimated.
Originally Published:
December 31, 2008
By
Paul Kuharsky
| ESPN.com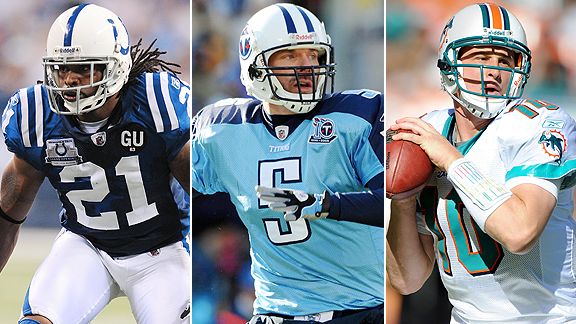 Getty Images/US Presswire Bob Sanders, left, is vital to the Colts' defense; Kerry Collins' poise and efficiency helped the Titans win 13 games in the regular season; Chad Pennington is hoping to get to his first Super Bowl.
Players we've hardly heard of will make crucial plays in the next month, their successes magnified by the big stage and the national telecast. Those surprises are part of what makes the NFL postseason great.
NFC Most Important
A coach makes our cut as one of the most important people in the NFC playoffs. Who else is on the list? Story
Those names will emerge as the games unfold, but odds are their moments won't matter as much if the key people on their teams don't perform. So we asked our AFC bloggers to examine the teams they cover and create a list of the most important people in the playoffs.
The AFC postseason will feature rematches, retreads and chances at redemption. Those story lines and many more will be keyed by a coaching innovator, a brash young quarterback, two efficient game-managing signal-callers and a couple of hard-hitting safeties.
Kerry Collins, quarterback, Tennessee Titans
Kerry Collins has been poised and largely unflappable while leading the Tennessee Titans to an improbable 13-3 season after taking over for Vince Young during the season opener. Collins was dialed in when he led Tennessee to a big win over the Pittsburgh Steelers on Dec. 21 that sewed up the No. 1 seed throughout the AFC playoffs.
He's played in two conference championships and a Super Bowl. In his 14th year, he's unlikely to be surprised, even facing defenses like the Baltimore Ravens' and Pittsburgh's.
Throughout the season, he's minimized negative plays, absorbing just eight sacks and throwing only seven interceptions. Still, opponents will stack up to stop rookie running back Chris Johnson and look to make Collins beat them. On his worst day of the season, in Week 15, the Titans lost on the road to the Houston Texans. The Texans put consistent pressure on him and flashed in and out of passing windows, prompting him to be late or long on a lot of throws.
If he's dialed in as he was in the Pittsburgh game or in wins at the Chicago Bears and Jacksonville Jaguars, the Titans will be just fine. If a defense can knock him around and mess up his rhythm and his team sees him waver, things will be considerably more difficult.
Bob Sanders, safety, Indianapolis Colts
The Indianapolis Colts were without their thumping defensive back for 10 games this season, and it wasn't a major issue. They were 5-1 when Bob Sanders played and 7-3 when he didn't. Without him, they gave up 1.5 more points a game, but they actually allowed 21.7 fewer yards a game. They did force more turnovers when he was in the mix, with 11 in his six games and 15 in the other 10.
Although they might have learned to live without him, the Colts certainly are glad he'll be available Saturday night at the San Diego Chargers. The Chargers and anybody else the Colts could advance to play will be aware of him on every snap, and the offensive game plan will be constructed to minimize his impact.
In 2006, he played in only four regular-season games but returned for a four-game playoff run that culminated with a win in Super Bowl XLI.
"I think he has a tremendous impact," said Titans coach Jeff Fisher, whose team didn't have to face Sanders in two games against the Colts this season. "When you game plan against their defense, you're going to put a red hat on the practice field because you need to know where he is -- he's going to have that type of impact. If they're going to bring him in the run front, he's clearly going to make plays. You better account for him."
-- Paul Kuharsky, AFC South blogger
Chad Pennington, quarterback, Miami Dolphins
Vindication comes in escalating levels. Chad Pennington is fully aware. Almost as soon as he administered some serious retribution to the team that cut him, he must revisit the biggest stigma of his career.
The refrain all those years Pennington played for the New York Jets was: Sure, he would win more than he lost and get them to the playoffs. But he wasn't good enough to take them to the next step.
Now that Pennington has guided the Miami Dolphins to the AFC East title, sweetly beating the Jets in Week 17 to clinch it, he's on to the next challenge in the what-have-you-done-for-me-lately NFL.
The Dolphins will get another crack at the Baltimore Ravens in the first round of the playoffs. The Ravens scored a 27-13 victory in Week 7 at Dolphin Stadium. Pennington threw a pick-six that broke a tie for good. So he has that to make good on.
But more than that, Pennington needs to win in the postseason. He has reached the playoffs three times. He has a 2-3 record, winning a game in 2002 and 2004.
He has completed 60.1 percent of his postseason passes (5.9 percentage points fewer than his career average) and averaged 6.6 yards an attempt (half a yard less than his career average). He has thrown seven touchdowns and four interceptions. He owns an 83.2 playoff passer rating (7.4 points fewer than his career average).
The Dolphins have been involved in playoff-caliber games for two months. They have won nine of their past 10. But Pennington seemed to have momentum with the Jets, too. They won five of their last six in 2006 and seven of their last nine in 2002.
So all that stuff about the historic turnaround from 1-15 and a joyous return to the playoffs and Pennington's personal redemption at the Meadowlands was rendered moot by Monday morning.
Pennington's next challenge already awaits him.
-- Tim Graham, AFC East blogger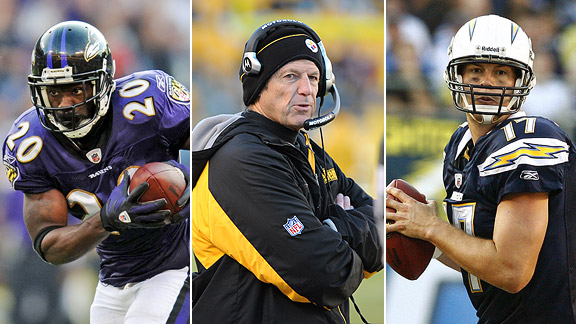 Getty ImagesThe Ravens' Ed Reed, left, had an NFL-high nine interceptions in '08; the Steelers' Dick LeBeau oversees the league's top defense; San Diego's Philip Rivers led the NFL in passer rating.
Ed Reed, safety, Baltimore Ravens
When Baltimore Ravens Pro Bowl safety Ed Reed gets his hands on the football, anything is possible.
Few defensive players can change field position or the course of a game quite like Reed. He led the NFL with nine interceptions during the regular season and scored three defensive touchdowns -- two on picks and one on a fumble return. His touchdown returns have been for 22 yards, 32 yards and an NFL-record 107 yards. The Ravens are 3-0 when Reed reaches the end zone, and if he forces another turnover this postseason, things could get interesting. Reed plays center field like a Gold Glove baseball player. He has great hands, a nose for the football and doesn't waste opportunities. With Reed combined with longtime teammate and middle linebacker
Ray Lewis
, Baltimore's No. 2-ranked defense should be a force in the postseason. The Ravens have held opponents to 13 points or fewer 11 times this season. The unit also has an NFL-best streak of 35 games without allowing a 100-yard rusher. That said, most offenses will try to beat Baltimore by passing the football. But postseason quarterbacks should be wary, because Reed will be waiting.
Dick LeBeau, defensive coordinator, Pittsburgh Steelers
Dick LeBeau is the mastermind behind the NFL's most dominant and tenacious defense, a unit the Pittsburgh Steelers hope to ride all the way to Tampa. The Steelers finished the regular season tops in the league in total defense and allowed 300 total yards in just one game.
Currently celebrating his 50th year in the NFL (as a player and coach), LeBeau isn't surprised by any offense or scheme. Pittsburgh's defense is always prepared and often dictates to opponents during games, which is key in the postseason. LeBeau uses versatile players such as safety
Troy Polamalu
and linebackers
James Harrison
and
LaMarr Woodley
like chess pieces. Polamalu finished the regular season tied for second in the NFL with seven interceptions, and Harrison and Woodley both were in the top 10 in sacks with 16 and 11½ respectively. "He's that calm coach, yet he's always fired up," Woodley said of LeBeau. "Every day, he comes into the meeting room, and even sometimes after a game, he'll say, 'It's a great day to be alive!' He's just one of those coaches that you want to go out there and play your heart out for.'' There are plenty of high-powered offenses in the postseason. But if defense wins championships, LeBeau's complex scheme gives Pittsburgh as good a chance as anyone.
-- James Walker, AFC North blogger
Philip Rivers, quarterback, San Diego Chargers
The key to the San Diego Chargers' playoff run?
It has to be
Philip Rivers
. With each passing game, the quarterback becomes more vital to his team's chances. Rivers was San Diego's best player during its incredible comeback in the AFC West. The Chargers became the first team to make the playoffs after starting 4-8 and were led by Rivers' strong play in December. He willed his team to the playoffs with nearly flawless play the past month. Late-season play has become Rivers' signature in his three seasons as the Chargers' quarterback. San Diego is 14-0 in December with Rivers as its quarterback. He led the team to a 2-1 January record last season and will be San Diego's best chance to get past Indianapolis in the wild-card round. Like his Colts counterpart,
Peyton Manning
, Rivers is his team's leader. His teammates respond to Rivers, and it's clear they want to win for him. If San Diego makes a long playoff run, it will be because of the play and leadership of Rivers, who led the NFL in passer rating during the regular season. In San Diego, there is no more important player than Rivers. It's not even close.
-- Bill Williamson, AFC West blogger
ESPN Tennessee Titans reporter
Covered AFC South for five years for ESPN.com
Covered Oilers/Titans for The Tennessean
New Jersey native and Columbia graduate lives in Nashville with his wife and son
2008 NFL Playoffs

The road to Tampa for Super Bowl XLIII on Feb. 1, 2009, began Jan. 3 with the wild-card playoff round. Will the Steelers or Cardinals replace the Giants as champs?

Championship Game results: NFC | AFC


COLUMNS/FEATURES
•
Wojciechowski: May the bitter team win
•
Chadiha: McNabb lets good times roll
•
Football Outsiders: Numbers Crunching
•
Sunday Countdown: Predictions and more
•
Clayton: First and Goal
•
Garber: This Philly Story seeks proper ending
•
Clayton: Peaking Steelers should advance
•
Chadiha: Eagles will soar in desert
•
Wojciechowski: Book Eagles for Tampa
•
Football Outsiders: Any Given Sunday
•
Football Outsiders: Quick Reads
CHAMPIONSHIP GAMES (Jan. 18)
Steelers 23, Ravens 14
•
Polamalu's INT return secures win
•
Playoff page
|
AFC North blog
Cardinals 32, Eagles 25
•
Fitzgerald leads Cardinals to first Super Bowl
•
Playoff page
|
NFC West blog
...
East
DIVISIONAL ROUND (Jan. 10-11)
Steelers 35, Chargers 24
•
Walker: The Bus sparks Parker
•
Williamson: Bolts need season-long urgency
•
Recap: Steelers knock out Chargers
•
More
|
AFC West blog
...
AFC North
Ravens 13, Titans 10
•
Graham: Battered Ravens pass physical
•
Kuharsky: Titans failed to answer critics
•
Recap: Turnovers doom Titans
•
Zoom Gallery
•
Fleming: Can anyone stop the Ravens?
•
More
|
AFC North blog
...
AFC South
Cardinals 33, Panthers 13
•
Sando: Desert bloom for Arizona's faithful
•
Sando: No denying Cards' makeover
•
Yasinskas: Carolina's big plans fall apart
•
Recap: Delhomme's 5 INTs doom Panthers
•
Zoom Gallery
•
More
|
NFC West blog
...
NFC South
Eagles 23, Giants 11
•
Wojciechowski: Book Eagles for Tampa
•
Mosley: Giants lost to better team
•
Recap: Defense smothers Giants
•
Zoom gallery
•
Chadiha: Eagles' defense hitting stride
•
More
|
NFC East blog
WILD-CARD ROUND (Jan. 3-4)
Ravens 27, Dolphins 9
•&nbsp
Wojciechowski: Scary Ravens' D
•
Recap: Ravens' defense overpowers Dolphins
•
More
|
AFC North blog
...
AFC East
Eagles 26, Vikings 14
•
Mosley: Eagles' run continues
•
Recap: Westbrook, big plays carry Eagles
•
More
|
NFC East blog
...
NFC North
Cardinals 30, Falcons 24
•
Sando: Cards' winning identity
•
Recap: Strong second half powers Cards
•
More
|
NFC South blog
...
NFC West
Chargers 23, Colts 17
•
Williamson: 5-6 Sproles comes up big
•
Recap: Chargers shock Manning, Colts in OT
•
More
|
AFC South blog
...
AFC West