Finding balance is easier said than done
People like to say, "Offense wins games, but defense wins championships." Ultimately, though, winning comes down to balance.
Updated:
September 5, 2005, 3:18 PM ET
By
Len Pasquarelli
| ESPN.com
Only once in modern NFL history -- the matchup of the Oakland Raiders and Tampa Bay Buccaneers in Super Bowl XXXVII three years ago -- has the franchise with the top-rated offense confronted a No. 1-ranked defensive unit with the league championship on the line.
So when the Bucs' defense pummeled the Raiders into submission, limiting Oakland to just two first downs on its first nine possessions and scoring three times on interception returns, the victory resonated hugely with all the grizzled football purists who insist that an aggressive "D" will trump even the best offenses on most occasions.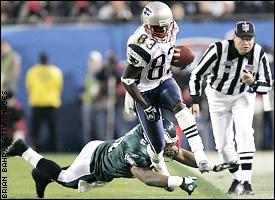 GettyThe Patriots finished in the top 10 on both defense and offense last season.
That it came on the heels of the
New England Patriots
' defensive masterpiece against the high-octane St. Louis aerial attack in Super Bowl XXXVI, and merely two seasons after
Ray Lewis
and the
Baltimore Ravens
surrendered only 152 yards and kept the
New York Giants
' offense out of the end zone entirely in the 2000 championship game, only served to stoke the claims of dynastic defensive dominance.
But then, how does one explain the Super Bowl titles achieved by offensively top-heavy teams such as Dallas in 1995, Green Bay in '96 or Denver in '97? The top-rated Broncos offense in Super Bowl XXXII could hardly be slowed in some stretches of that game by a Packers defense that statistically ranked No. 7 during the regular season. A year later, the Denver offense again shredded a worthy upstart unit, presenting all kind of problems for the Atlanta Falcons' defense, which ranked as the league's eighth best.
Yeah, when it comes to the age-old argument of whether a great offense or stout defense best augurs success, and is the component most necessary to claiming a Vince Lombardi Trophy at the end of the year, the level of rhetoric doesn't quite measure up historically to, say, those memorable Lincoln-Douglass oratories. But heck, as verbal confrontations go, it's at least as good as nature-versus-nurture arguments. Or as mentally stimulating as the debates over tastes great-less filling, right?
And in the end, it's probably as pointless as those inconclusive light beer battles, and here's why: Because what wins in the NFL, more often than not, is balance. Not strictly offense. Not solely defense. But a happy medium on both sides of the ball.
There's no doubt that achieving equilibrium in the NFL is as elusive a balance to strike as a guy with too many gin and tonics trying to navigate his way through a field sobriety test. There is, to be sure, much more vertigo than balance in the league, and the era of the salary cap has skewed some rosters out of whack. But those franchises that can find a way to juggle the scales to create something remotely resembling equality usually have a leg up on opponents.
Of course, talking about balance is easy, while achieving it is a difficult pursuit, indeed.
"Whatever balance really is," New Orleans Saints coach Jim Haslett said, "there isn't a team in the league that doesn't want it. But, look, it's hard enough sometimes to get one [component] functioning with consistency. It's kind of like the 'it,' really. I mean, you know it if you've got balance, I guess."
Using the measure of balance developed for this story -- arbitrarily defined as having a top-10 statistical ranking on both offense and defense -- Haslett and the Saints have achieved "it" once during his head coaching tenure. Not surprisingly, that was in 2000, when in his inaugural season, Haslett piloted the Saints to a division title. The club was 10th on offense that season, and No. 8 defensively, and the units have suffered mostly polar status ever since.
Then again, the Saints, who now face the specter of preparing for a season after having been displaced from their hometown, aren't the only franchise that hasn't found balance an easy commodity to capture. Not by a long shot.
Over the past five seasons, just 14 franchises have rated in the top 10 both offensively and defensively in the same season. And only two of those franchises didn't qualify for a playoff spot in the season they accomplished the top-10 daily double. More notable is that just three teams -- Denver (2002, '03 and '04), Philadelphia (2002 and '04) and Pittsburgh (2001 and '02) -- have reached our arbitrary definition of balance more than once during the past five seasons.
Absent from that group is New England, a team that, along with the Eagles, is arguably regarded as the most balanced in the league. Since the Patriots have won three Super Bowl titles in the last four seasons, it's hard to argue a lack of balance on their part, and far easier to suggest a flaw in our definition of football equilibrium. The Patriots, in fact, upset the Rams in Super Bowl XXXVII despite an offense that ranked 19th and a defense that was 24th during the regular season. On the flip side, for all their statistical balance, the Broncos haven't won a playoff game since 1998.
OK, so we didn't claim our yardstick for measuring balance was perfect. But history, at least the last 15 season's worth, indicates that while you can certainly win with a roster that is considerably stronger in one area than another, winning championships usually requires a healthy dose of balance.
"I think what people overlook about our Super Bowl season [in 1999] is how good our defense was that year," said former Rams defensive end Kevin Carter, now with the Miami Dolphins. "Everyone got all caught up in the offense, and rightly so, because it was a great offense, maybe one of the greatest ever. The top-ranked offense in the league during the season. But our defense was pretty highly ranked, too [No. 6], and we made a lot of plays. And with the Super Bowl on the line, it was the defense that made the big play at the end of the Super Bowl. So, yeah, balance is a pretty big deal."
Since 1990, the season in which the NFL adopted the 12-team playoff format, 101 of the 180 postseason qualifiers featured top-10 offenses during the regular season and 94 had top-10 defenses. But just 43 of the 180 playoff teams in that stretch had top-10 units on both sides of the ball. Fifteen of those teams advanced to the Super Bowl and nine of them won championships. Three title games featured teams that each had top-10 offenses and defenses. Over one seven-season stretch, from 1991-97, every Super Bowl champion featured two units statistically rated in the top 10.
In each of Dallas' three Super Bowl victories between 1992 and '95, the Cowboys met our definition of balance. That wasn't just happenstance, several players from those Cowboys title teams agreed. The Dallas roster was fashioned to have playmakers on both sides of the ball.
"You can't count on your offense playing great every week or your defense playing great every week," former Cowboys strong safety Darren Woodson said. "Sooner or later, one or the other is going to have a bad game. But if you know you've got that other [unit] to pick you up, well, you know you can win most weeks. It makes things a lot easier."
| | | |
| --- | --- | --- |
| | " | Whatever balance really is, there isn't a team in the league that doesn't want it. But, look, it's hard enough sometimes to get one [component] functioning with consistency. It's kind of like the 'it,' really. I mean, you know it if you've got balance, I guess." |
| | | —Saints coach Jim Haslett |
What isn't easy, particularly given the constraints of the salary cap, is being able to strike a financial balance that permits solid offensive and defensive units. Especially over the last five years, it seems, general managers and personnel directors have tacitly conceded such difficulties, and in some cases, focused on assembling one powerhouse unit. For the
Indianapolis Colts
, the offense, for instance, is far more cap-heavy than the defense. The Colts' so-called "Big Three" on offense -- quarterback
Peyton Manning
, wide receiver
Marvin Harrison
and tailback
Edgerrin James
-- account for a disproportionate segment of the team's payroll. Defensive improvement has had to come from the draft, a few modest free-agent additions, and the maturation of players on hand.
One personnel director of an AFC team said the franchises that best manage their salary caps tend to be the most balanced, even if they don't necessarily jibe with our statistical definition of balance. He cited the Patriots' knack for not overpaying for players, and not destroying their internal salary structure, as a primary reason for the franchise's continuing success.
During one three-season stretch in the '90s, when the Minnesota Vikings' offense was so potent, the unit actually had three backup players making more money than all but four of the team's starters on defense. The organization's rationale, some former Minnesota coaches recall, was to just "make do" on the defensive side. Unfortunately, the philosophy never made the Vikings into Super Bowl champions.
And Minnesota is hardly the only franchise guilty of attempting to load up on one side of the ball, while trying to get by with lesser players on the other unit. Sometimes, as in the case of the Super Bowl XXXV champion Ravens, a team that featured one of the top defenses in recent history, it works. Most of the time, though, it doesn't.
Len Pasquarelli is a senior NFL writer for ESPN.com. To check out Len's chat archive, click here
.
EDITORS' PICKS
Recent winning ways have helped a handful of 5-2 teams make headway.
Power Rankings »

TMQ needed only seven weeks to determine which teams are playoff material, and which ones aren't.
TMQ »

Take a comprehensive look at Peyton Manning's historic touchdown numbers.
Mega-graphic »